Keto Chicken Pot Pie Crumble
Keto Chicken Pot Pie Crumble Recipe + Video – a low carb skillet chicken pot pie with a crumble biscuit topping. Paleo, Whole30, gluten free, grain free, dairy free, sugar free, clean eating, real food.
I can't remember the last time I was this excited about a recipe!!!
This keto chicken pot pie crumble is the cozy, healthy dinner of my dreams! A thick and luscious low carb pot pie filling topped with a crispy and tender biscuit crumble. It tastes JUST as good as traditional chicken pot pie, but a fraction of the carbs. I made this with leftover Thanksgiving turkey, which I highly recommend!
Bonus, I love this crumbly biscuit topping even more than pie crust!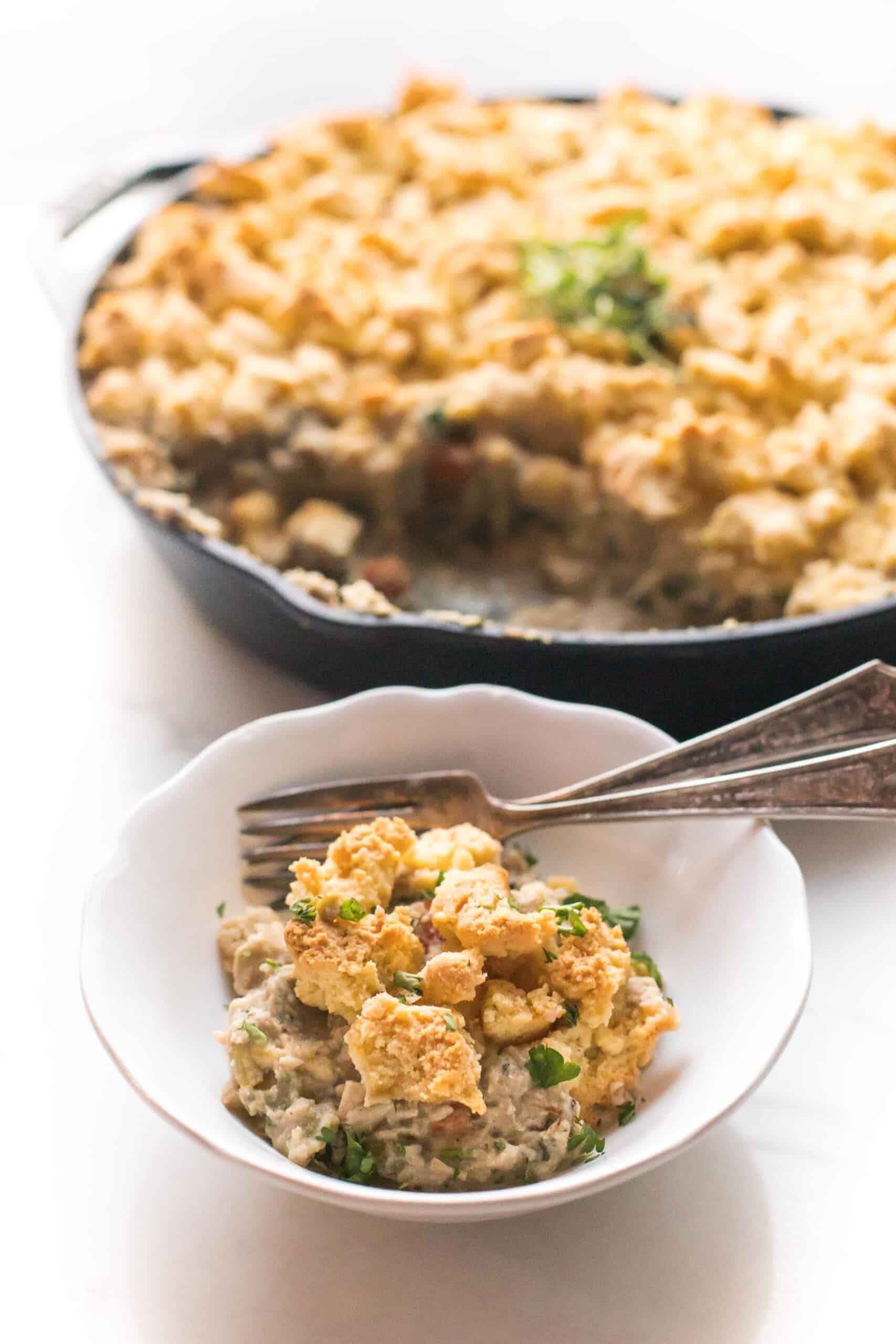 Keto Chicken Pot Pie Filling
Traditionally, chicken pot pie is made with veggies in a white sauce that is thickened with flour. To make this way more keto friendly, I thicken it with cauliflower puree! It's genius! I thaw frozen cauliflower rice, squeeze out all the water (do no skip this step!), then blend it with bone broth.
I pour it over the sauteed celery, leeks, carrots, onion, cooked chicken (or turkey!) and lots of fresh herbs for brightness and fresh flavor. To make it creamier, I add in some heavy cream. I have tons of suggestions in the Recipe Notes if you need this to be dairy free!
The filling is creamy, thick, luscious and perfect!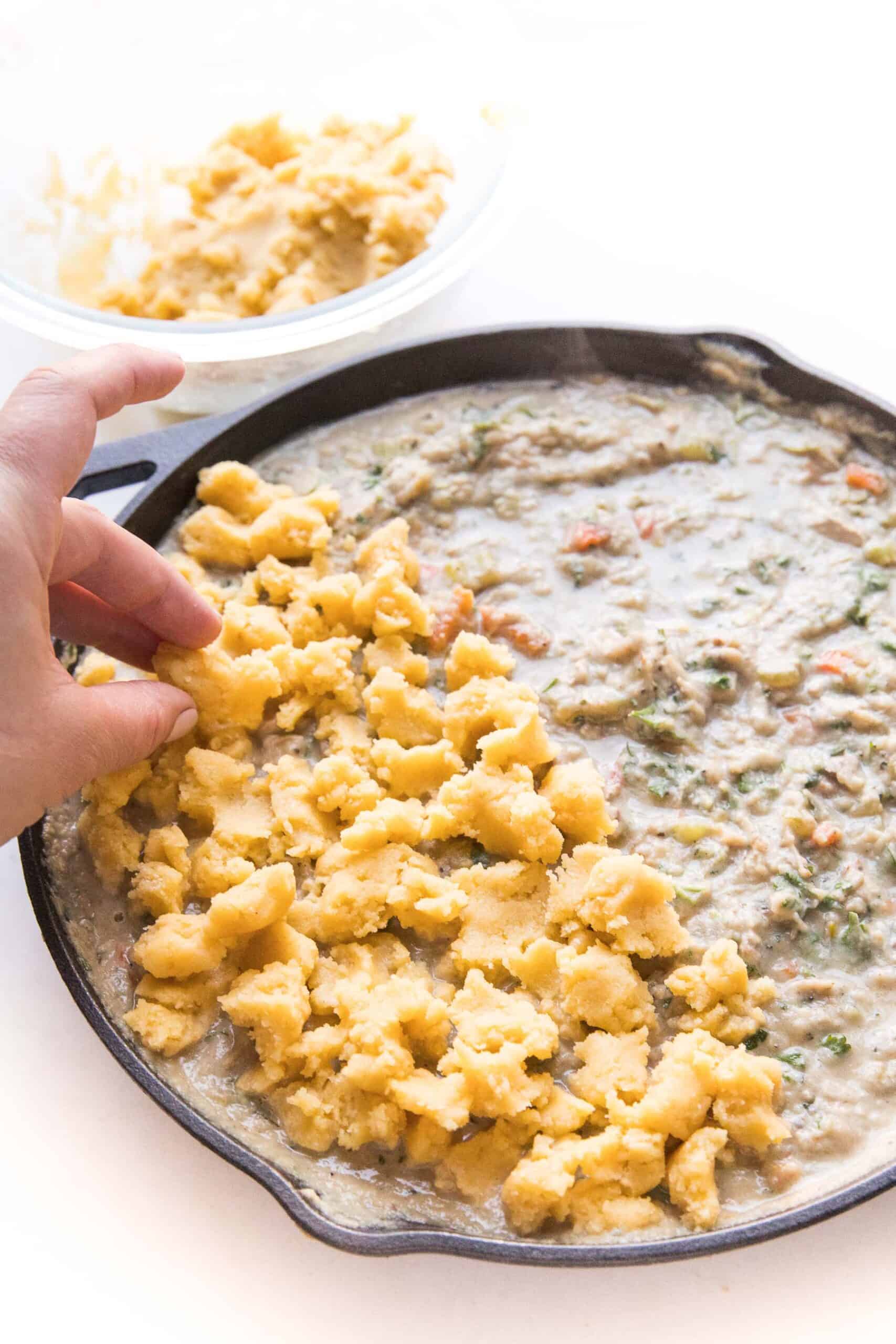 Low Carb Biscuit Crumble Topping
I've never been able to find a low carb pie crust that I like, or that holds up very well. I skip the pie crust all together and top the filling with a biscuit crumble! It's based off my keto biscuits which are SUCH with everyone who tries them.
I pinch of grape size pieces of the biscuit batter and drop it all over the top. It bakes in the oven and gets crispy on the outside, and tender on the inside.
It is irresistible!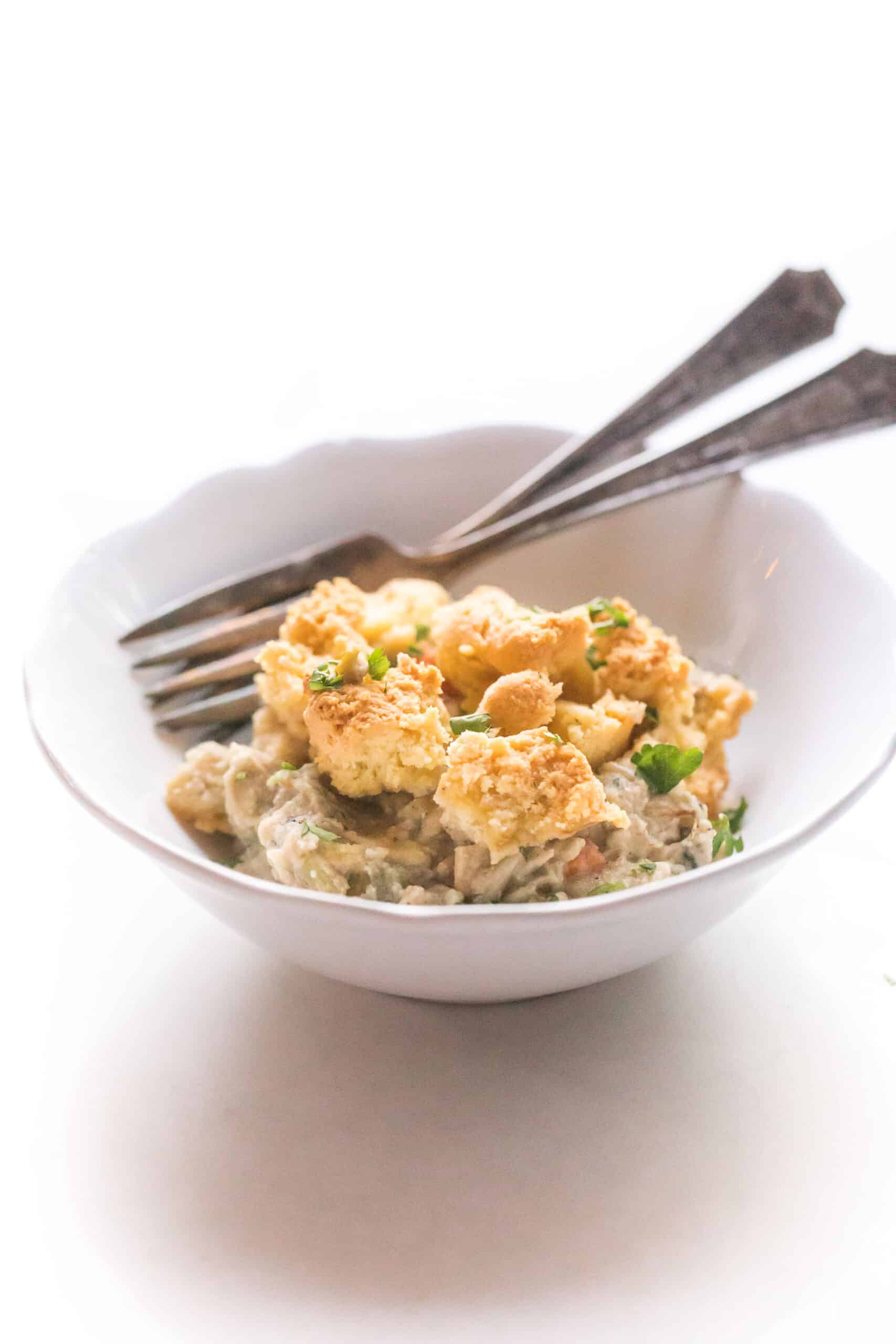 Serving, Reheat + Freezing
After letting this cool for 5 minutes, it's ready to scoop and serve! It's not watery at all!
This skillet keto chicken pot makes enough to serve for sure 10 servings! Great to make for a crowd, or if you want delicious leftovers to enjoy for lunches for the week or stock your freezer with.
You can reheat in the oven, but my favorite is to reheat in the oven so the biscuit topping stays crispy. See Recipe Notes for tips on freezing and reheating.
Watch Chicken Pot Pie Recipe Demo Video
If you make this Keto Chicken Pot Pie Crumble be sure to leave a comment and give this recipe a rating! I love to hear from you all and always do my best to respond to each and every comment. And of course, if you do make this recipe, don't forget to share and tag me on Instagram! Looking through the photos of recipes you all have made is my favorite!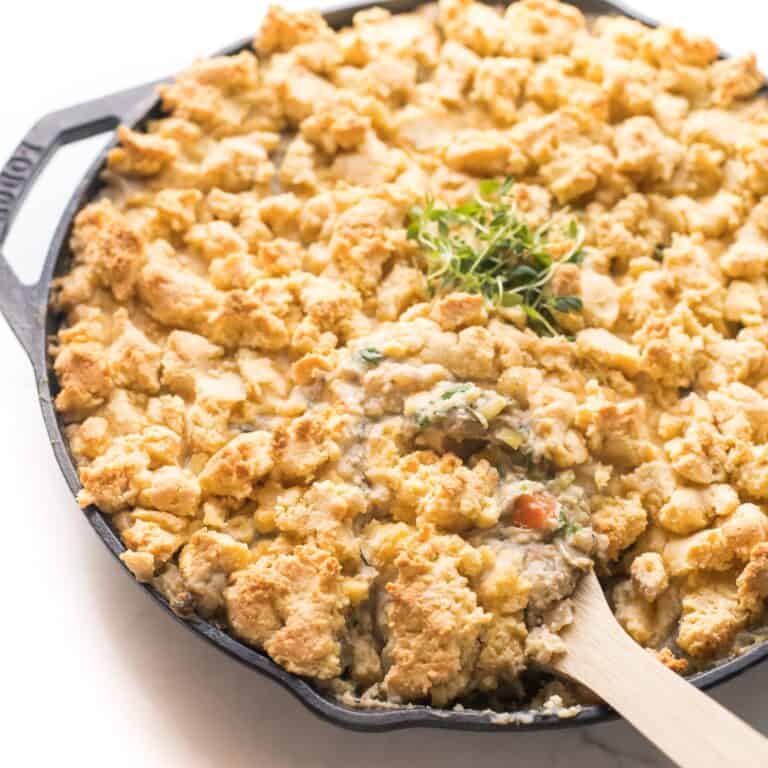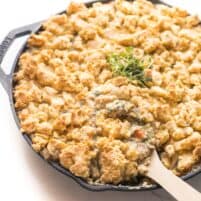 Keto Chicken Pot Pie Crumble
A low carb skillet chicken pot pie with a crumble biscuit topping.
Ingredients
Keto Chicken Pot Pie Filling
2

tablespoons

olive oil

,

ghee, grass fed butter or avocado oil

1

stalk of celery

,

or about 12 ribs, sliced

2

leeks

,

white stalks sliced in half, then sliced into half moons

2

medium carrots

,

chopped

1/2

a yellow onion

,

chopped

2

tablespoons

fresh rosemary

,

finely chopped

2

tablespoons

fresh thyme

,

finely chopped

1

teaspoon

dried sage

1

teaspoon

dried garlic

3

cups

cooked chicken

,

or turkey, chopped (see Notes below)

1

cup

finely chopped parsley

black pepper

3

10-ounce bags frozen cauliflower rice

,

thawed and all water squeezed out using a nut milk bag or dish towel

4

cups

chicken stock

1/2

cup

heavy cream

,

optional, see notes for dairy free
Biscuit Crumble Topping
3-1/2

cups

almond flour

3

eggs

1/2

cup

ghee or grass fed butter

,

melted

3

teaspoons

baking powder

3/4

teaspoon

kosher salt
Instructions
Heat your 12" cast iron skillet (or largest oven safe skillet) over medium heat. Preheat your oven to 350°F.

Add the olive oil, celery, leeks, carrots and onion. Season with kosher salt and pepper. Cook, stirring occasionally until soft, about 10-15 minutes.

While the vegetables are getting soft, make the biscuit crumble topping. In a medium size bowl combine all the ingredients and stir to combine. The dough should be just a little tacky. If it seems too wet, add more almond flour until it's just a little tacky. Set aside.

To the softened vegetables, add the rosemary, thyme, dried sage, dried garlic and chopped chicken (or turkey). Stir to combine and cook another 3-5 minutes.

In your high speed blender (or food processor) add the squeezed out cauliflower rice pulp and the chicken stock. Blend on high speed until completely pureed.

Add the cauliflower puree into the skillet with the cooked vegetables and chicken. Stir to combine and warm through.

Add the heavy cream and parsley. Stir to combine. Taste for salt and pepper and add more to taste if needed.

Using 2 hands, crumble grape size pieces of the biscuit batter all over the top of the pot pie. It doesn't need to be perfect, the more rustic looking the better.

Bake at 350°F for 20-25 minutes until the biscuit crumble topping is golden brown. Remove from the oven and cool for 5 minutes.

Serve warm. Leftovers will keep in an airtight container refrigerated for at least 5 days, or frozen for at least 6 months.

See Notes below for more tips, tricks and substitution recommendations!
Notes
Cooked Chicken: This is a great use of leftover roasted chicken (or Thanksgiving turkey!). If you don't have leftover chicken, you could get a pre-cooked rotisserie chicken (Whole Foods makes a great one!). Or you could roast 1.5 pounds chicken breasts drizzled in olive oil, salt and pepper on a sheet pan in a 425°F oven for 20-25 minutes, then chop.
Herbs: Adding tons of fresh herbs is what keeps this comforting dinner feeling light and fresh. I love using fresh rosemary and thyme if I can. If not, I would substitute 1 tablespoon each dried rosemary and thyme. I prefer dried sage over fresh sage in this dish.
Dairy Free: The heavy cream in this pot pie is optional, but I love adding it for creaminess. You could substitute 1/2 cup cashew cream, coconut cream from a can, Silk dairy free heavy cream, or original flavor Nutpods for dairy free creaminess.
Whole30: If you skip the heavy cream, or cashew cream, coconut cream or Nutpods this dish is using all Whole30 friendly ingredients. The biscuit crumble topping could be considered swypo, so use your best judgement. I'd personally be fine eating this during a Whole30.
Adding Peas: Traditionally pot pie has peas in it. I left them out because they're higher carb. But if you're ok with a higher carb count you can definitely add them in! I'd add in 1.5 cups after adding in the heavy cream. Or, you could add in 1.5 cups of chopped green beans and sautee with all the veggies in Step 2.
Nut Free: I've never used it, but I've heard tigernut flour is a great substitution for almond flour if you need this to be nut free. You could also substitute your favorite gluten free biscuit recipe to use as the crumble topping if you don't need this to be keto. If you try this and it works please let me know in the comments!
Egg Free: I've never tried it, but you *should* be able to substitute a flax egg in the biscuit crumble topping if you need this to be egg free. Substitute 3 tablespoons flax meal mixed with 7-1/2 tablespoons water, left to stand for 5 minutes to thicken. If you try this and it works please let me know in the comments!
Baking In A Pie Dish or Casserole Dish: If you don't have a large enough oven safe skillet, you can add the filling to deep glass pie dish, or a glass casserole dish and bake for the same amount of time!
Reheating: You can microwave to reheat leftovers, about 3ish minutes. Or, if you have time, it's the yummiest if you reheat in a small oven safe dish at 350°F for 10ish minutes, or until warmed through. Will keep the biscuits crispy!
Freezing: If you're planning on making this as a freezer meal to stock your freezer, I would freeze after step 8, before baking it. Thaw overnight in the fridge, then bake at 350°F for closer to 30 minutes to completely warm through. You could also freeze before ever making the biscuit topping. After thawing, make biscuits fresh, top, and bake.
Calories:
470
,
Total Carbs:
16.5
g
,
Protein:
25.5
g
,
Fat:
23.9
g
,
Fiber:
4.8
g
,
Net Carbs:
12
g
Did you make this recipe?
Please Leave a comment and give this recipe a rating!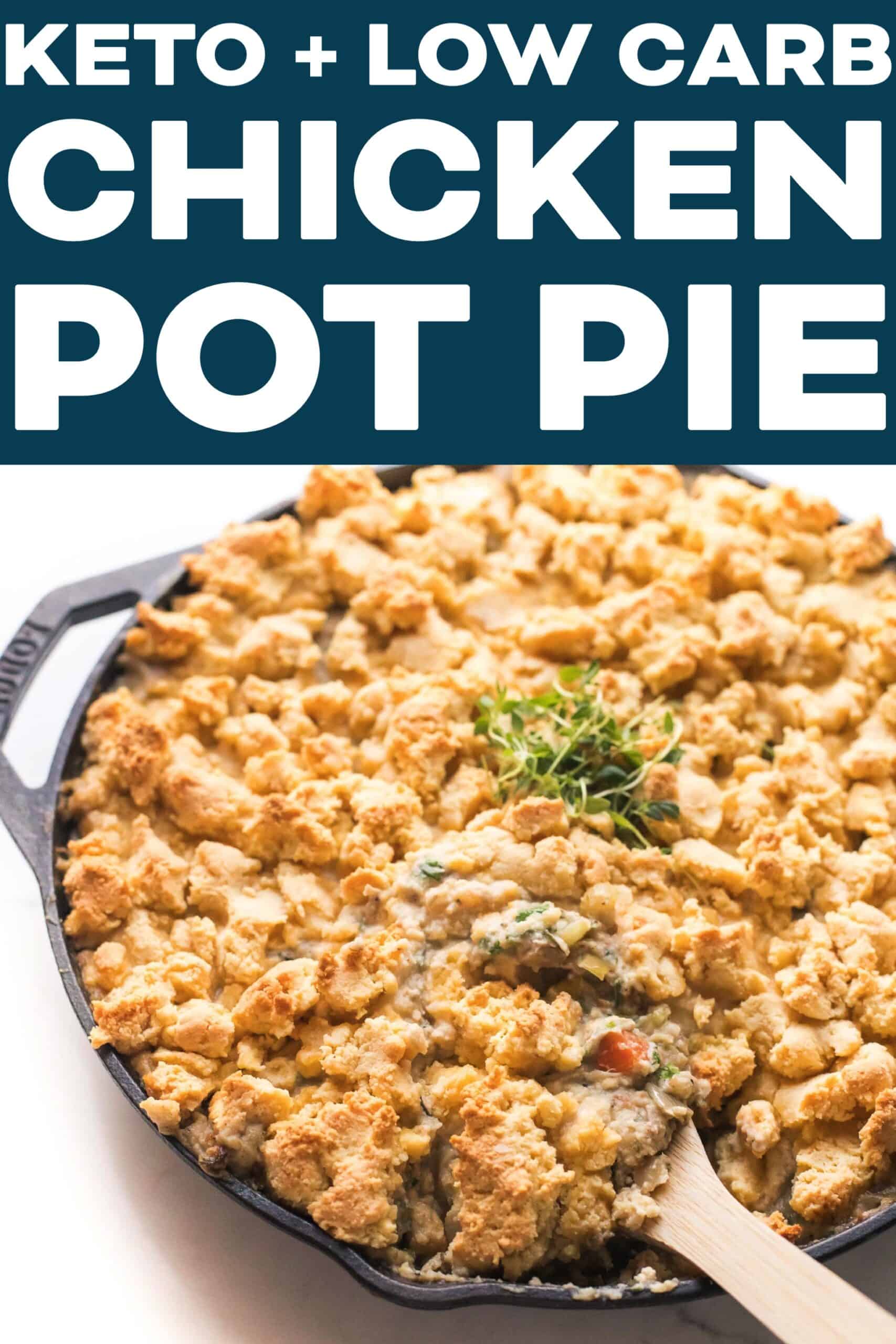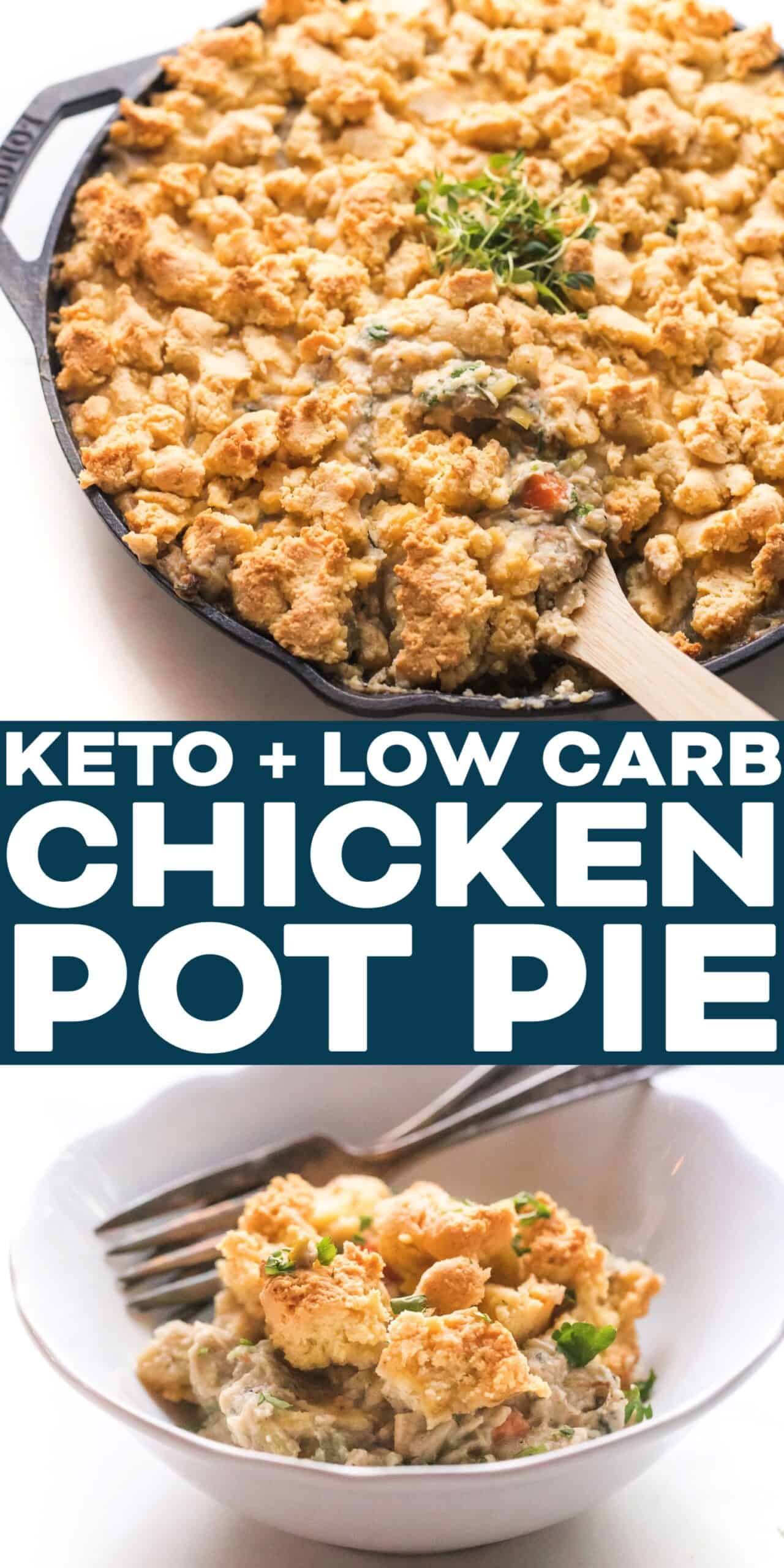 This post contains affiliate links, thanks for the love!