Mini No Bake Cheesecakes with Blueberry Sauce
Mini no bake cheesecakes with blueberry sauce, served in small mason jars. Ready fast since the cheesecake is no bake, made with cream cheese, greek yogurt and whipped cream. Perfect dessert for a party since they can be transported so easily.
I am the worst at sharing. The worst!
When my sister and I were little, we shared a bedroom. Bunk beds and everything. This was super fun in elementary school. Every night was like a sleepover. And I knew a bad guy couldn't get me as long as my sister was near by.
But as soon as I got in to middle school, I had to have my own room.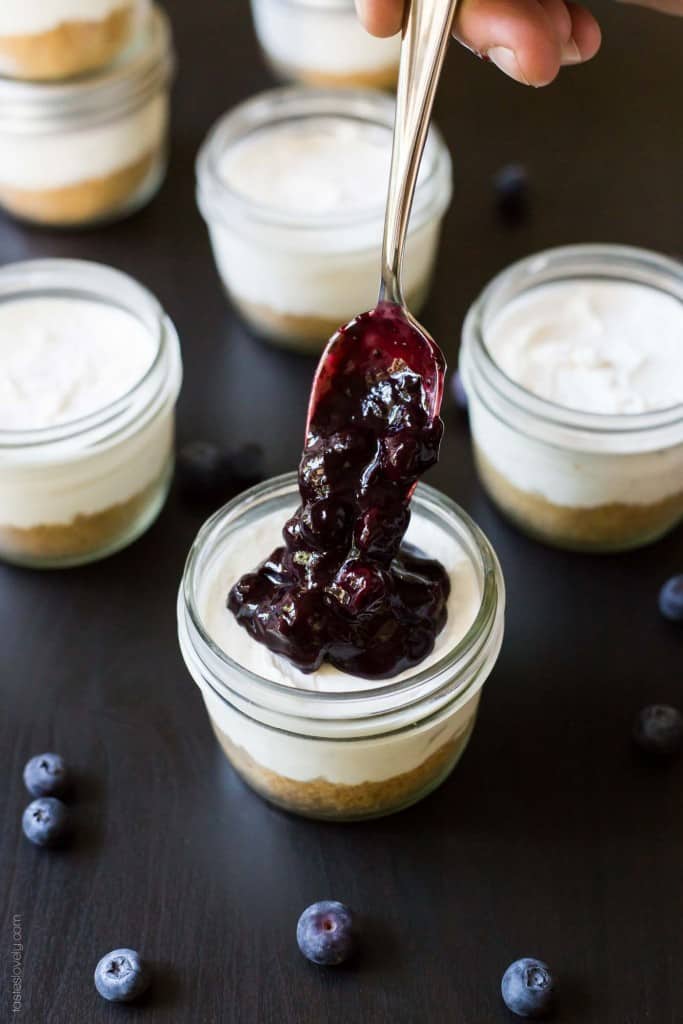 On 1 particular summer day, I had HAD it! Nicole must have touched something of mine, and I was determined to get my own room. For the very first time, it occurred to me that my dad had an office. That could be a bedroom. My bedroom! All to myself. It had a closet and everything. How had I never thought of this before?
I called my Dad.
"Dadddddyyyyyy? Can I move in to your offfffficccccce? It can be my very own bedroom! You can leave your dessssssk. I can share it with you! Pleasssse say yesssss!"
He said yes, and I spent the day moving my bed and clothes into his office. And decorated the walls with HUGE Backstreet Boys posters that came in my Teen Beat magazine. So 1998.
After that, Nicole and I got along much better. And we would still have sleepovers. We'd just move our mattresses in to the living room so we could stay up late and watch TV.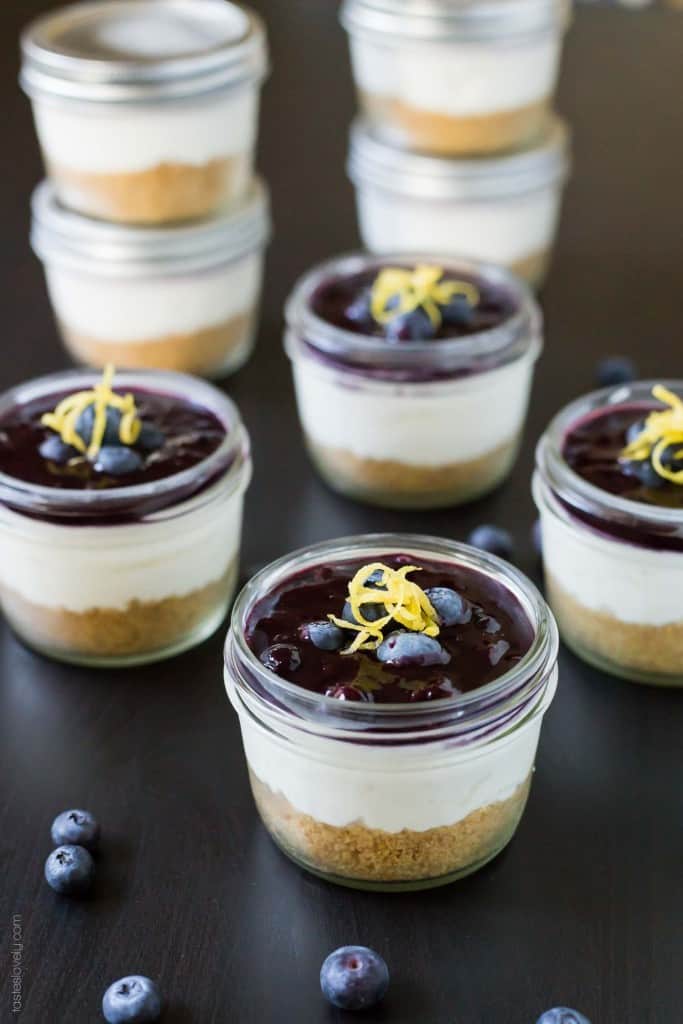 I'm the same way when it comes to food. I don't like sharing. I don't give out bites. I will, if you ask, and say "Ya, help yourself," but inside I'm screaming "NOOOOO!"
That's why I love these mini no bake cheesecakes with blueberry sauce. Individually portioned, so it's allllll for me!
You guys. I am obsessed with these mini no bake cheesecakes. This recipe makes 12, and Shawn have been slowly eating them all week.
The taste of these cheesecakes is unbelievably delicious. A graham cracker crust, a thick and creamy sweet cheesecake, topped with a homemade blueberry sauce made from fresh blueberries.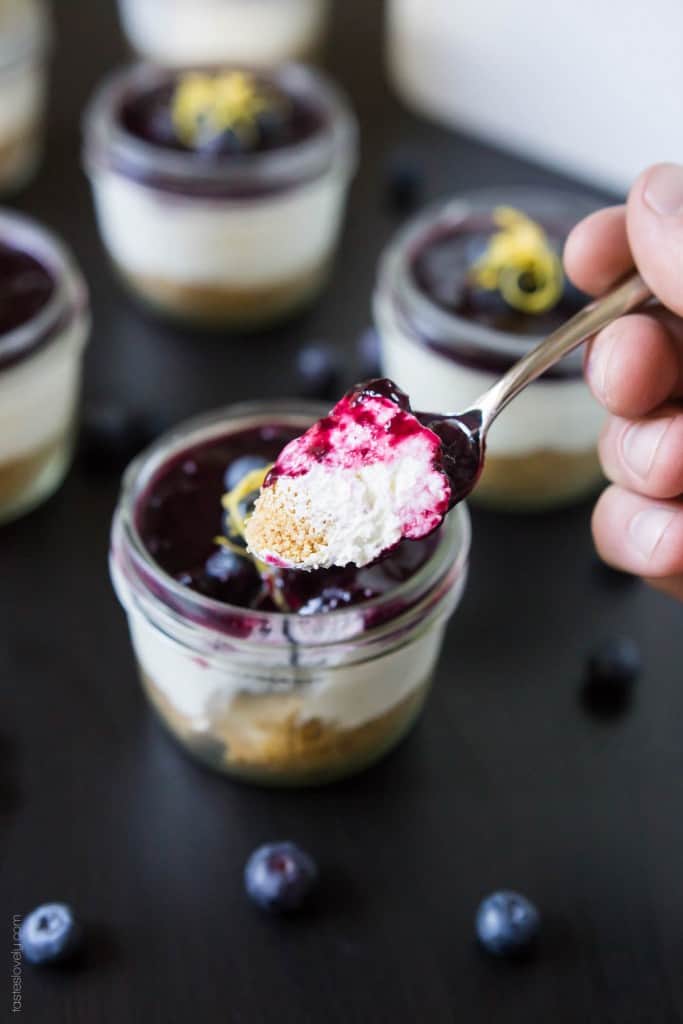 Since these mini cheesecakes are no bake, they are ready to eat in about an hour. No more baking for an hour, then waiting for it to cool overnight. The filling is egg free, and instead is made with cream cheese, greek yogurt and whipped heavy cream.
I make them in wide mouth half pint mason jars, and they are the perfect size. And since you can screw the cap right on top, these desserts are so easy to transfer. Perfect to bring to a party or BBQ.
These are what I'll be making and bringing for 4th of July. I'll top half with this blueberry sauce, and another half with my strawberry sauce. Because everything you eat on 4th of July has to be red, white, and blue, right?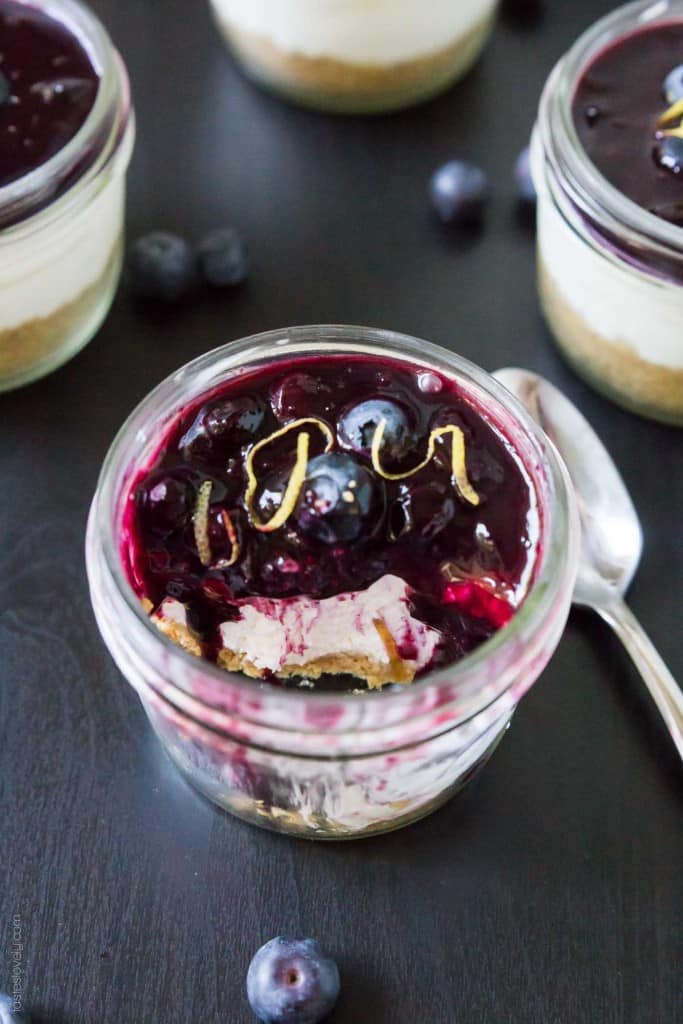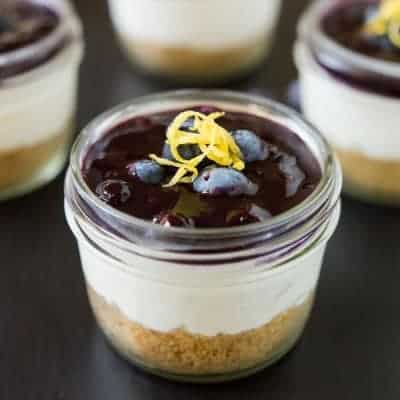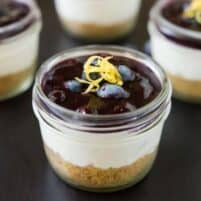 Mini No Bake Cheesecakes with Blueberry Sauce
These mini no bake cheesecakes with blueberry sauce, are served in small mason jars. They are ready fast since the cheesecake is no bake, made with cream cheese, greek yogurt and whipped cream. Perfect dessert for a party since they can be transported so easily!
Ingredients
Blueberry Sauce
24

ounces

fresh blueberries

,

divided (could substitute frozen blueberries)

1/4

cup

water

3

tablespoons

sugar

1

teaspoon

corn starch

juice from half a lemon

,

about 1 tablespoon
Crust
2

cups

graham cracker crumbs

,

from 12 graham crackers

1

tablespoon

white granulated sugar

1

stick

,

1/2 cup butter, melted
Cheesecake Filling
1-1/2

cups

heavy cream

,

cold

2 8 ounce blocks cream cheese, room temperature

1-1/2

cup

plain greek yogurt

1

cup

confectioners powdered sugar
Container
12 half pint (8 oz) wide mouth mason jars (could substitute small drinking glass, stemless wine glass or even 8 oz clear plastic cups)
Instructions
Blueberry Sauce
Heat a small saucepan over medium high heat. Reserve 1/2 cup of blueberries for garnish. Add the remaining blueberries, water, sugar and cornstarch to the saucepan.

Mash with a potato masher using medium pressure to break up most of the blueberries. Some chunks are ok.

Cook for about 4 minutes, or until the sauce has slightly thickened. Remove from heat to allow it to cool. Stir in the lemon juice.

Set aside. Once it is room temperature, add it to the fridge. You can make the blueberry sauce up to 5 days in advance.
Crust
In a medium size mixing bowl, combine the graham cracker crumbs and sugar. Stir to combine. Slowly drizzle in the melted butter with 1 hand, and stir to combine with a fork using the other hand. When fully mixed, the crust will look like wet sand.

Spoon in about 2-1/2 tablespoons of the crumb mixture to the bottom of each mason jar. Press the crumbs in an even layer at the bottom of the jar using medium pressure. I used an ice cream scoop, it fit in the jar perfectly. Set aside.
Cheesecake Filling
In a stand mixer with a whisk attachment (or in a large bowl with a hand mixer), beat the cold heavy cream on high speed until stiff peaks form, about 3-5 minutes. Transfer the whipped cream to another bowl and set aside.

In a stand mixer with a paddle attachment (or in a large bowl with a hand mixer), beat the room temperature cream cheese, greek yogurt and powdered sugar. Start at low speed, then slowly increase speed to high as powdered sugar is incorporated. Beat for 2 minutes until creamy.

Add in half of the whipped cream to the cream cheese mixture and stir to combine. Then add the other half of the whipped cream, and gently fold it in. You want it to stay somewhat light and airy. Otherwise it will be too thick in the jar once it cools in the fridge.
Assembly
Spoon about 1/3 cup of the cheesecake on top of the graham cracker crust in the mason jars. Gently press it in to remove any air pockets, and so it looks pretty in the jar. Otherwise, there will be air gaps along the side between the crust and cheesecake.

Continue with all the jars until the cream cheese mixture has been evenly divided in each jar.

To make it extra pretty, use a damp paper towel to wipe any smudged cheesecake that is along the top inside.

When the blueberry sauce is cool, spoon about 2 tablespoons of the blueberry mixture on top of the cheesecake. Repeat with all the mason jars until it is evenly divided.

Cover with the lids, and refrigerate at least 1 hour so they can get cold and firm up. Will keep in the fridge for 1 week, and the graham cracker crumbs are still crispy and crunchy.
Serving
Remove the lids, and top with a few fresh blueberries. Serve cold.
Calories:
306
,
Total Carbs:
30.8
g
,
Protein:
4.5
g
,
Fat:
19.5
g
,
Fiber:
1.8
g
,
Net Carbs:
29
g
Did you make this recipe?
Please Leave a comment and give this recipe a rating!

More Berry Desserts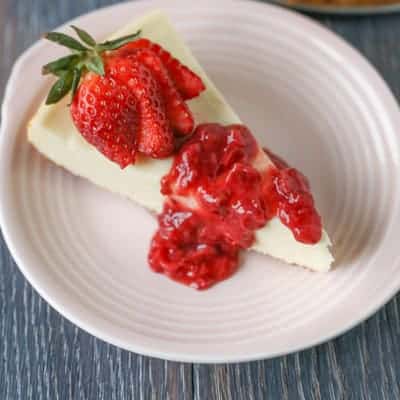 Creamiest Homemade Cheesecake with Strawberry Sauce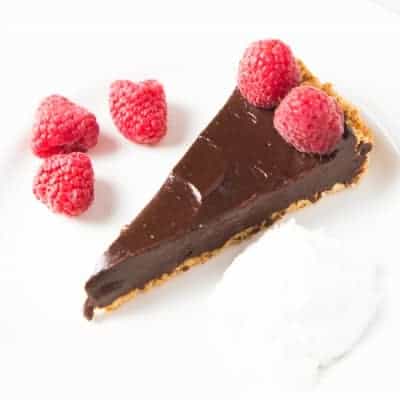 Secretly VERY Healthy Chocolate Tart with Raspberries (<- made with avocados!)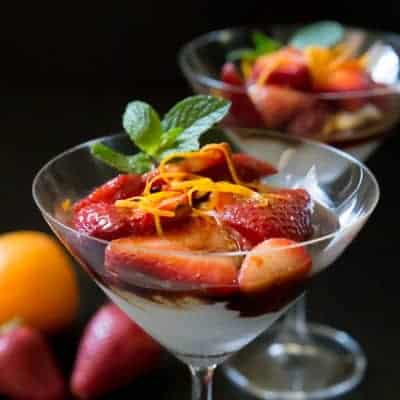 Balsamic Strawberries with Coconut Whipped Cream