Crispy Paleo Waffles (Gluten Free, Dairy Free)
Crispy Paleo Waffles – the most delicious and crispy waffle breakfast or brunch recipe! Made with almond flour. You'd never guess these were paleo, gluten free, dairy free and refined sugar free!
I am SO excited to be sharing these crispy waffles with you today! I've been working on this recipe for over a month, and after many waffle breakfasts I've finally perfected them.
If you love light and crispy waffles, this is the waffle recipe for you. Is there anything worse that a squishy, soggy waffle? I like my waffles CRISP! I want to be able to hear myself cutting in to them. Hear an actual *tap tap* as I tap my fork on them. But also light and fluffy on the inside. And these beauties are them. And best of all they are paleo/gluten free/grain free!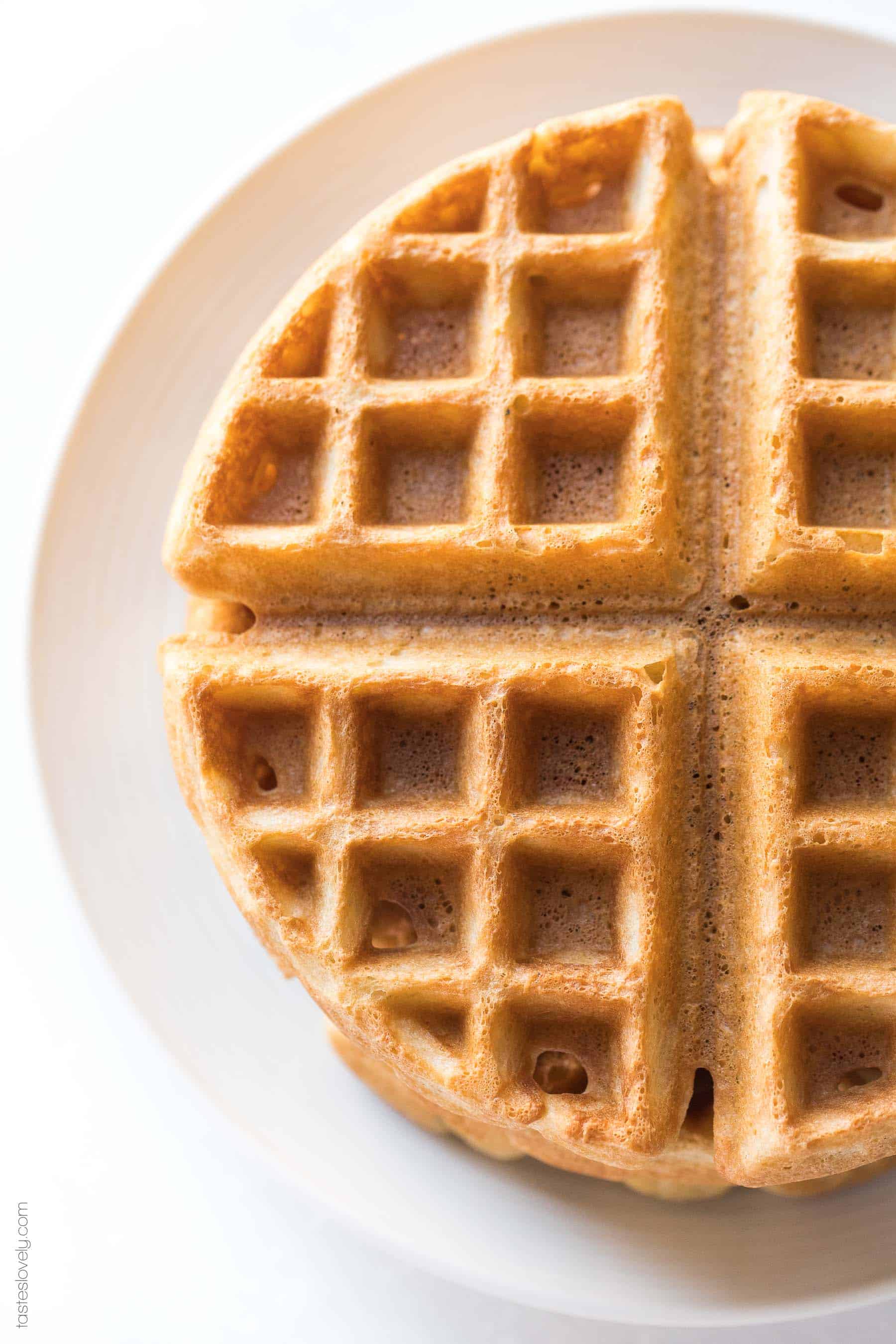 I started off with my previous go to dairy free waffle recipe that uses almond milk and coconut oil. Tons of you have told me you love these waffles, especially those of you like me with dairy sensitivities.
The waffles are super light and crispy thanks to the beaten egg whites. The beaten egg whites are essential to a light waffle. They add air and lightness to the waffle, and make it fluffy as a cloud. If you skip this step, which I have on lazy mornings, the waffles are much thicker and denser.
I wanted to to tweak it so I could avoid using white flour all together and use paleo friendly flours so these waffles would be even more guilt free.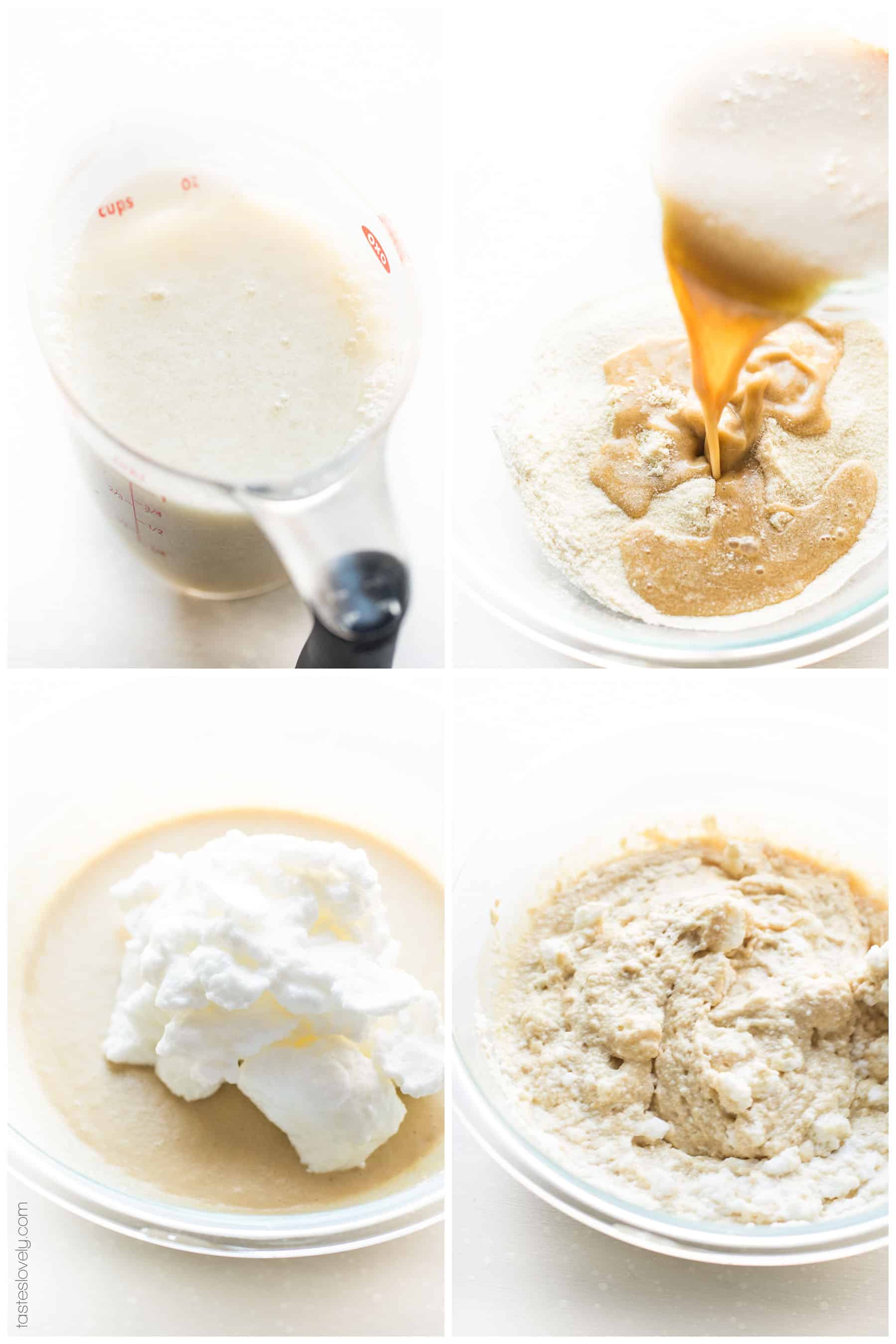 I finally found success using a combination of both almond flour and tapioca flour. Just almond flour alone was too dense and crumbly. But the addition of some tapioca flour made it the perfect paleo waffle batter.
I added another step to my original dairy free waffles that I love even more in these paleo waffles. Rather than using just plain almond milk, I make a paleo version of buttermilk by adding apple cider vinegar to the almond milk. It gives it that great tang you love in buttermilk waffles without having to use dairy.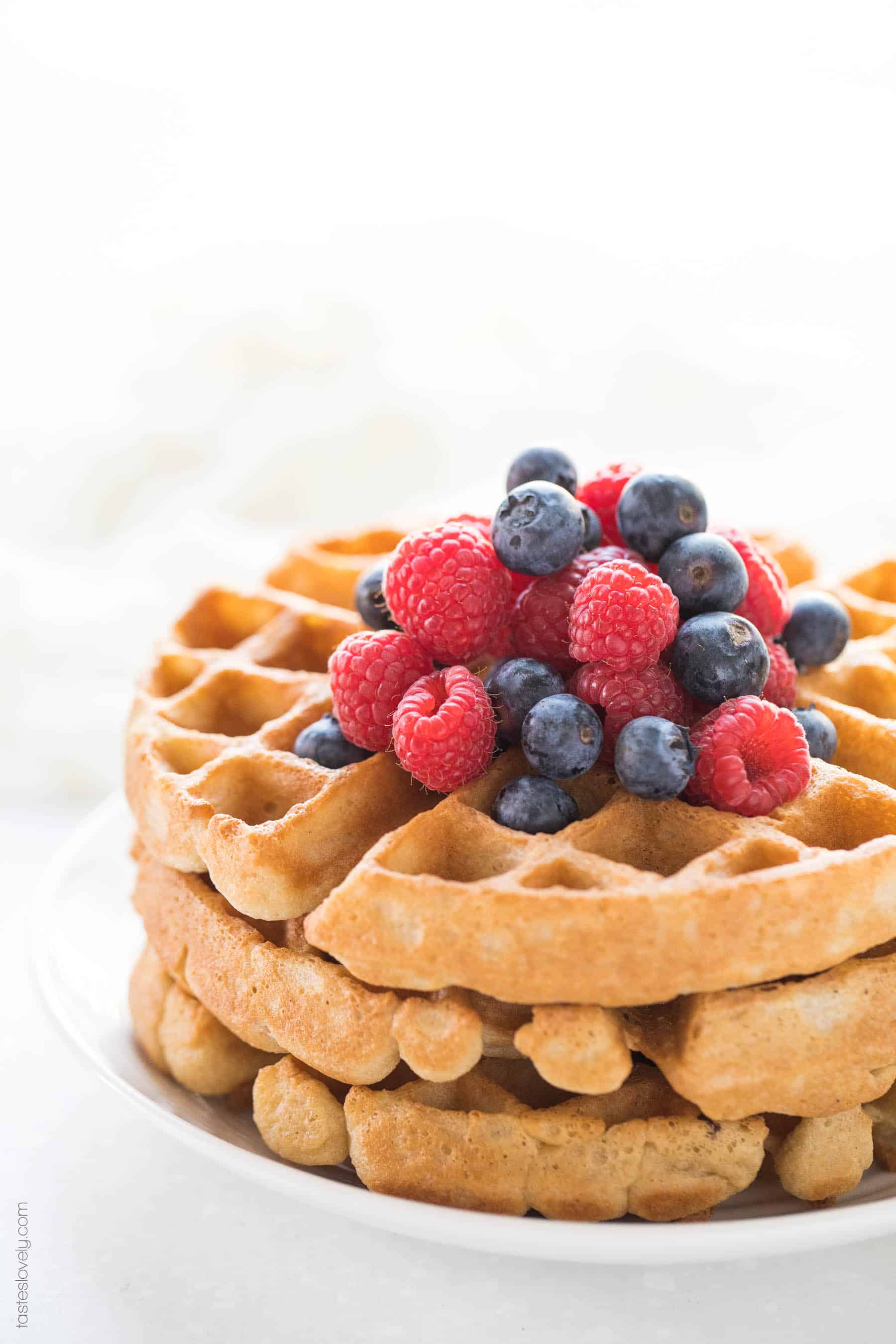 I don't like my waffle batter overly sweet. I like to get the sweetness from pure maple syrup and fresh berries. So I add just 1/4 cup of coconut sugar to the waffle batter so it has just a touch of sweetness to it.
I make these in my beloved double belgian waffle maker. It can make 2 waffles at once! And I love how deep the waffle pockets are. I cook them at the toastiest level, because I like my waffles crispy as can be. Sometimes even when the waffle iron beeps, I open it and they're still not crispy enough so I'll cook them even longer.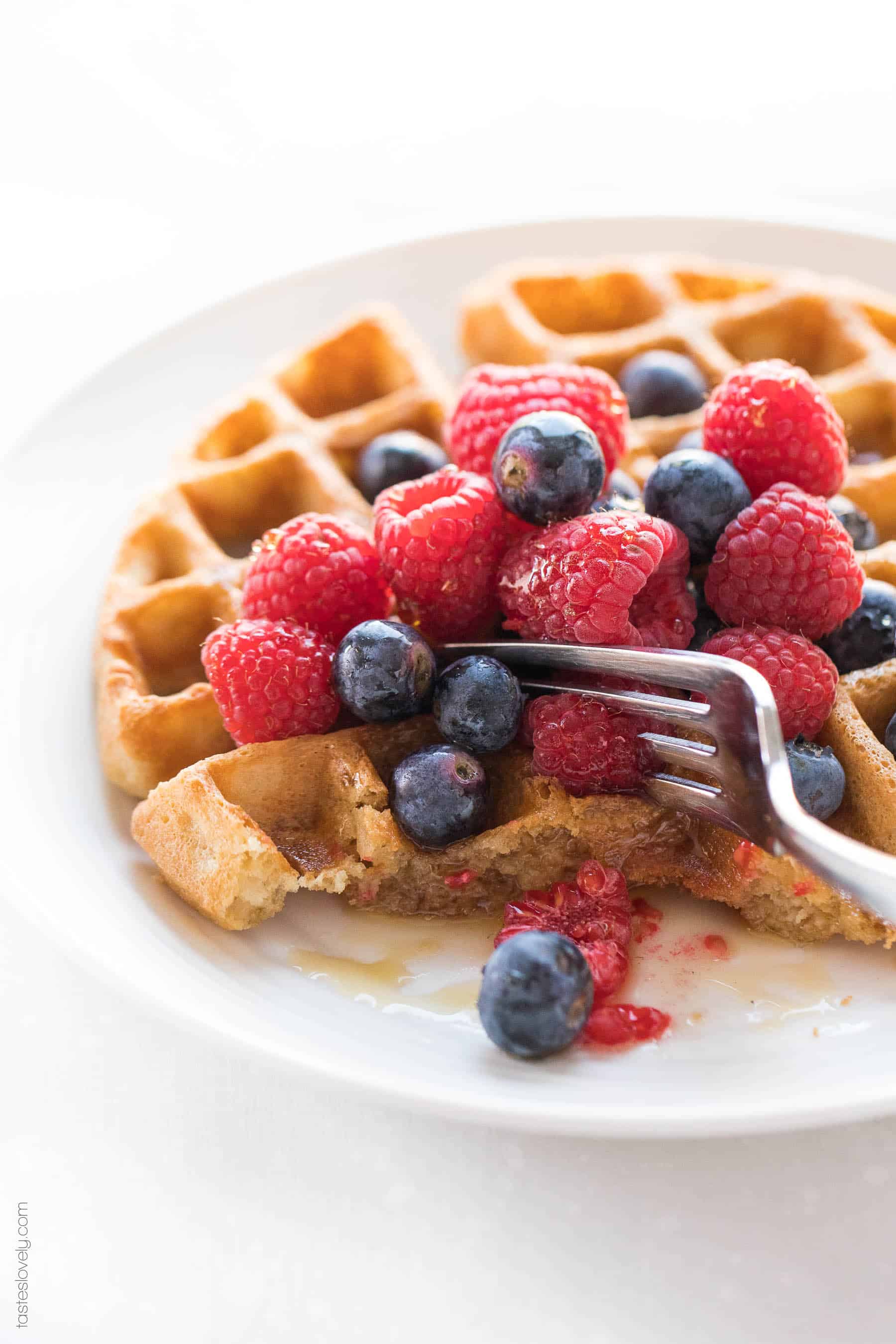 My husband did not believe when I served these and told him they were 100% paleo, gluten free, grain free, dairy free, refined sugar free. They are delicious!
I'll be serving them for our Easter brunch, and basically every Sunday morning breakfast forever. Because Sunday breakfast is meant to be waffles.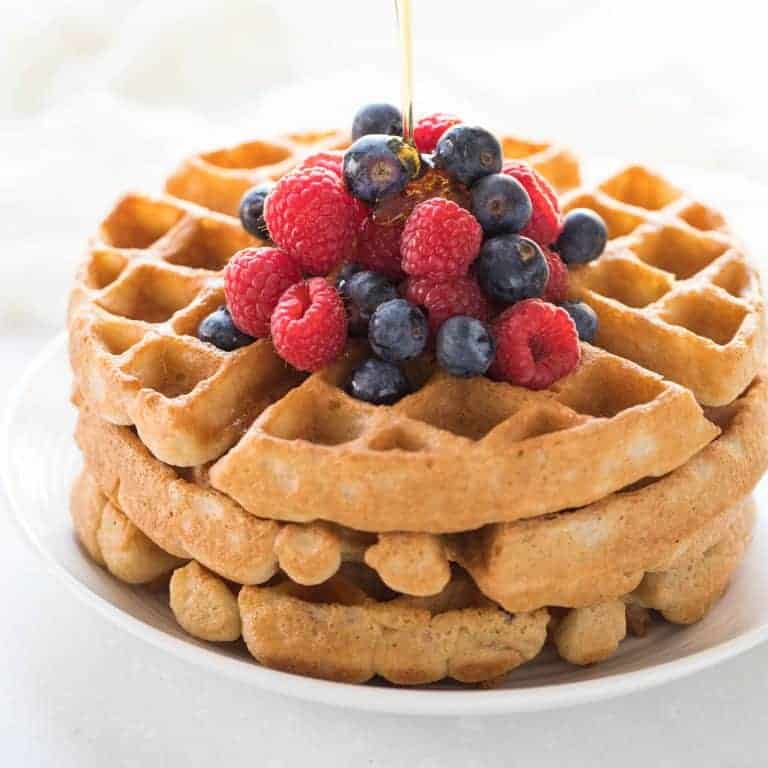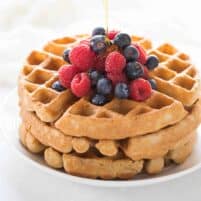 Crispy Paleo Waffles (Gluten Free, Dairy Free)
The most delicious and crispy waffle breakfast or brunch recipe! Made with almond flour. 
Ingredients
2

cups

finely ground almond flour

, this is my favorite

1

cup

tapioca flour, this is my favorite

1

tablespoon

baking powder

1

teaspoon

salt

3

eggs

,

whites and yolks separated

1

cup

unsweetened almond milk

2

teaspoons

apple cider vinegar

1/2

cup

coconut oil

,

melted and room temperature (not piping hot)

1/4

cup

coconut sugar

1

teaspoon

pure vanilla extract

Coconut oil spray
Equipment needed:
Waffle iron

, this one is my favorite, it makes 2 waffles at once!
Instructions
Preheat your waffle iron.

In a large bowl, sift the almond flour, tapioca starch, baking powder and salt.

In your stand mixer with the balloon whisk attachment (or using a hand mixer), beat the 3 egg whites over medium high until stiff peaks form.

Combine the almond milk and apple cider vinegar and allow to sit for a few minutes while you prepare the other ingredients. This makes it similar to a buttermilk. The almond milk will get a little lumpy.

In a small bowl, combine the almond milk/apple cider mixture, 3 egg yolks, coconut oil, coconut sugar and vanilla extract.

Pour the wet mixture into the dry mixture. Whisk to combine.

Use a spatula to spoon the beaten egg whites into the waffle batter. Very, VERY gently fold the egg whites into the batter until just combined. You want to keep the egg whites as fluffy as possible. This will keep the batter light, give you lots of bubbles in the batter, and will make the waffles light and crispy.

Spray your waffle iron with coconut oil spray. Spoon the waffle batter into your waffle iron, and cook to desired doneness. I like mine crispy and golden brown.

When the waffles are done cooking, transfer the cooked waffles to a cooling rack. Don't put them straight on a plate. The heat from the hot waffles will create steam on the plate, which leads to soggy waffle bottoms.

Any leftover waffles can be frozen in a freezer safe ziploc bag for 6 months. You can reheat them in a toaster (if they fit), or bake them on a wire rack rimmed baking sheet at 350 degrees for 10ish minutes until crispy again.
Calories:
336
,
Total Carbs:
7.2
g
,
Protein:
6.5
g
,
Fat:
22.3
g
,
Fiber:
1
g
,
Net Carbs:
6
g
Did you make this recipe?
Please Leave a comment and give this recipe a rating!

More Paleo Breakfasts: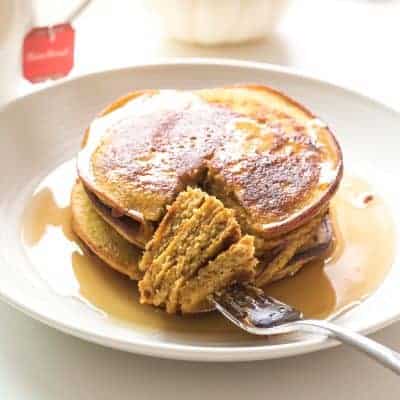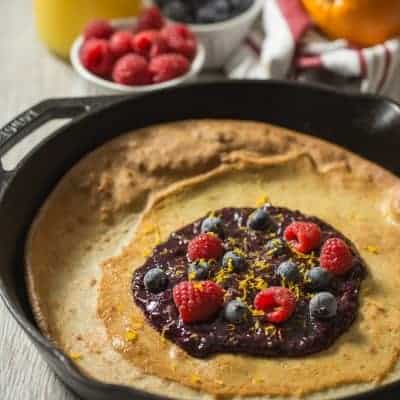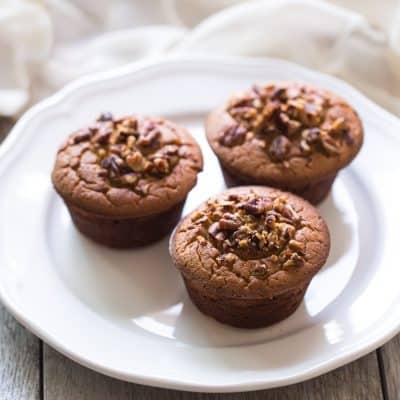 This post contains affiliate links, thanks for the love!