Rosemary Greyhound Cocktail
Taxes are done, let's celebrate with a rosemary greyhound cocktail!
Or, maybe you just realized that taxes are due today, and you haven't finished them yet. In which case, you get 2 cocktails!
That's OK, I'm a procrastinator too. I work best with a very close deadline.
In college I did all my studying the night before a test. Always. Which probably wasn't the best strategy because there are a lot of things I don't remember. I took an entire class on the history of Tokyo, and I can't think of one thing I learned. Seriously. Not one.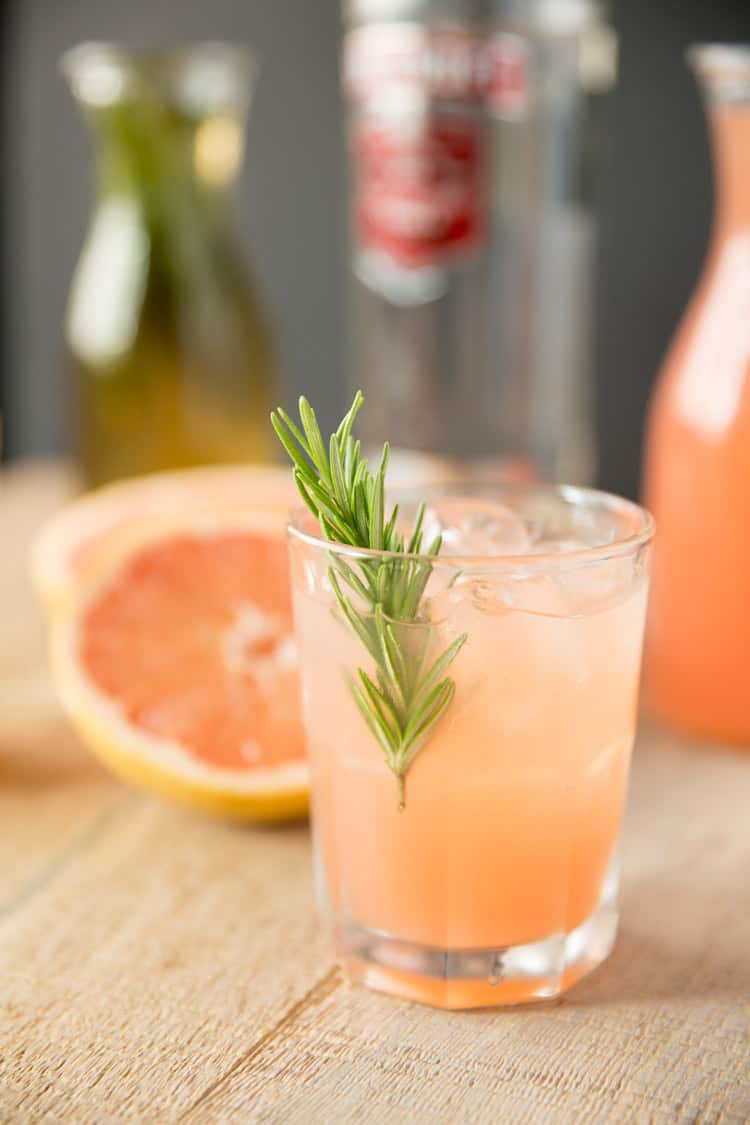 I also took 2 accounting classes in college, and the fact that we hire an accountant to do our taxes should tell you how much I remember from that class.
Taxes feel like the grown up version of finals, but instead of getting getting a grade, you get told how much money you owe. Or in our case, a refund. Woot woot!
And what's the first thing you did after finals week? Vacation! Unfortunately there's no winter or summer break as an adult. But drinking a delicious, pink rosemary greyhound on a Tuesday night is the next best thing. Amiright?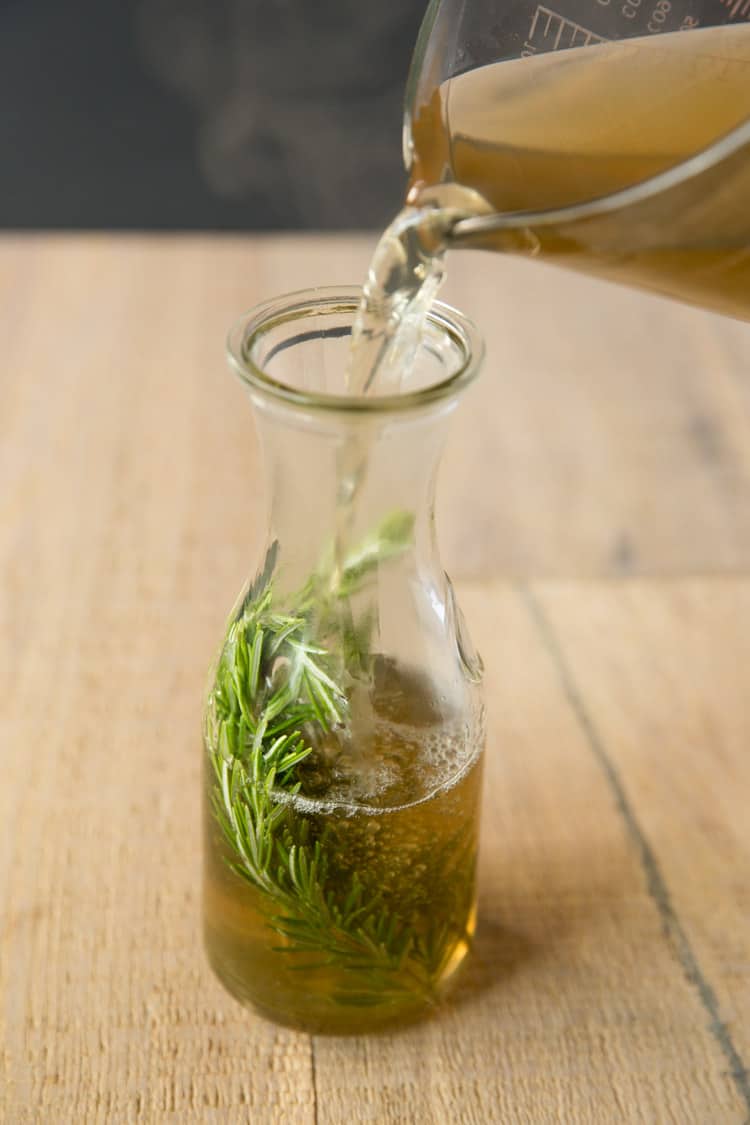 I first had this cocktail a year ago at a cousins wedding. The bride and groom each picked a signature drink. This rosemary greyhound was the brides choice, and I couldn't get over how delicious the flavors were.
The sweet and savory rosemary simple syrup mixed with the tart grapefruit juice is just amazing. And you must garnish the cocktail with a sprig of rosemary. It gives the cocktail a great scent with every sip. Plus, it's the perfect little stirring tool to mix up your drink as you sip it.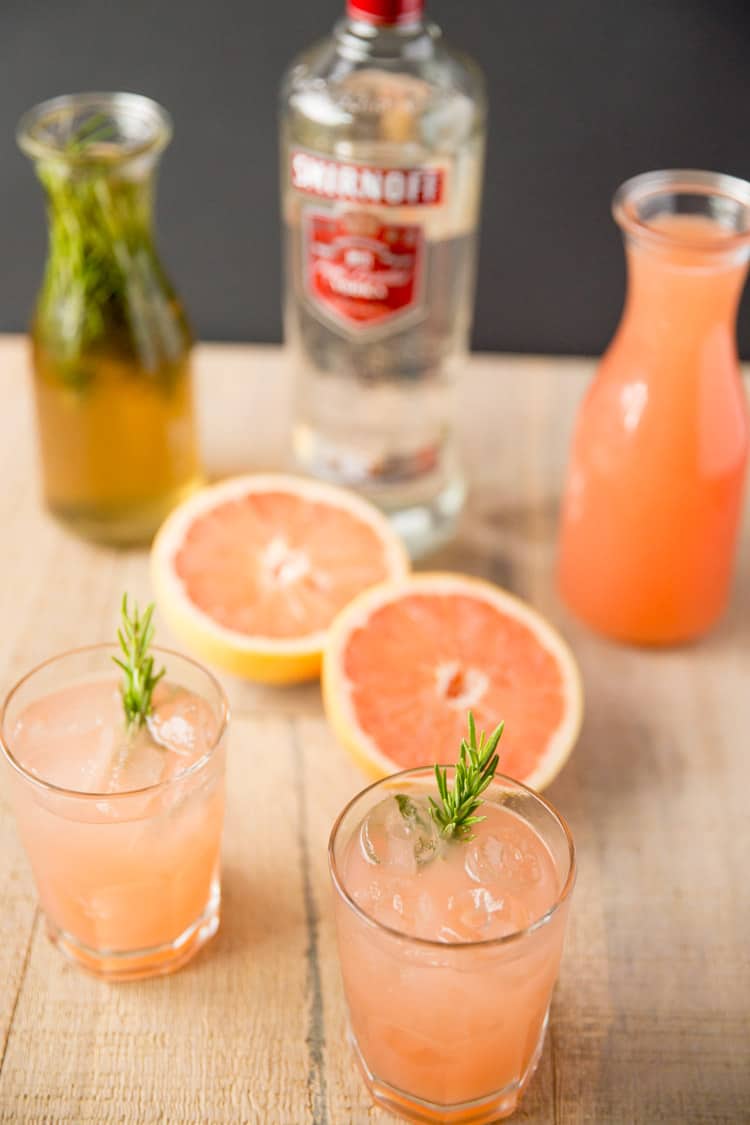 After getting home I had to recreate this drink right away. It helped that I planted a few rosemary plants in my garden, which quickly grew into a lot of rosemary plants. I had more rosemary than I knew what to do with. So endless rosemary greyhound cocktails it is!
This rosemary greyhound would make a great signature drink at a wedding, is perfect for bridal showers and bachelorette parties, or for a fun girls night in.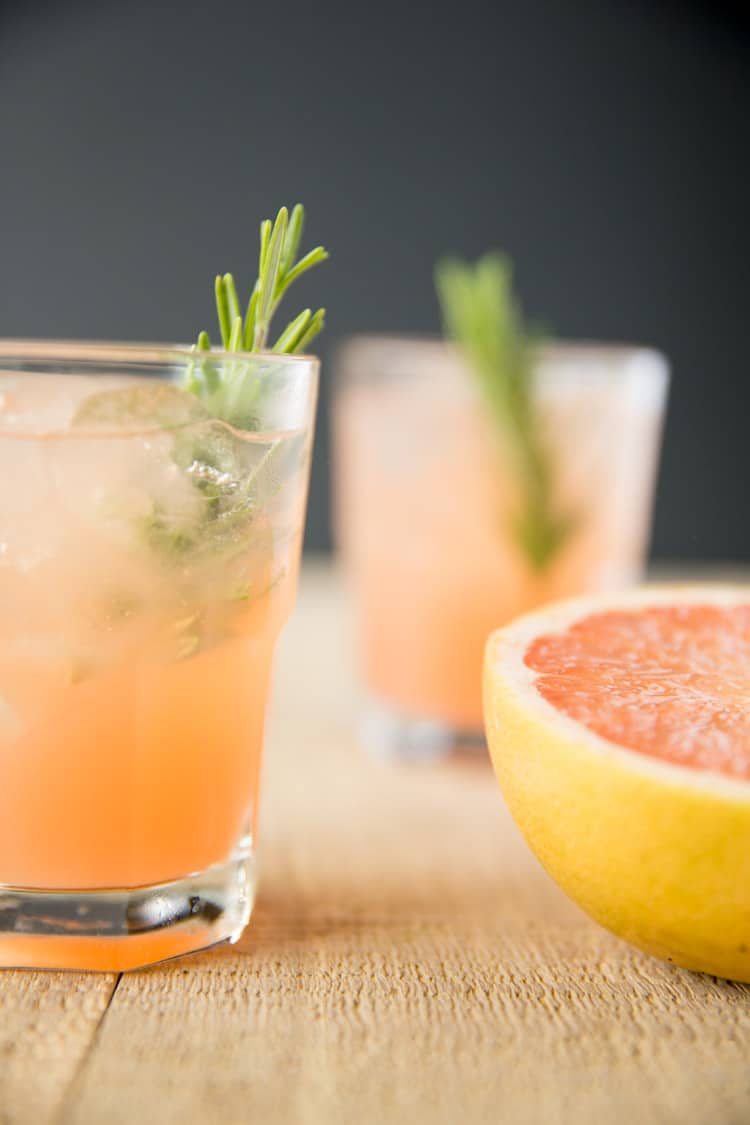 I'll be enjoying a rosemary greyhound tonight with Shawn as we cheers to another year of taxes being done.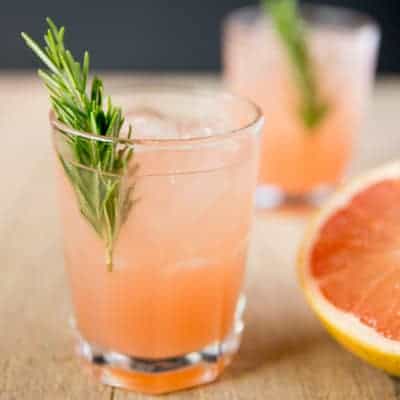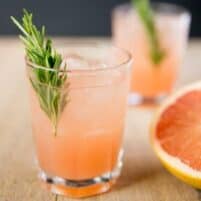 Rosemary Greyhound Cocktail
This sweet and savory rosemary greyhound cocktail is made with simple syrup mixed with fresh rosemary and tart grapefruit juice that tastes just amazing! Plus the rosemary sprig is the perfect little stirring tool to mix up your drink as you sip it.
Ingredients
Rosemary Simple Syrup
2

cups

of water

2

cups

of sugar

6

sprigs of rosemary
Cocktail
2

ounces

vodka

1/2

ounce

rosemary simple syrup

4

ounces

grapefruit juice

sprig of rosemary for garnish
Instructions
Simple Syrup: In a small sauce pan over medium low heat, dissolve the sugar into the water for about 5 minutes. Do not let the mixture boil or crystals will form. In a heat safe container, pour the warm sugar water mixture over the rosemary sprigs and let it steep for at least 1 hour. The rosemary simple syrup will keep in the refrigerator in an airtight container for 10 days.

Cocktail: In tall glass filled with ice combine the vodka, rosemary simple syrup and grapefruit juice. Garnish with a sprig of rosemary.
Notes
Grapefruit Juice: I prefer ruby red grapefruit juice, but any kind will work.
Calories:
235
,
Total Carbs:
26.3
g
,
Protein:
0.7
g
,
Fat:
0.3
g
,
Fiber:
0.8
g
,
Net Carbs:
26
g
Did you make this recipe?
Please Leave a comment and give this recipe a rating!