Skirt Steak with Chimichurri Sauce
Skirt steak with chimichurri sauce – a delicious (and affordable!) steak dinner topped with a cilantro parsley mixture. Paleo, Whole30, gluten free and low carb.
Yesterday I had one of those Trader Joe's salads for lunch. Which by the way, are so good! Great and healthy lunch to grab on the go. After eating it, I went to throw the container away and noticed the expiration date. Ummm…it was already 3 days expired! Why didn't I check it before eating the whole thing?
The salad tasted fine as I was eating it. But of course knowing it was past the expiration date gave me the heeby jeebies. I've only had food poisoning once before, and it was awful. So the whole day I was nervous that it was going to hit me at any second. Luckily, I was just fine. Nothing to worry about.
Can you even get food poisoning from lettuce?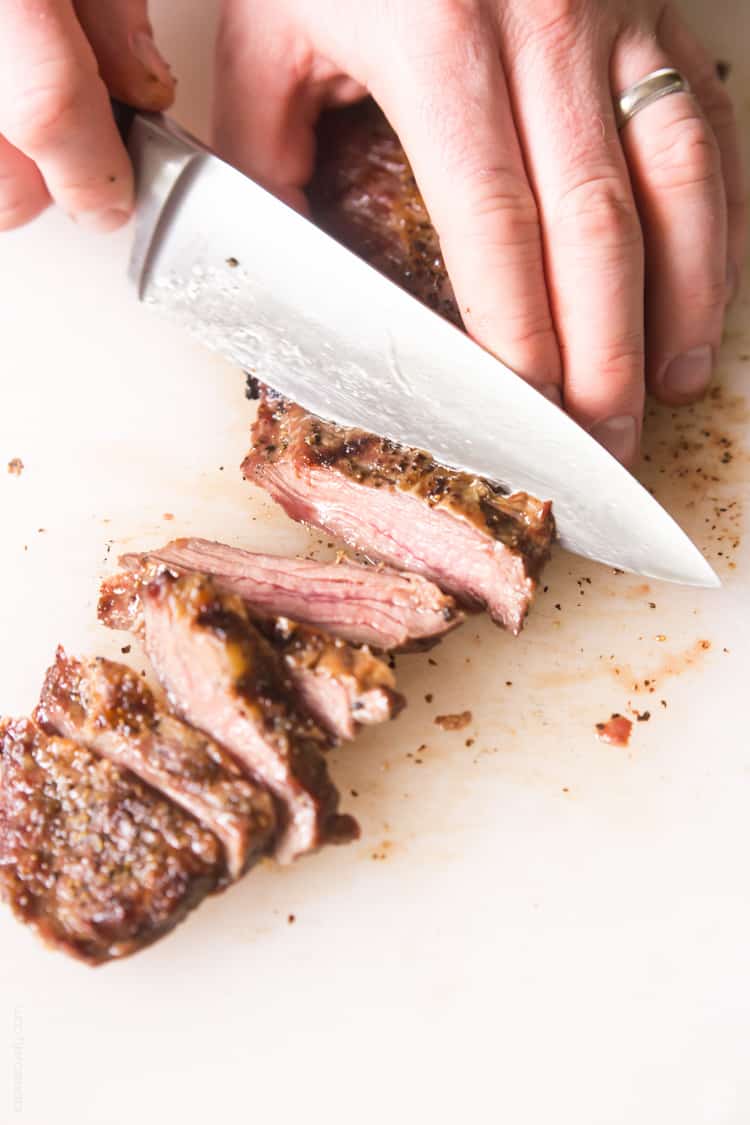 I'm just glad I was the one to grab that salad from the fridge and not Shawn. That guy takes expiration dates VERY seriously. If a meat says "use or freeze by", and I froze it before the freeze date, but I'm thawing it too cook after the freeze date, he has a LOT of questions. "Are you sure that's good? It says use by last week. I don't know about this Nat. I think it's old."
If our milk is a whole 2 days away from the expiration date, he'll refuse to drink it. This makes left overs very tricky in our house. He'll eat leftovers the day after, but 2 or more days and it's in the garbage. More for me!
I never have to worry about having leftovers after making this paleo skirt steak with
chimichurri
sauce. It is so delicious, we eat the whole thing.
This is one of my favorite ways to use my chimichurri sauce. We love steak, but the good cuts can be so pricey. Luckily, skirt steak (or flank steak) is very affordable. Shawn and I will split a 1 pound flank steak that cost less than $10. Skirt steak doesn't have the most flavor on it's own, which is why it's the perfect cut to slather in this heavenly chimichurri sauce.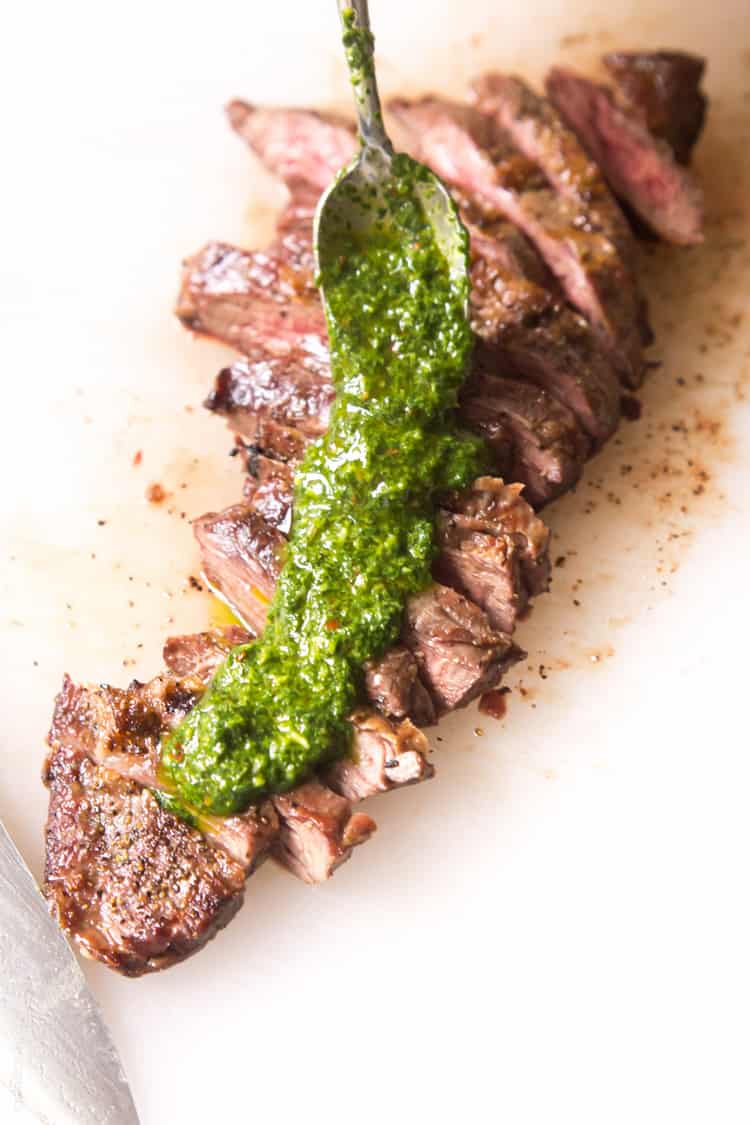 Not to make you all jealous, but the weather is so nice here in California that we were able to grill this steak outdoors! But this steak is just as good cooked on an indoor grill pan, which we also used all the time when we didn't have a backyard or outdoor grill. We are a medium rare steak family, and I love my meat thermometer since it lets me know when my steak reaches 135 degrees. Hurray for no more overcooked steak!
I love serving this skirt steak with chimichurri sauce with my perfect roasted potatoes and some sauteed mushrooms.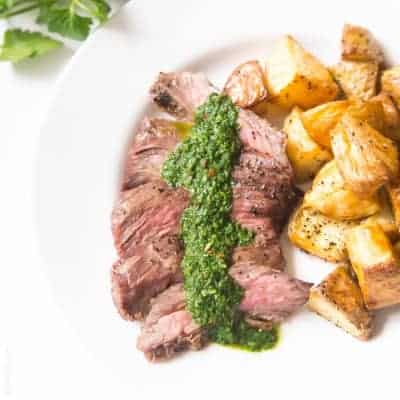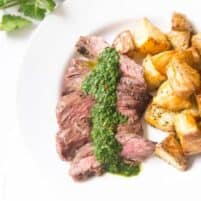 Skirt Steak with Chimichurri Sauce
Skirt steak with chimichurri sauce – a delicious (and affordable!) steak dinner topped with a cilantro parsley mixture.
Ingredients
Steak
1

pound

skirt steak

, or flank steak, any large parts of fat trimmed (I get my steak from ButcherBox, which I highly recommend)

salt and pepper
Chimichurri Sauce
½

cup

parsley leaves

,

torn from 1 bunch, some stems ok

½

cup

cilantro leaves

,

torn from 1 bunch, some stems ok

¾

cup

olive oil

¼

cup

red wine vinegar

3

cloves

of garlic

1

teaspoon

red pepper flakes

½

teaspoon

salt

½

teaspoon

pepper
Instructions
Chimichurri Sauce
Combine all the ingredients in a food processor. Pulse for about 10-15 seconds until just combined. you do not want to over pulse and turn this into a smooth sauce. Transfer to a container and set aside.
Steak
Preheat your grill (or indoor grill pan) over high heat, and brush with olive oil. Season the salt generously with salt and pepper. Grill on each side about 5-6 minutes, or until it reaches an internal temperature of 135 degrees for medium rare. Transfer to a cutting board and allow to rest for 5 minutes. After the steak has rested, slice it against the grain into 1/2" thick slices. Serve topped with chimichurri sauce.
Calories:
783
,
Total Carbs:
34.5
g
,
Protein:
34.2
g
,
Fat:
12.9
g
,
Fiber:
2.6
g
,
Net Carbs:
32
g
Did you make this recipe?
Please Leave a comment and give this recipe a rating!

More Beef Recipes: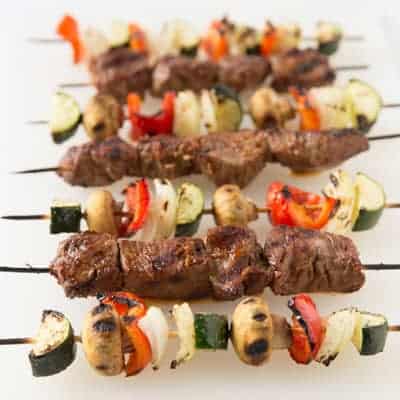 Grilled Steak and Vegetable Skewers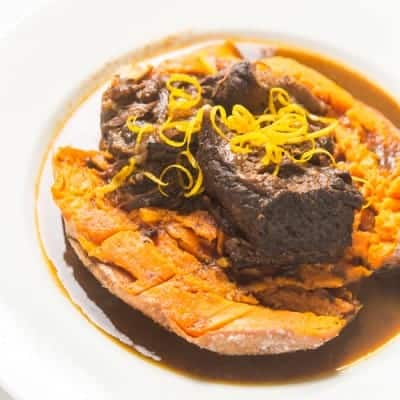 Moroccan Braised Beef Short Ribs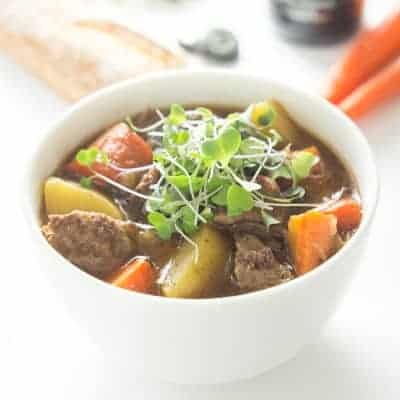 Slow Cooker Irish Guinness Beef Stew
This post contains affiliate links, thanks for the love!