Paleo + Whole30 Banana Bread Pancakes – just 3 ingredients! Tastes just like banana bread, but made with no flour, no sugar, no butter. Paleo, Whole30, gluten free, grain free, dairy free.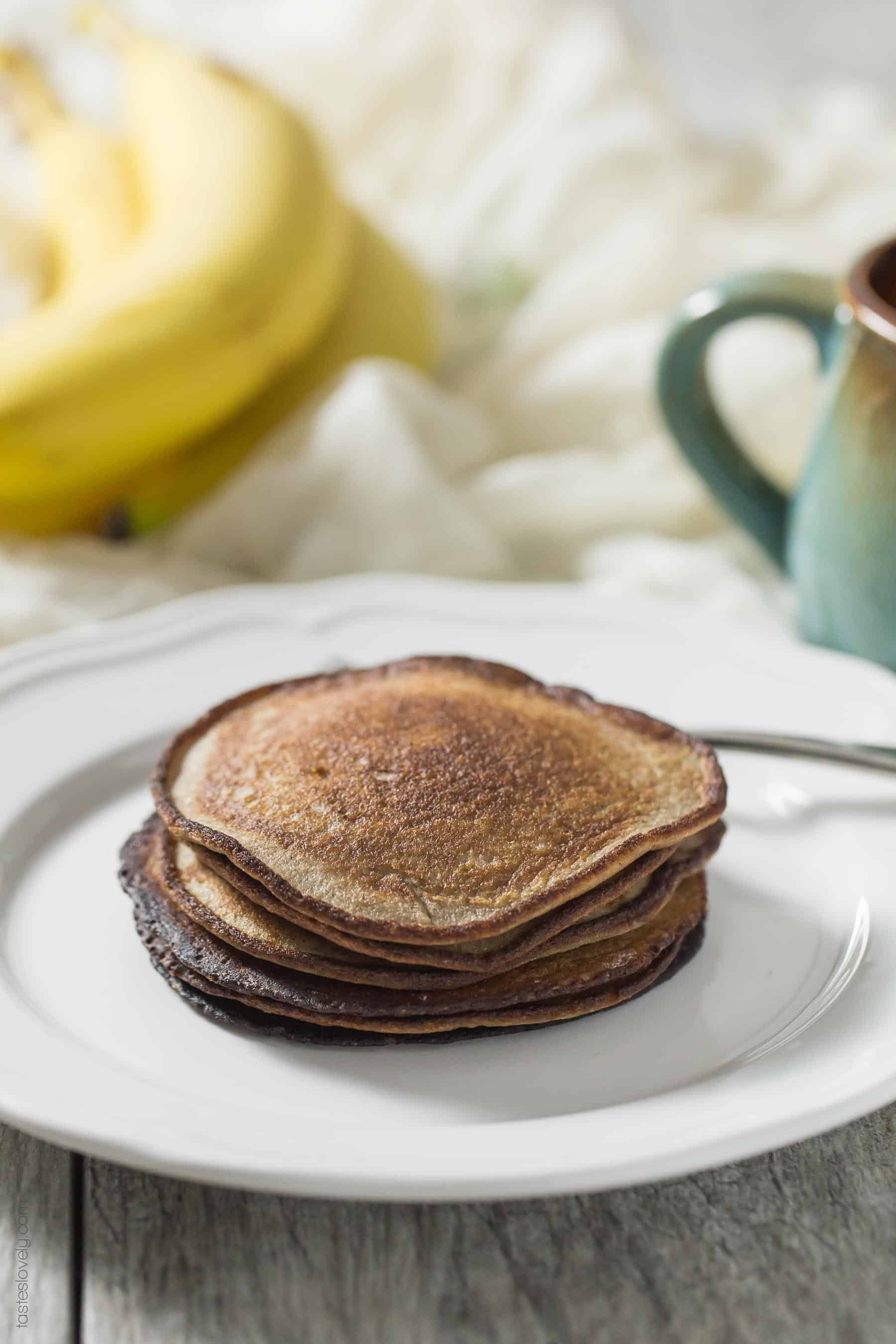 Meet my new favorite Whole30 and Paleo breakfast!
Breakfast can sometimes get so boring when I am doing Whole30. Just a bunch of eggs and veggies and breakfast meats. I start to miss the funner breakfasts. After perfecting these banana bread pancakes, I look forward to breakfast as soon as I wake up.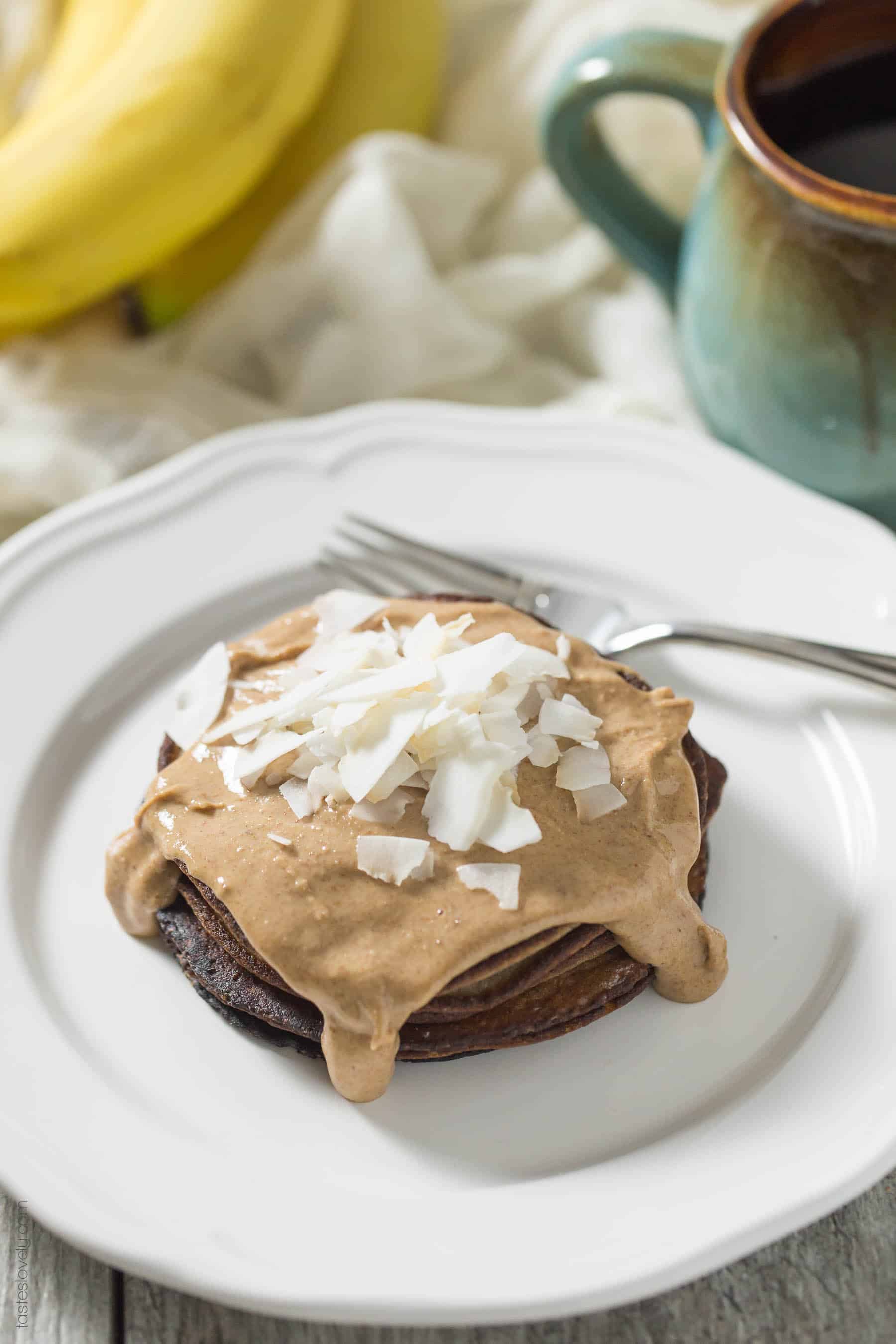 These pancakes are so good. It's bananas.
No. Literally.
These pancakes are just bananas. And eggs. And cinnamon.
That's it! I know. Sounds…weird? But trust me, these end up tasting exactly like banana bread.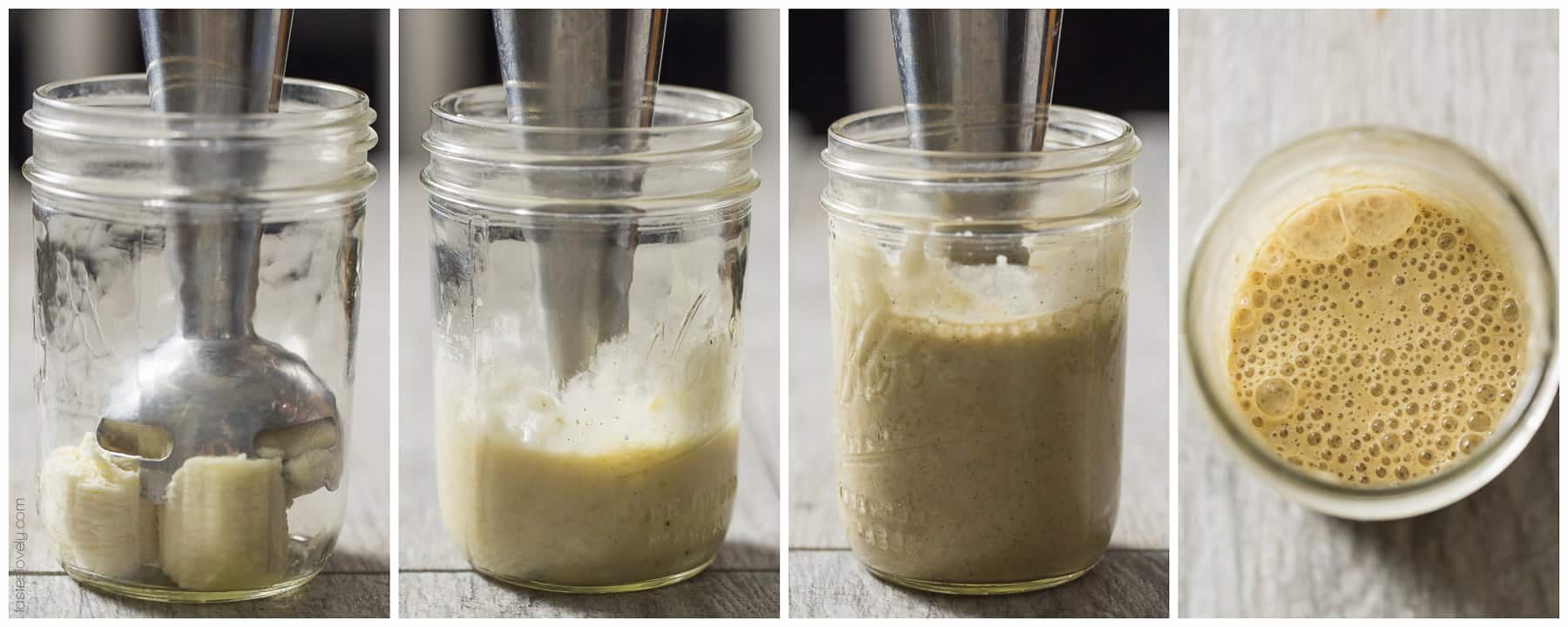 I like blending mine up in a wide mouth pint mason jar with my immersion blender. (It has to be a wide mouth mason jar so the immersion blender can fit). Not only does this make the pancake batter ultra smooth with no banana hunks, it also adds airiness and lightens up the batter.
I have made these by mashing everything together in a bowl with a fork, but those pancakes come out a lot denser. By using the immersion blender, you can see right in the jar that they have lots of air bubbles and are extra frothy.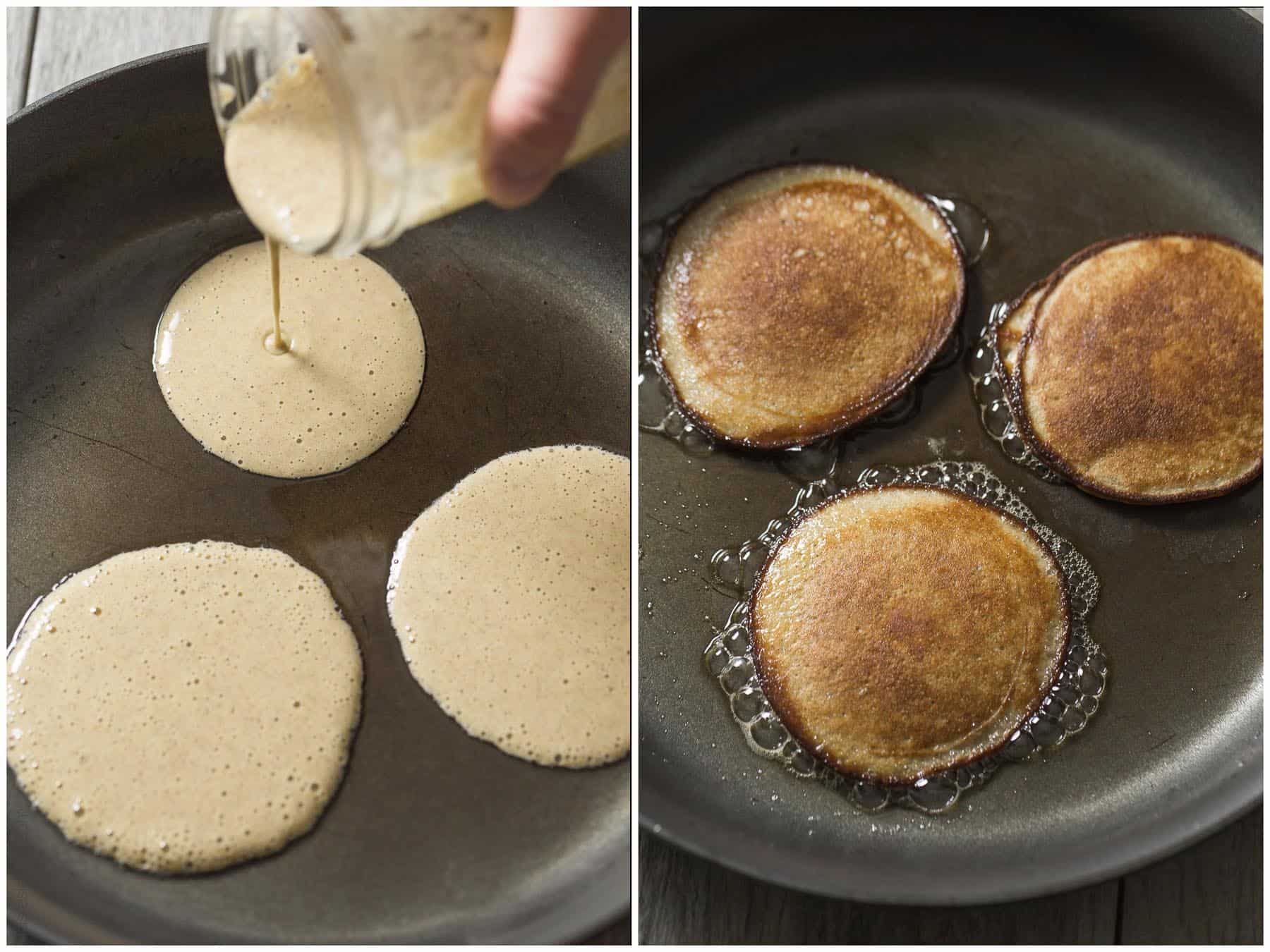 Now, these don't taste exactly like the fluffy pancakes you're used to made with flour. These are more custardy. The consistency actually reminds me of french toast. Crispy edges with a custard center. And they taste exactly like banana bread.
But even better than the taste? These are SO healthy! I mean, just bananas, egg and cinnamon? They're effortlessly paleo, Whole30, gluten free, grain free and dairy free.
When I make these for me, I make a few little bitty pancakes for my 1 year old. He loves them! And I love how healthy they are.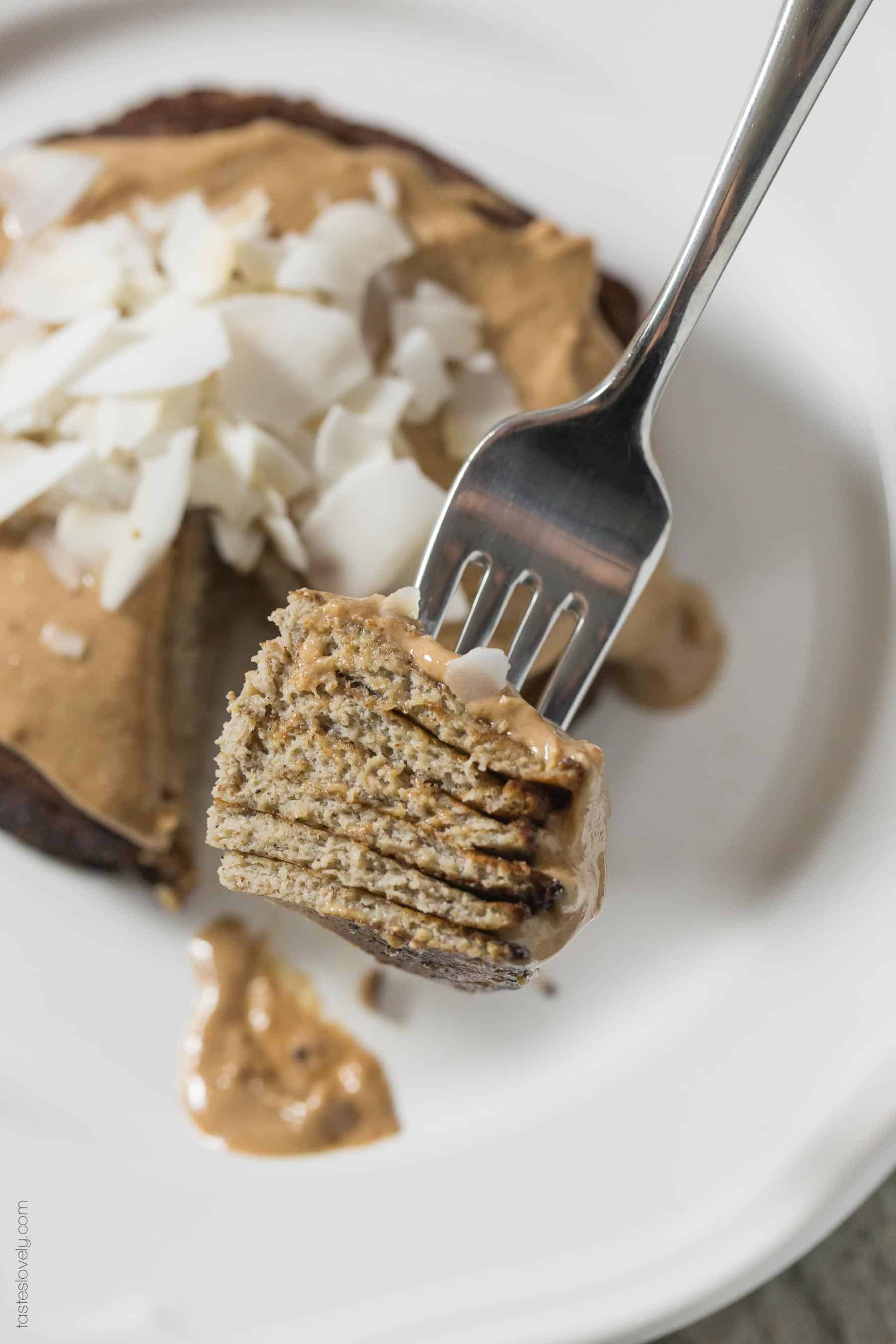 This recipe is for 1 person. It makes 6 mini pancakes that are about 3 inches across. Perfect amount for me to have for breakfast. But you can really easily double, triple, quadruple the recipe. If I'm making them for me and my husband I'll use a quart size mason jar rather than pint. If I was making this for 4 or more, I would use my blender.
These pancakes are actually good plain! But feel free to add on your favorite toppings. Mine favorite topping is my homemade almond butter and unsweetened toasted coconut flakes. Other good toppings are fresh fruit, pure maple syrup (skip if doing Whole30!), nuts or coconut whipped cream.
Print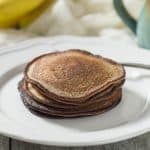 Banana Bread Pancakes (Paleo + Whole30)
---
Author:

Prep Time:

5 mins

Cook Time:

5 mins

Total Time:

10 mins

Yield:

1 person (6 small pancakes)
---
Instructions
Preheat a large, flat nonstick skillet over medium heat.
In a wide mouth mason jar, blend the banana with an immersion blender until smooth. Then add the egg and cinnamon and blend until combined.
Melt the coconut oil in the pan. Pour the batter in to the pan, 2 tablespoons for each pancake. Cook for about 1-2 minutes, until the edges turn golden brown.
Flip using a thin spatula, and cook another 1 minute. Continue until you've made all 6 pancakes.
Serve warm, topped with favorite toppings.
Notes
The best banana to use is one that is perfectly yellow, or just barely starting to get brown spots. If it's too ripe and brown, the bananas have too much liquid and these pancakes get really thin and dense.

More Paleo Breakfast Recipes: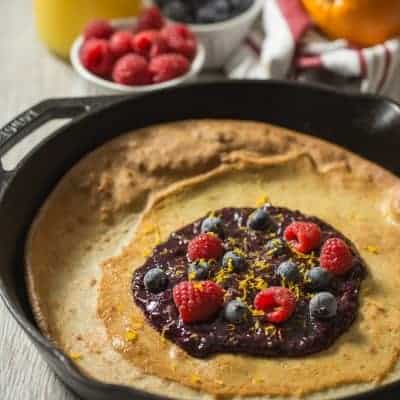 Paleo Dutch Baby with Orange Berry Compote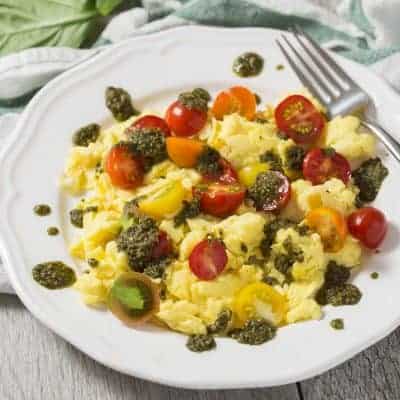 Scrambled Eggs with Cherry Tomatoes and Pesto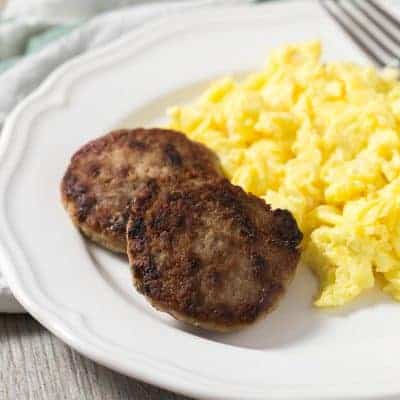 Homemade Paleo Breakfast Sausage Patties
This post contains affiliate links, thanks for the love!
Never Miss a Recipe!
Get new posts delivered straight to your inbox! For free!