Clean Keto + Whole30 :: What I Ate in December 2019
Everything I ate in December, month 4 of my clean keto + whole30 weight loss journey! Includes photos, time stamps + links to recipes.
Below are photos of everything I ate in December, month 4 of my weight loss journey. Everything I ate was Whole30 compliant + followed the high fat, medium protein, low carb keto approach. These are all from my Instagram stories. I share what I'm eating daily, so be sure to follow me on Instagram!
If you're new here, this is where you can learn all about my clean eating and weight loss journey! There I share all about my my diet, intermittent fasting, exercise routine, and how I feed my kids.
There are links to most of the recipes of the items I ate below. If there isn't a link, there will be soon when I add the recipe to the blog. So hang tight!
What I Ate in December: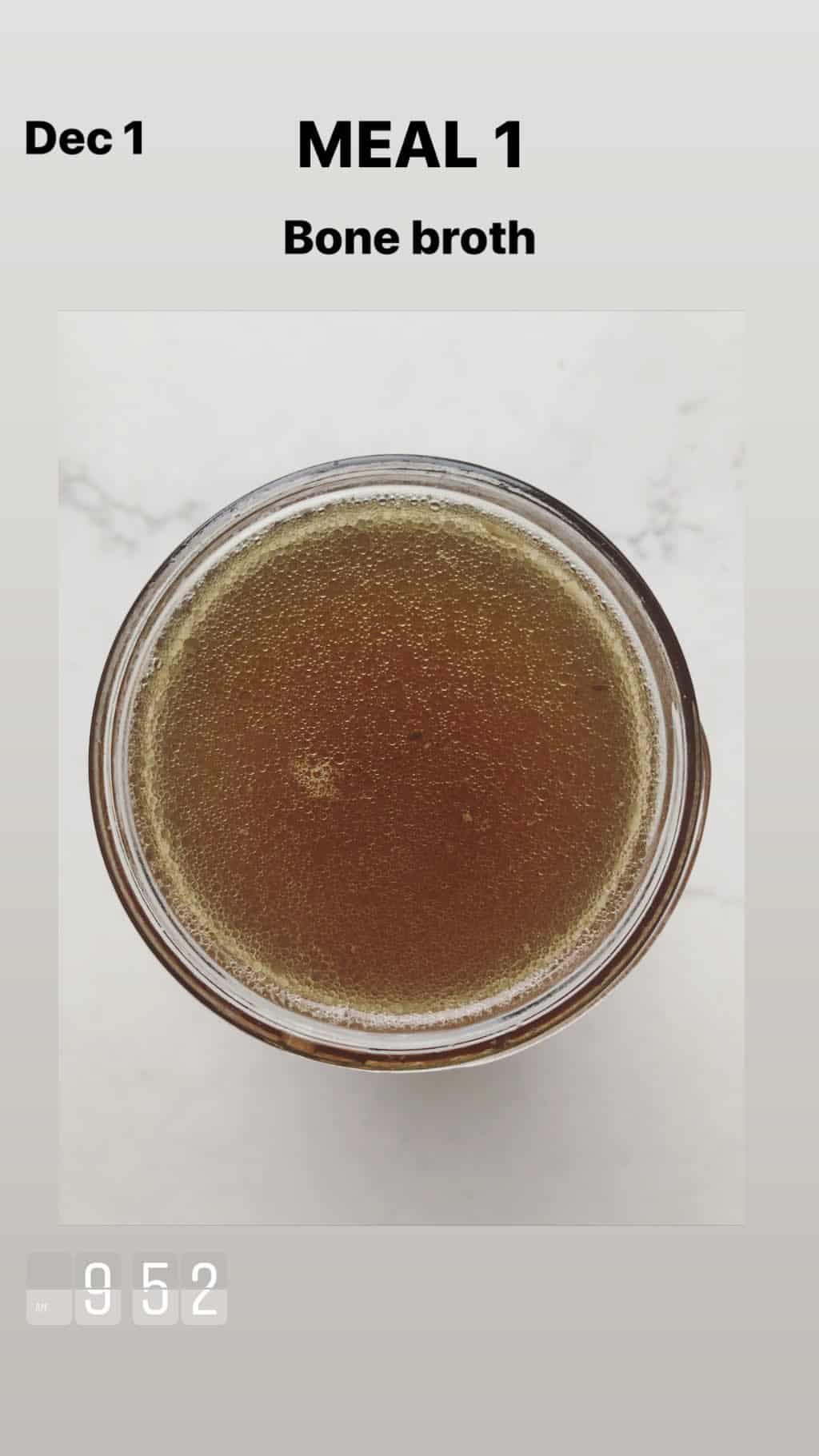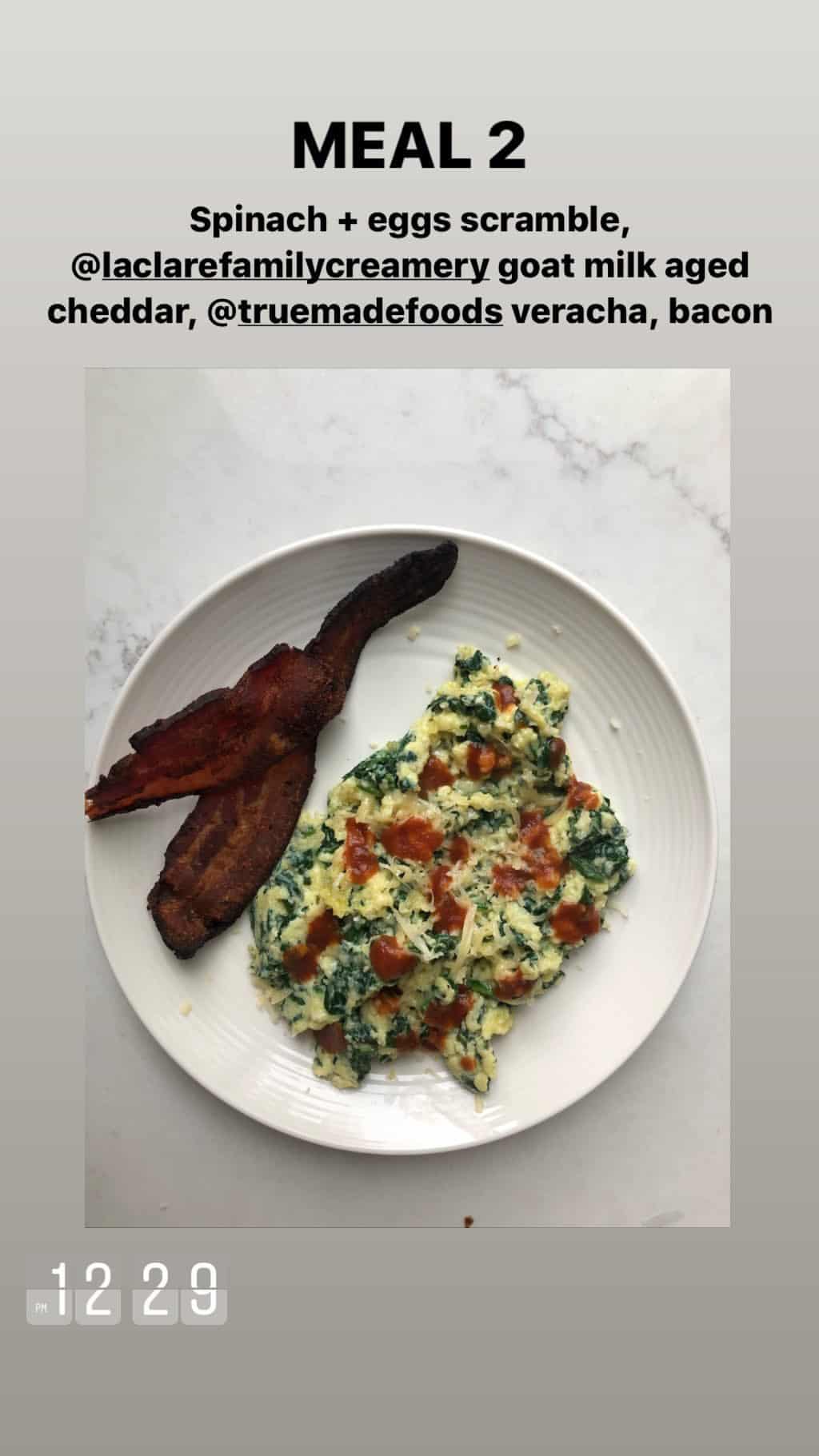 Spinach and eggs scramble, goat milk cheddar, True Made Foods Veracha, bacon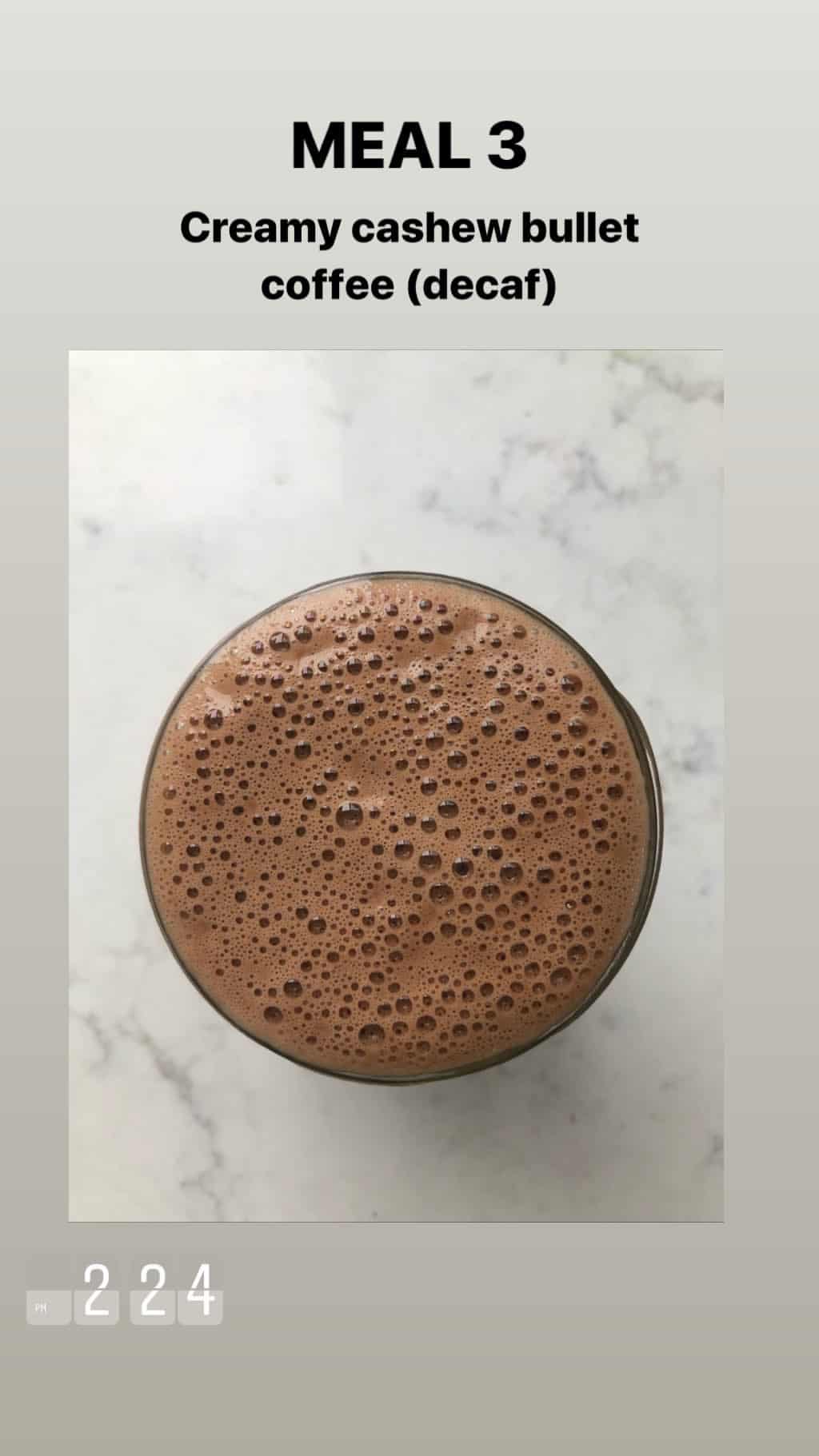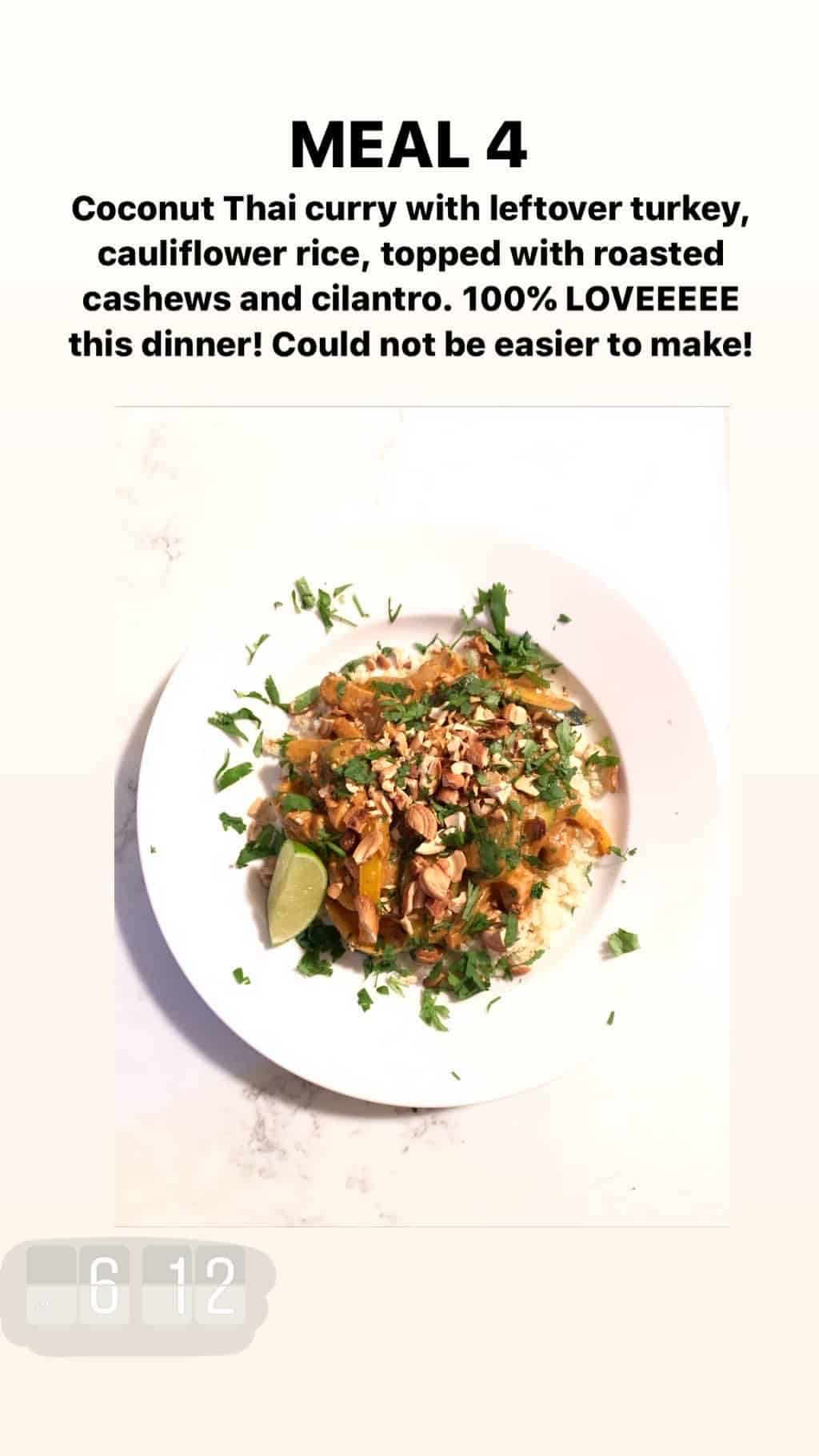 Coconut Thai curry (turkey), cauliflower rice, roasted cashews and cilantro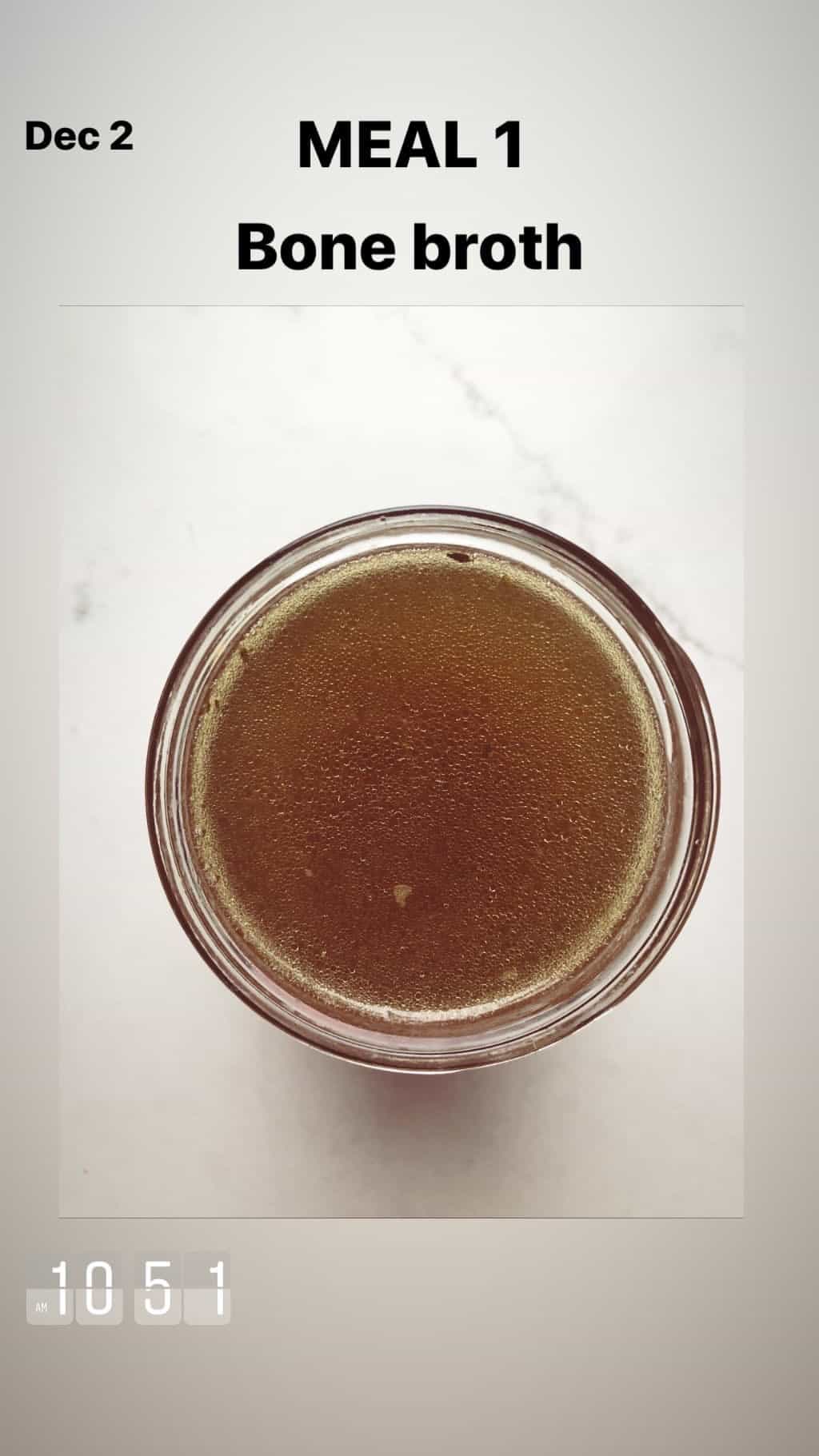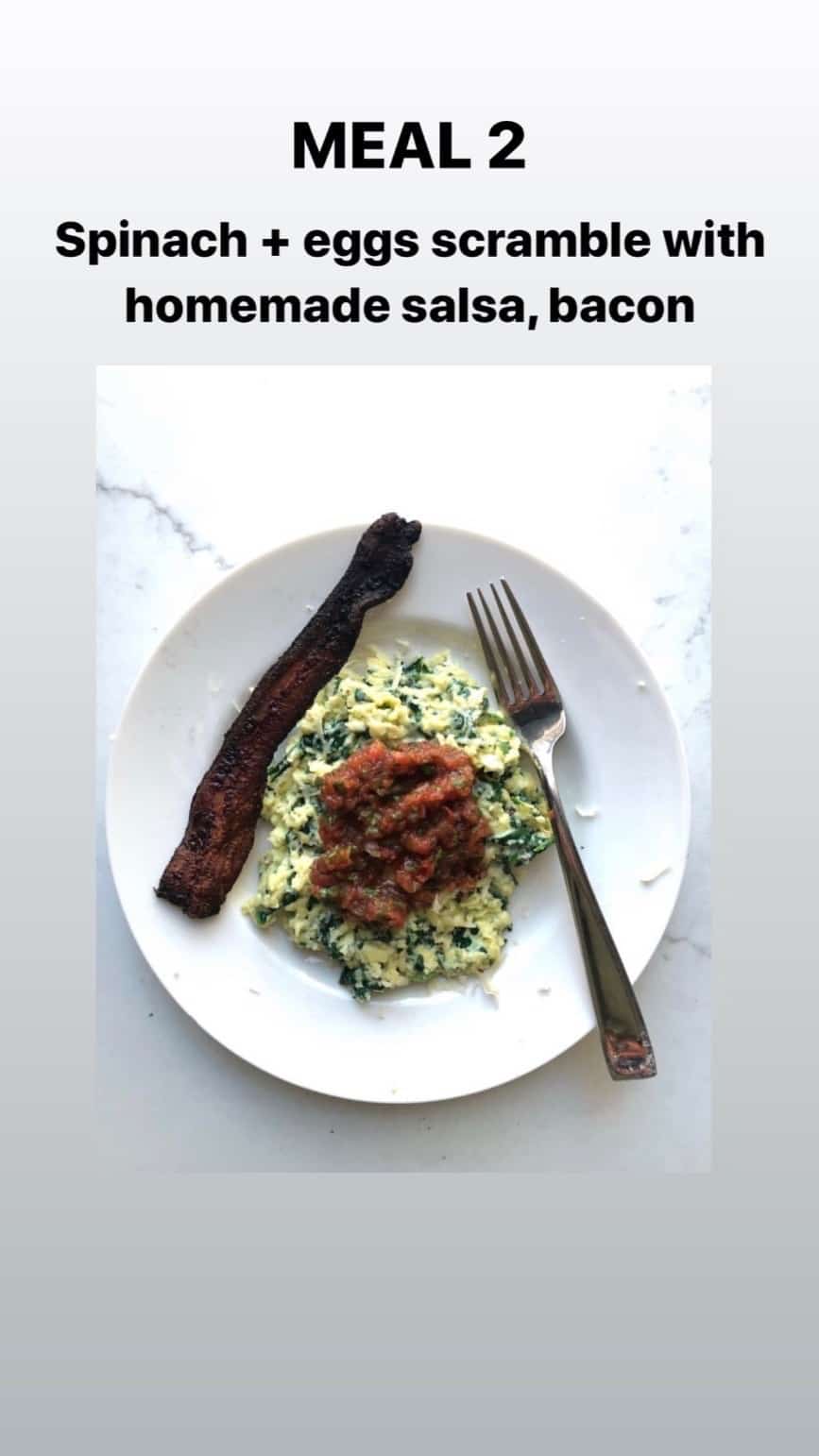 Spinach and eggs scramble, homemade salsa, bacon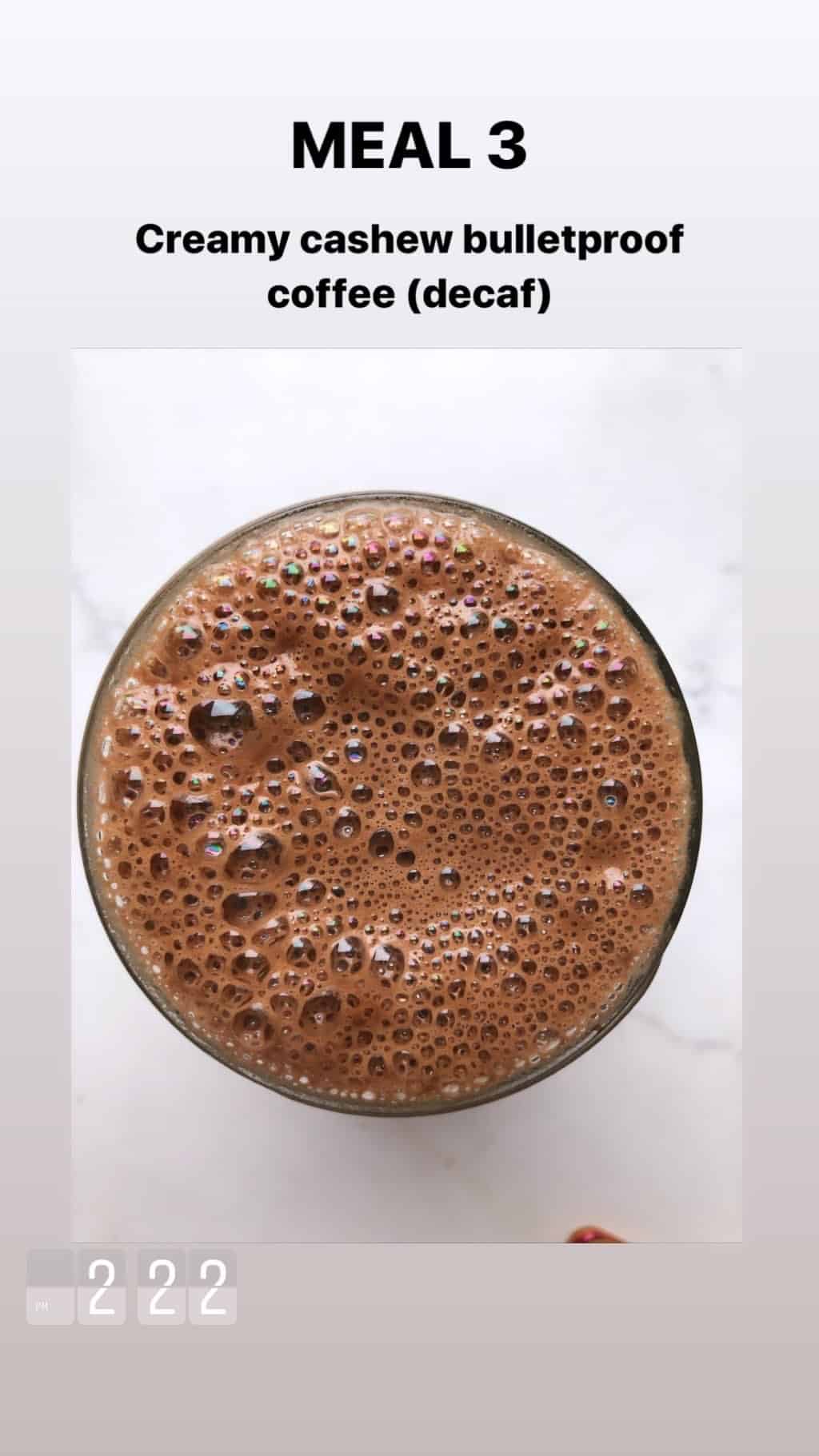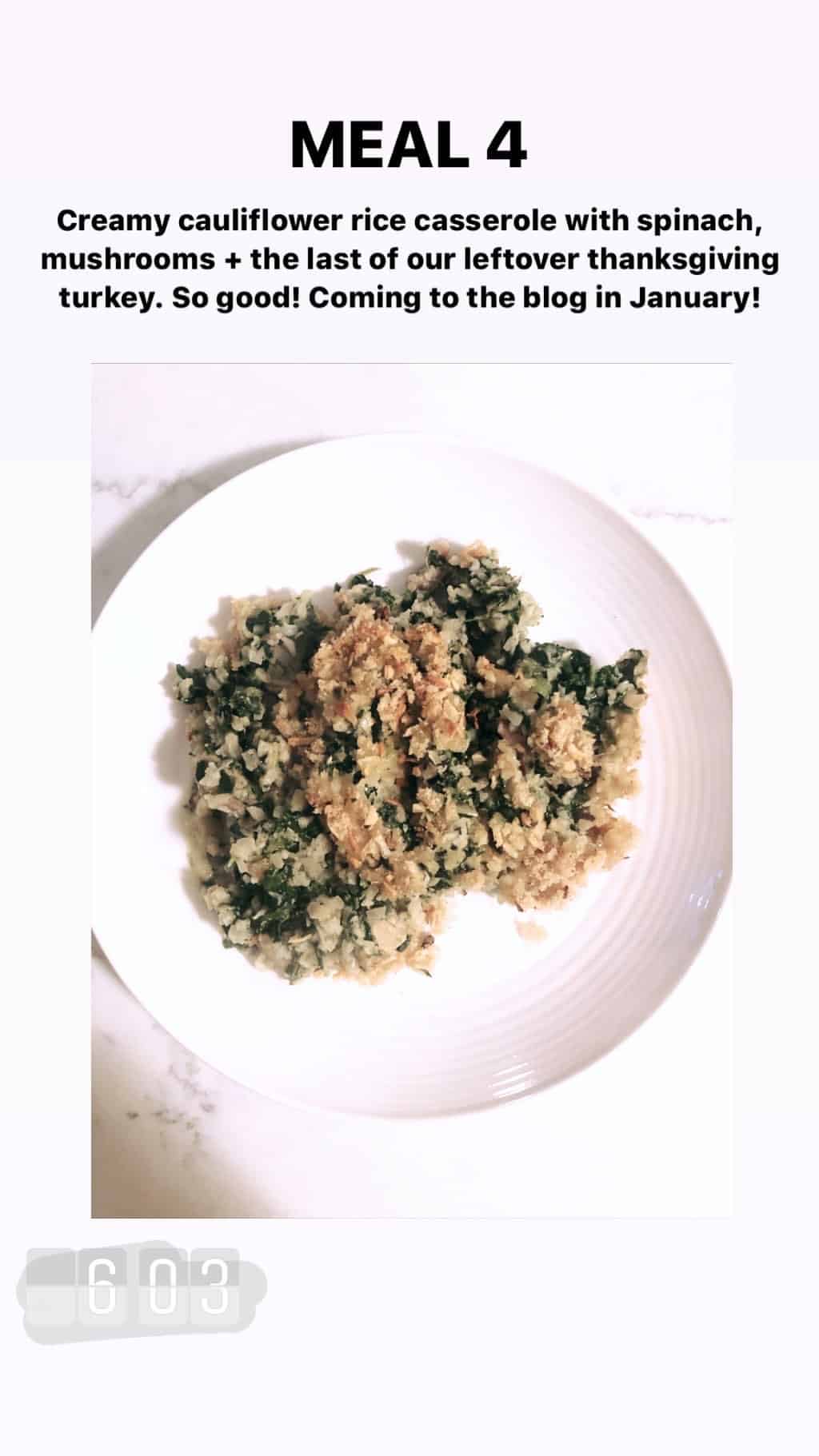 Creamy cauliflower rice casserole, with spinach, mushrooms, and turkey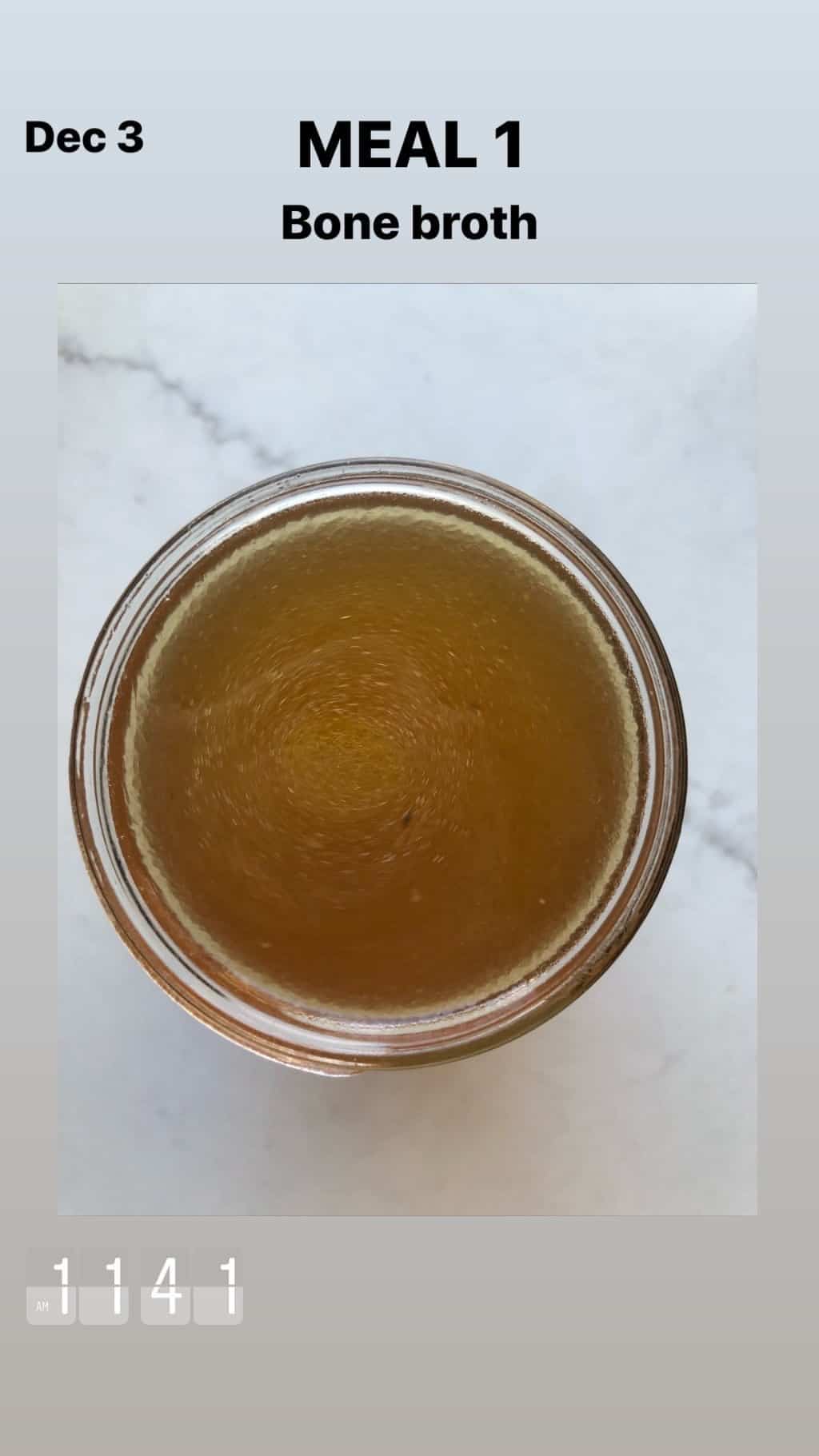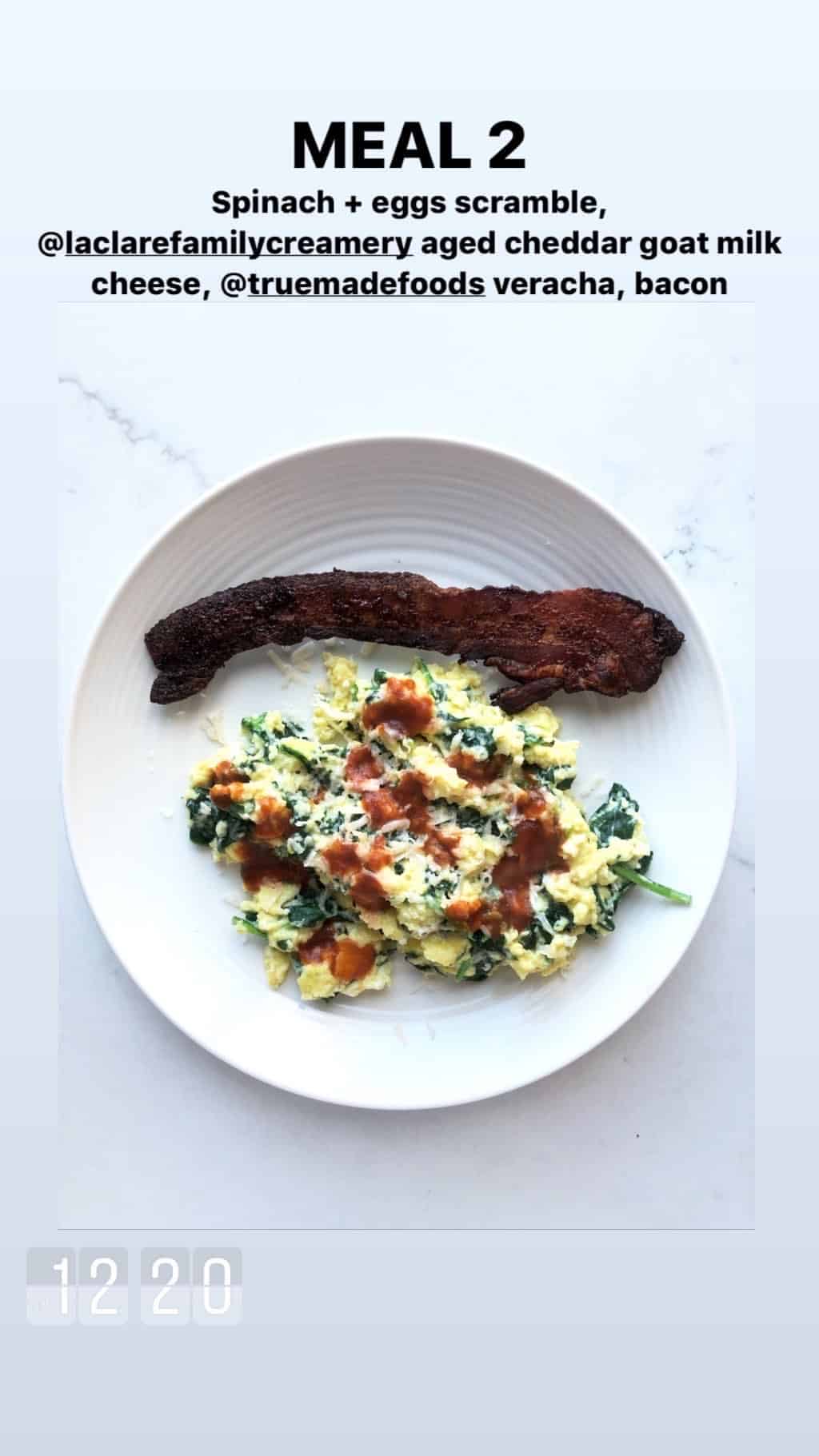 Spinach and egg scramble, goat milk cheddar, True Made Foods Veracha, bacon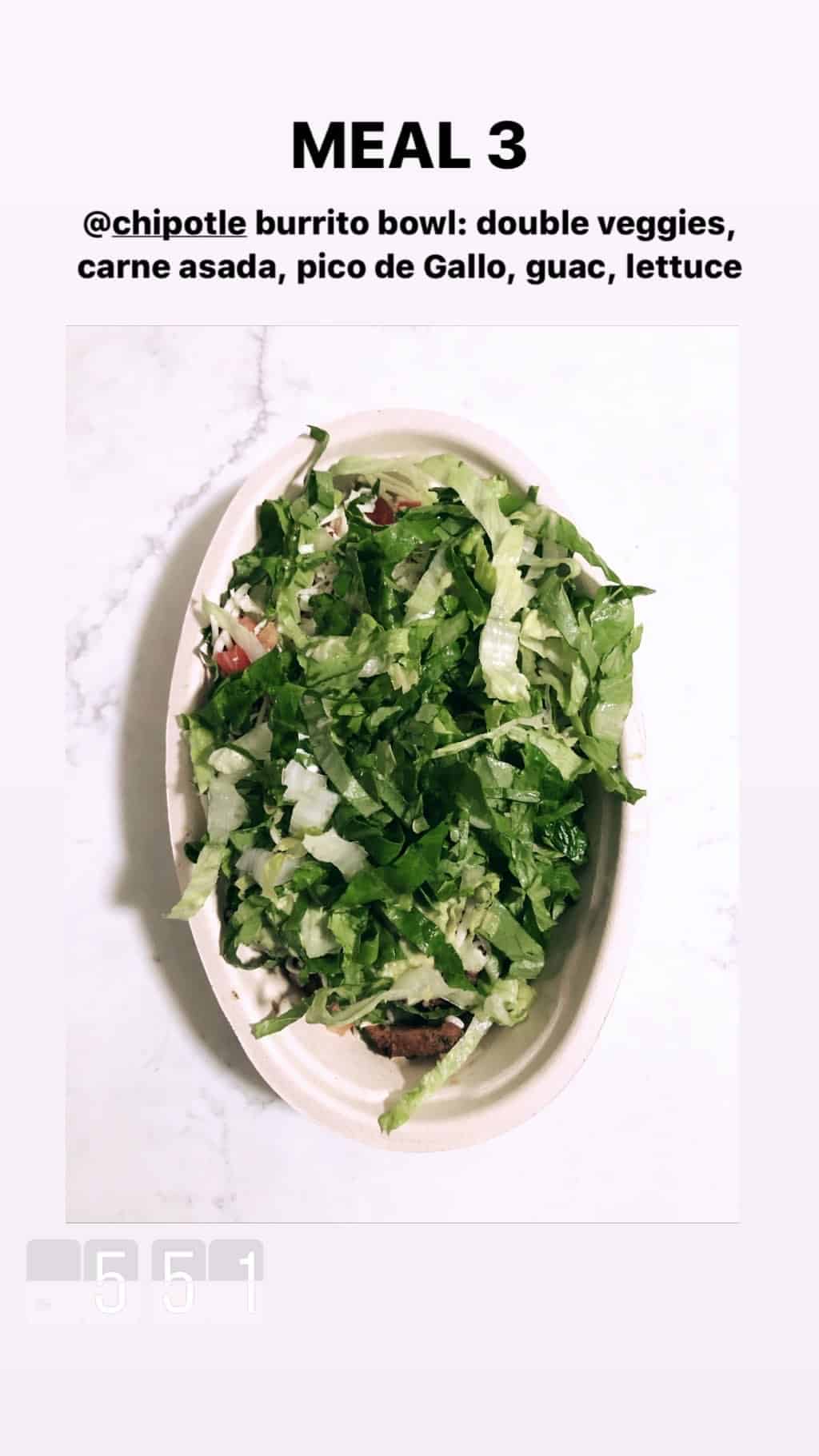 Chipotle burrito bowl with double veggies, carne asada, pico de gallo, guac, lettuce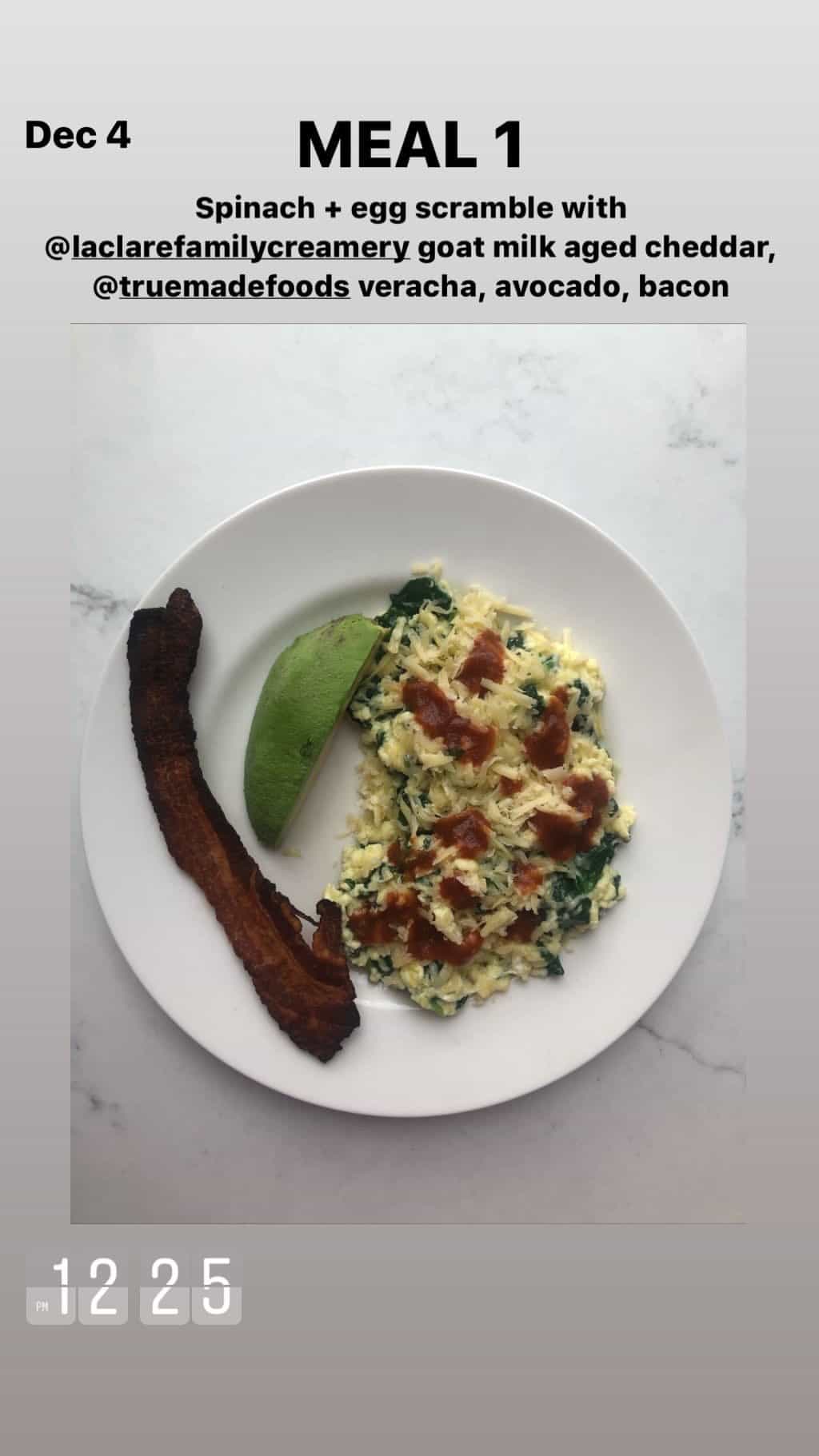 Spinach and egg scramble, goat milk cheddar, True Made Foods Veracha, bacon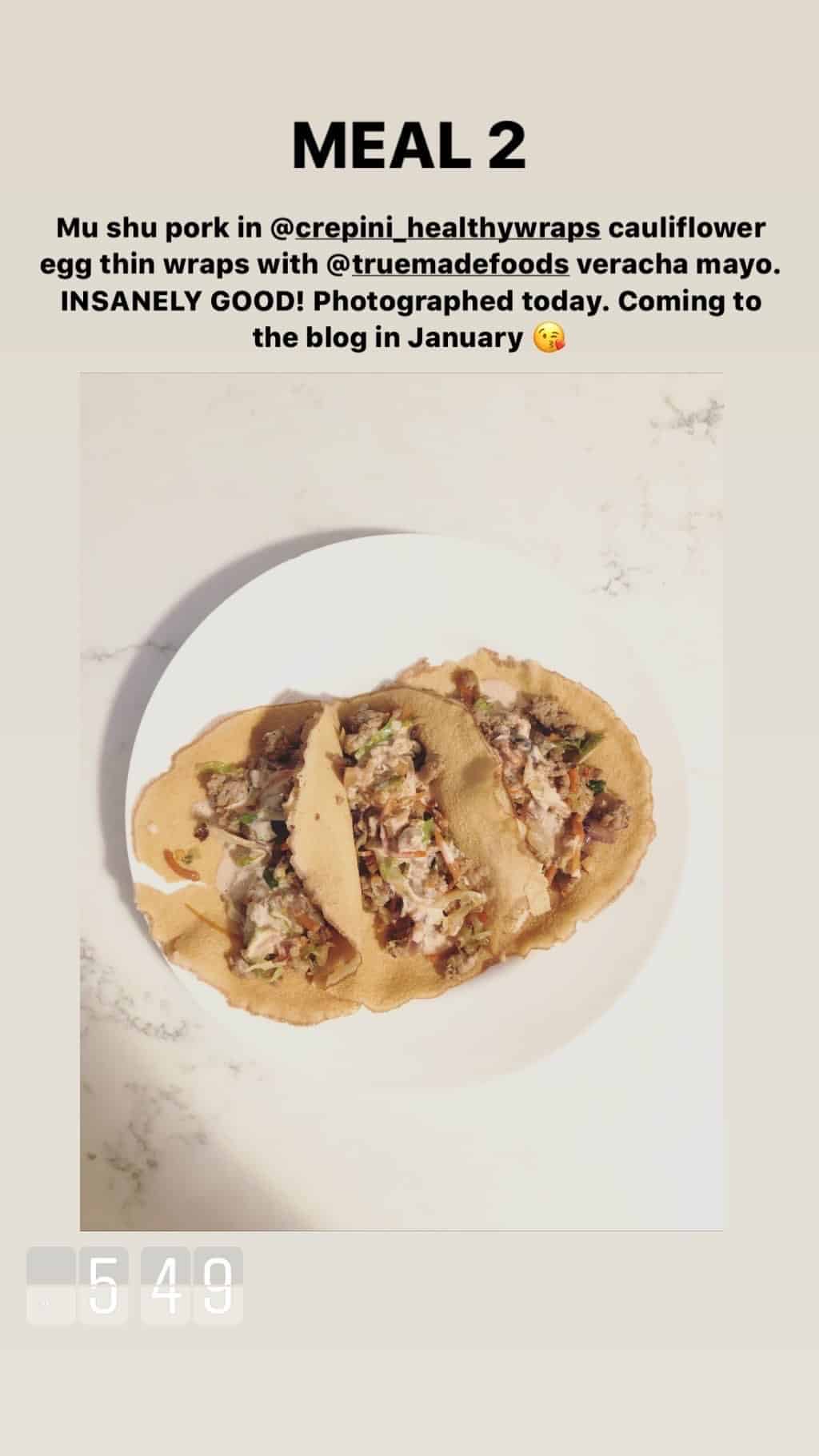 Mu Shu pork in Crepini Egg Thins With Cauliflower, True Made Foods Veracha mayo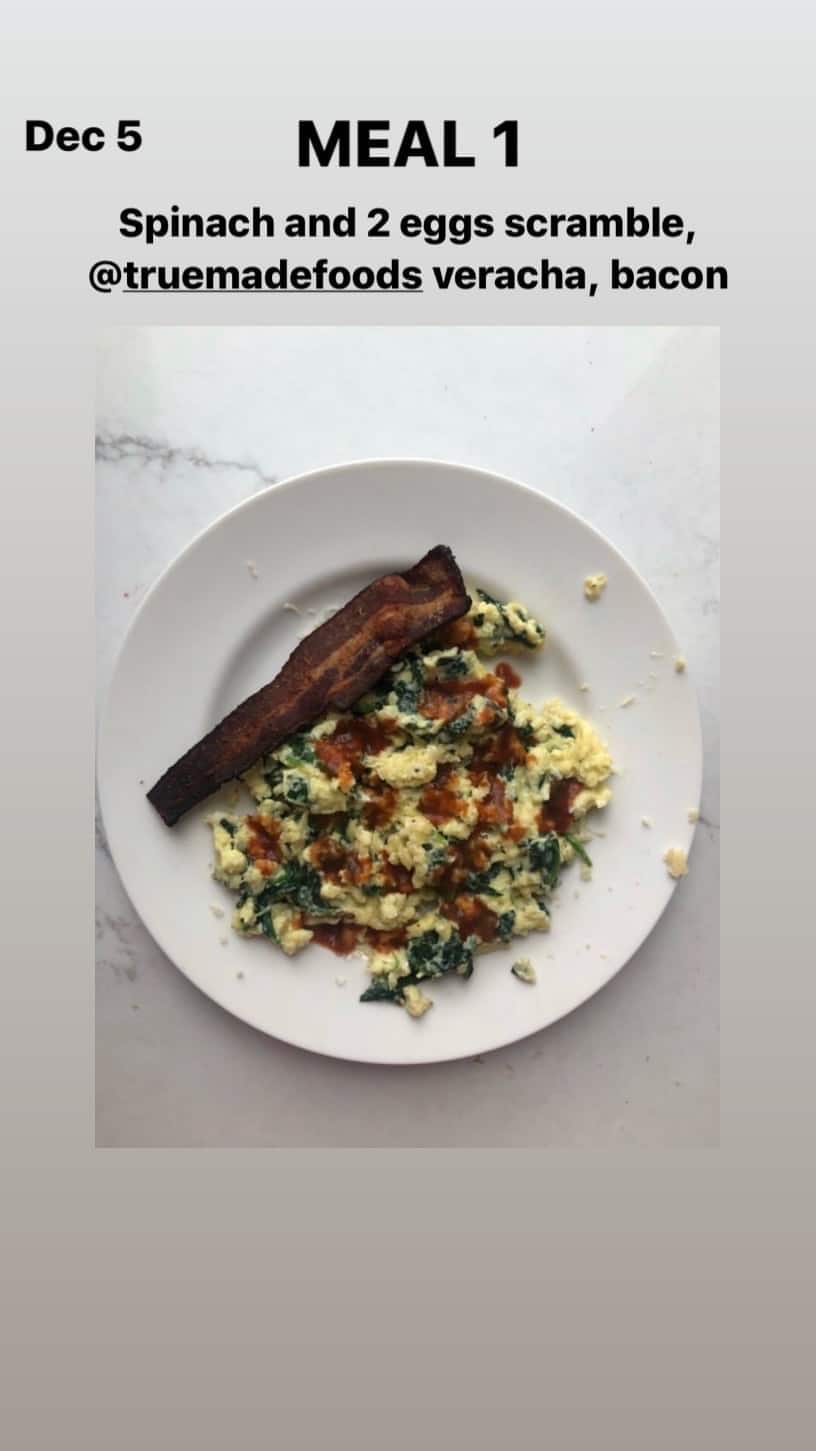 Spinach and egg scramble, True Made Foods Veracha, bacon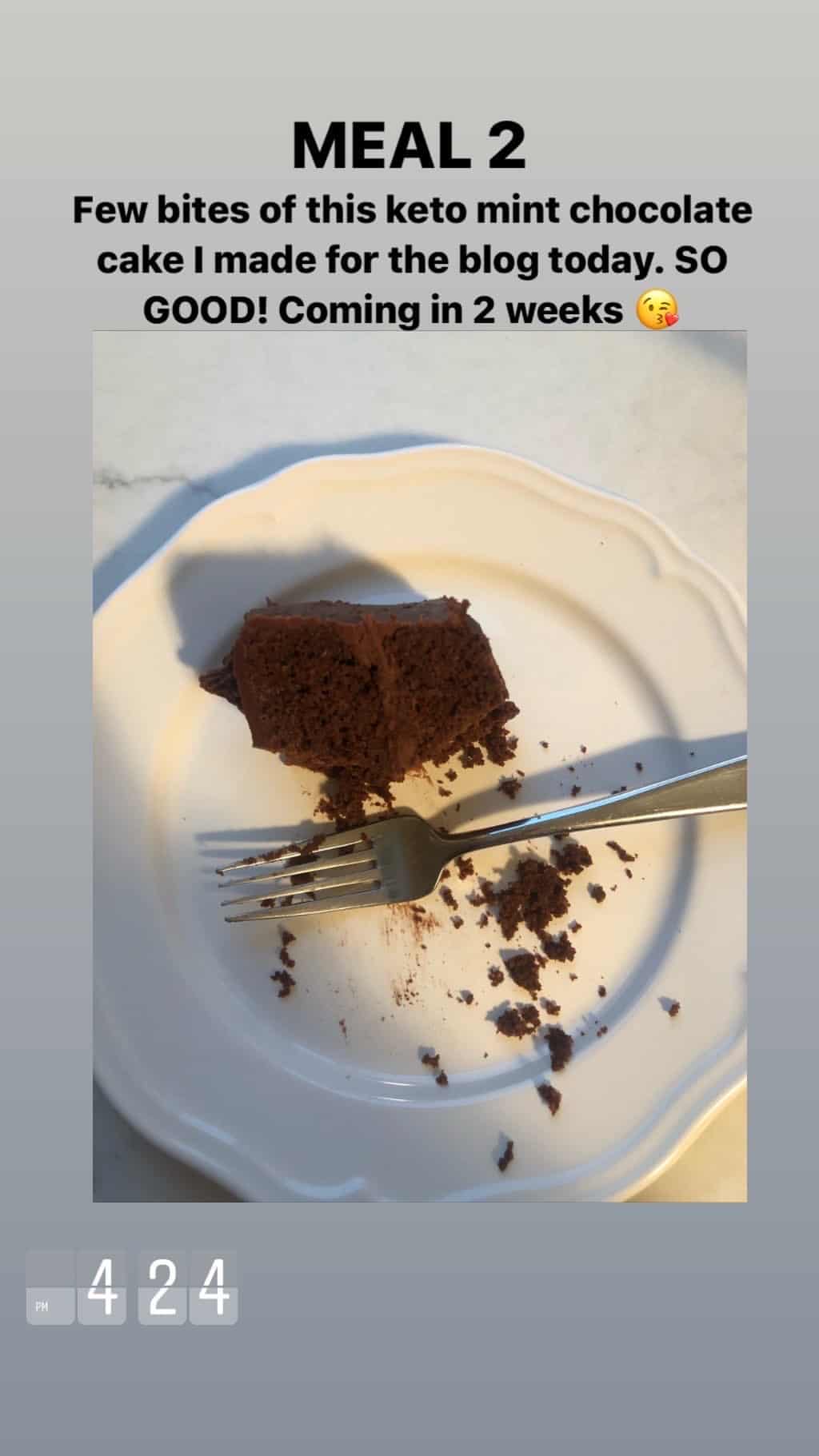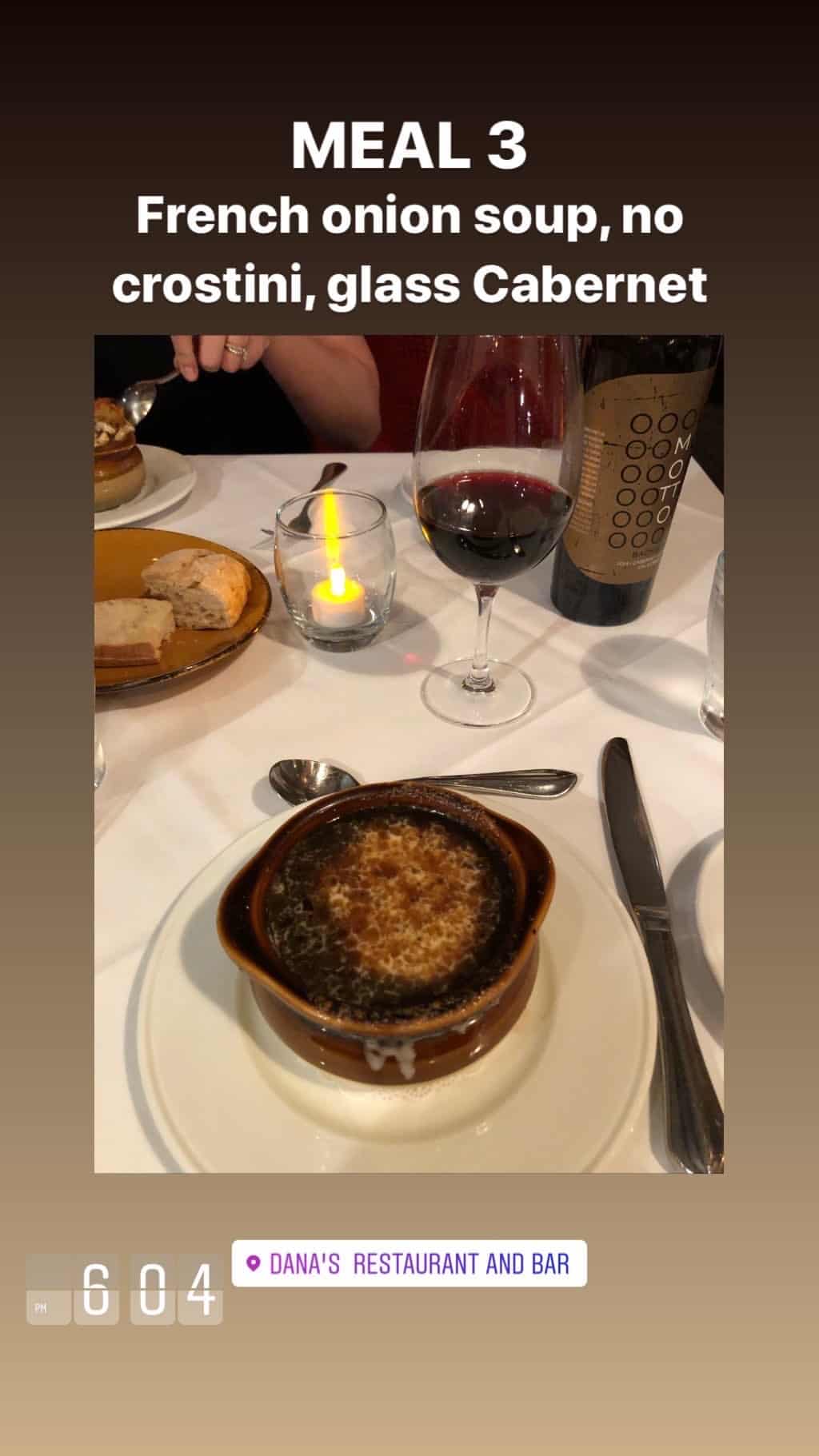 French onion soup (no crostini), glass of cabernet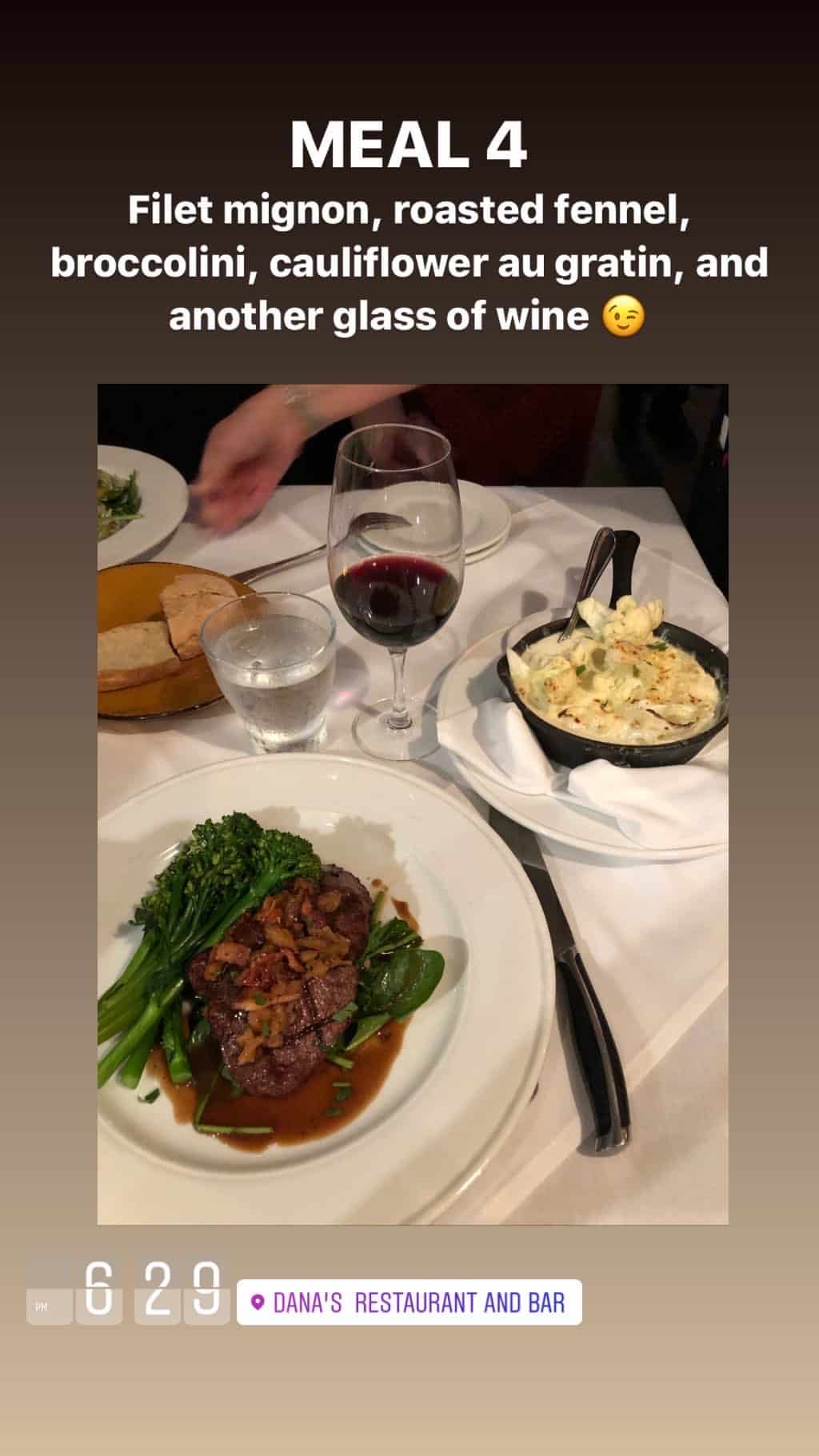 Filet mignon, roasted fennel, broccolini, cauliflower au gratin, glass of cabernet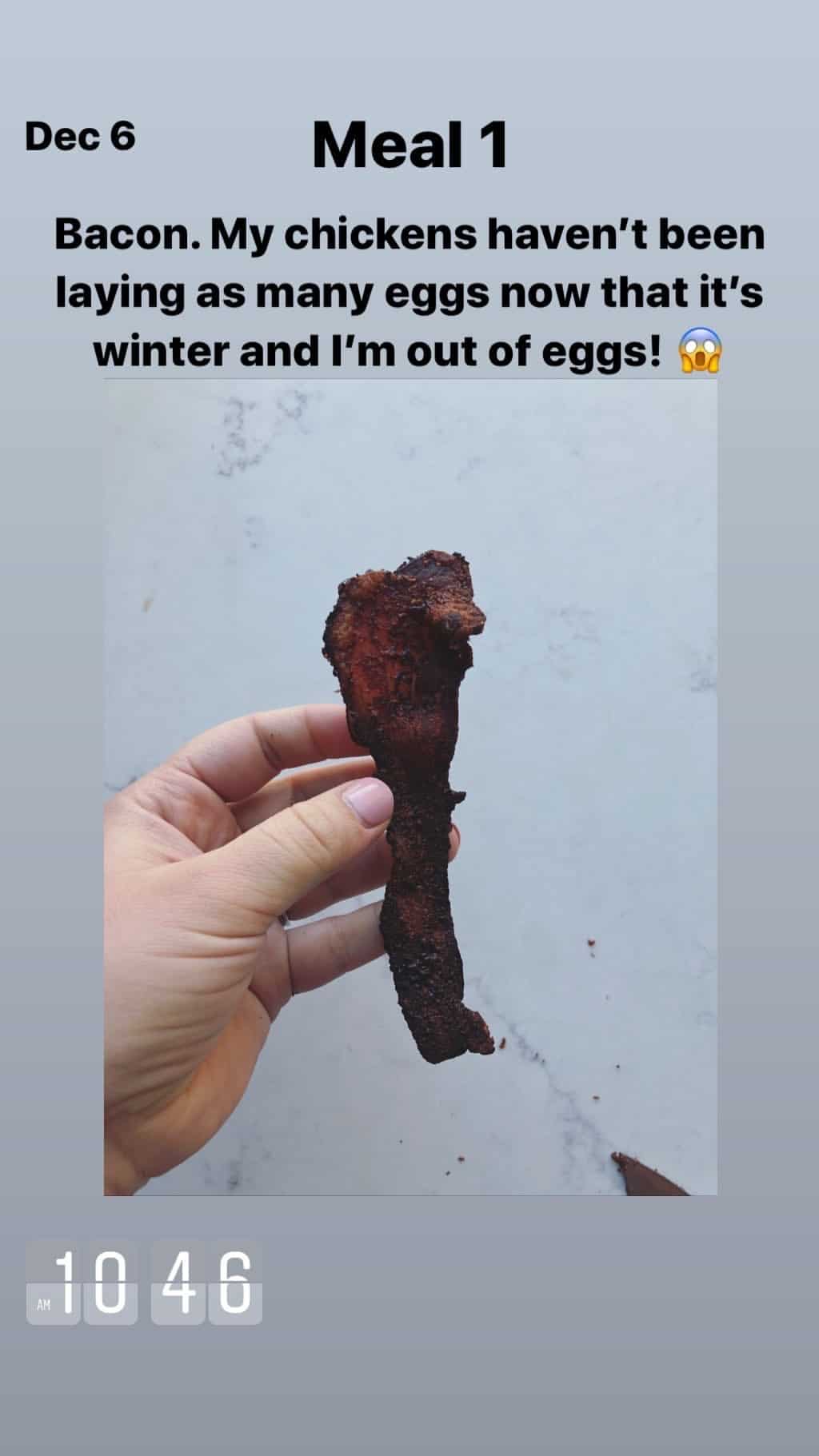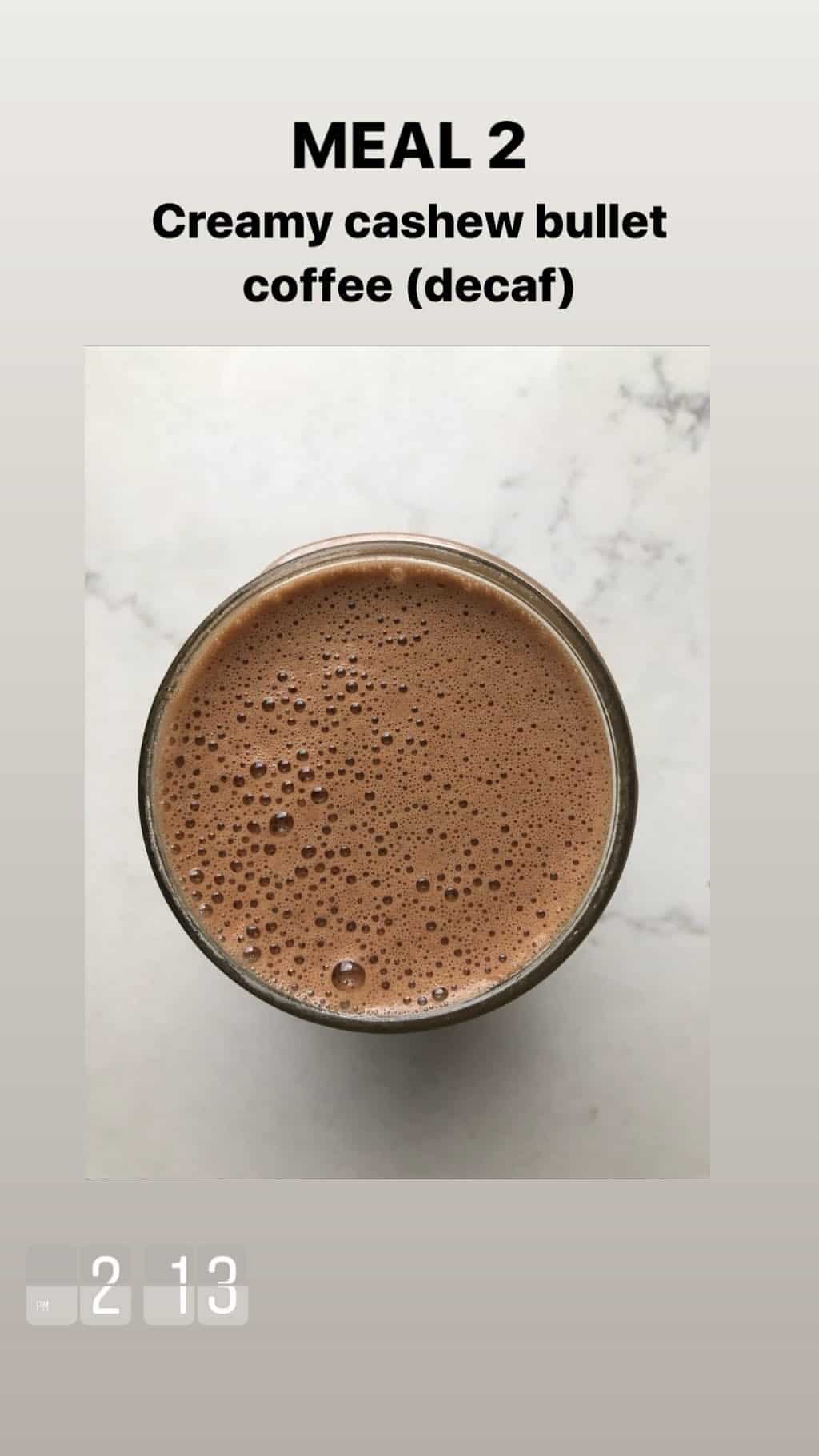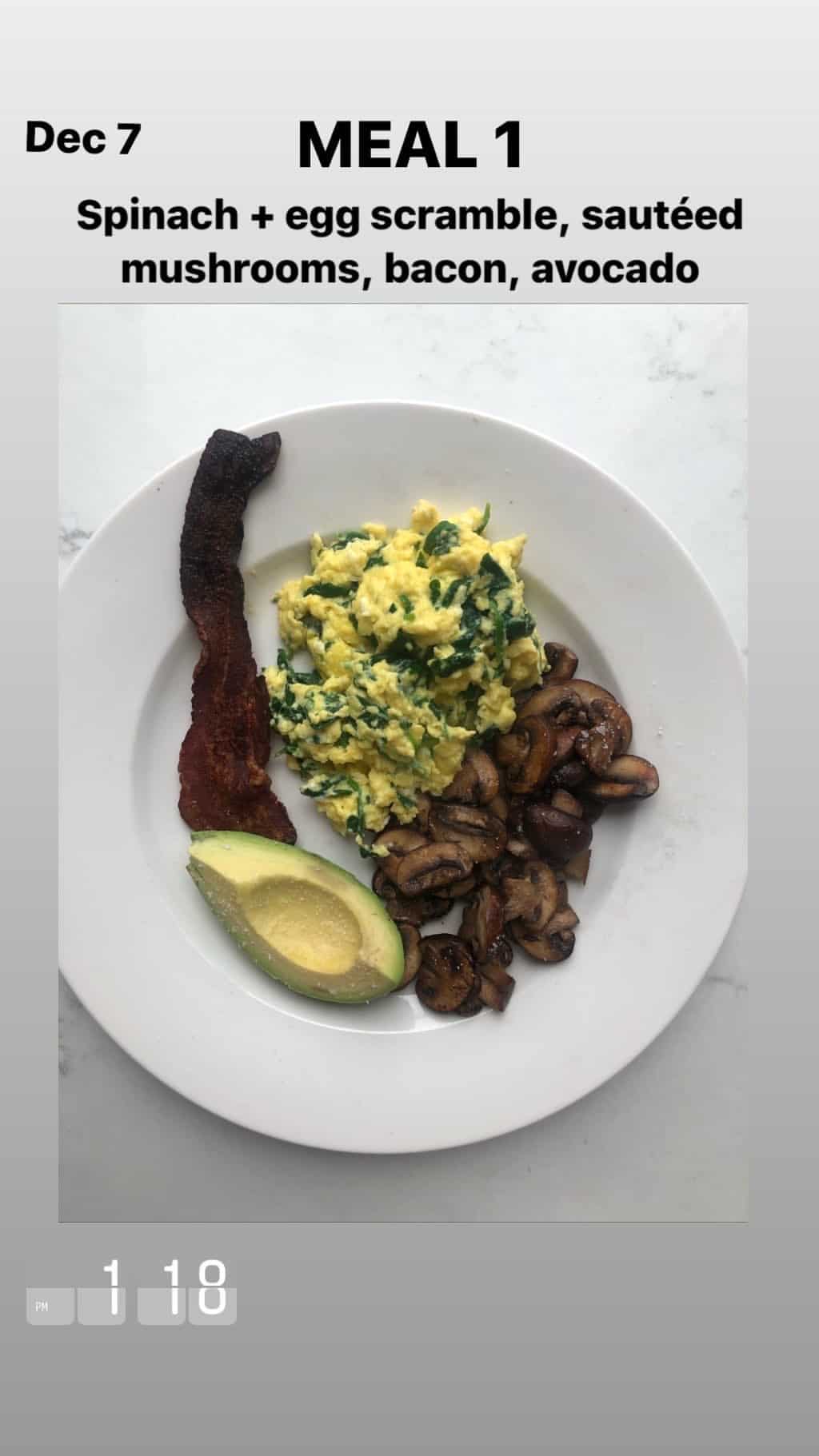 Spinach and egg scramble, sauteed mushrooms, bacon, avocado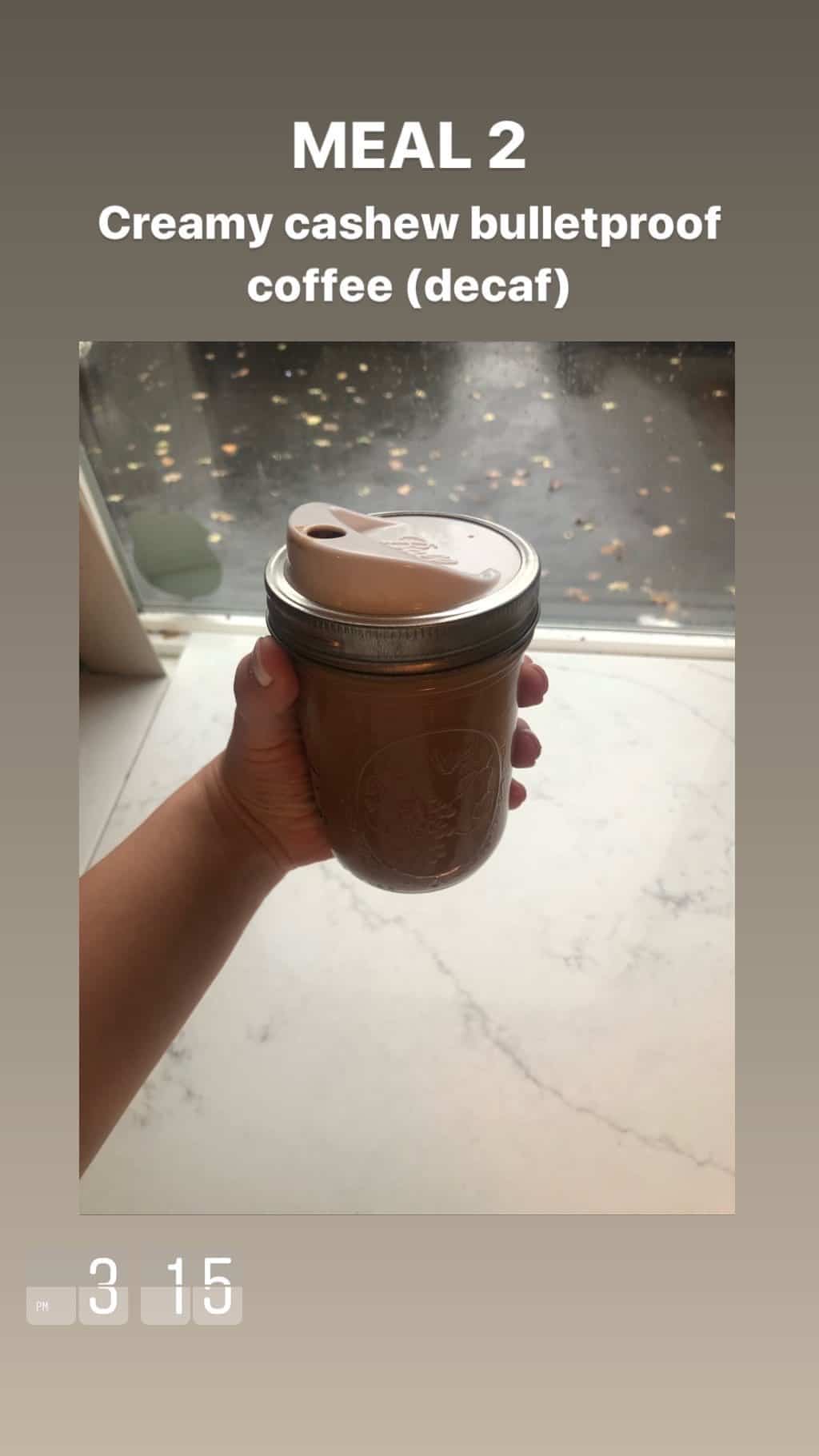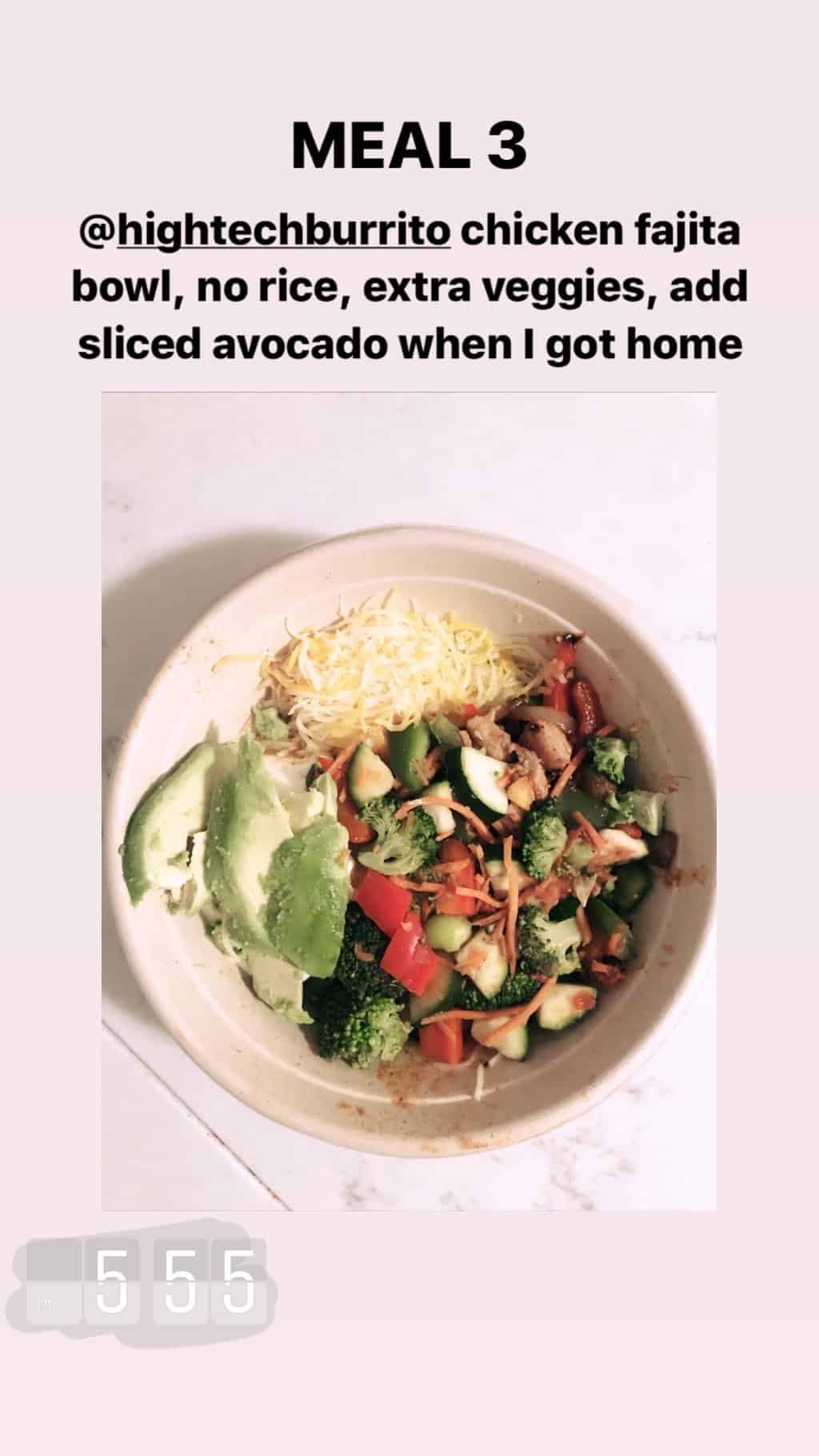 High Tech Burrito chicken fajita bowl, extra veggies, avocado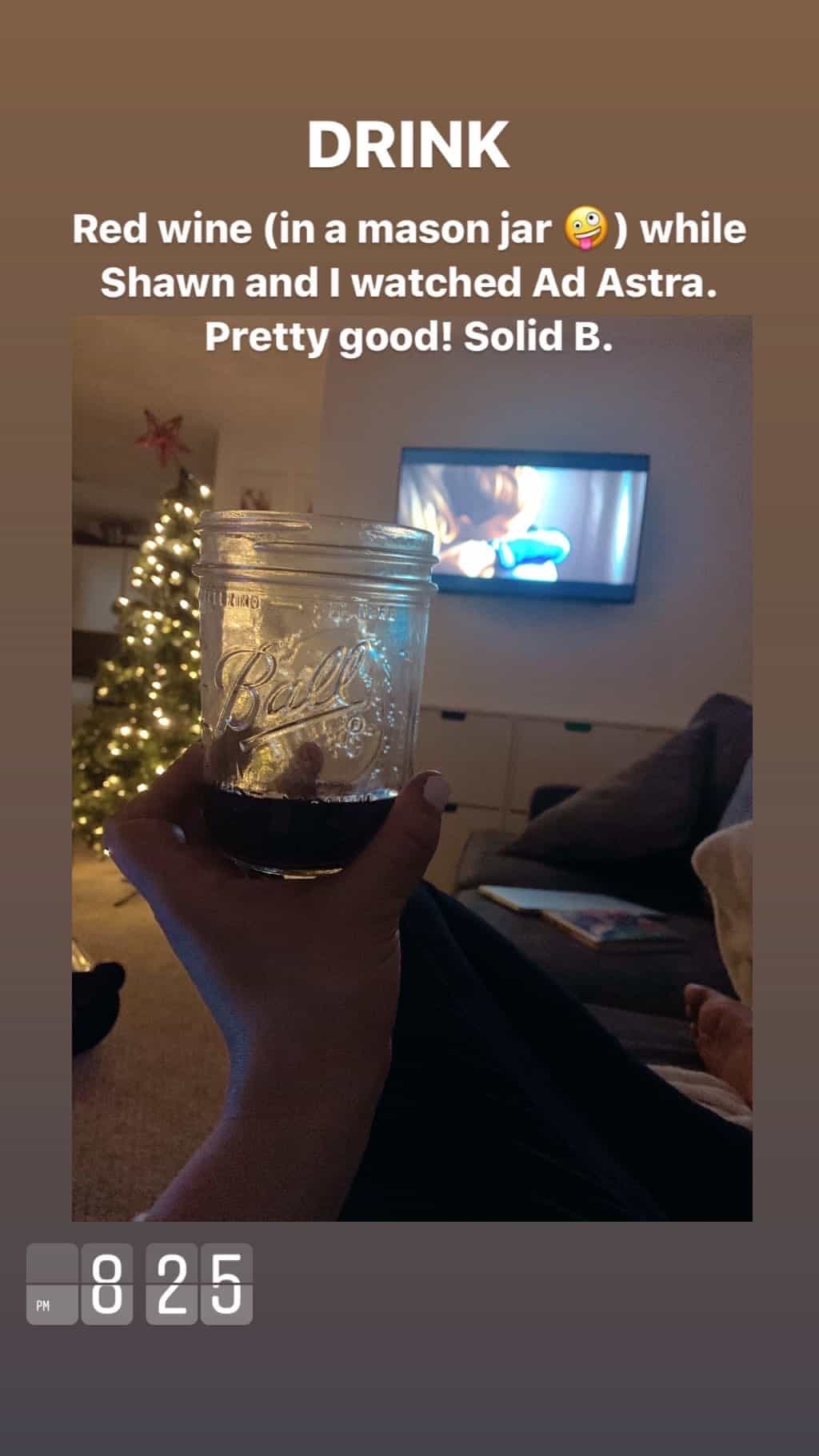 Glass of red wine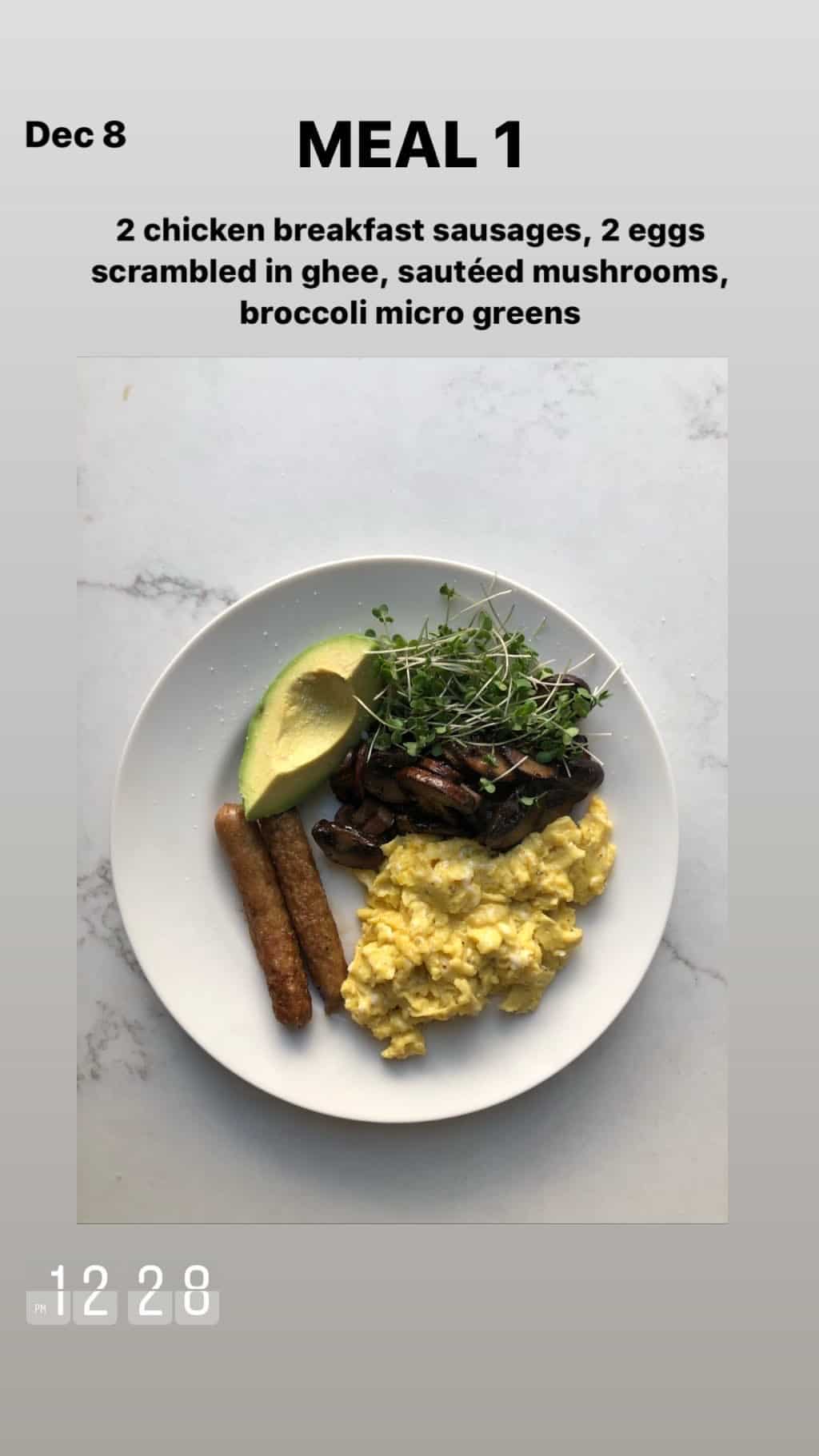 Chicken breakfast sausages, eggs scrambled in ghee, sauteed mushrooms, broccoli micro greens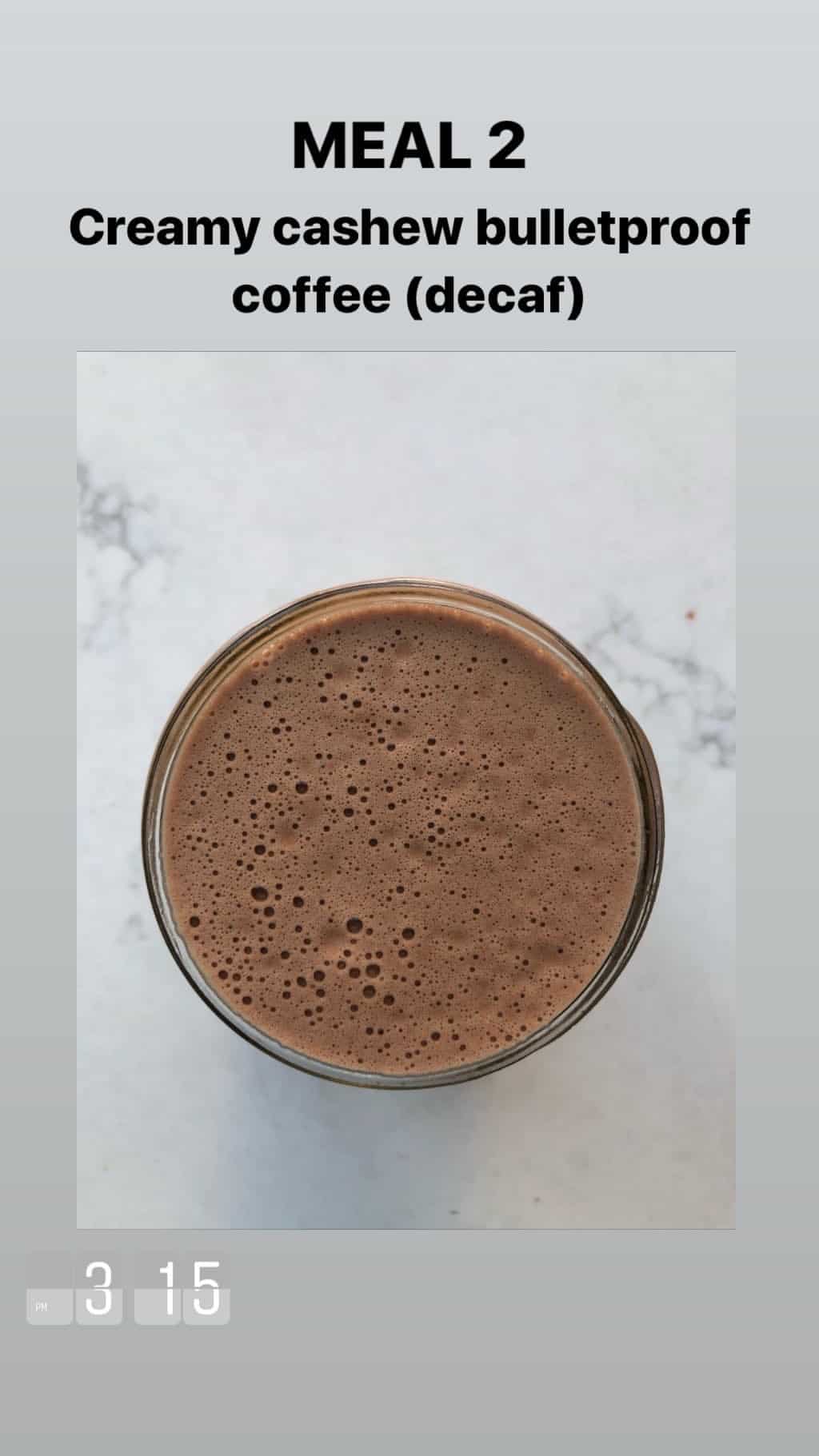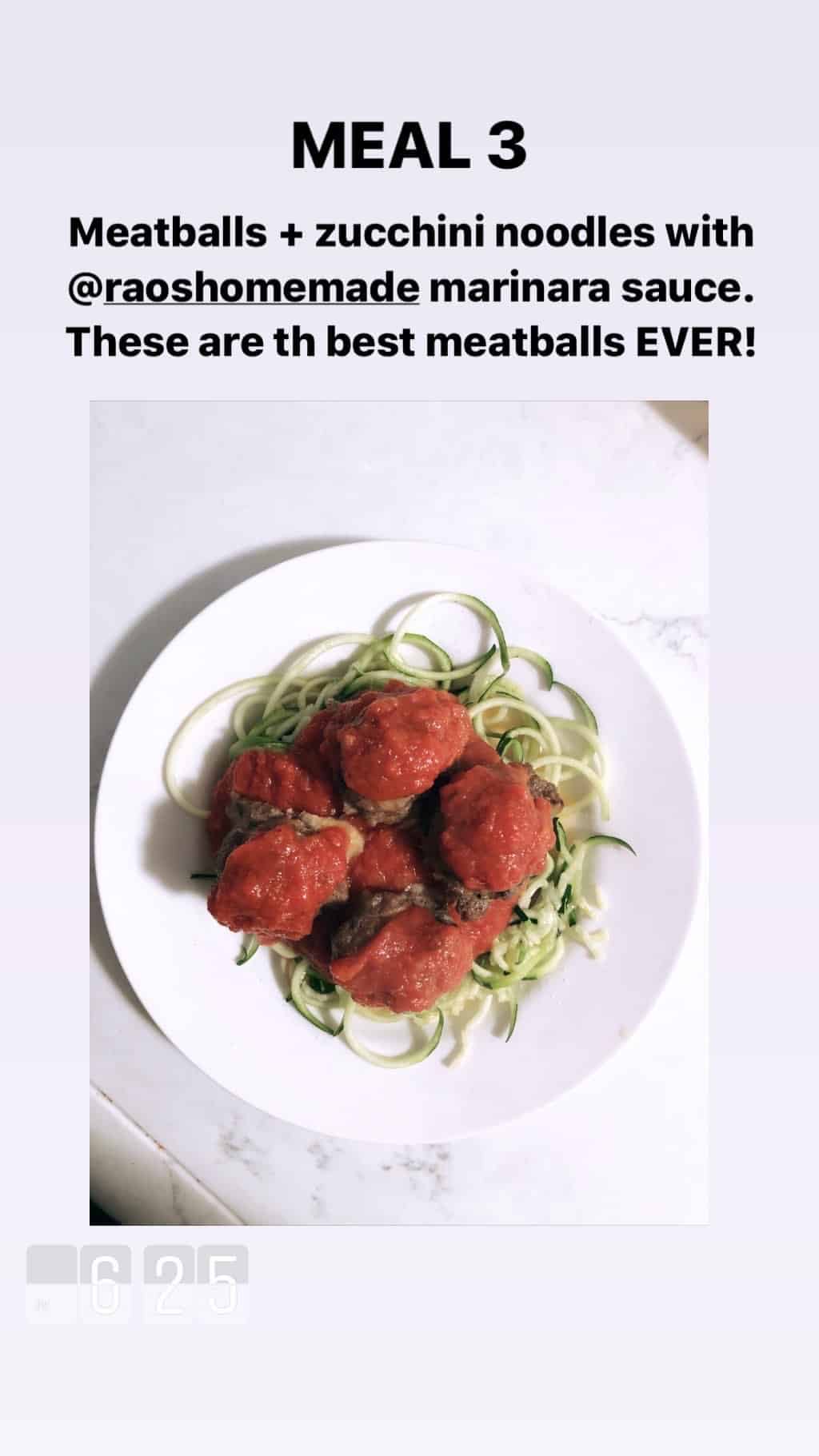 Meatballs, zucchini noodles, Rao's Homemade Marinara Sauce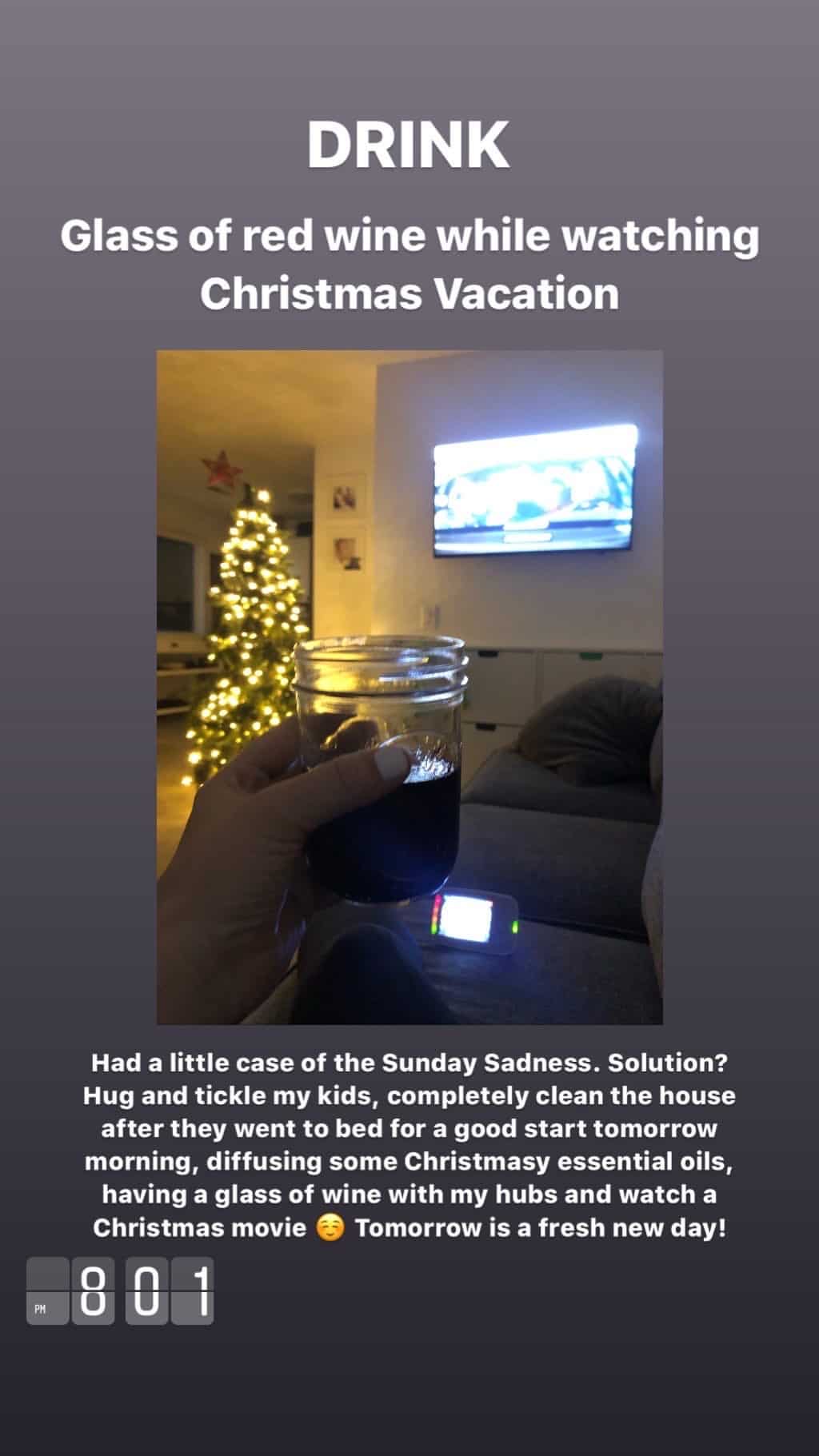 Glass of red wine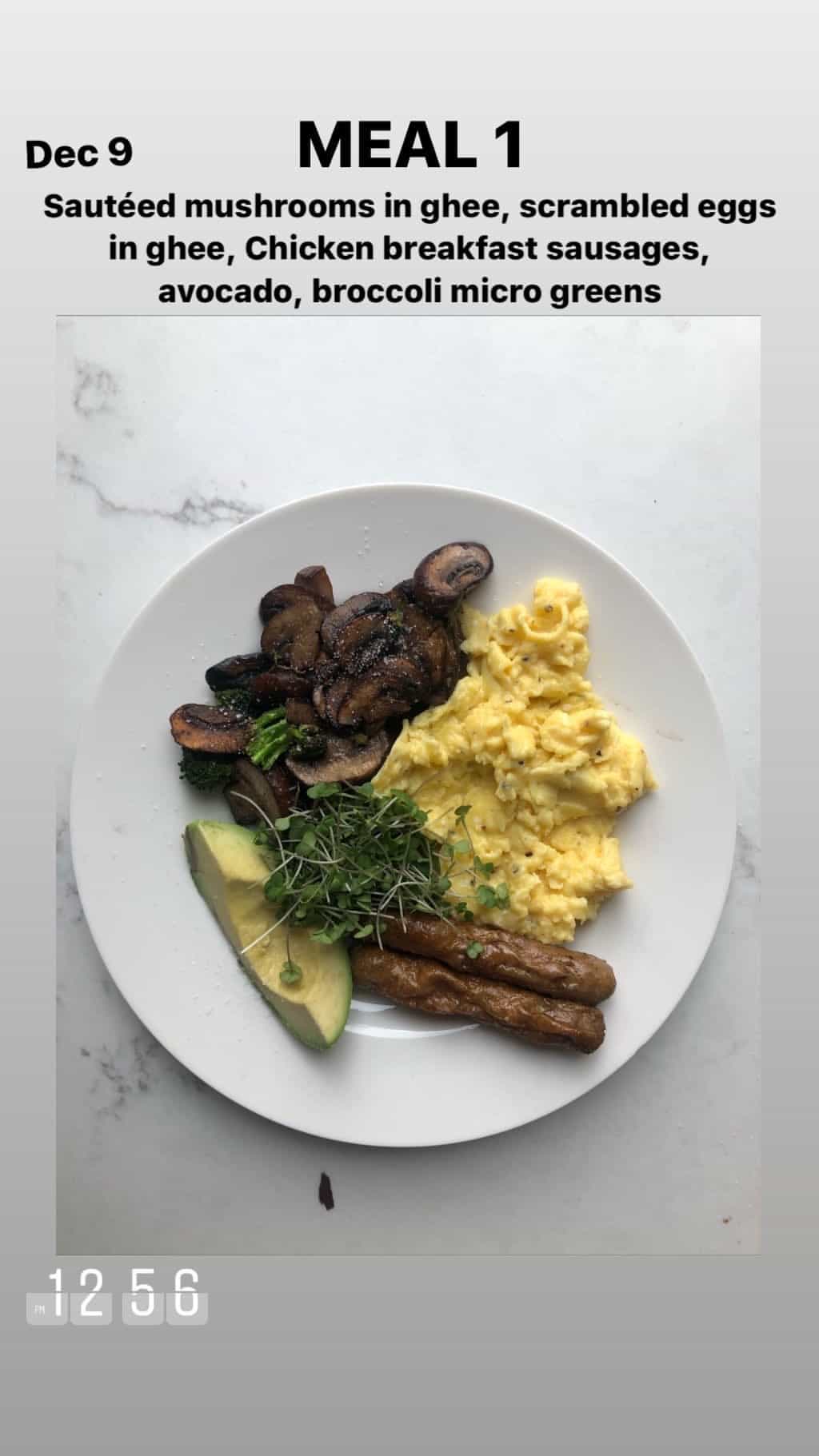 Sauteed mushrooms in ghee, scrambled eggs in ghee, chicken breakfast sausages, avocado, broccoli micro greens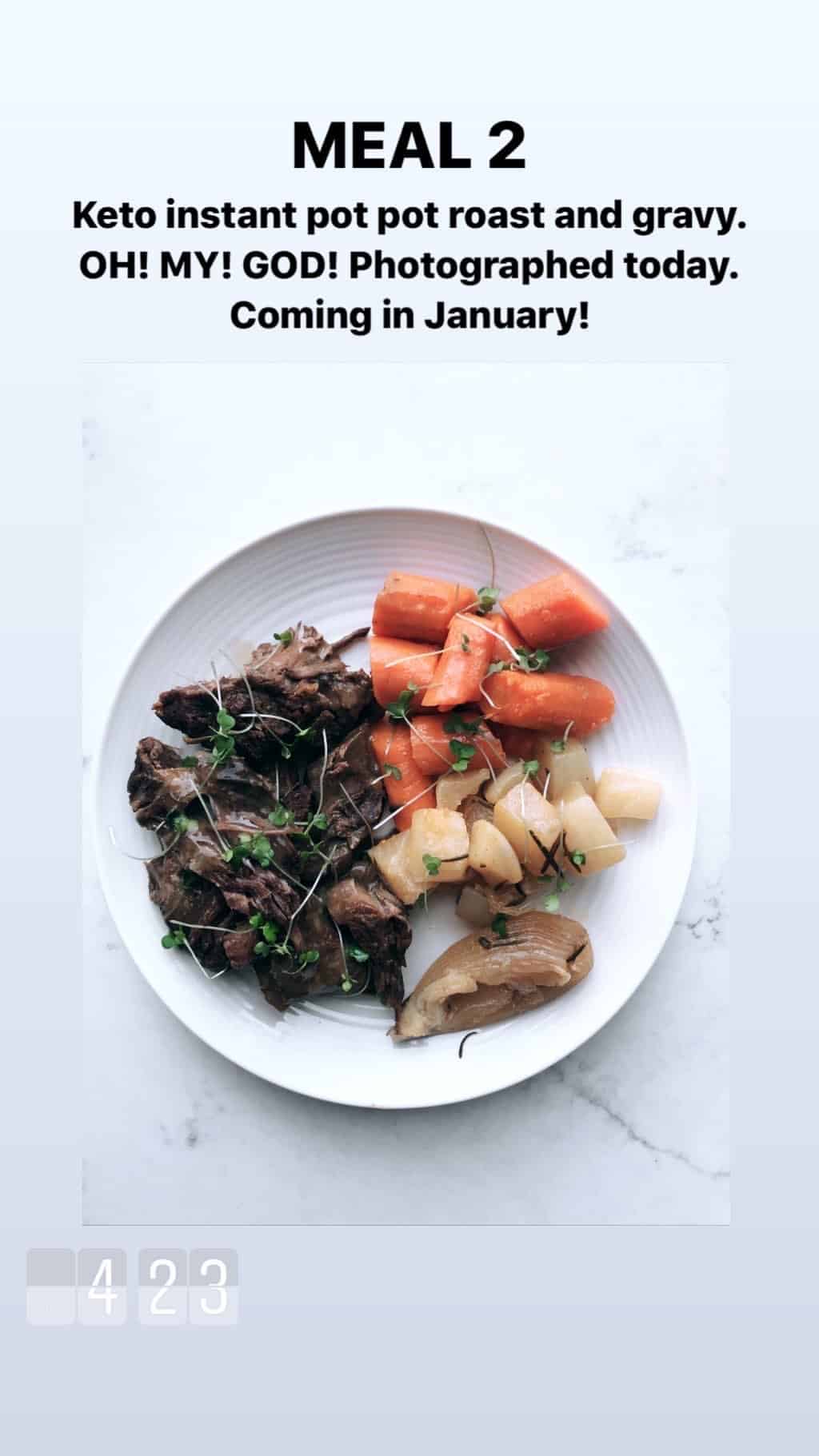 Instant Pot pot roast, gravy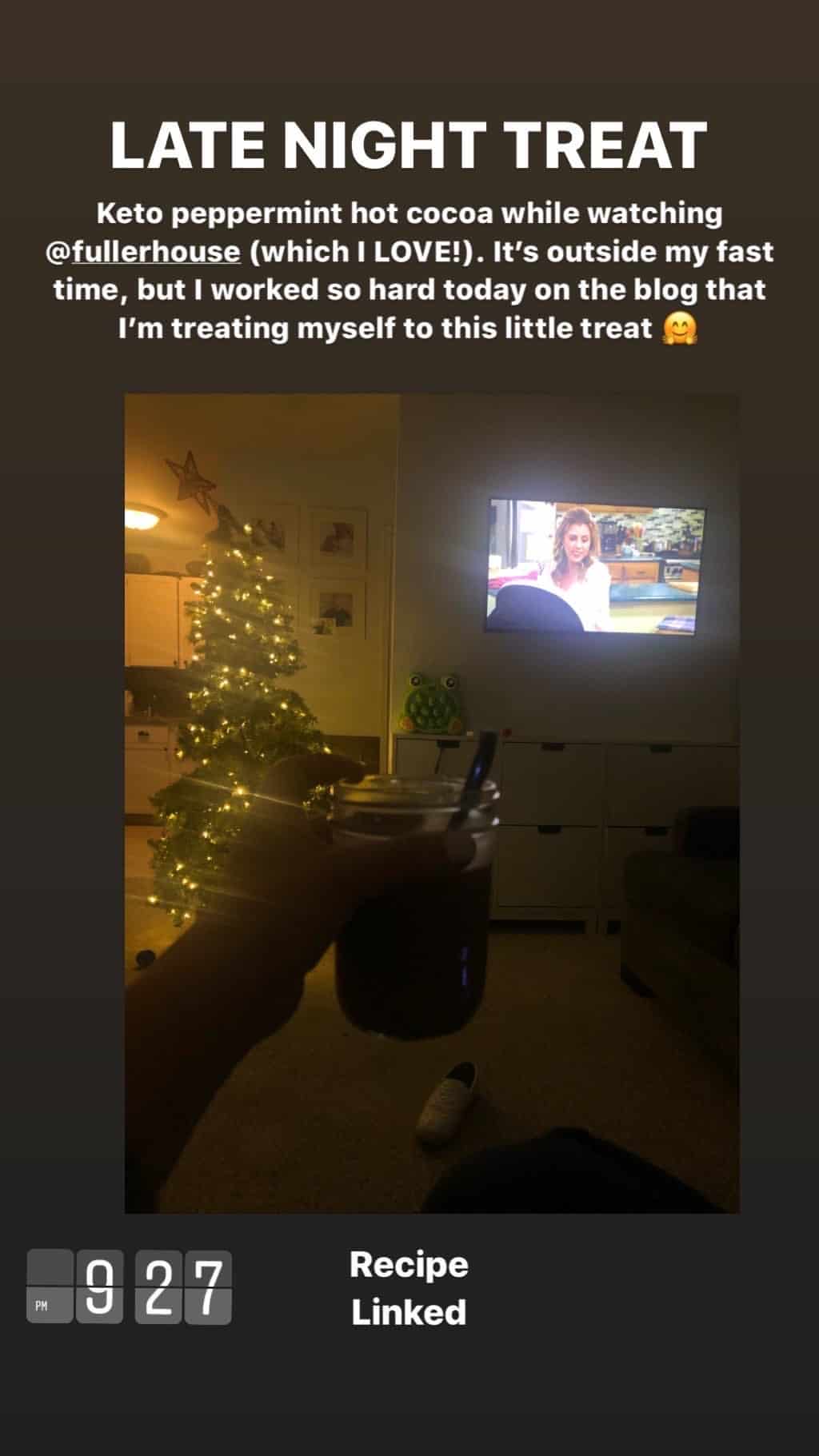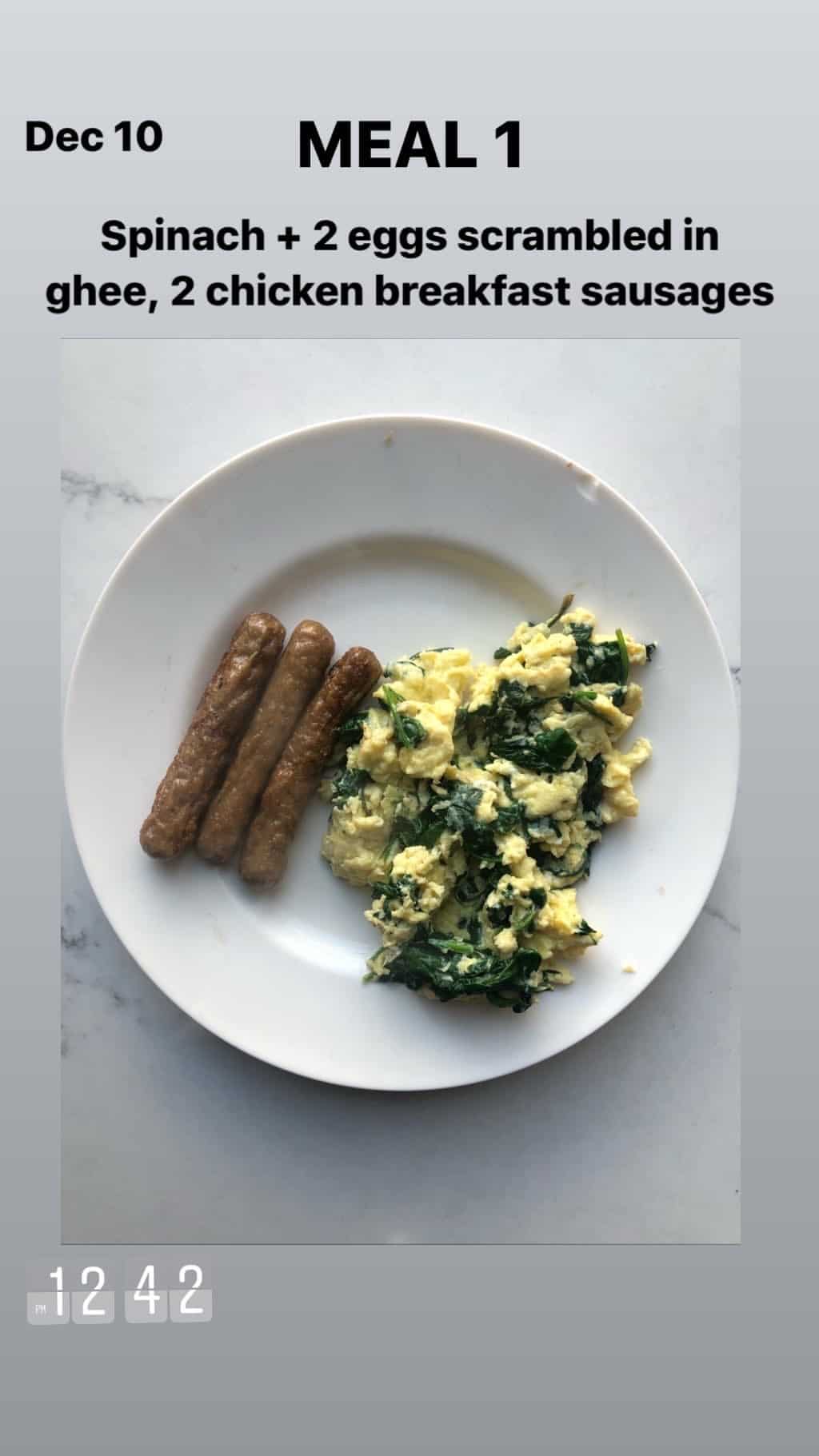 Spinach, eggs scrambled in ghee, chicken breakfast sausages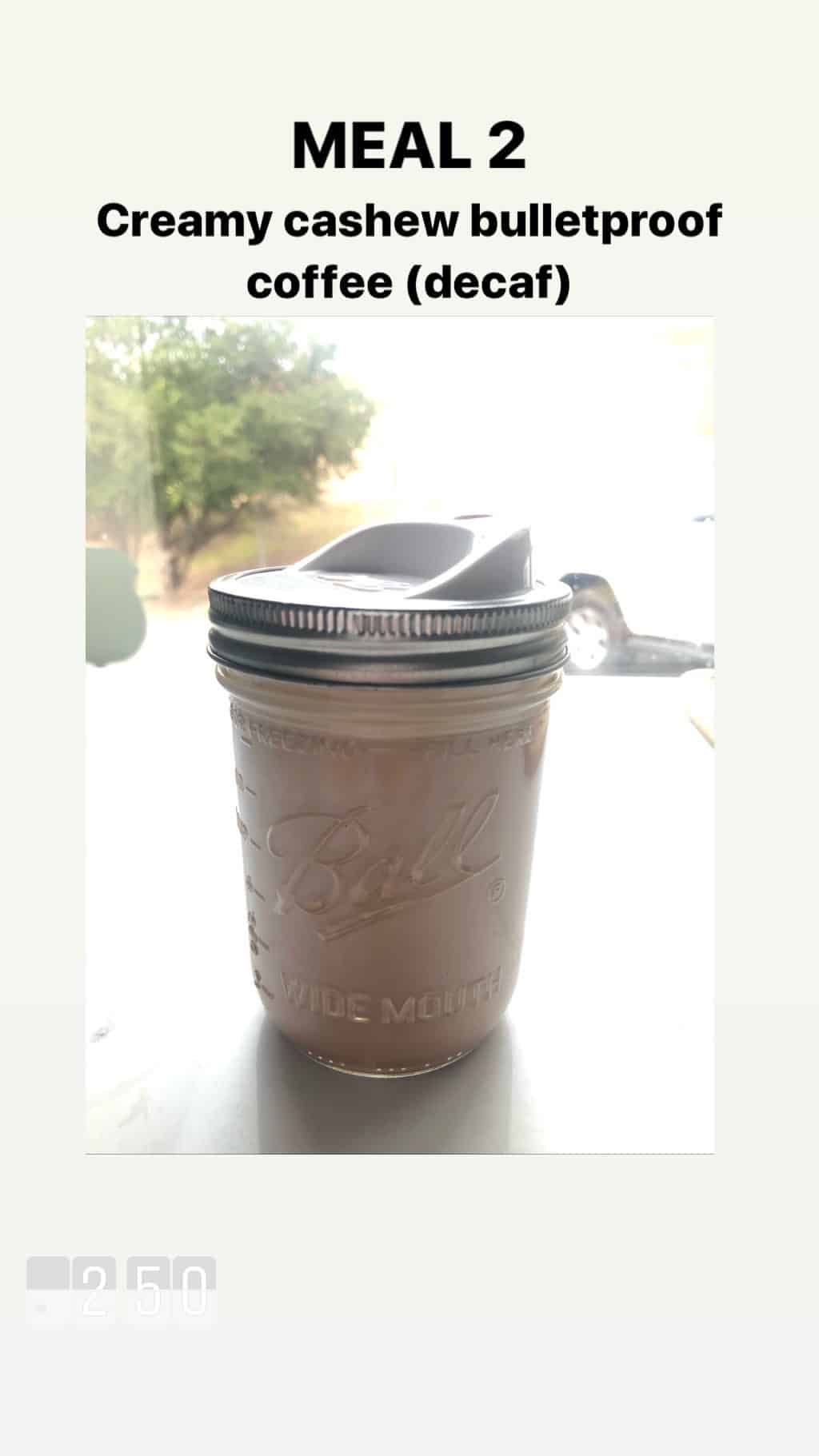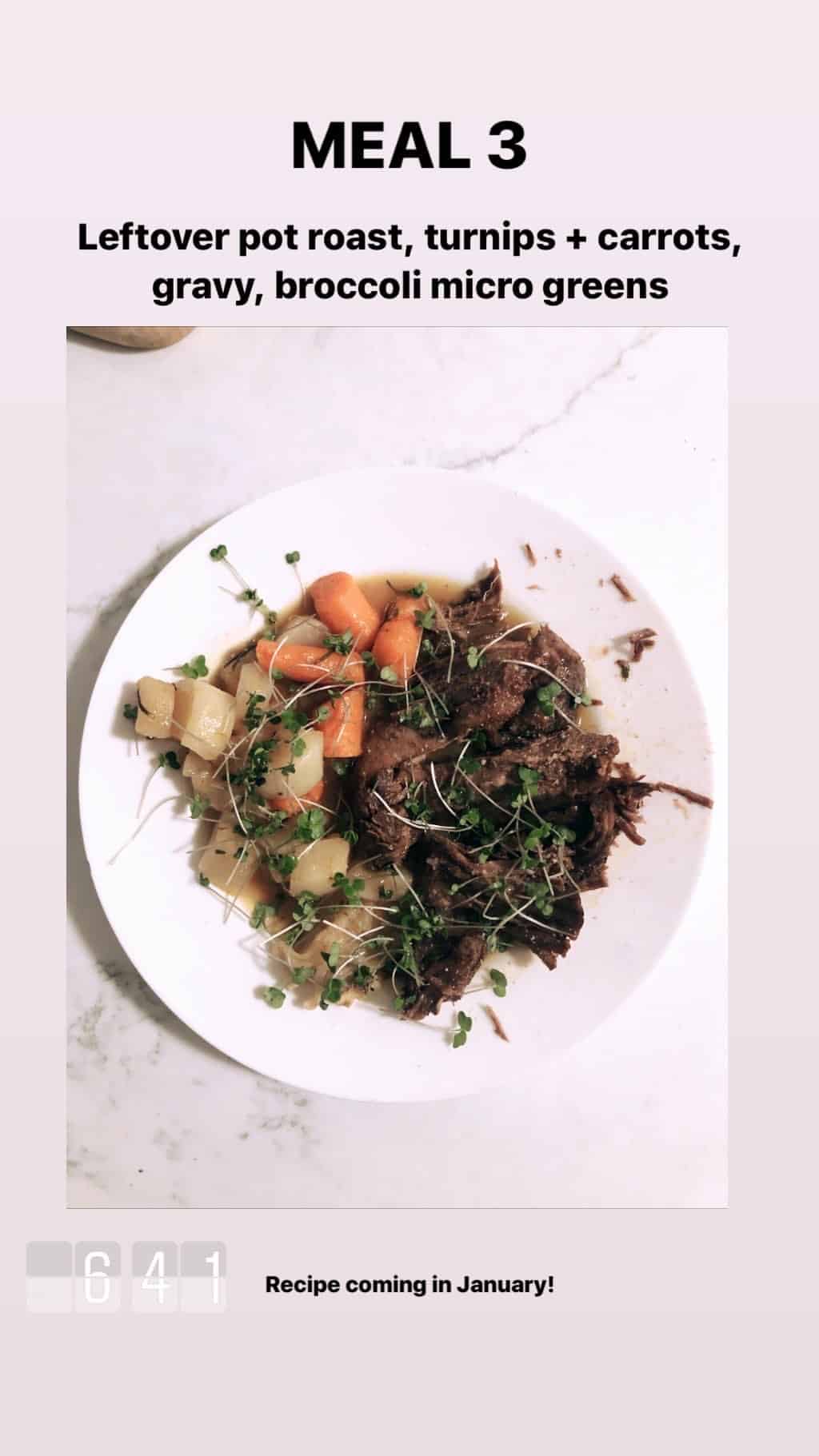 Pot roast, turnips, carrots, gravy, broccoli micro greens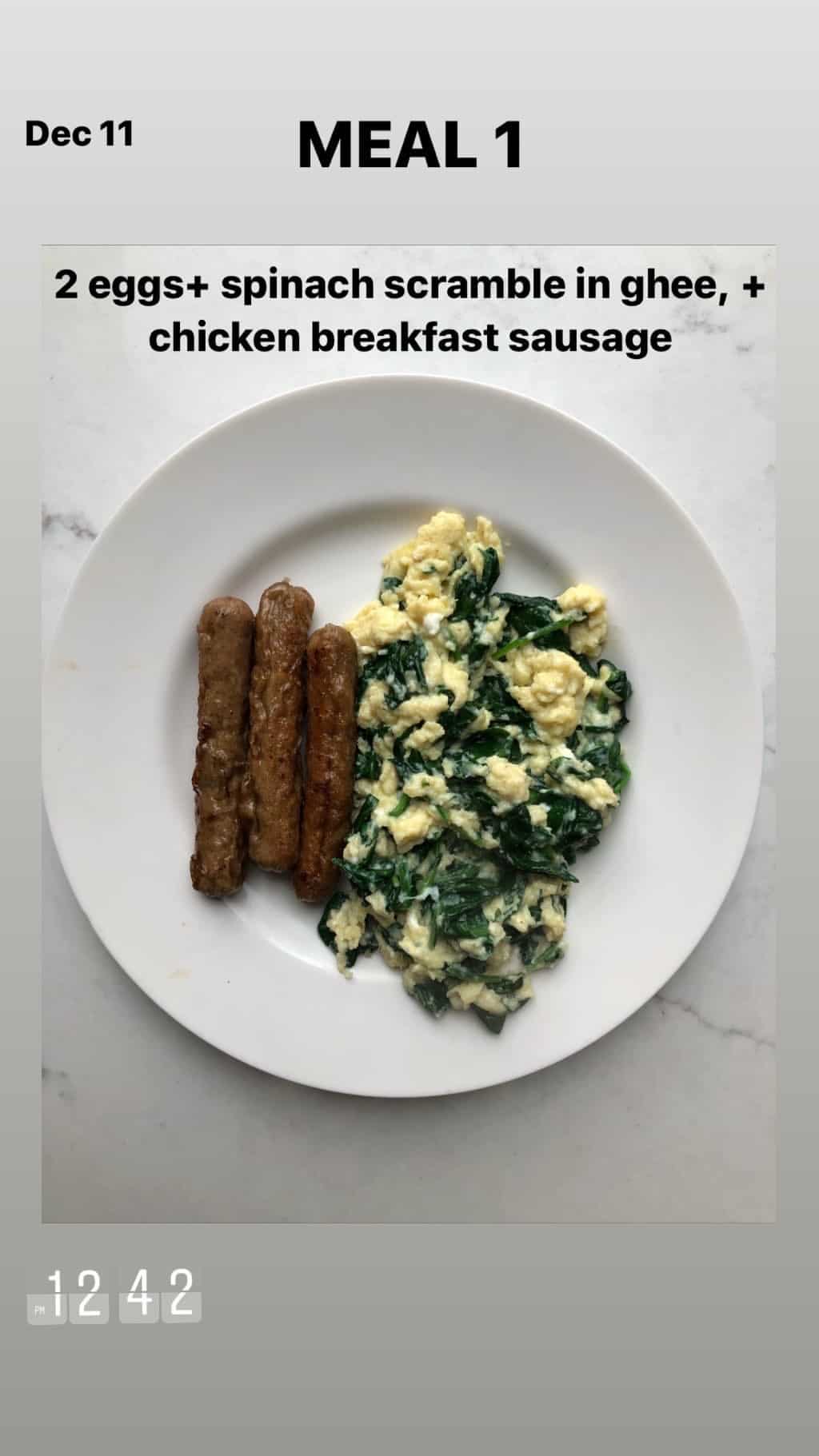 Scrambled eggs and spinach cooked in ghee, chicken breakfast sausages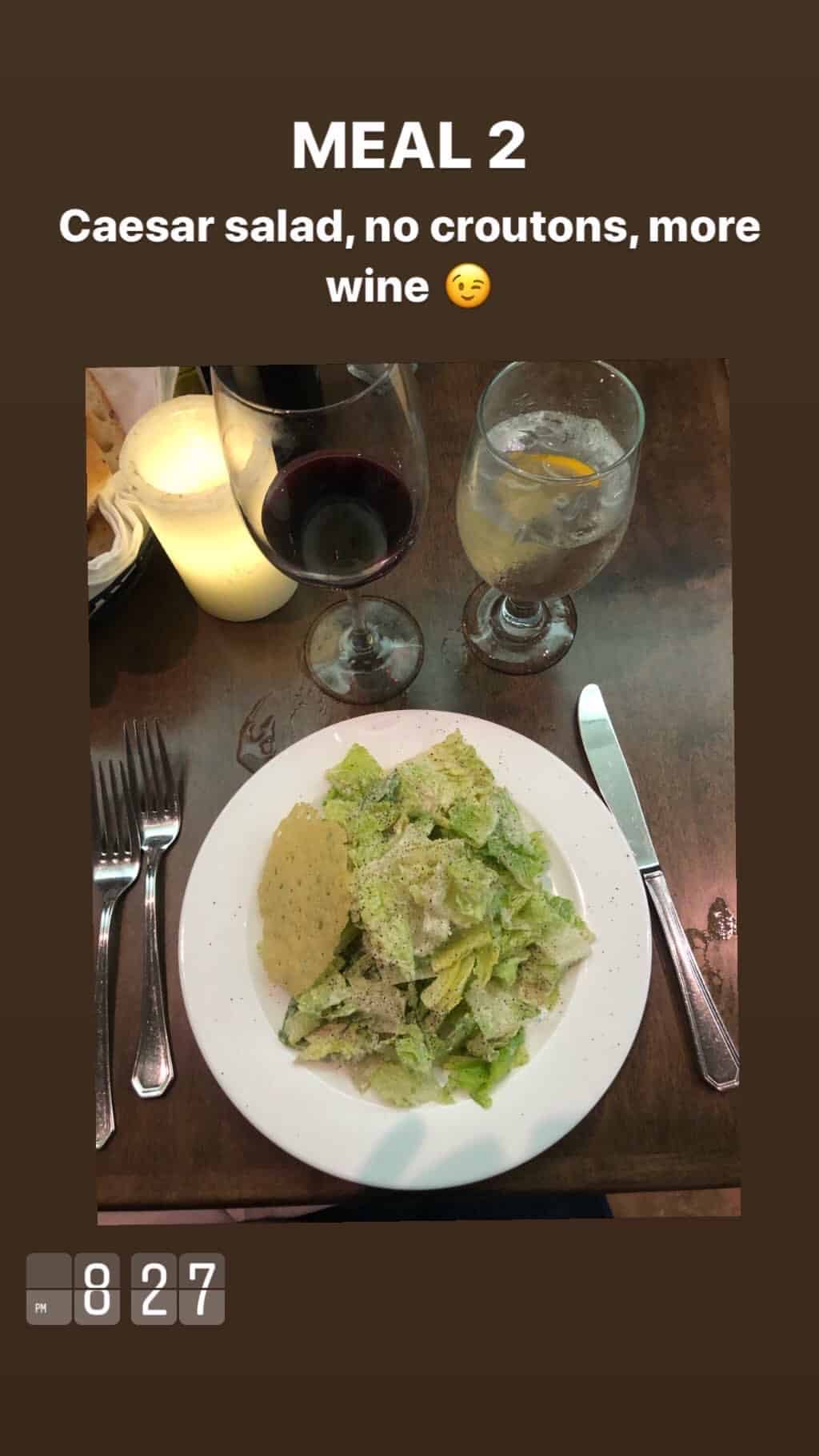 Caesar salad (no croutons), glass of wine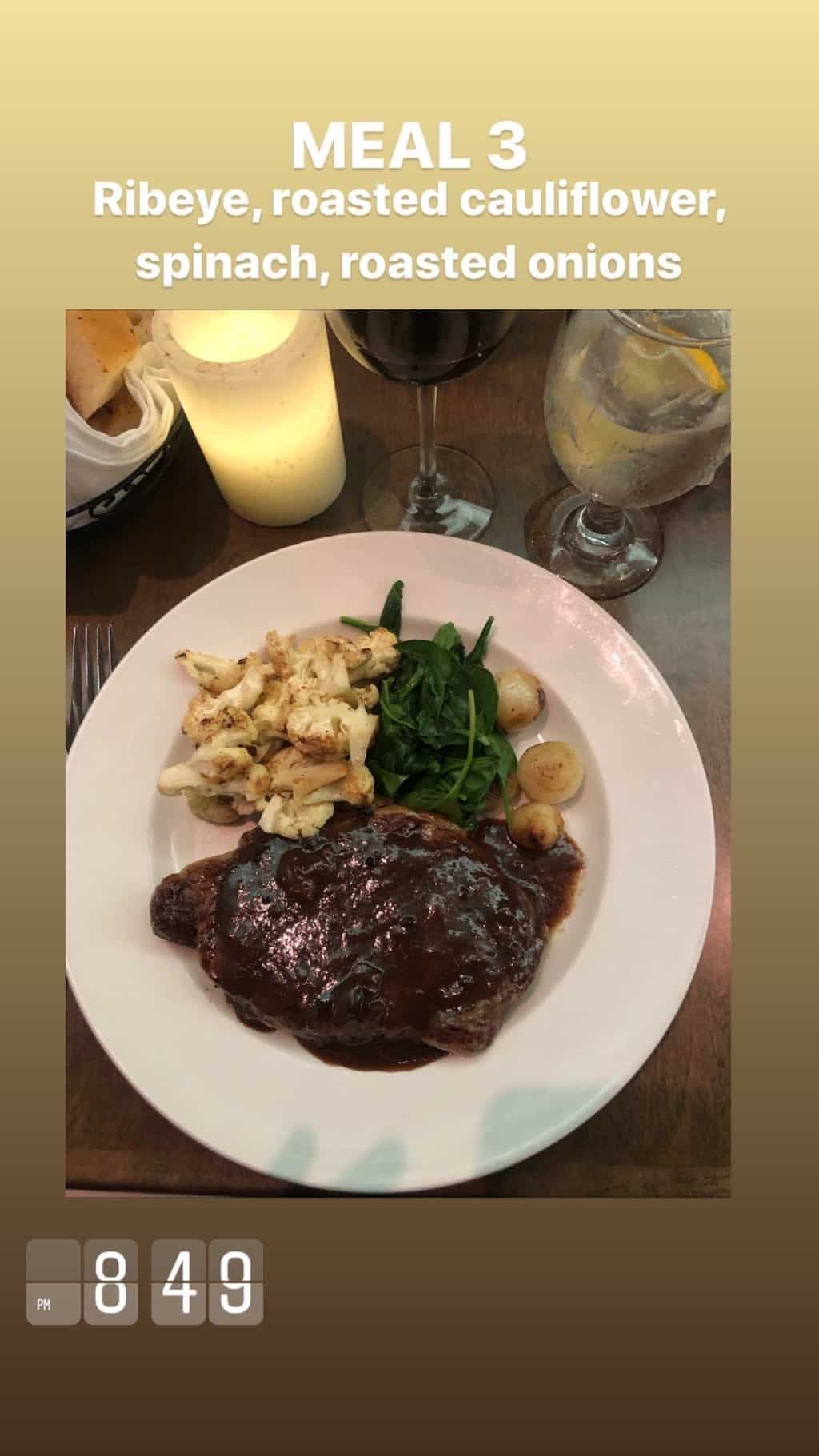 Ribeye steak, roasted cauliflower, spinach, roasted onions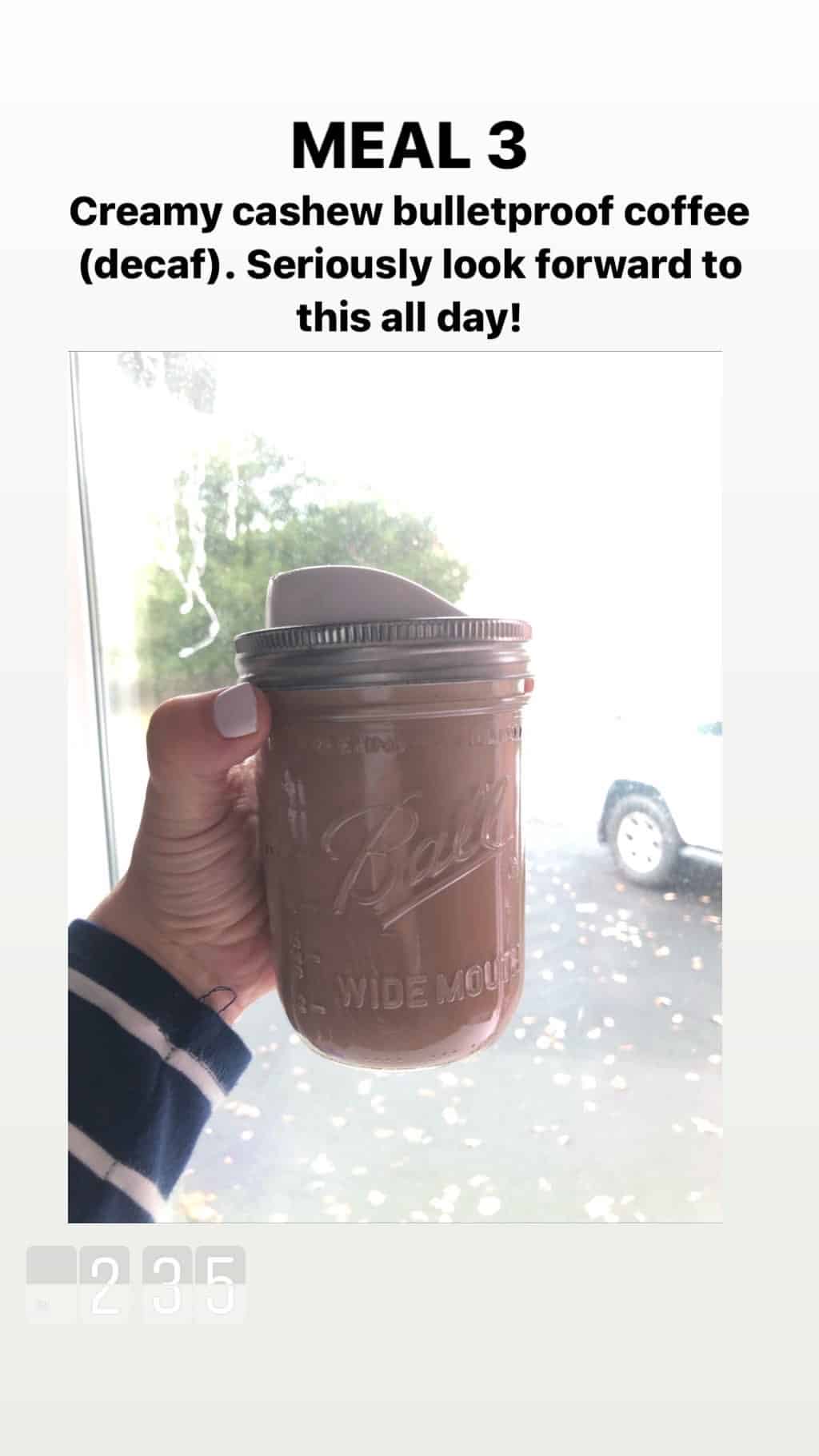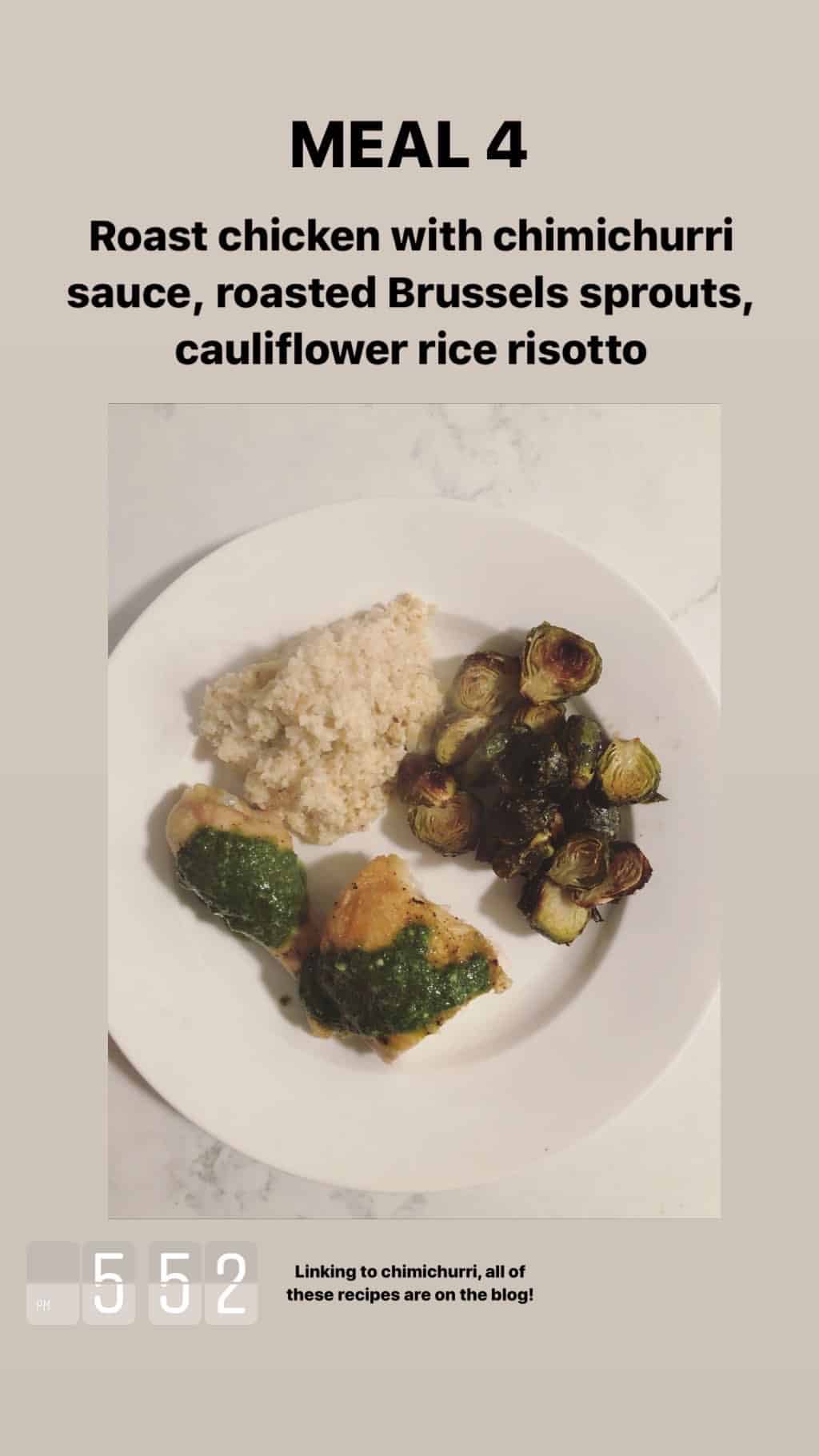 Roast chicken with chimichurri sauce, roasted Brussels sprouts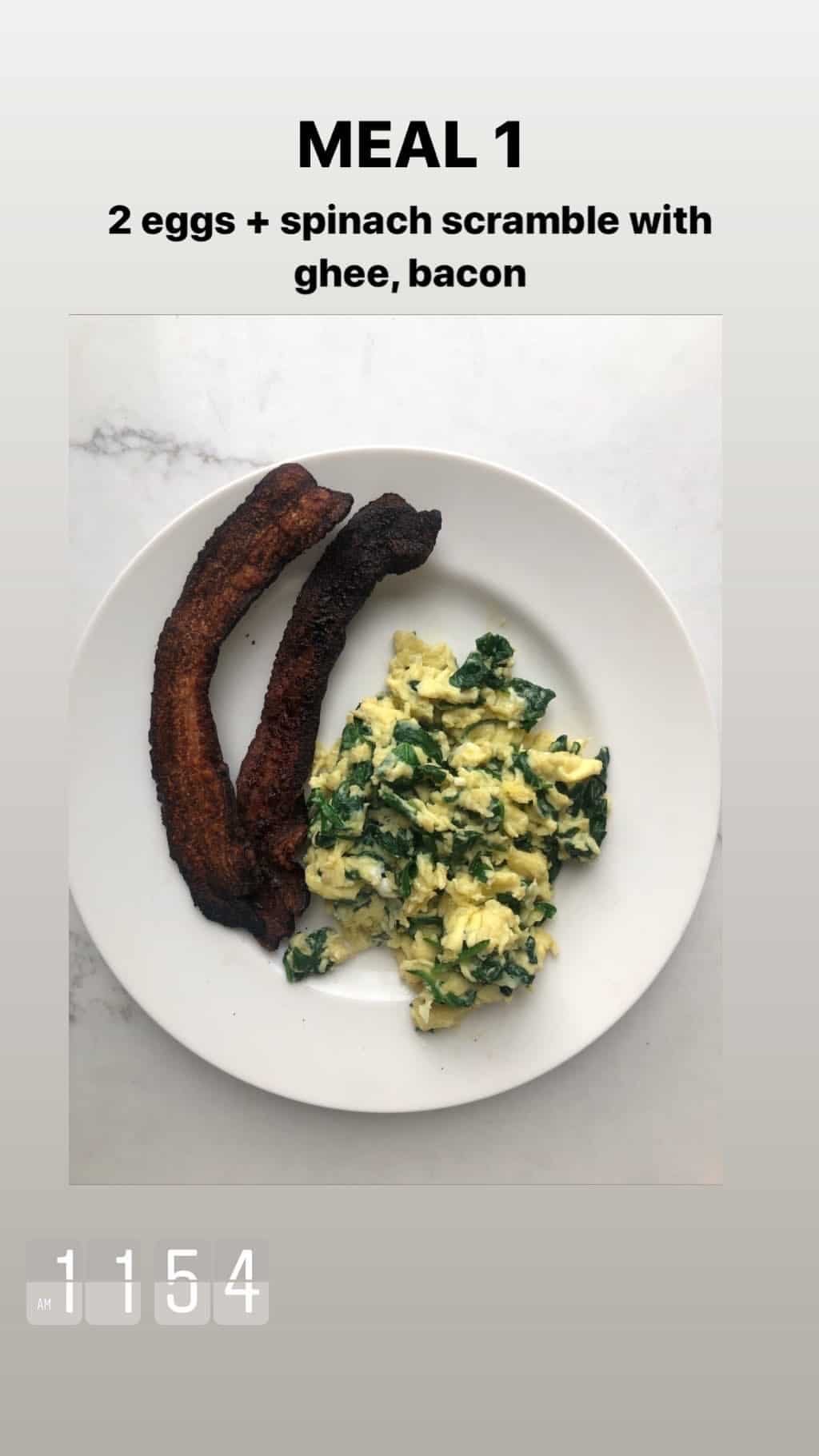 Scrambled eggs in ghee with spinach, bacon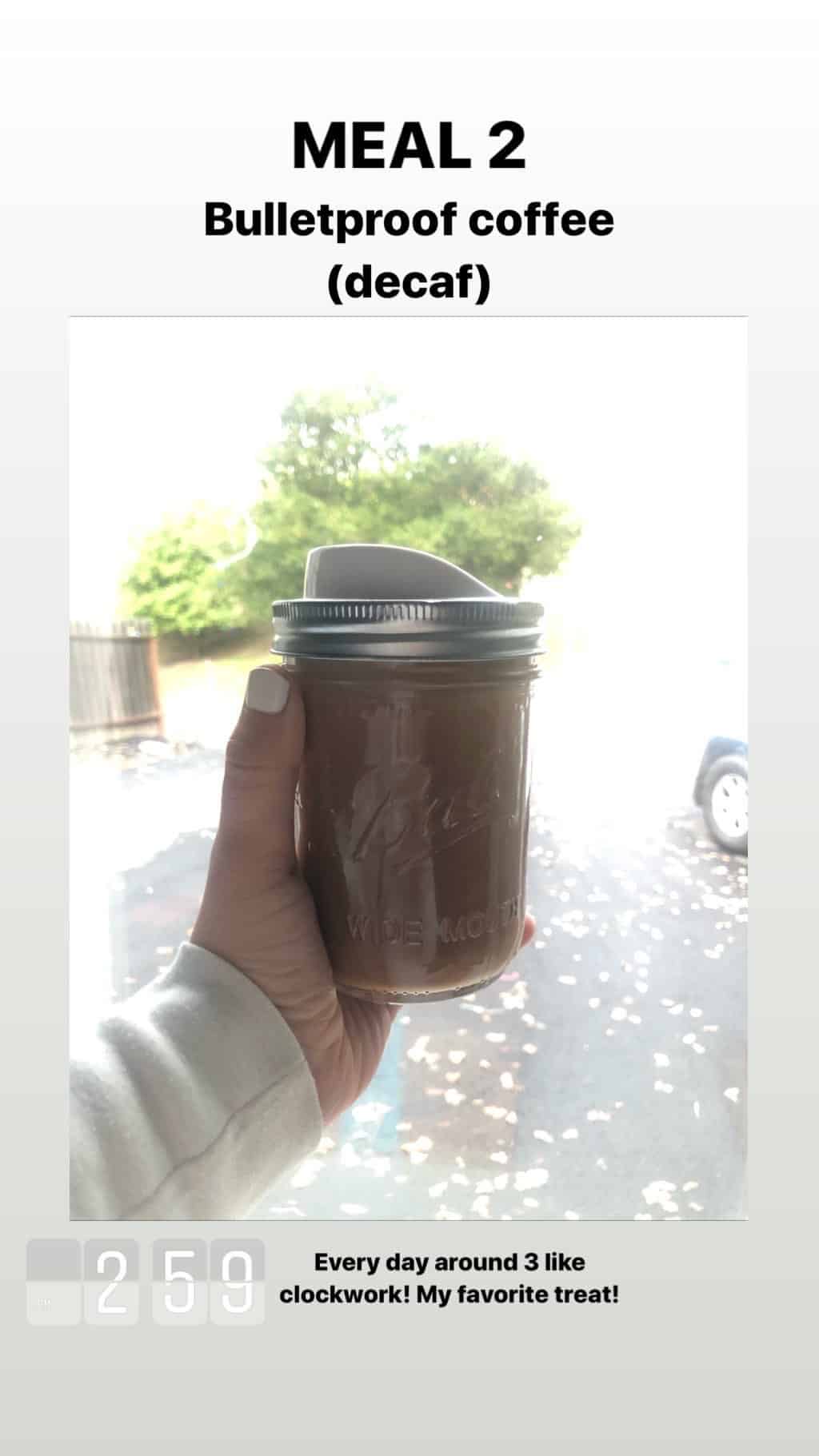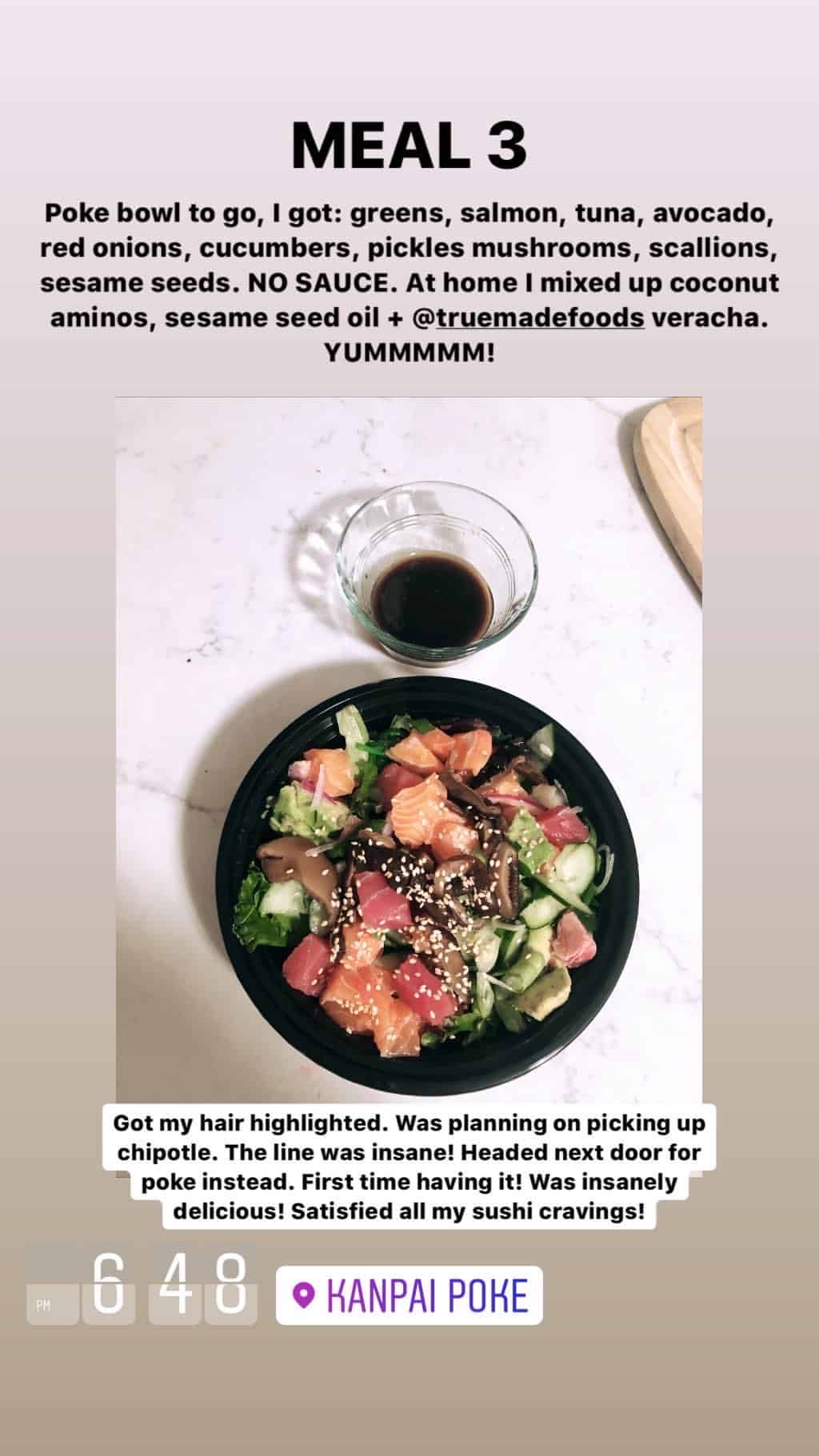 Kanpai Poke bowl (no sauce) with greens, salmon, tuna, avocado, red onions, cucumbers, pickles, mushrooms, scallions, sesame seeds, True Made Foods Veracha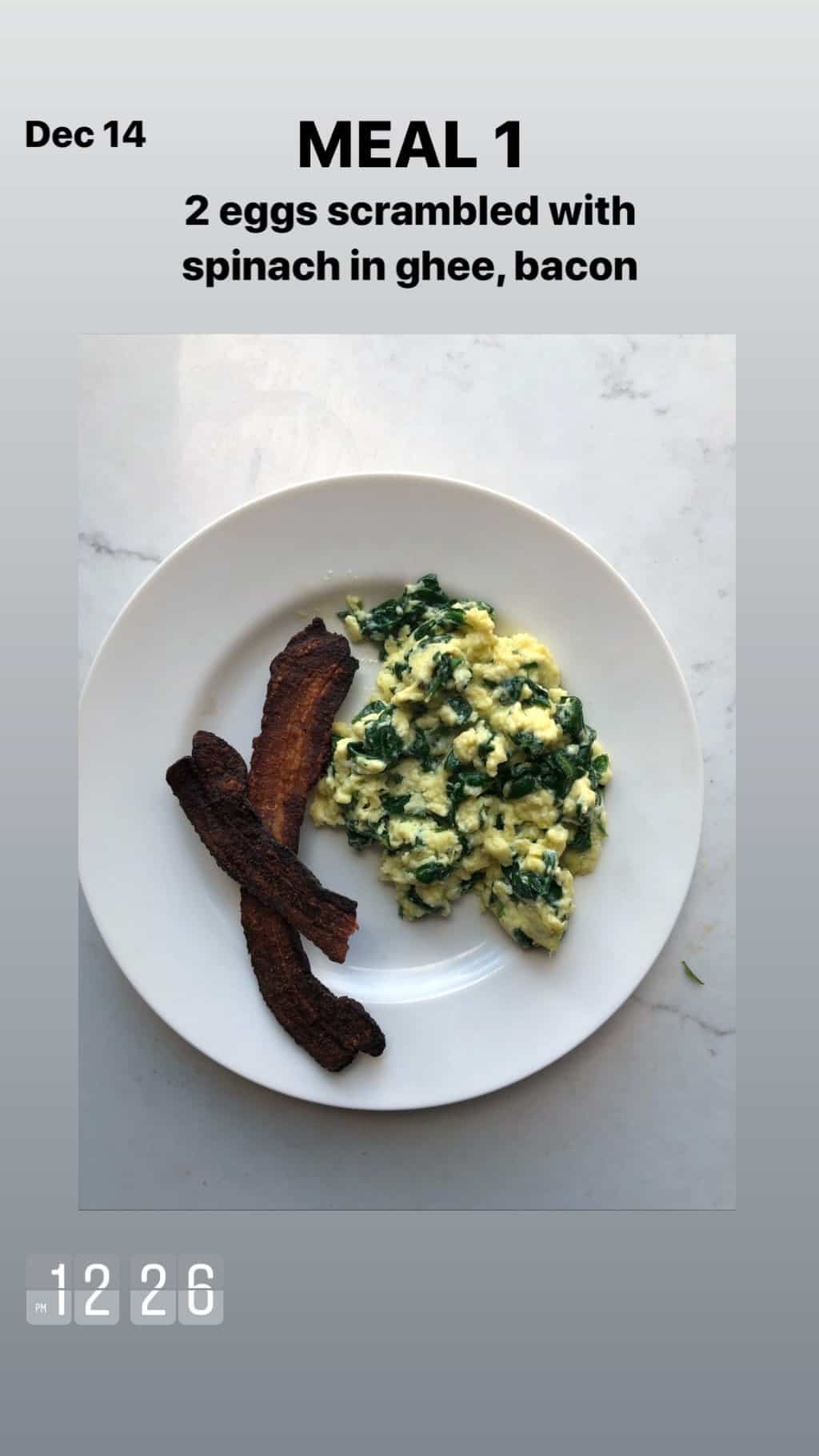 Scrambled eggs with spinach in ghee, bacon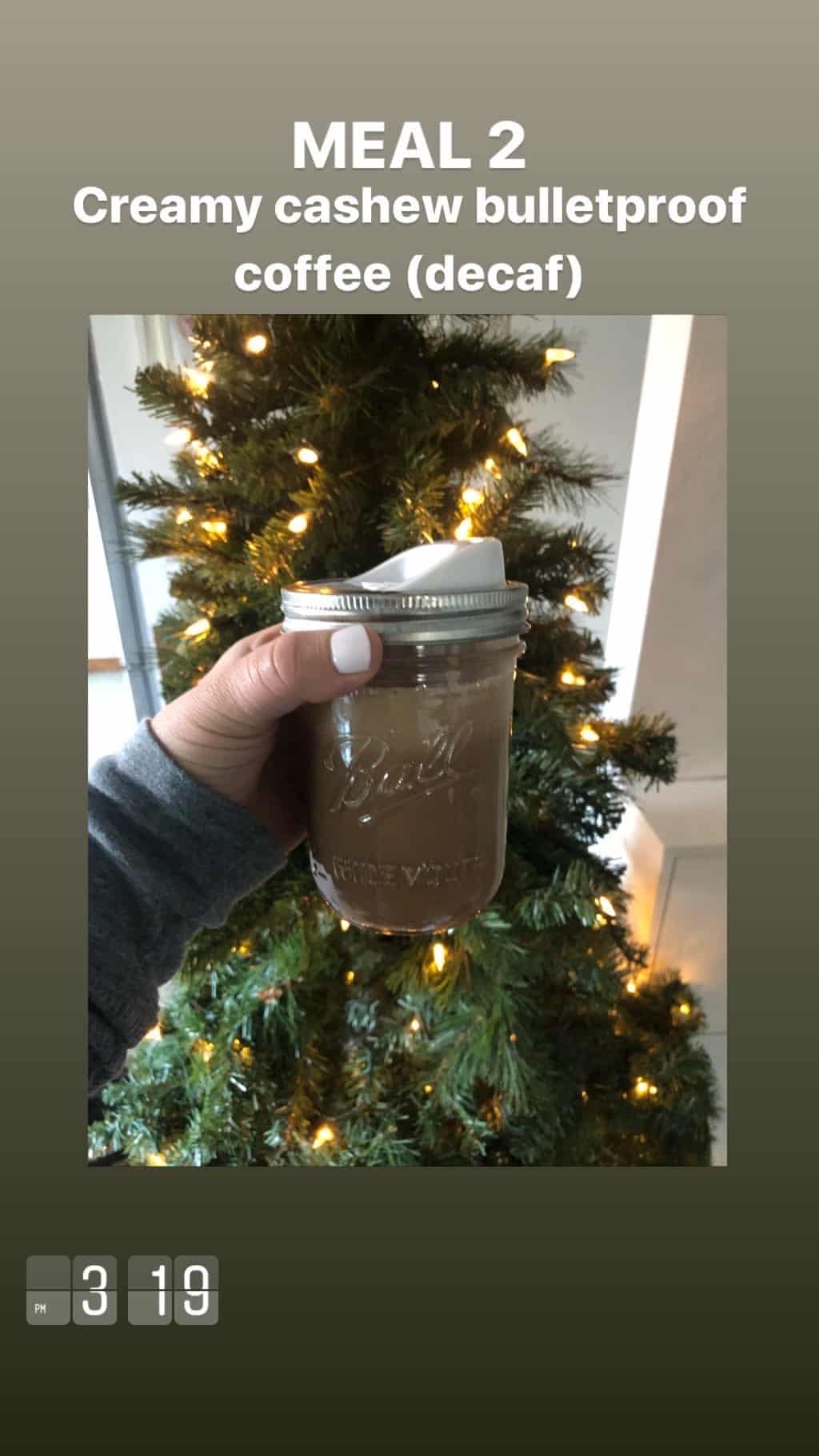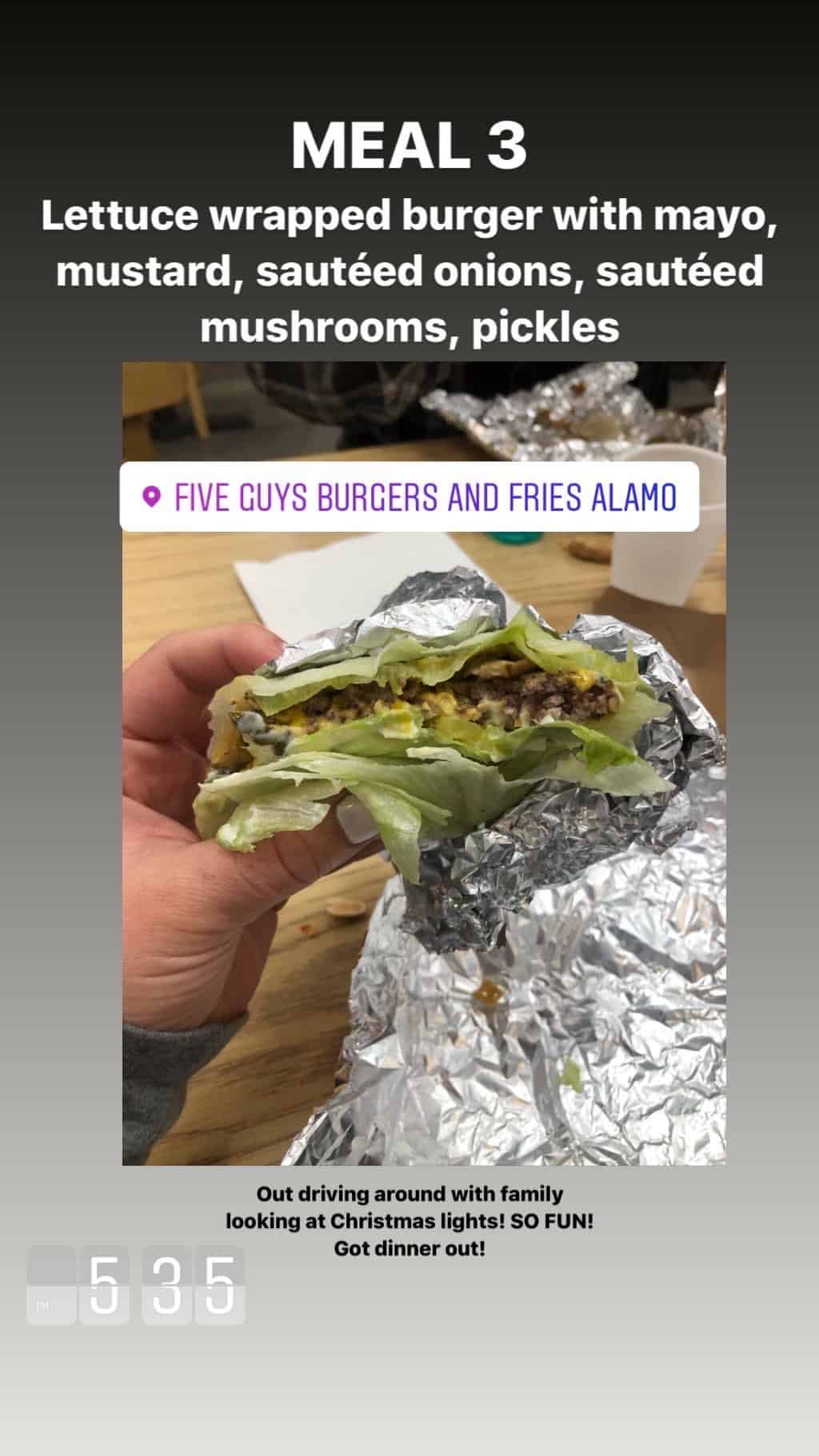 Lettuce wrapped burger with mayo, mustard, sauteed onions, sauteed mushrooms, pickles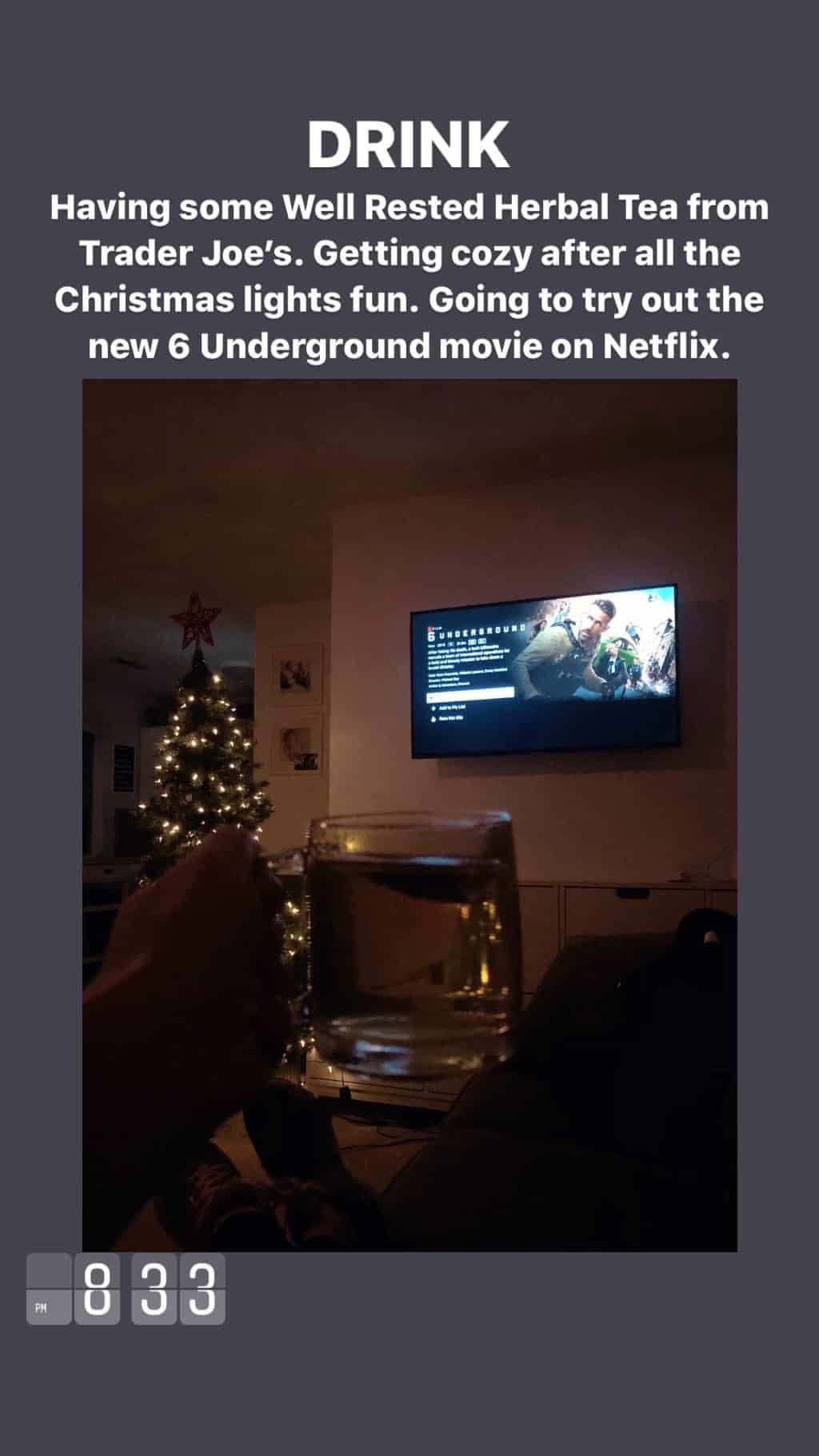 Well Rested herbal tea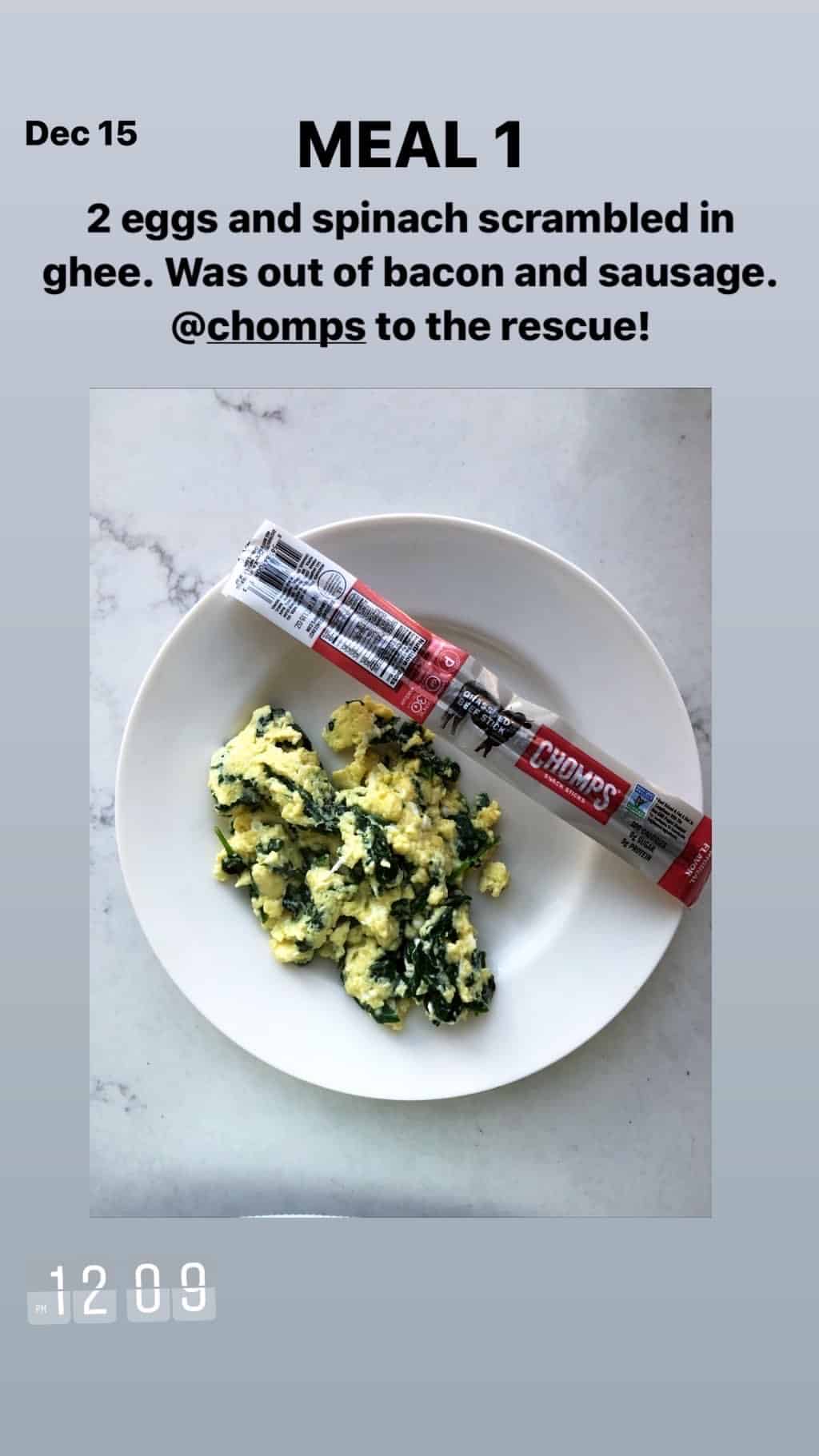 Scrambled eggs and spinach in ghee, Chomps beef stick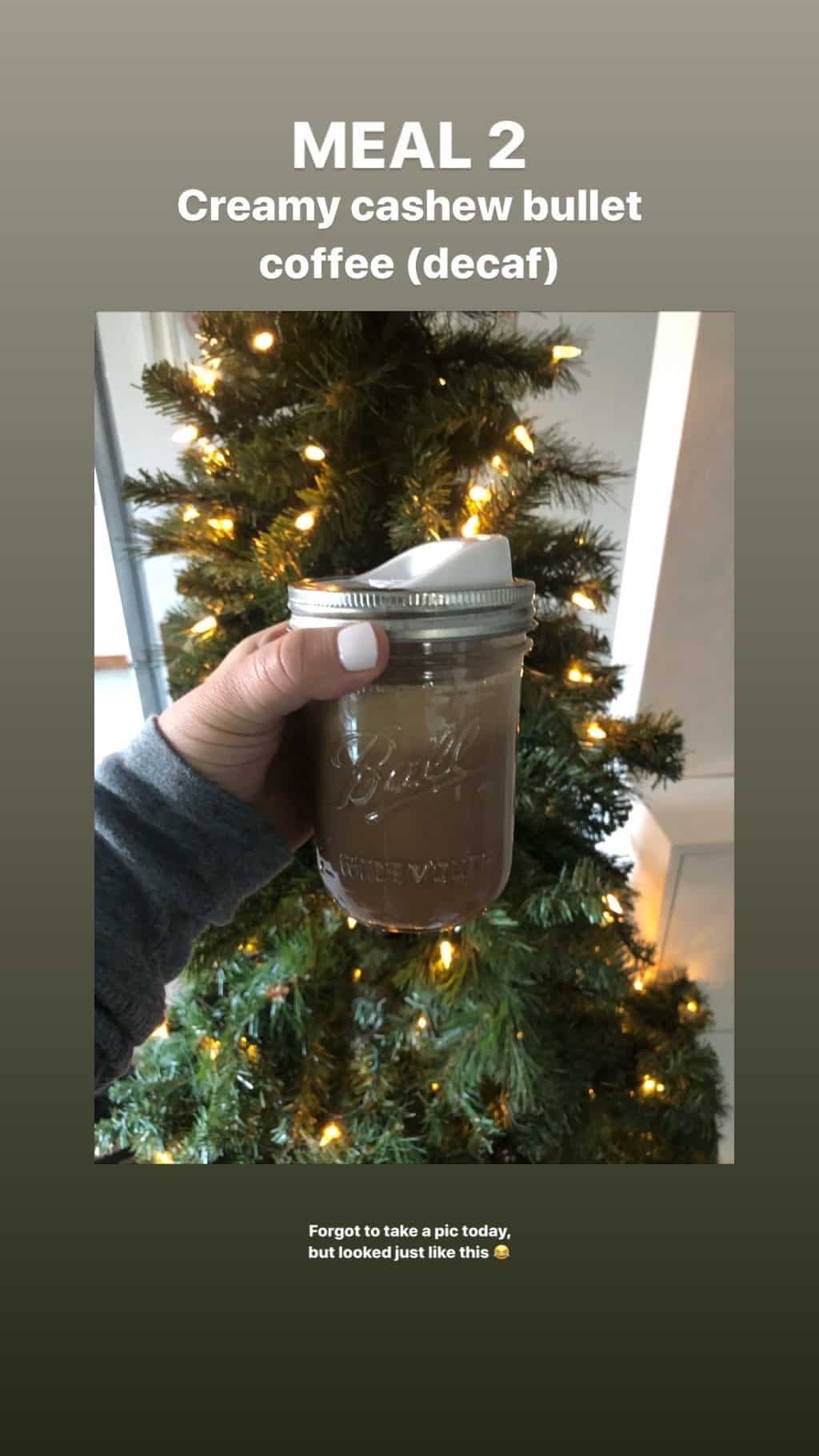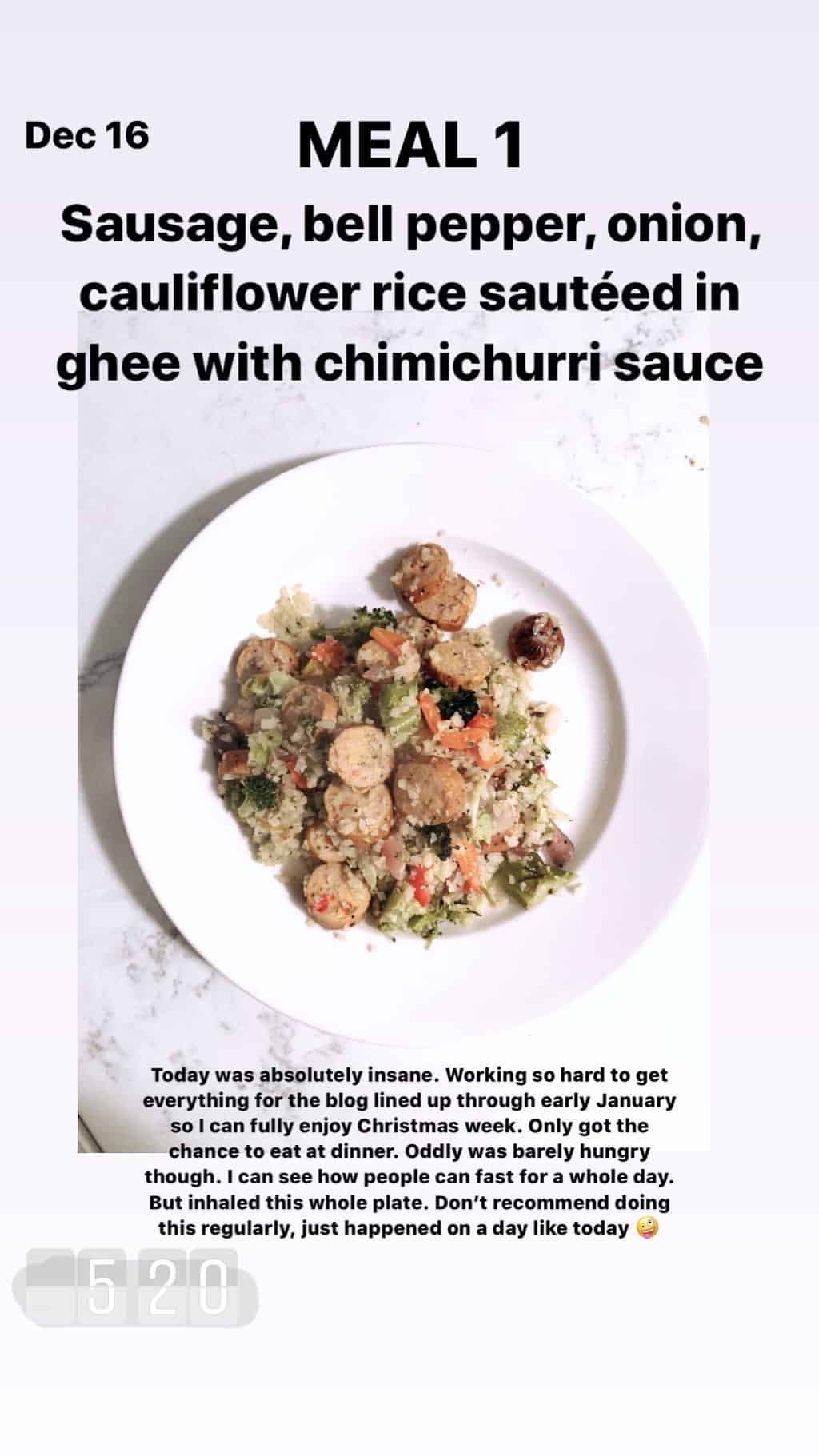 Sausage, bell pepper, onion, cauliflower rice sauteed in ghee, chimichurri sauce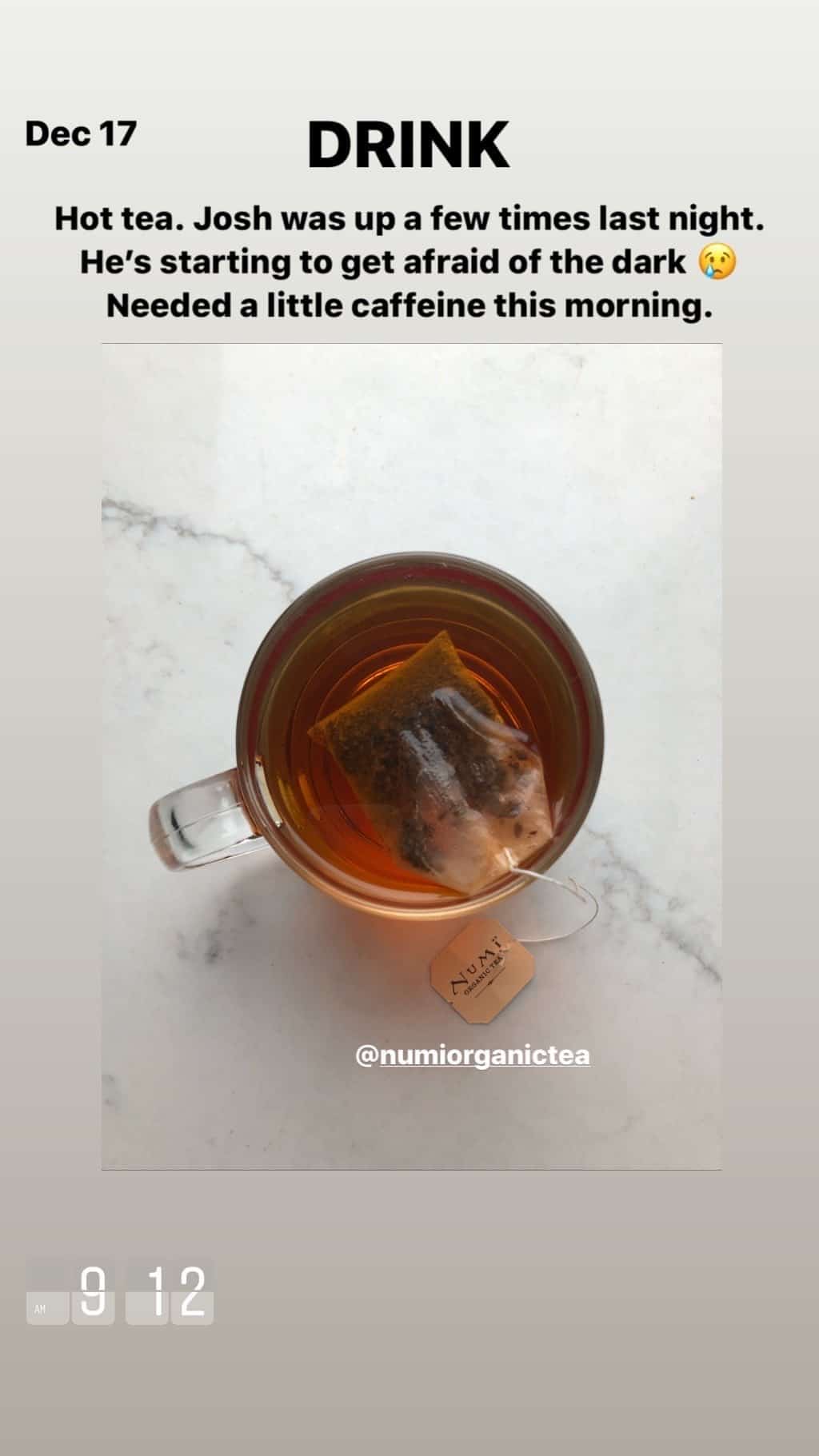 Tea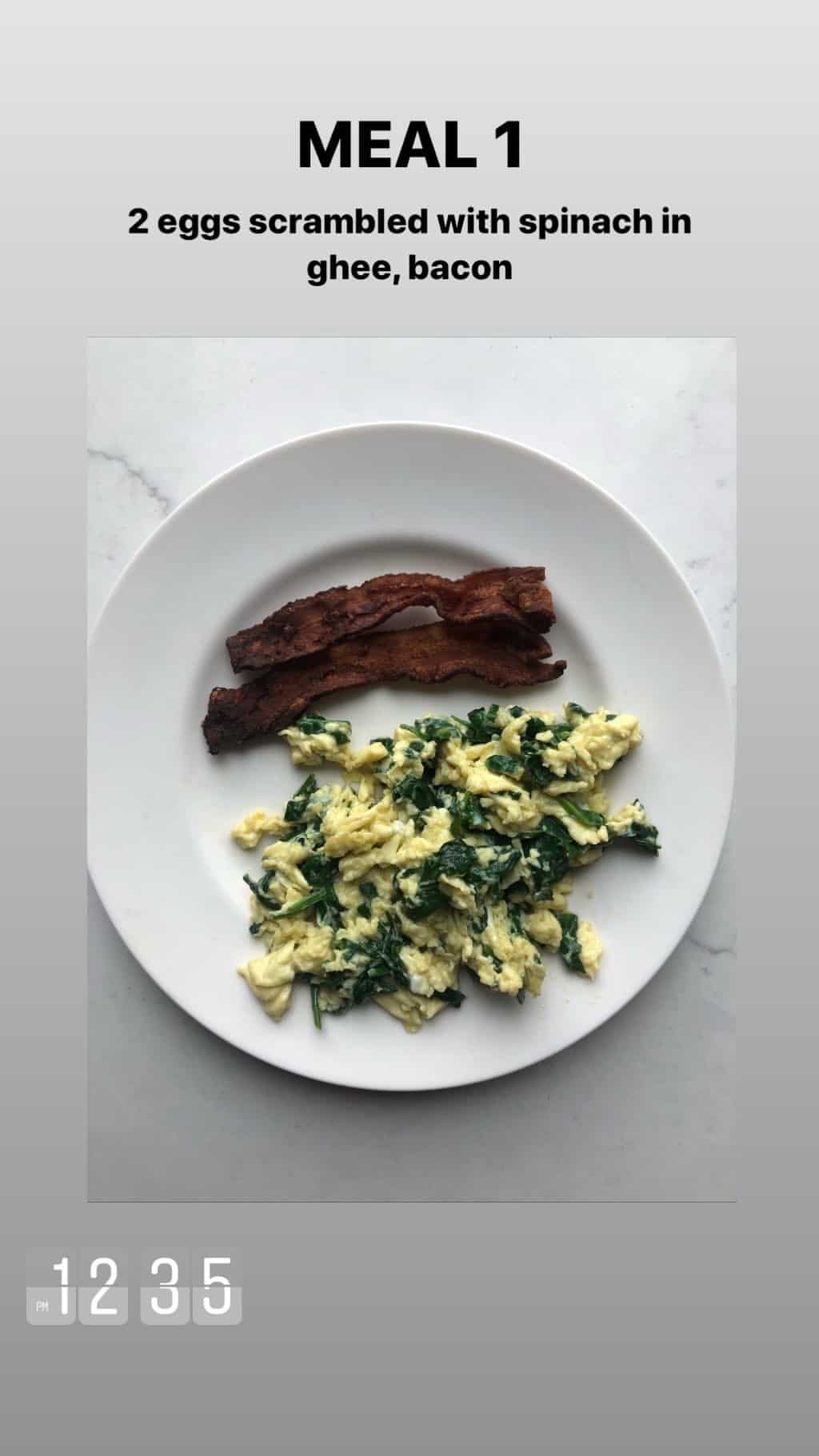 Scrambled eggs in ghee with spinach, bacon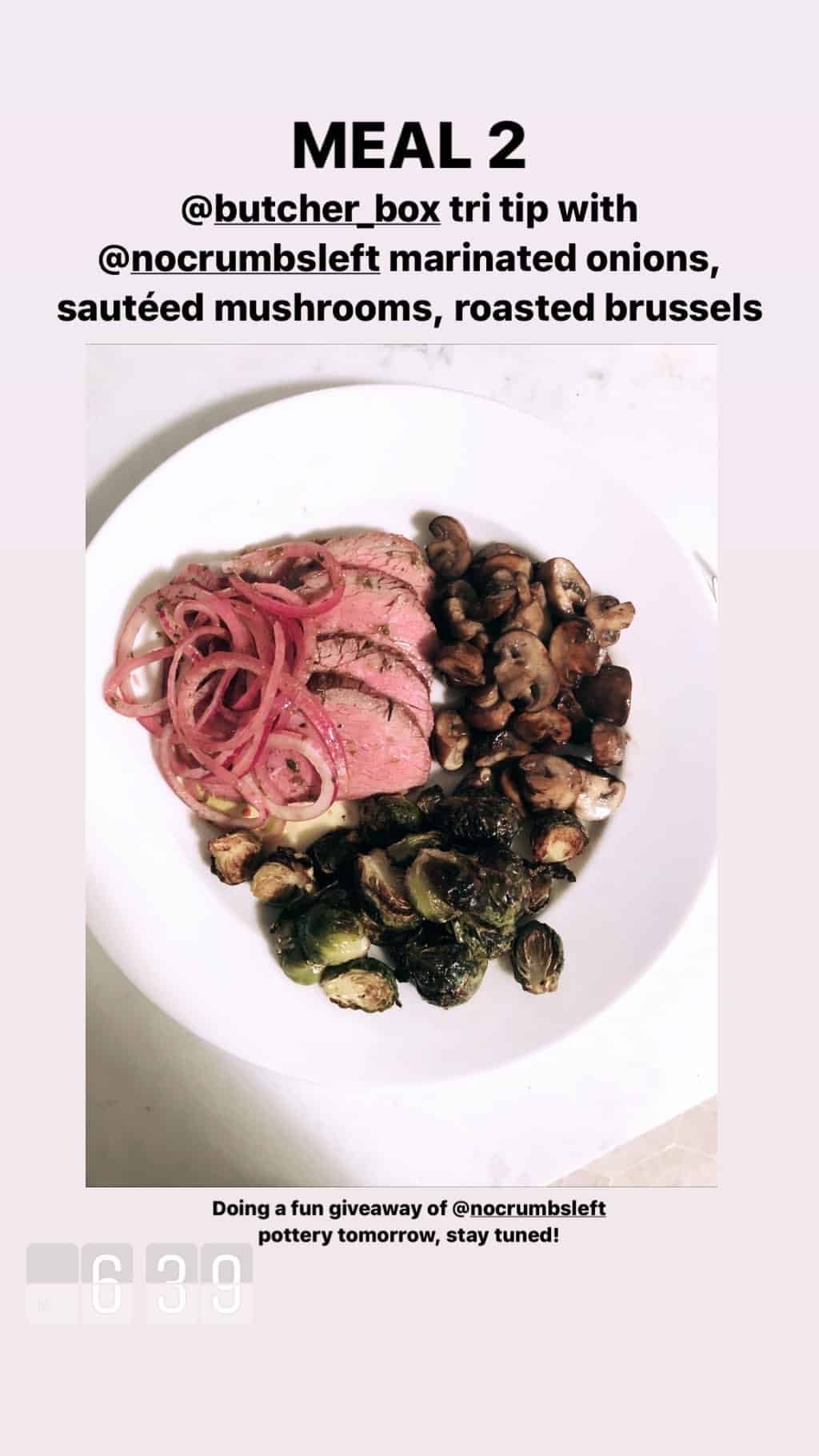 Butcher Box tri tip steak, No Crumbs Left marinated onions, sauteed mushrooms, roasted Brussels sprouts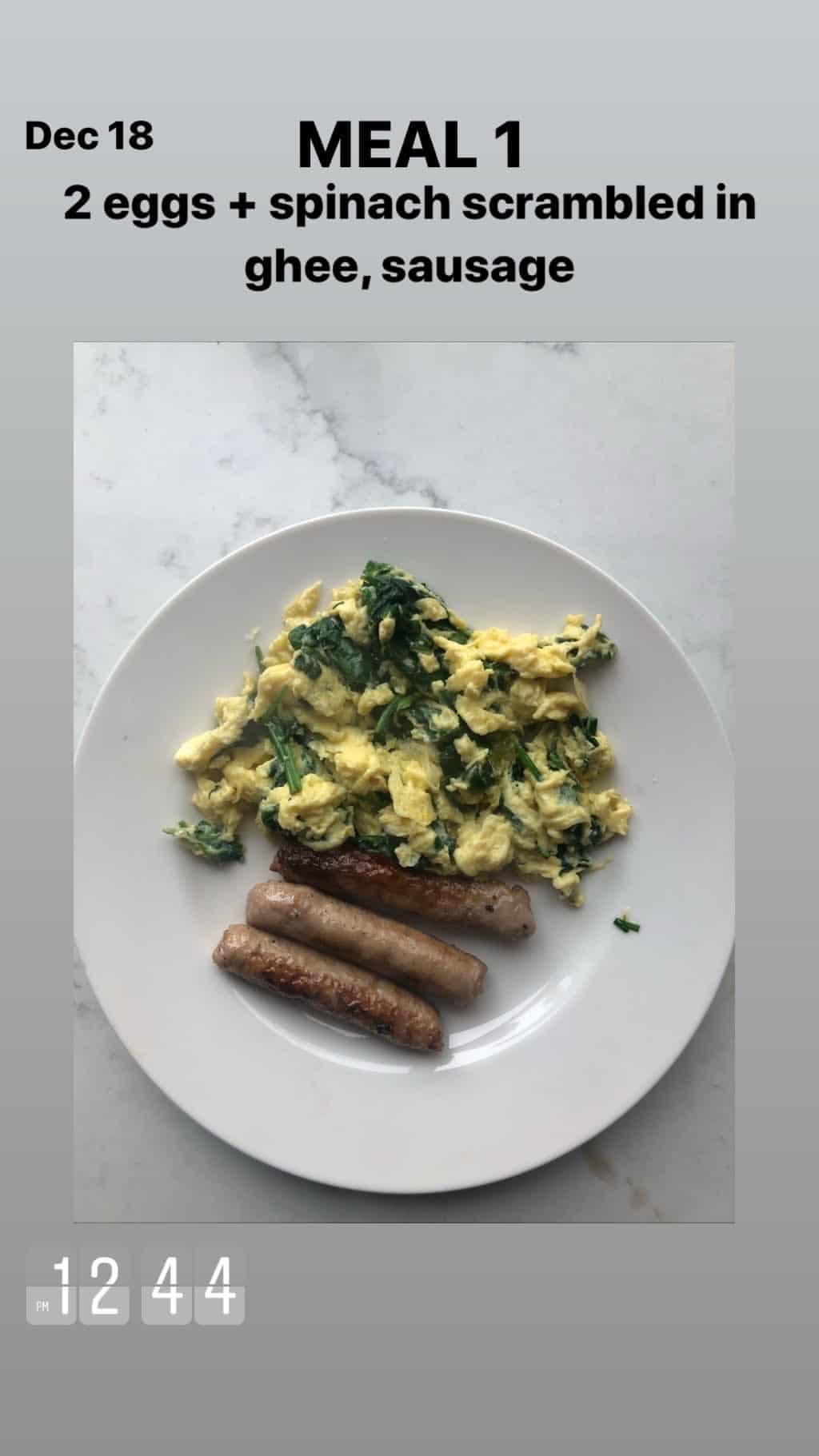 Scrambled eggs in ghee with spinach, sausages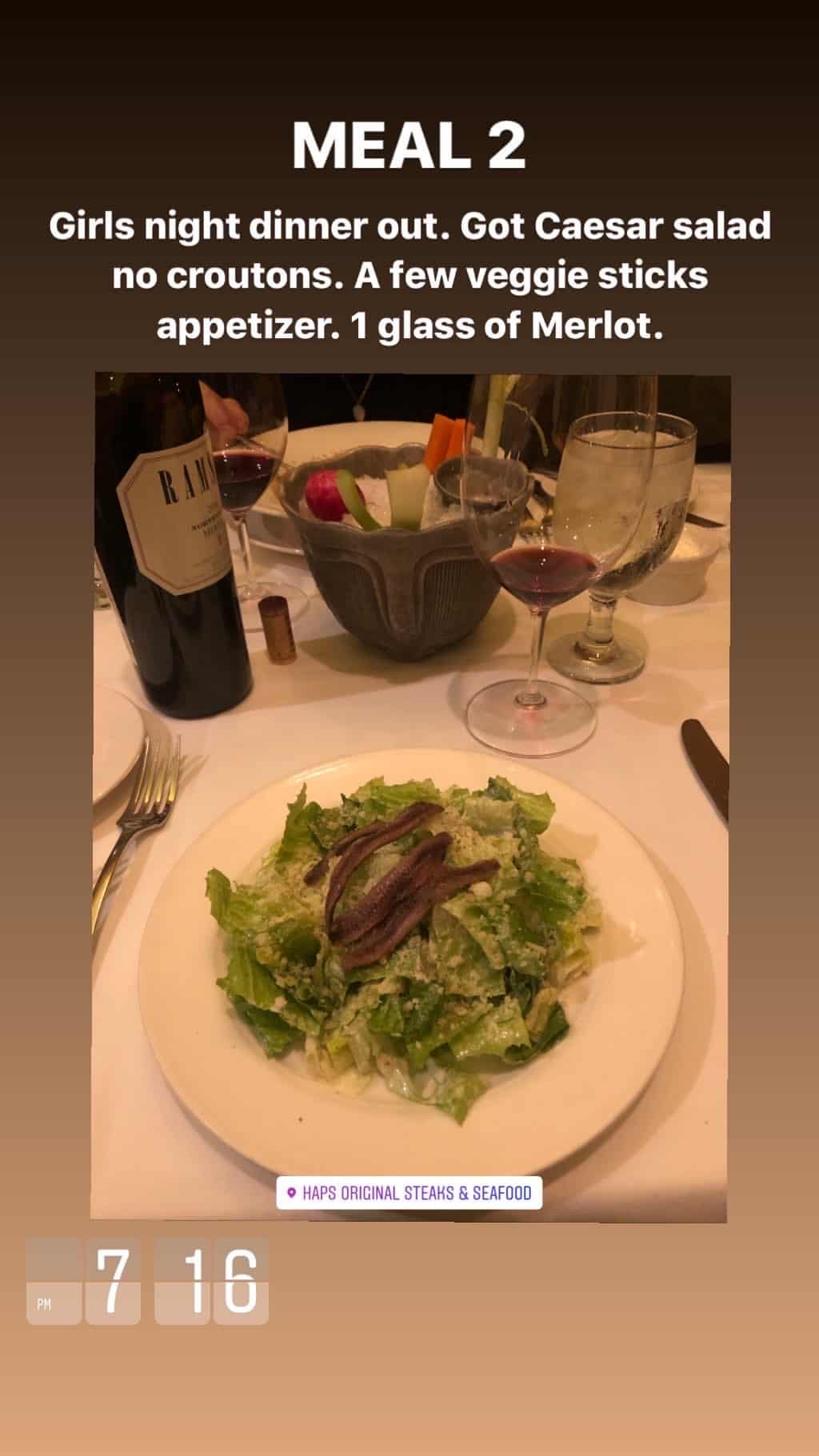 Caesar salad (no croutons), veggie sticks, glass of wine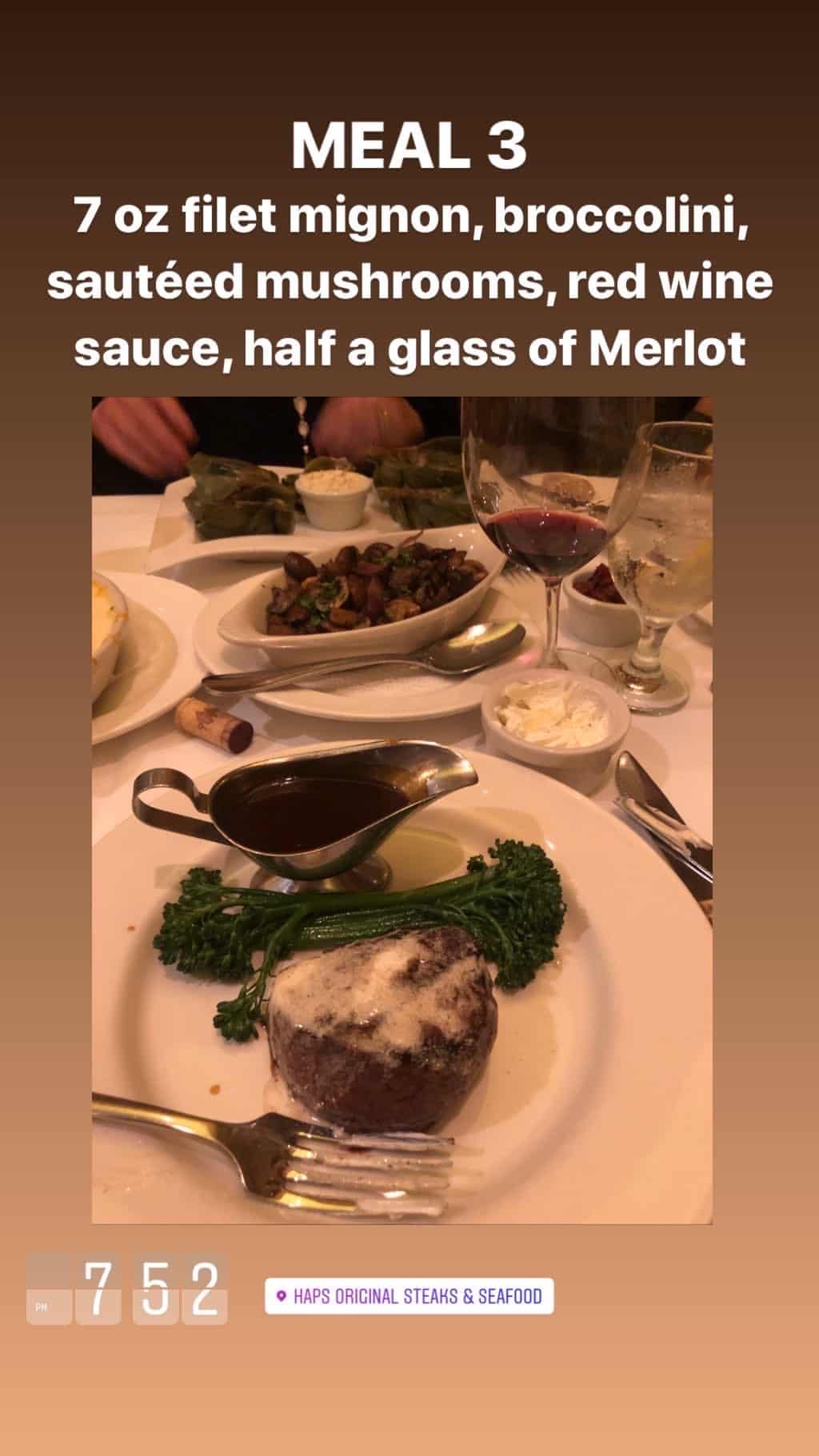 Filet mignon, broccolini, sauteed mushrooms, red wine sauce, half glass of merlot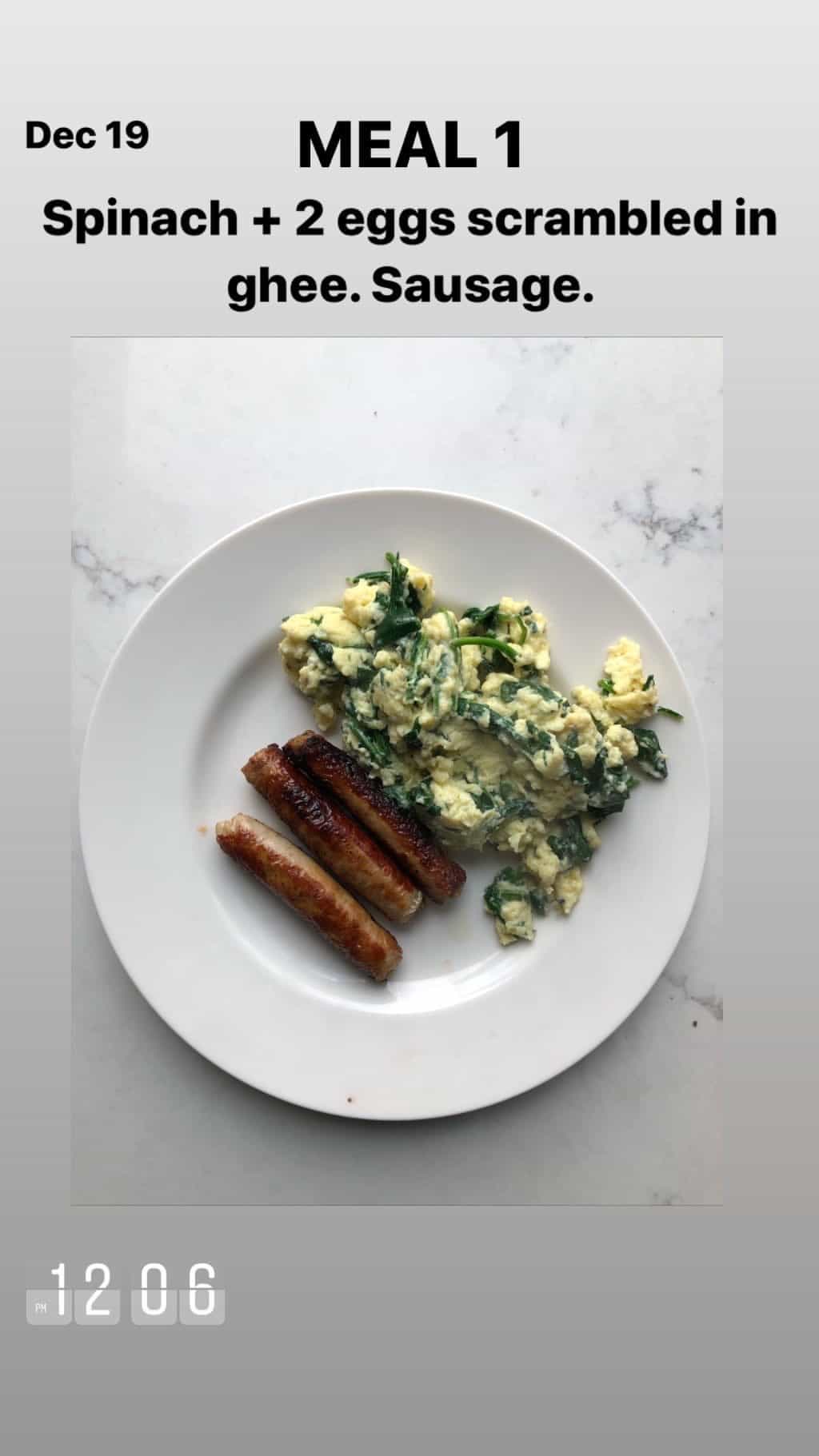 Scrambled eggs in ghee with spinach, sausages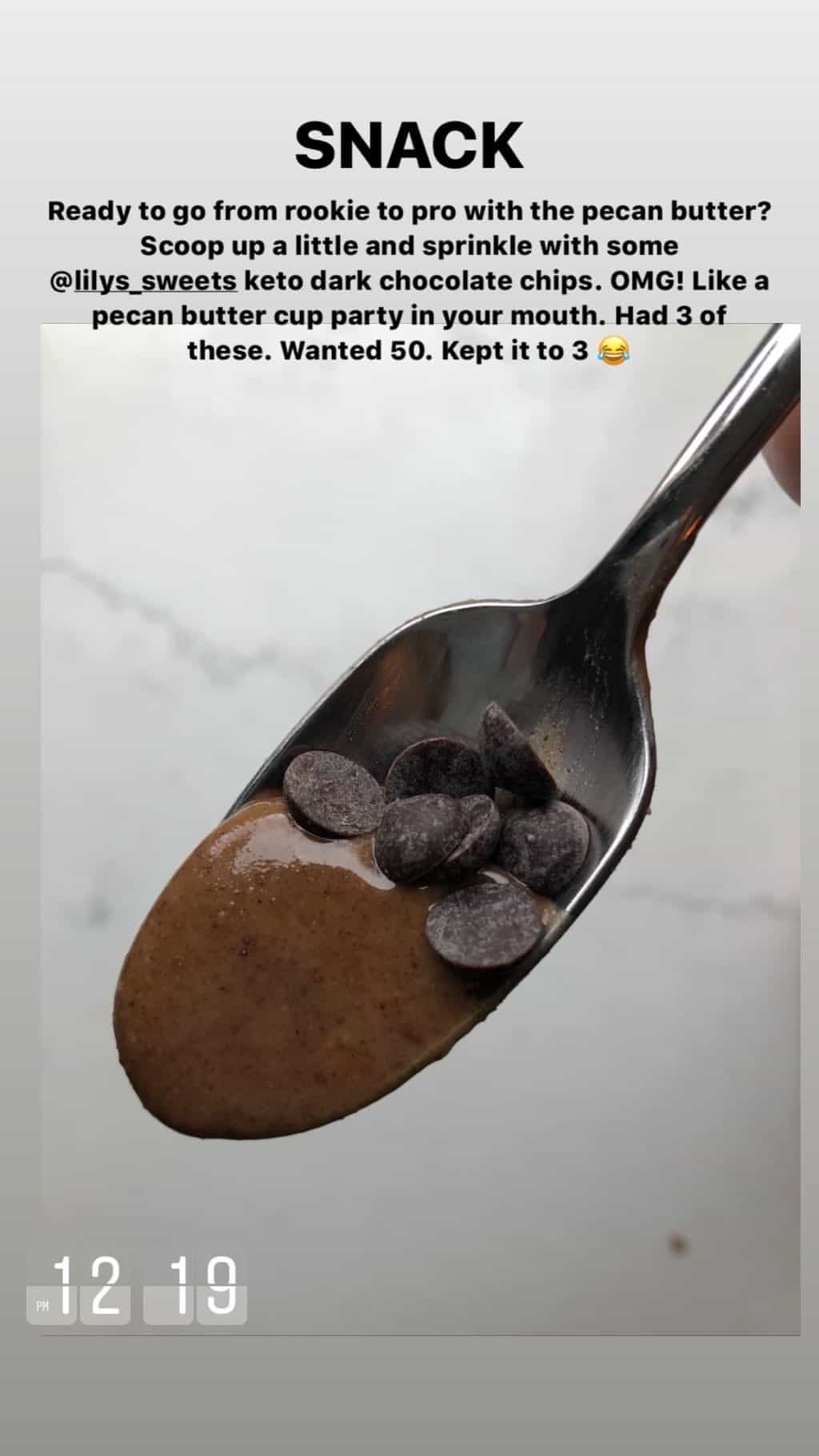 Pecan butter, Lily's Sweets Keto Dark Chocolate Chips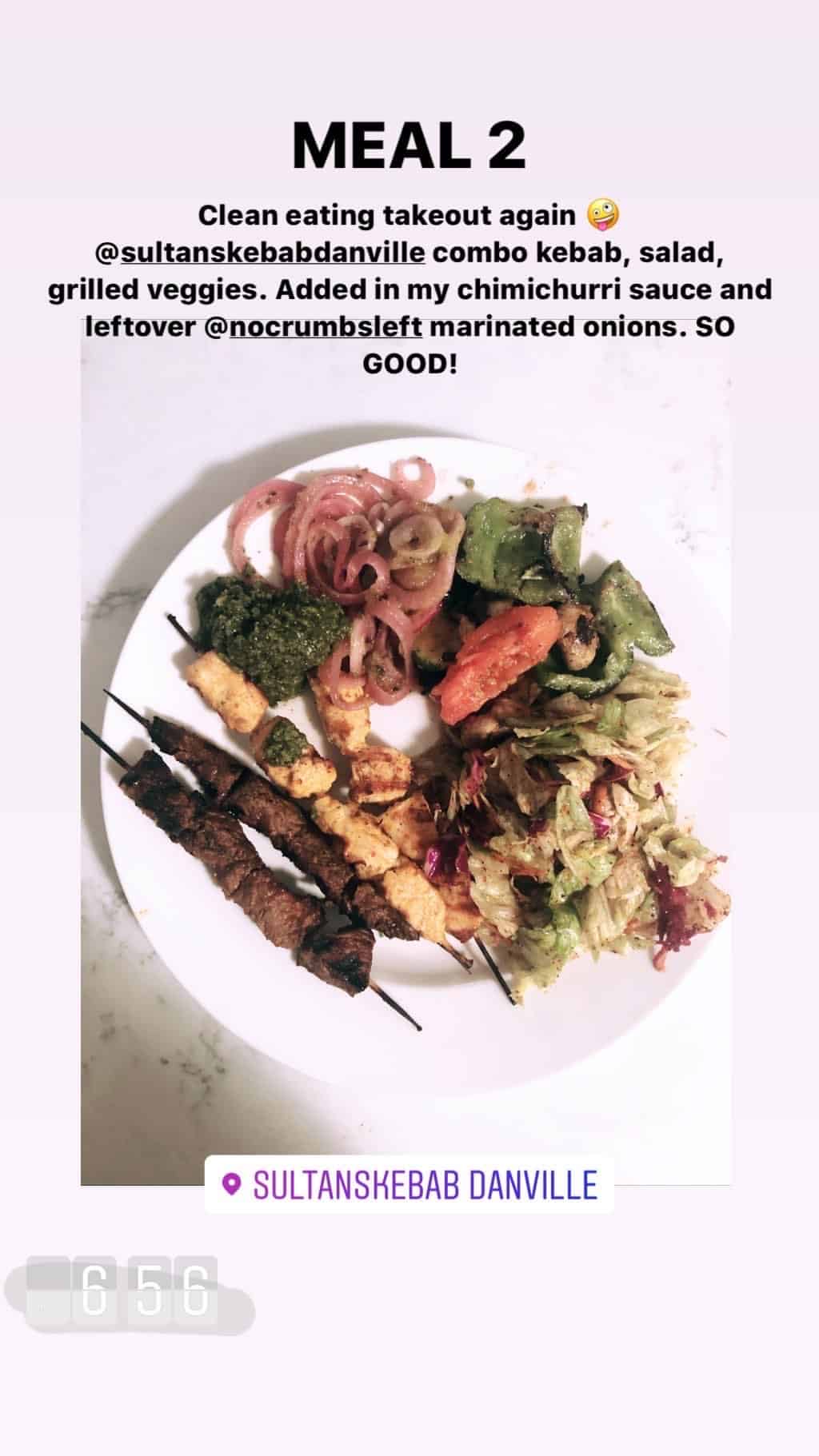 Sultan's Kebab's chicken and steak combo kebabs, salad, grilled veggies, chimichurri sauce, No Crumbs Left marinated onions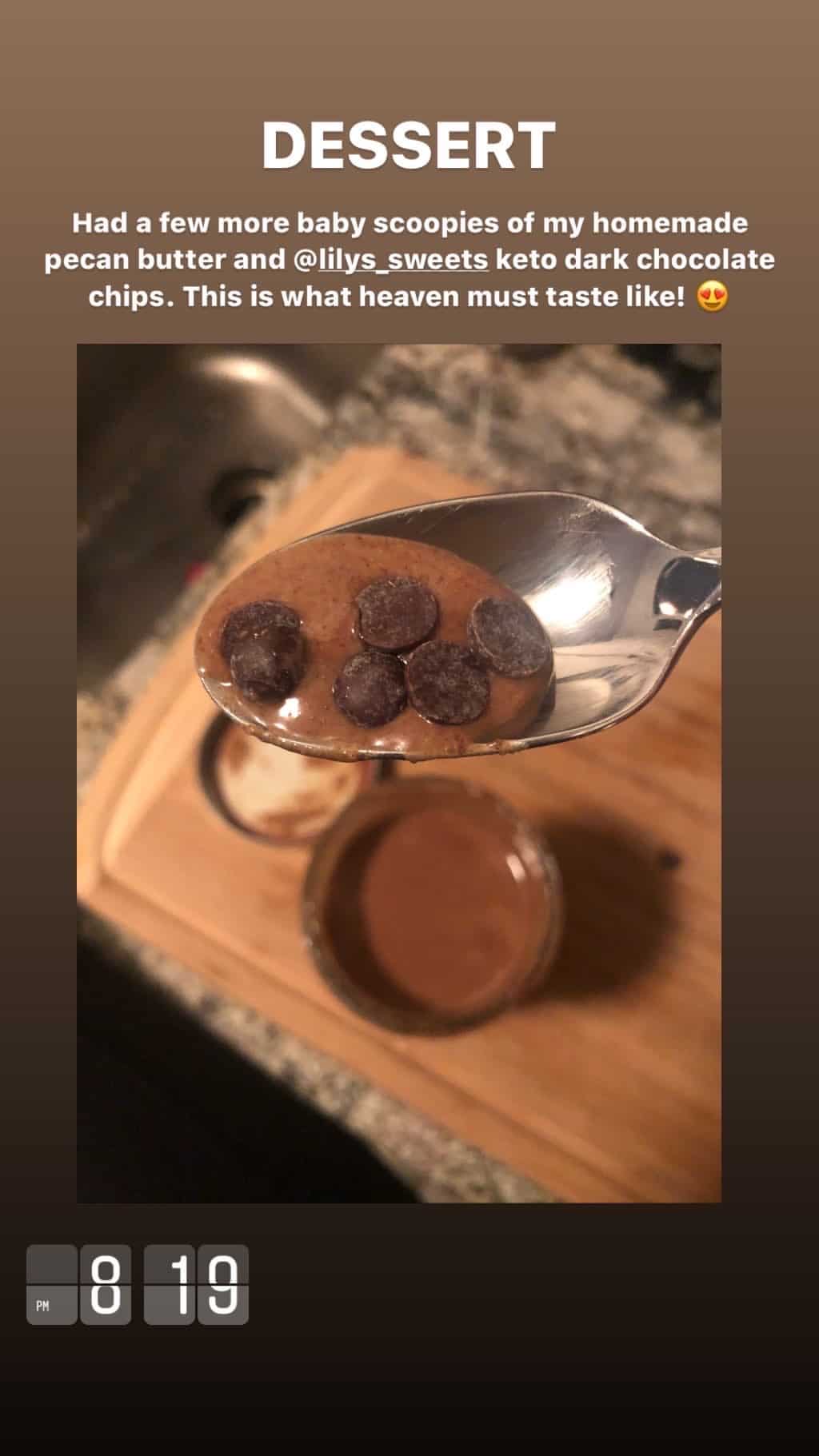 Pecan butter, Lily's Sweets Keto Dark Chocolate Chips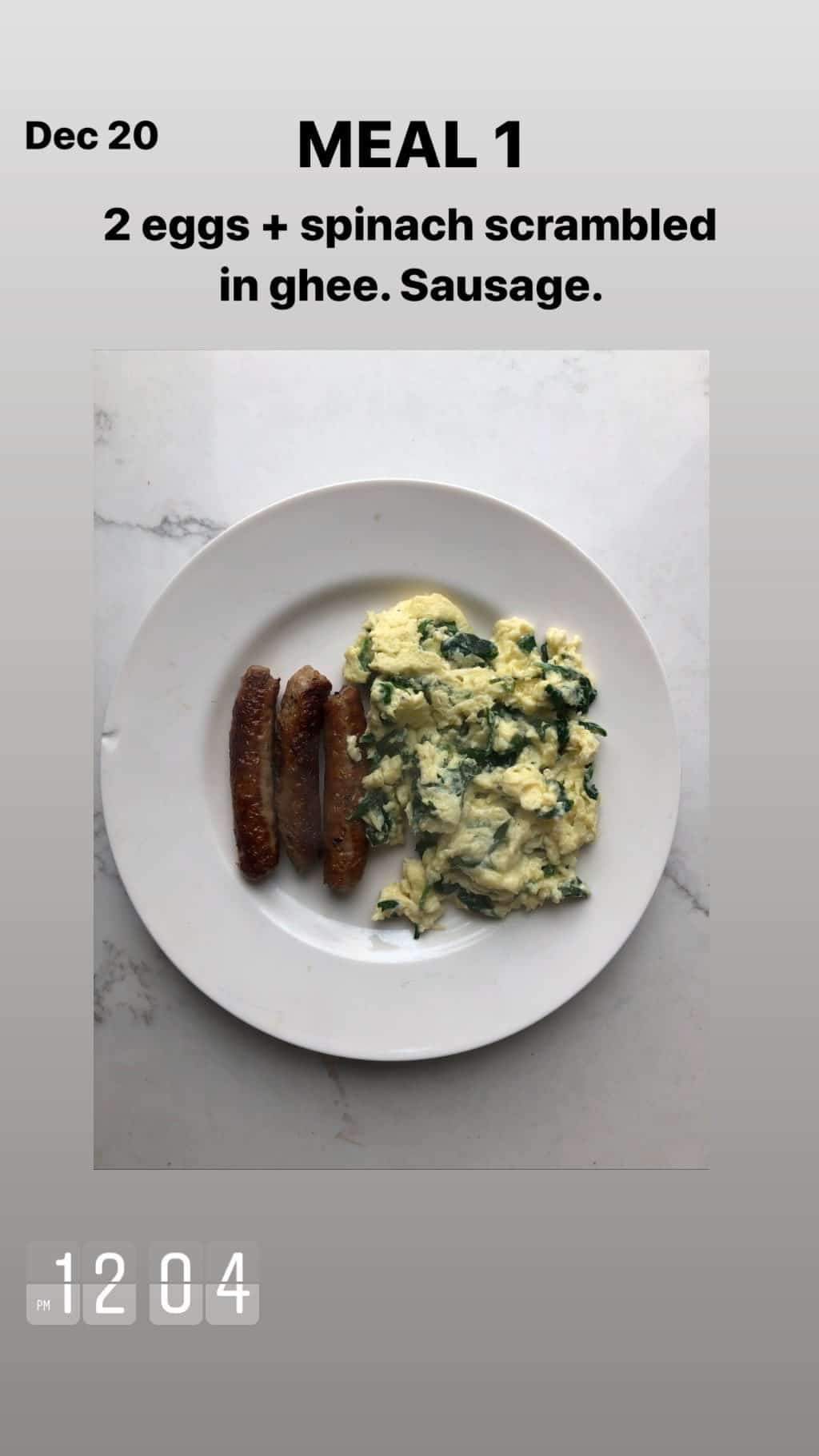 Scrambled eggs in spinach with ghee, sausage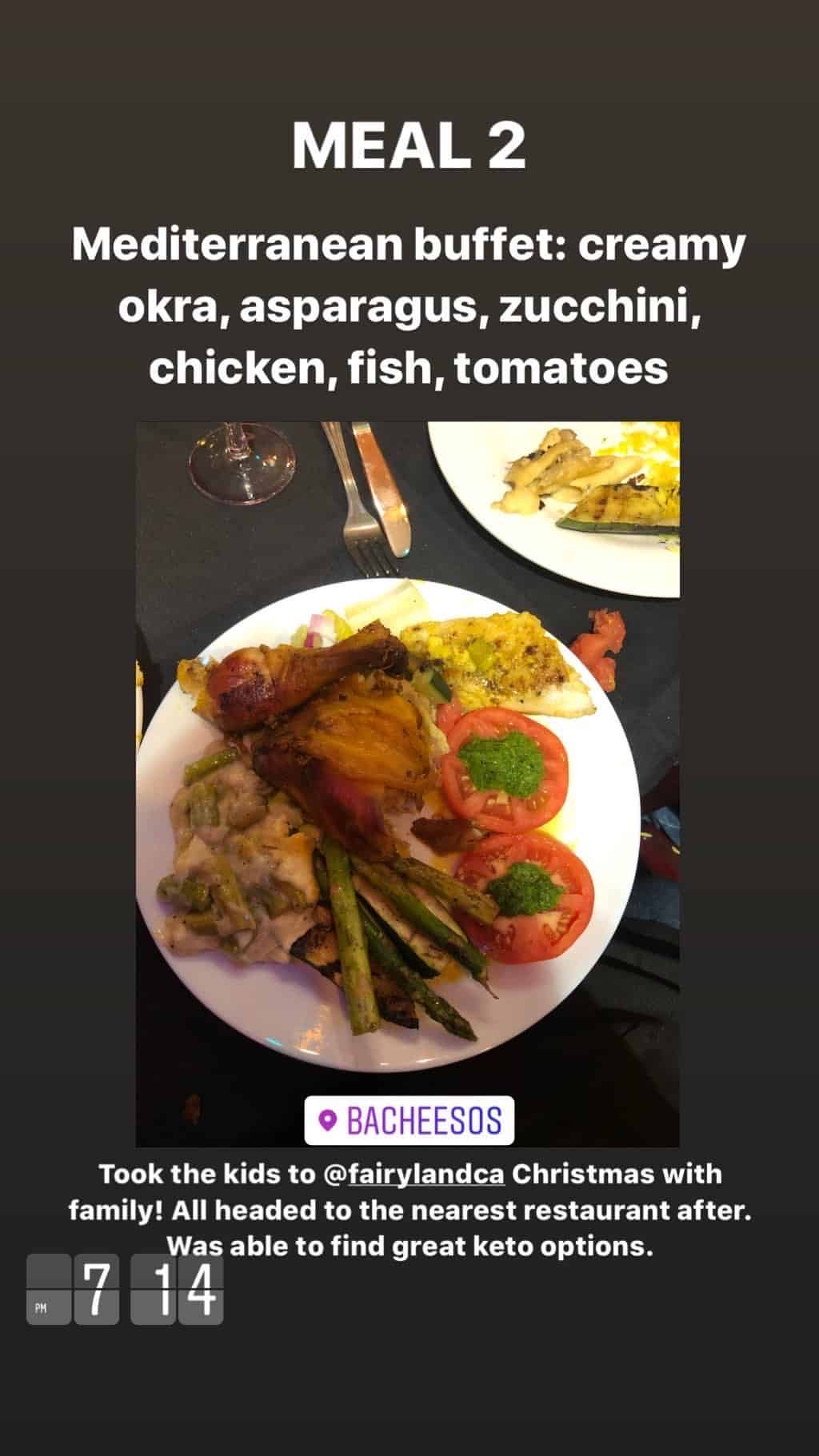 Creamy okra, asparagus, zucchini, chicken, fish, tomatoes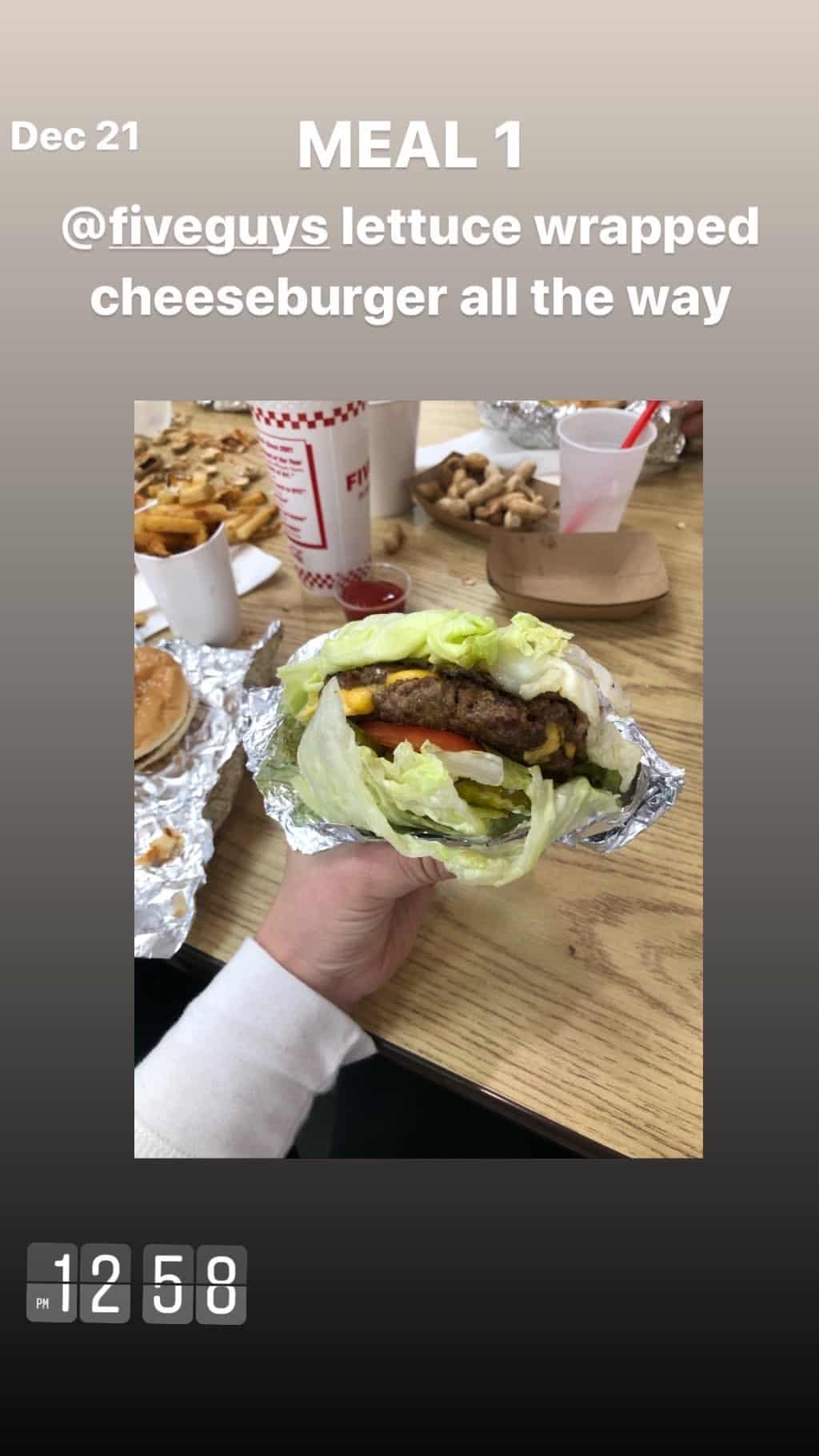 Lettuce wrapped cheeseburger, mayo, mustard, pickles, tomatoes, sauteed mushrooms, sauteed onions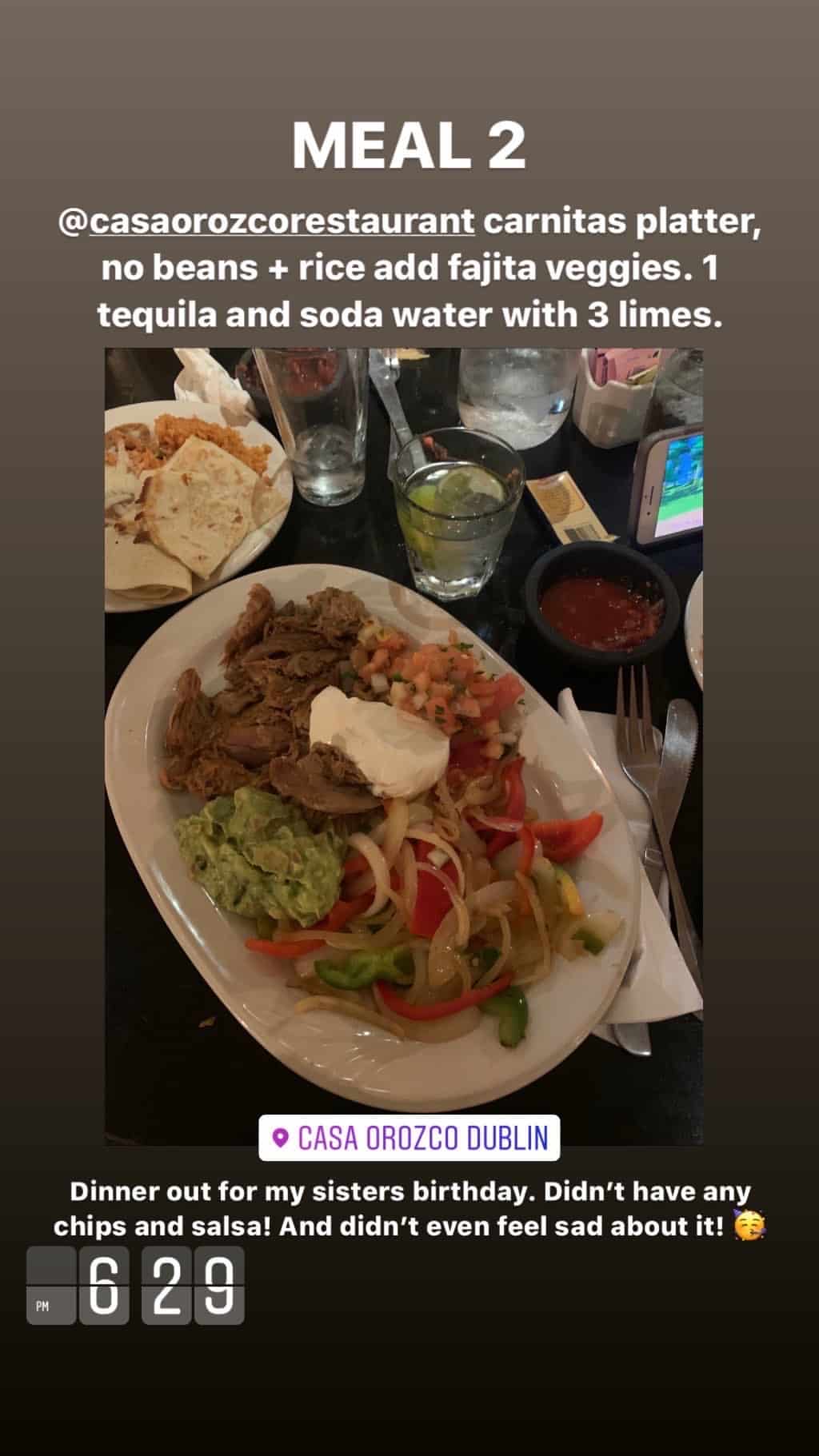 Casa Orozco carnitas platter, fajita veggies, tequila and soda water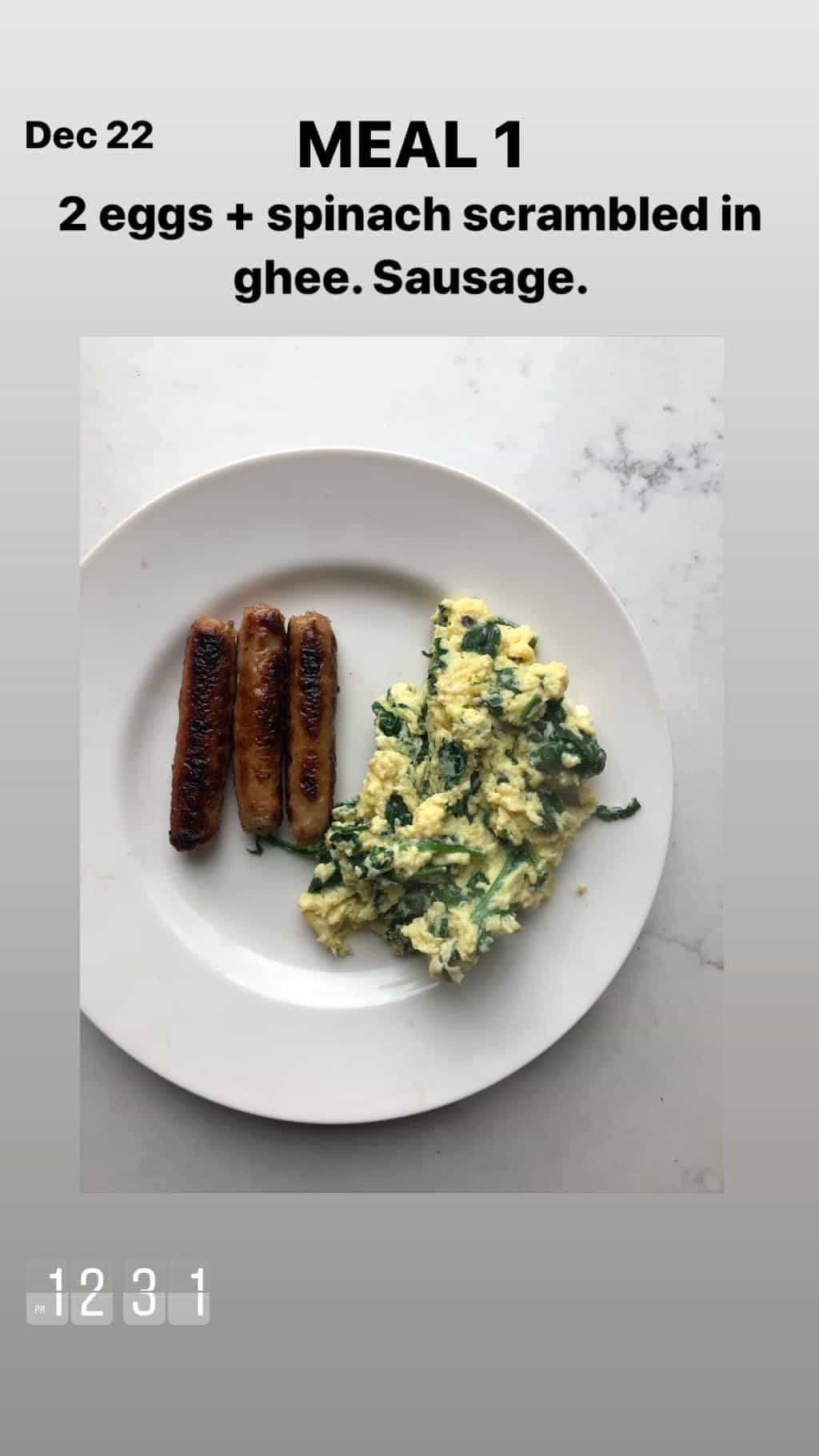 Scrambled eggs in ghee with spinach, sausage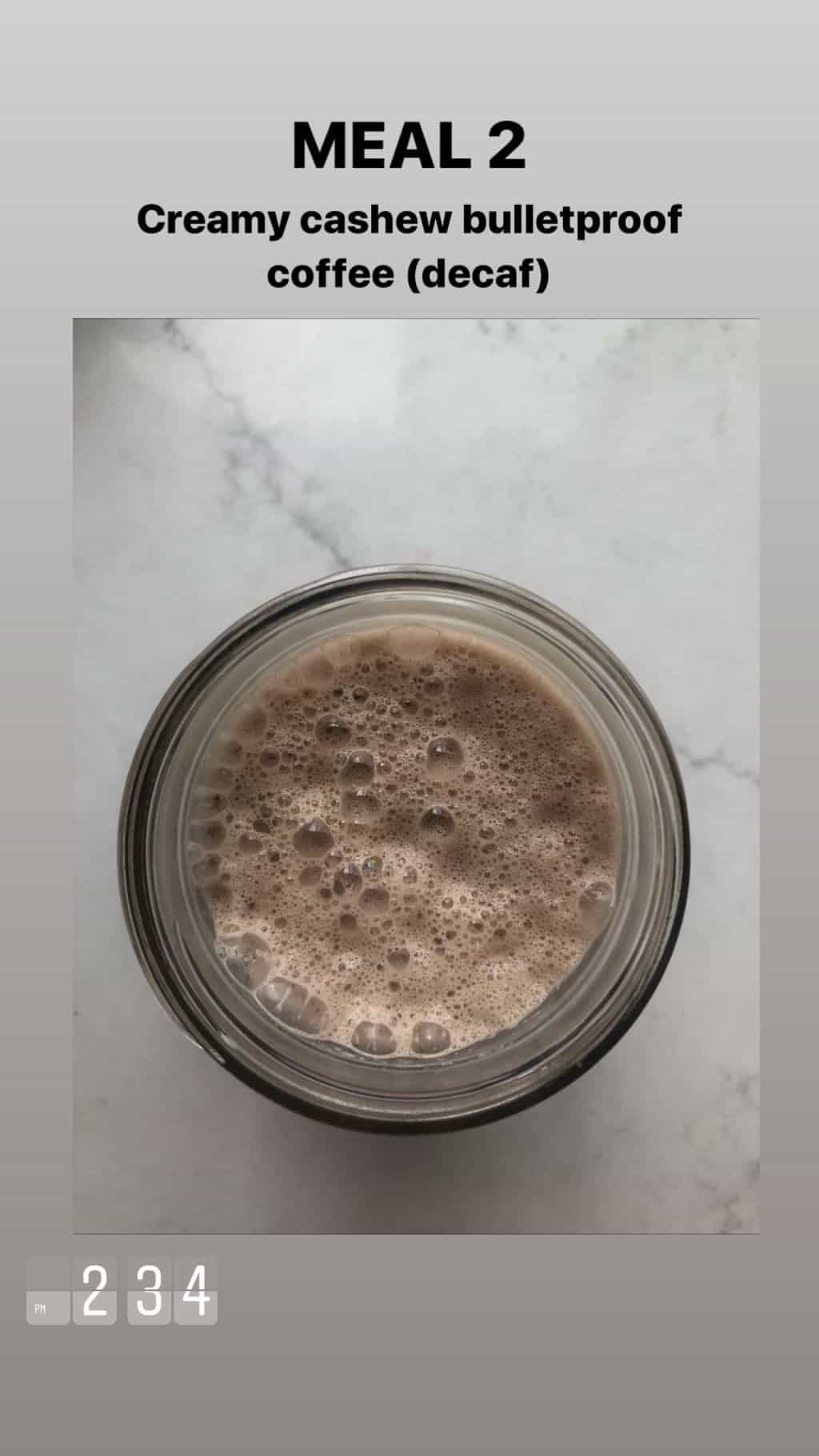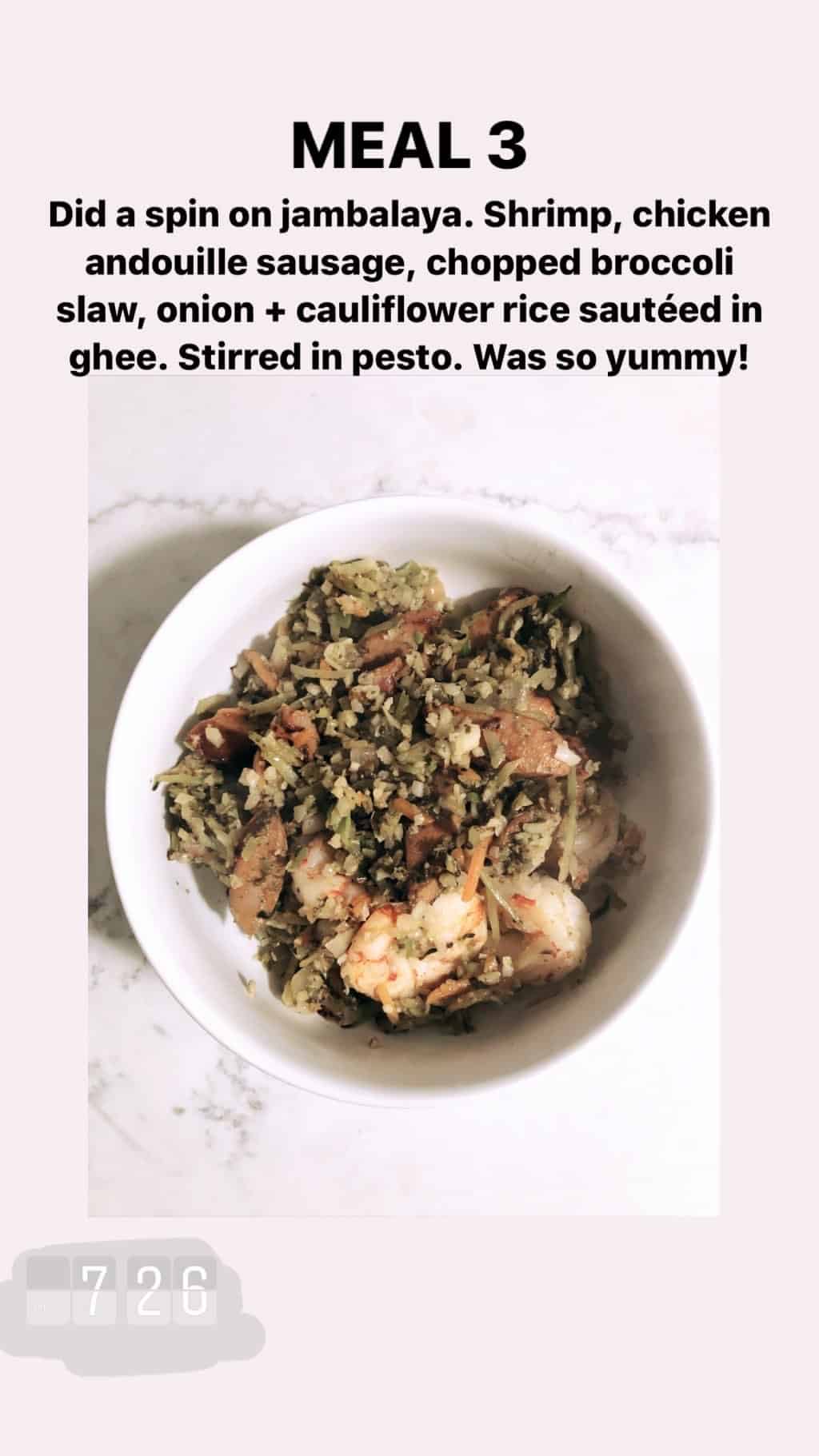 Shrimp, chicken andouille sausage, chopped broccoli slaw, onion, cauliflower rice sauteed in ghee, pesto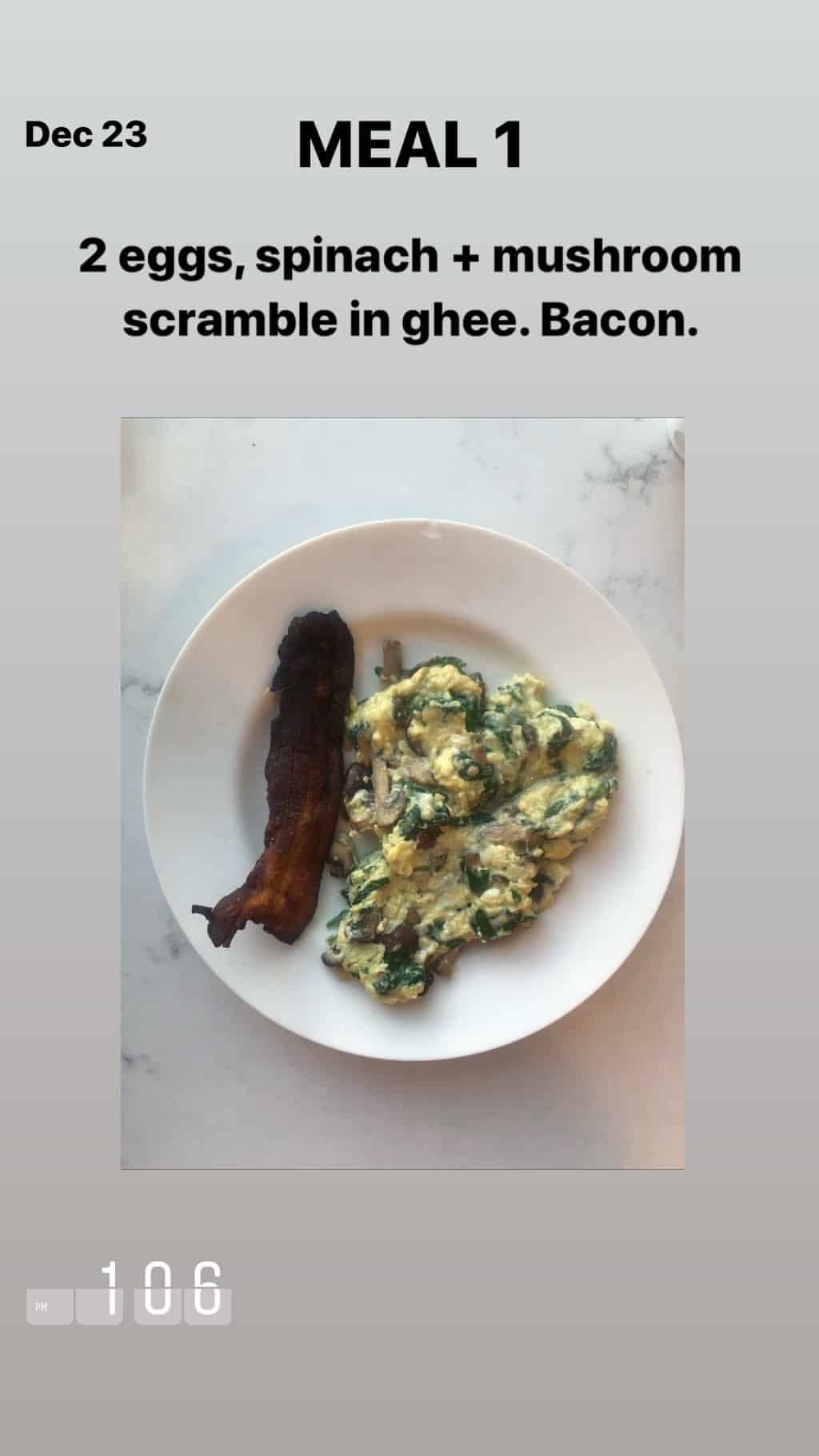 Scrambled eggs in ghee with spinach and mushrooms, bacon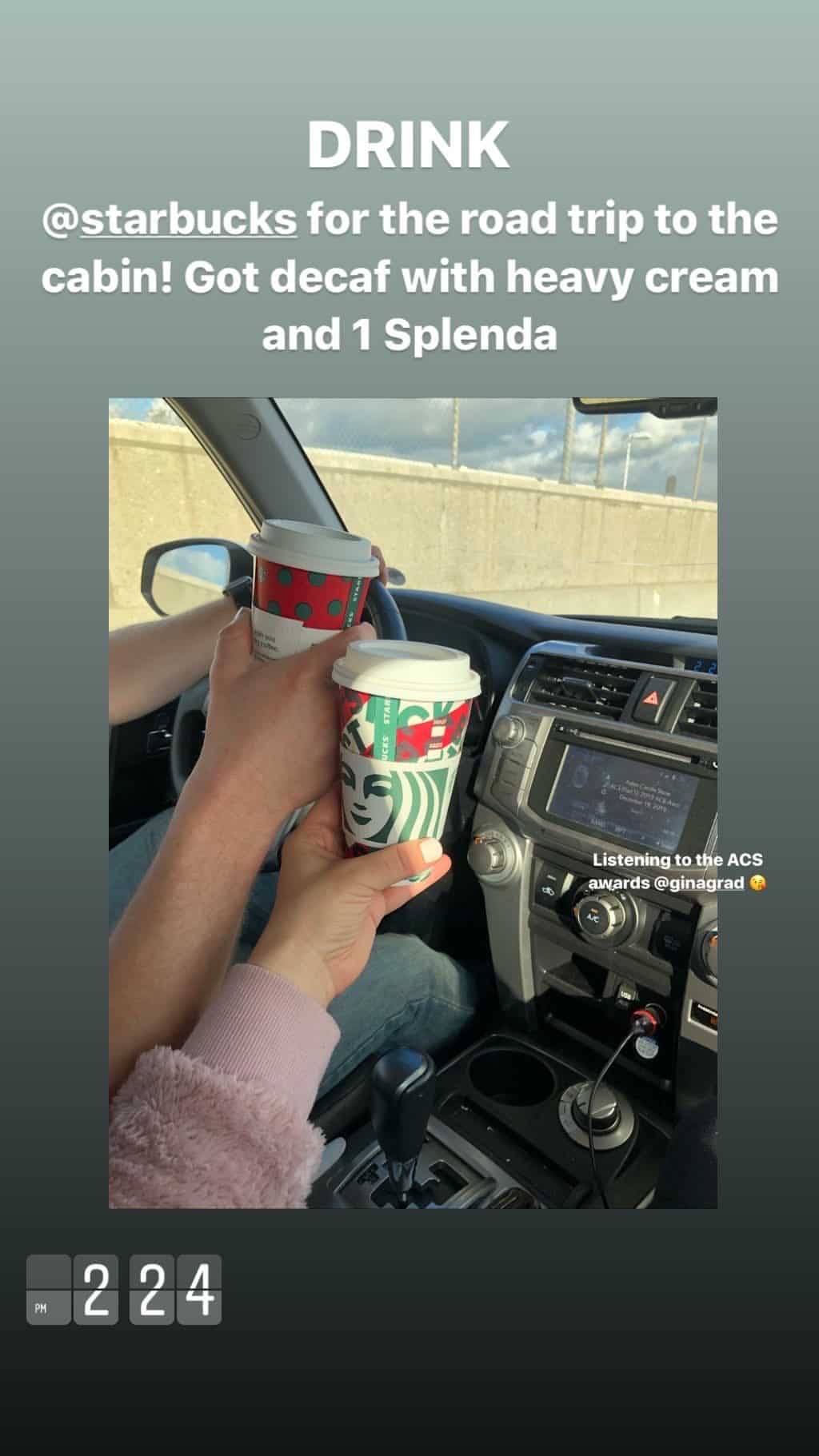 Decaf coffee, heavy cream, 1 Splenda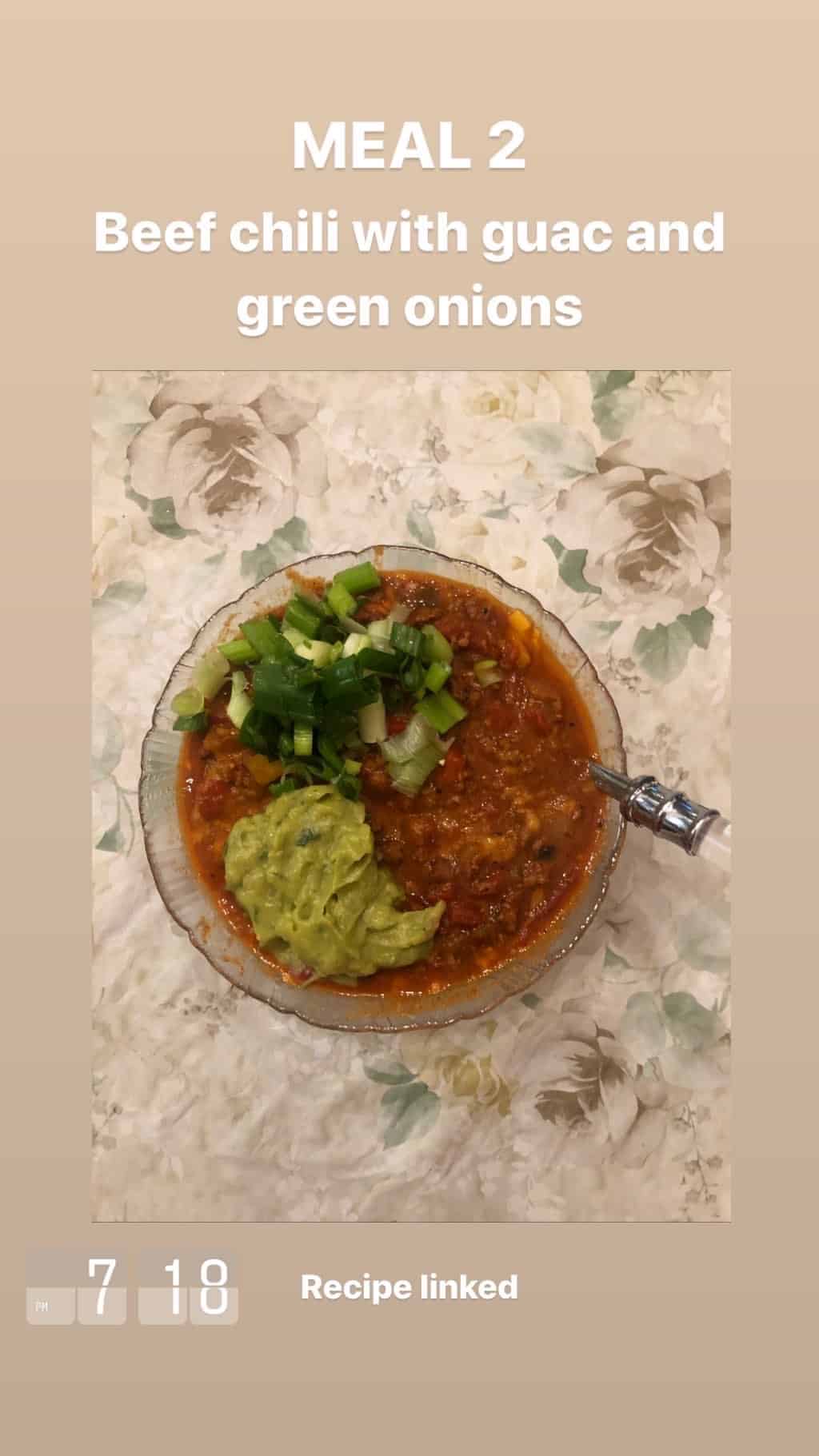 Beef chili, guac, green onions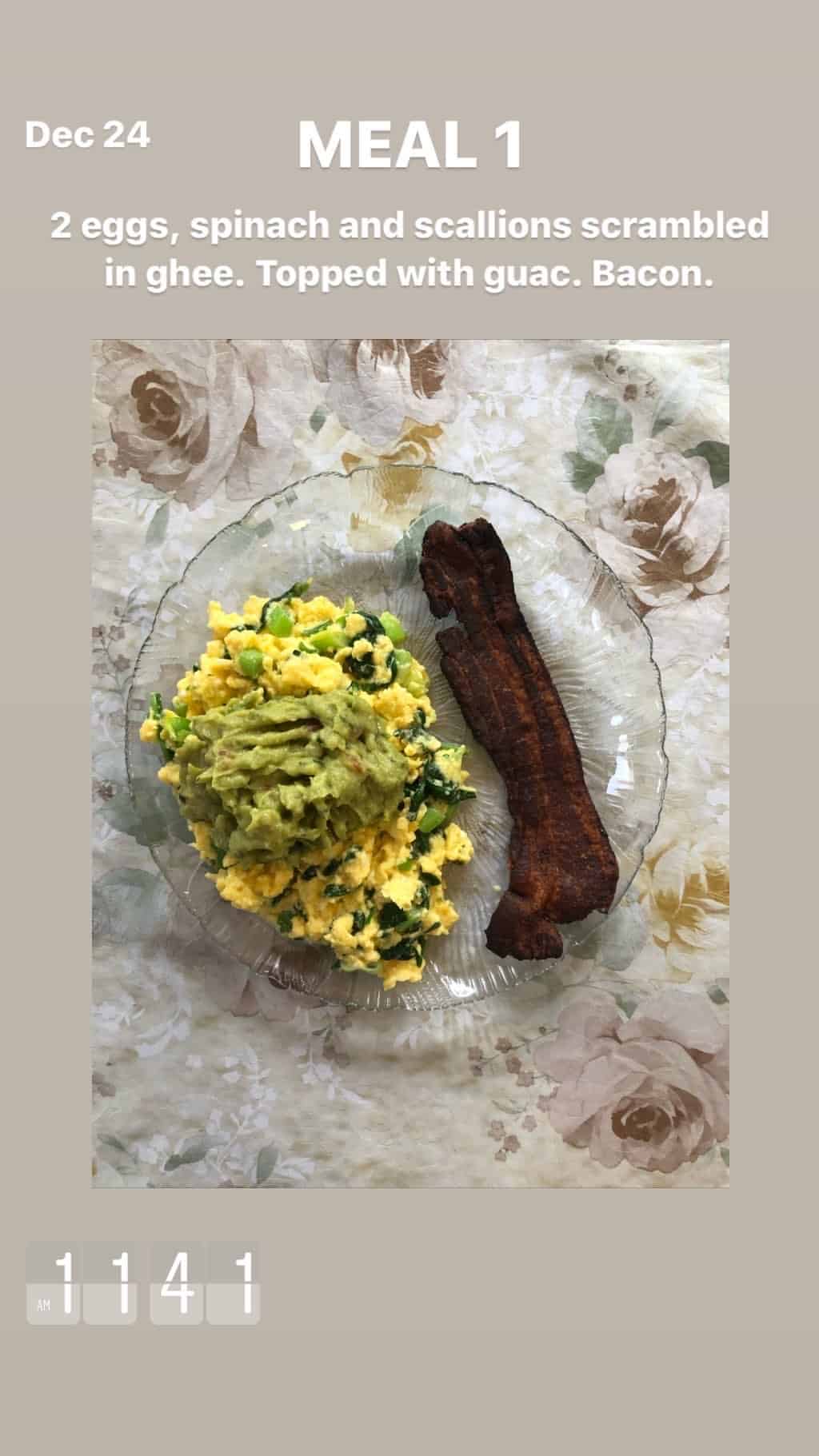 Scrambled eggs in ghee with scallions and spinach, bacon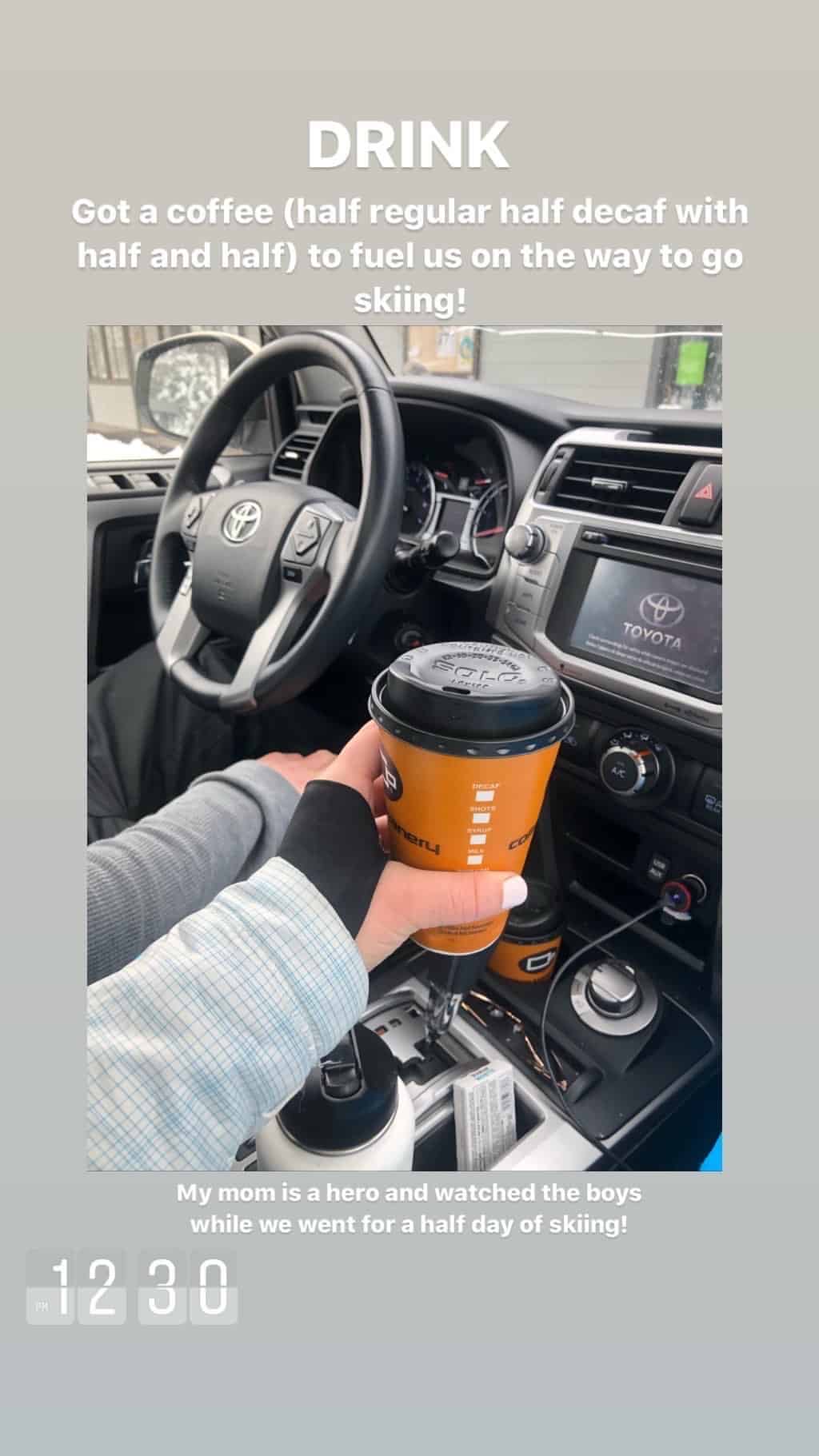 Coffee, half and half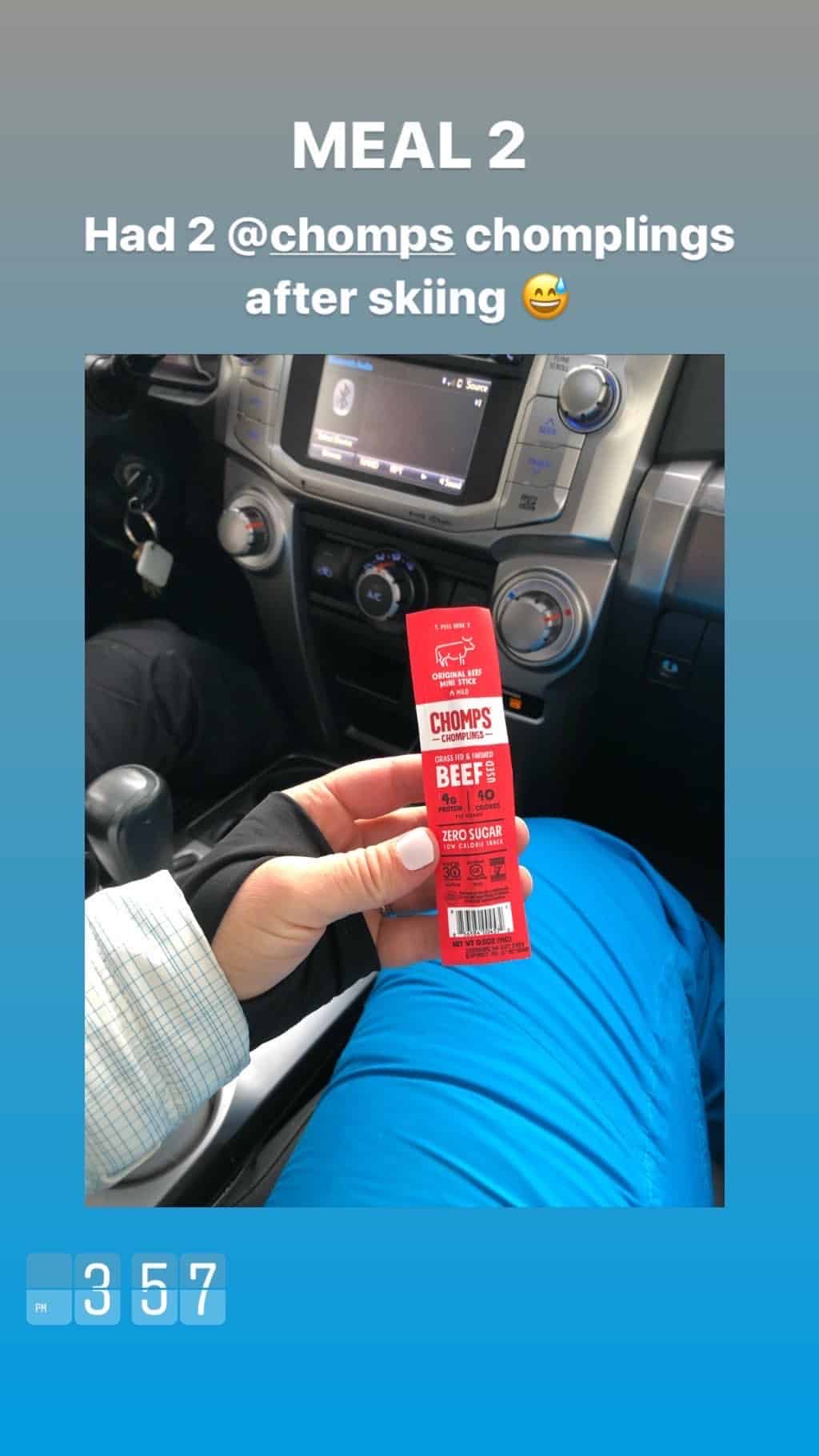 Chomps Chompling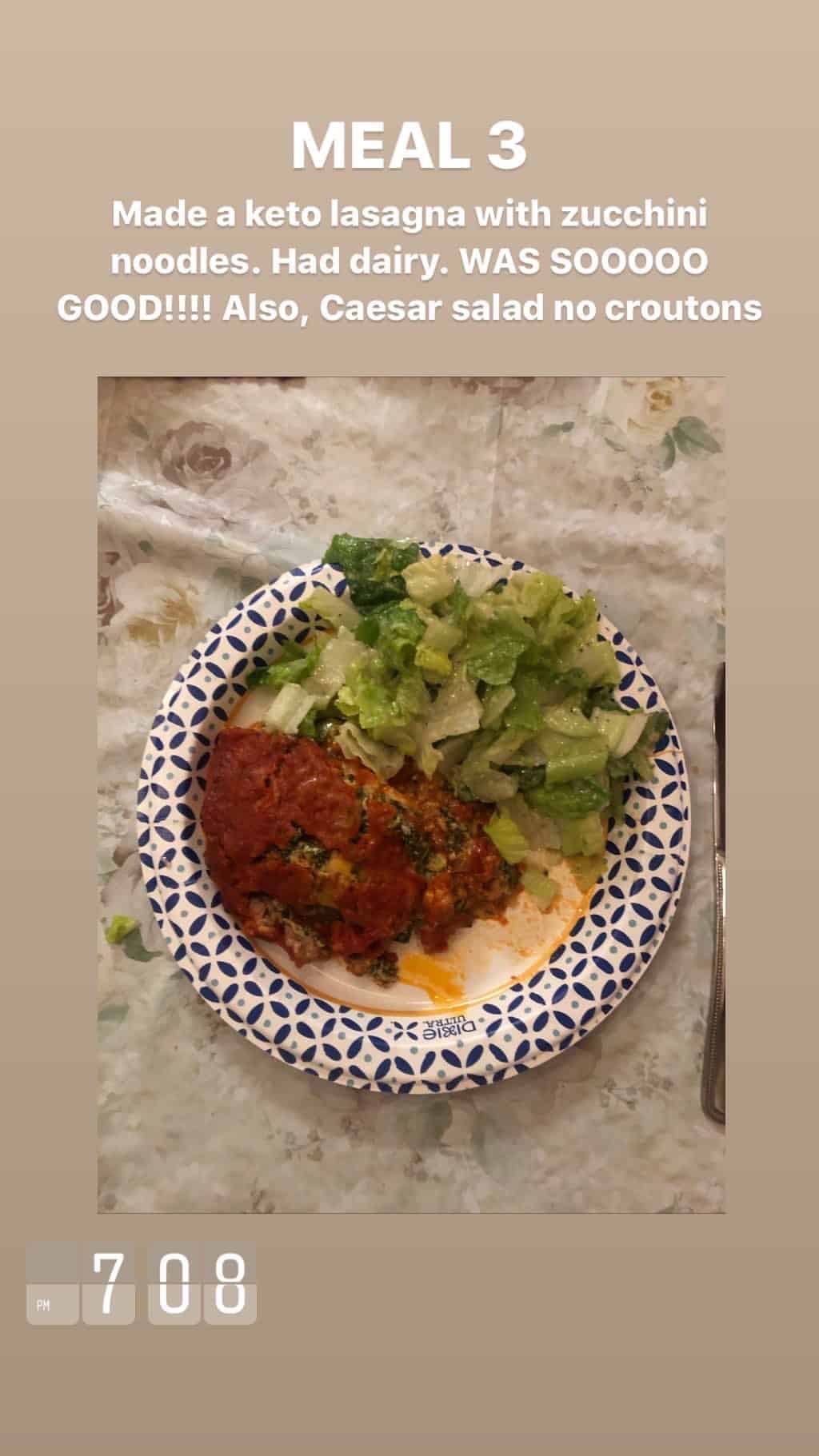 Keto lasagna, Caesar salad without croutons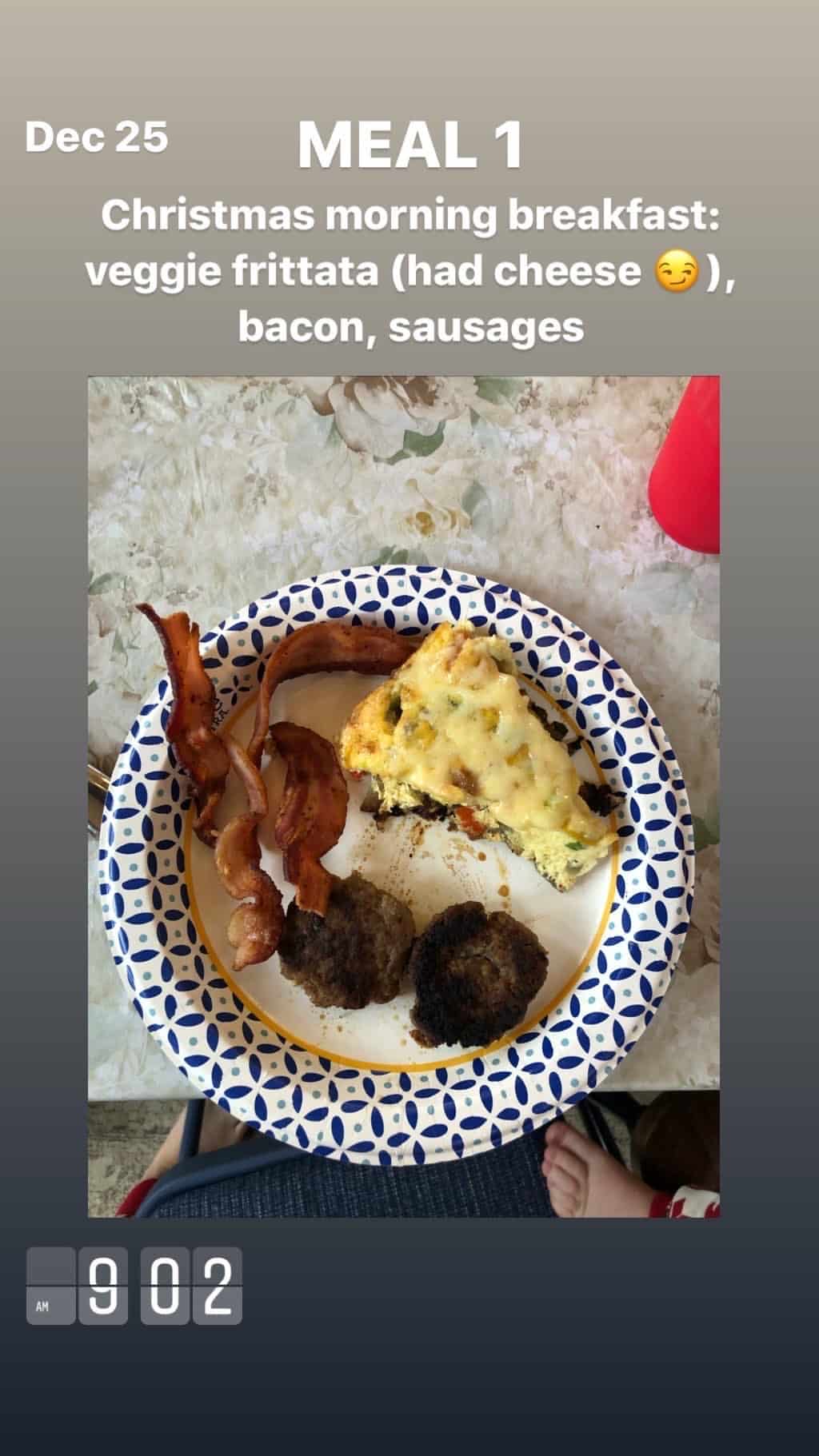 Veggie frittata, bacon, sausages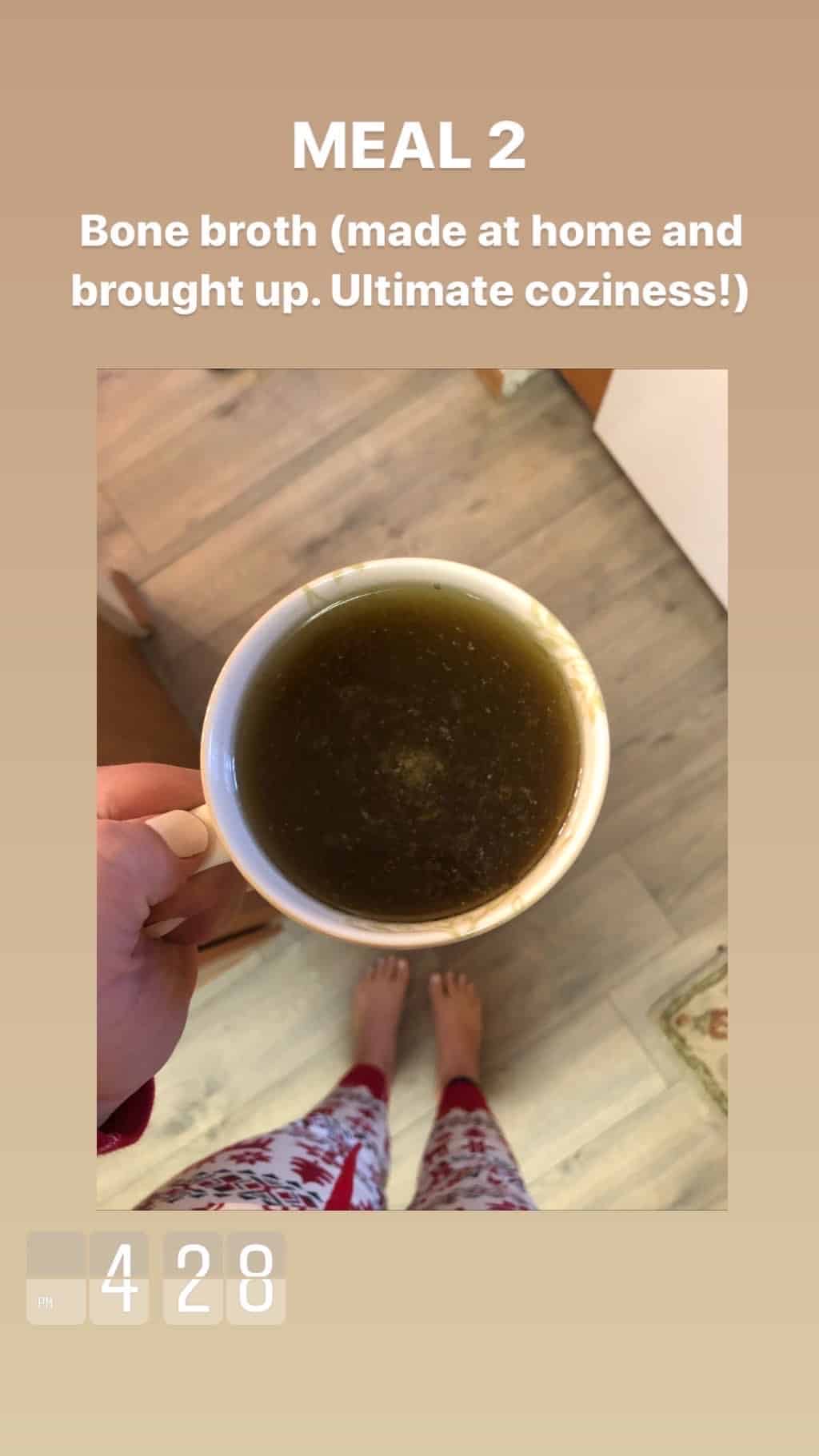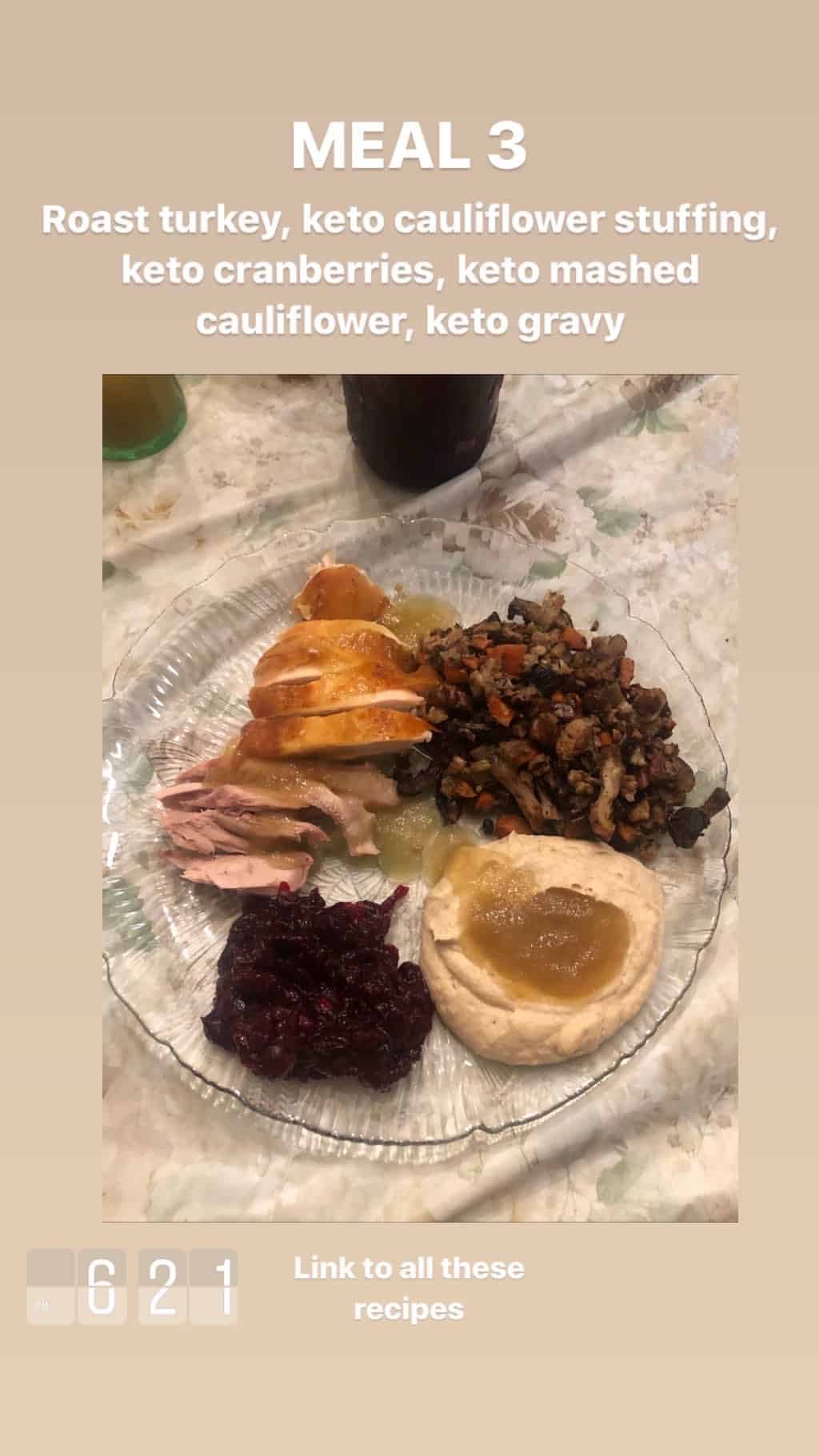 Roast turkey, keto cauliflower stuffing, keto cranberries, keto mashed cauliflower, keto gravy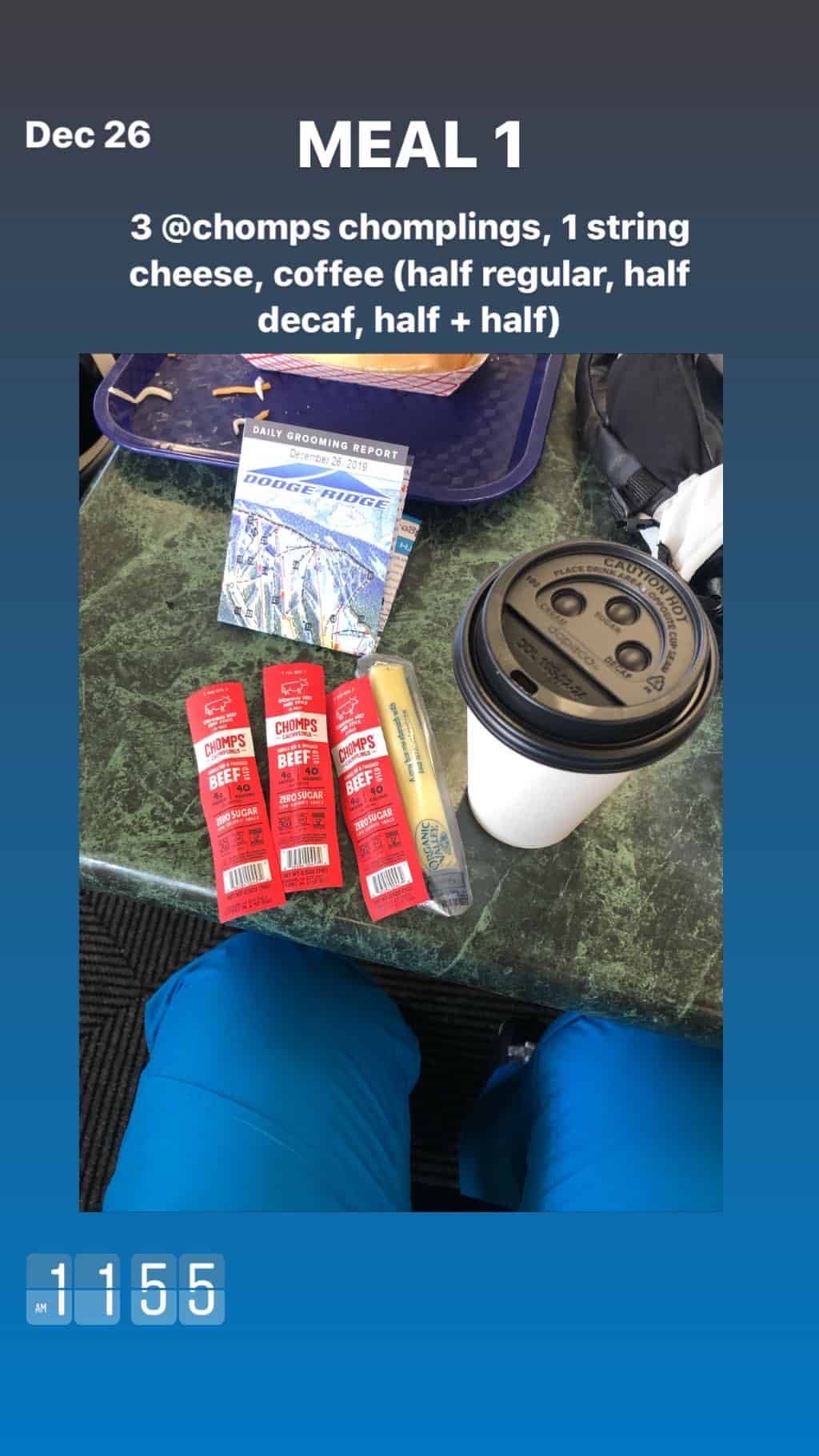 Chomps Chomplings, string cheese, coffee with half and half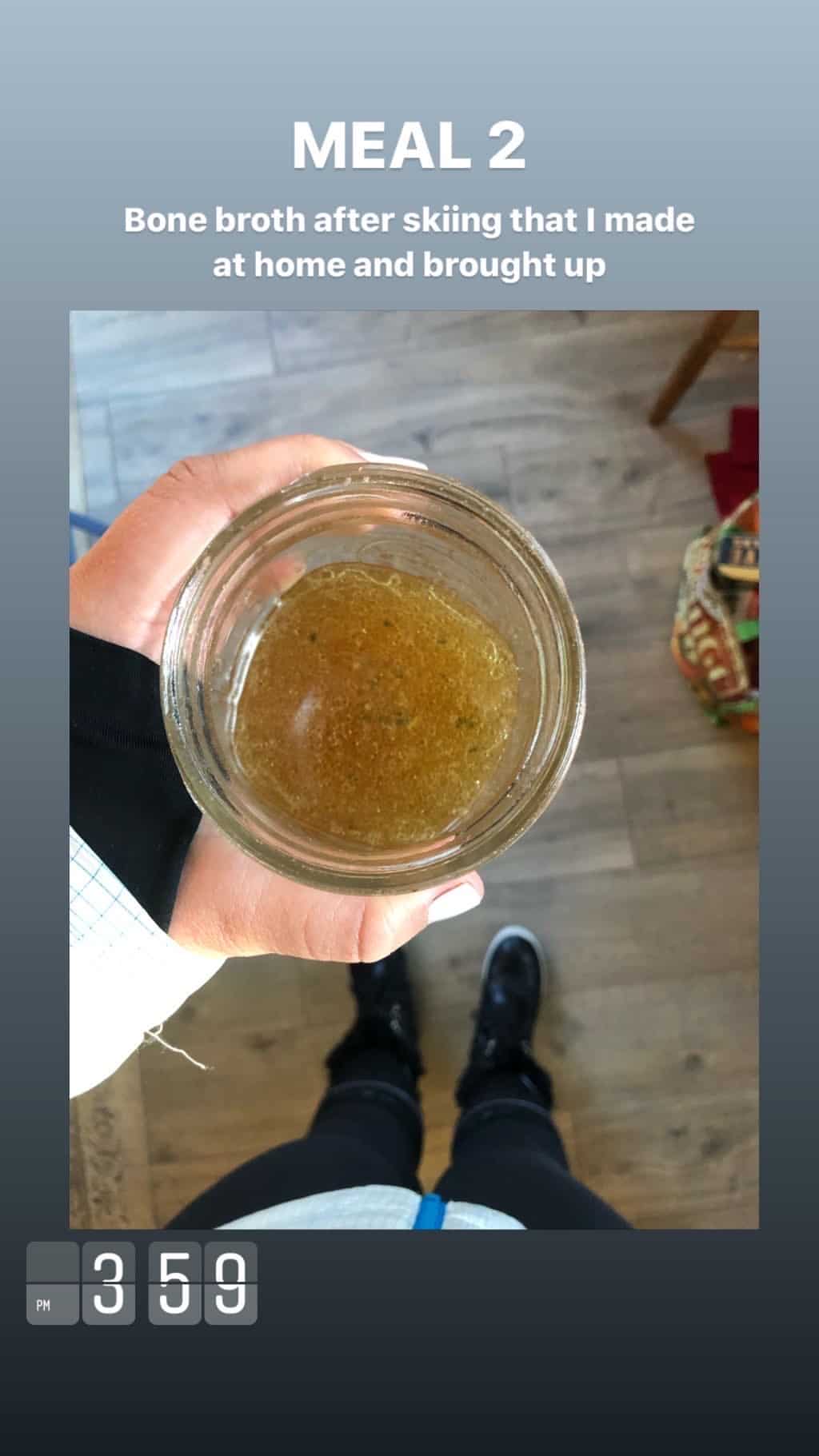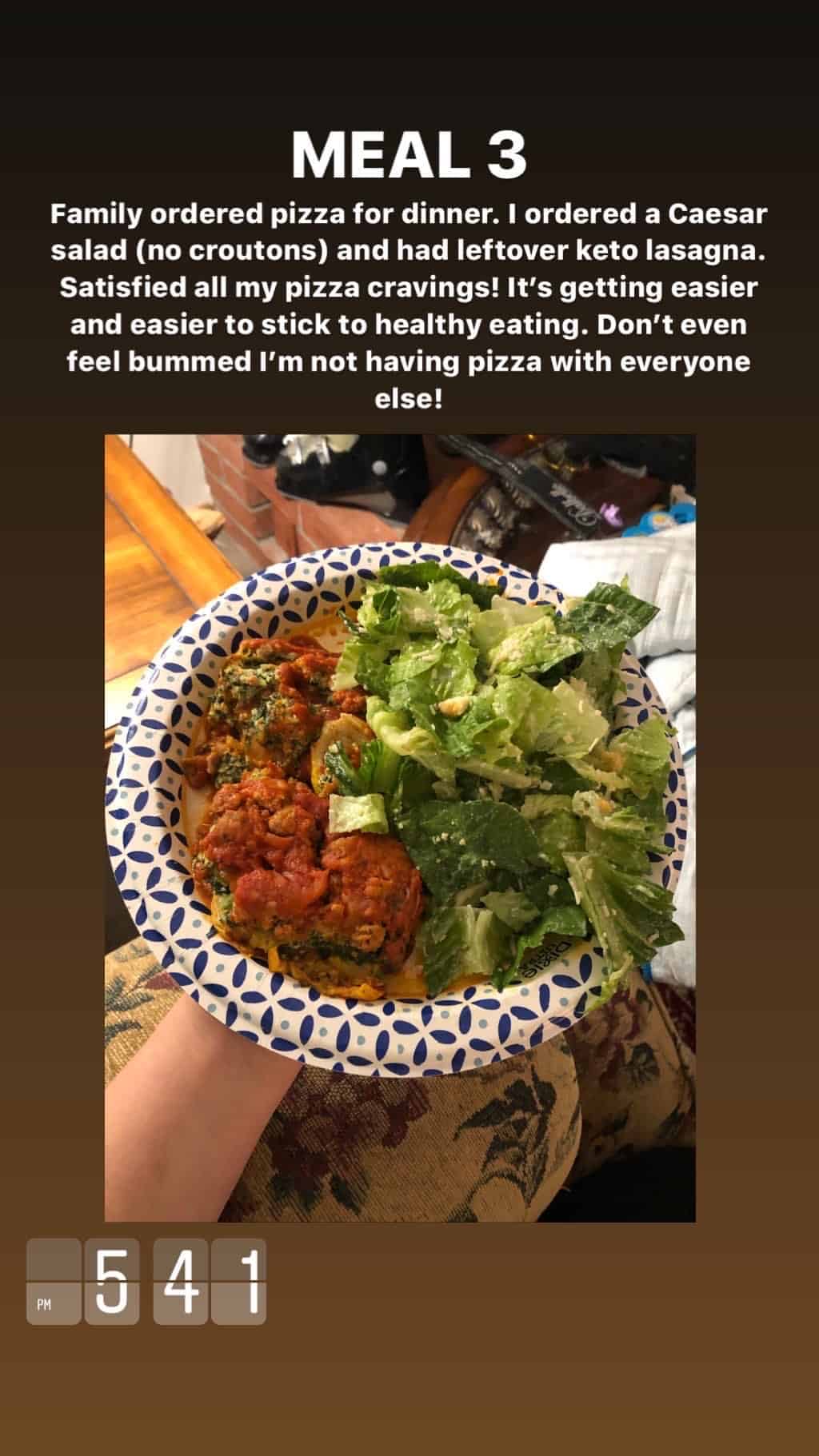 Keto lasagna, Caesar salad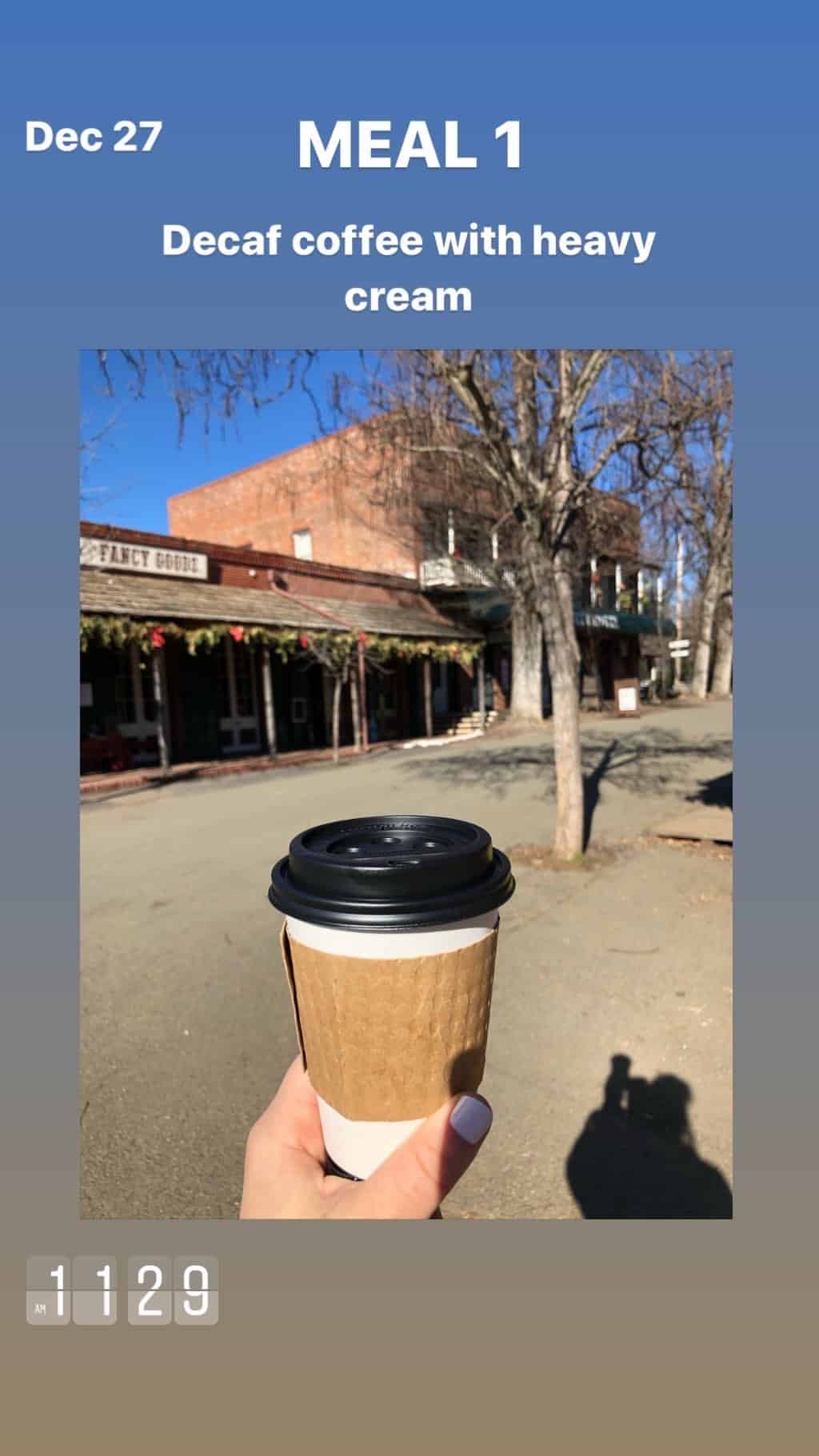 Decaf coffee, heavy cream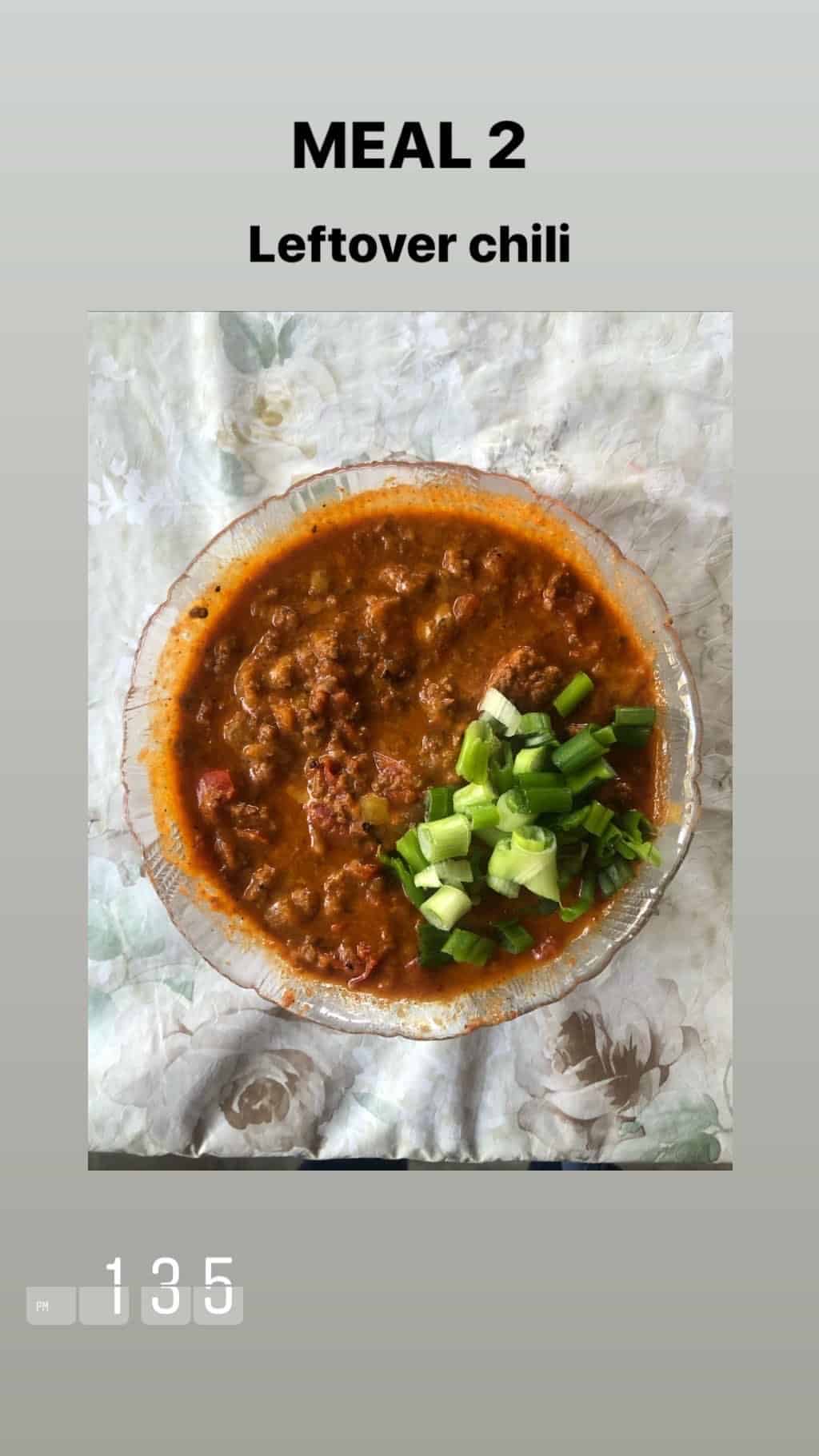 Beef chili, green onions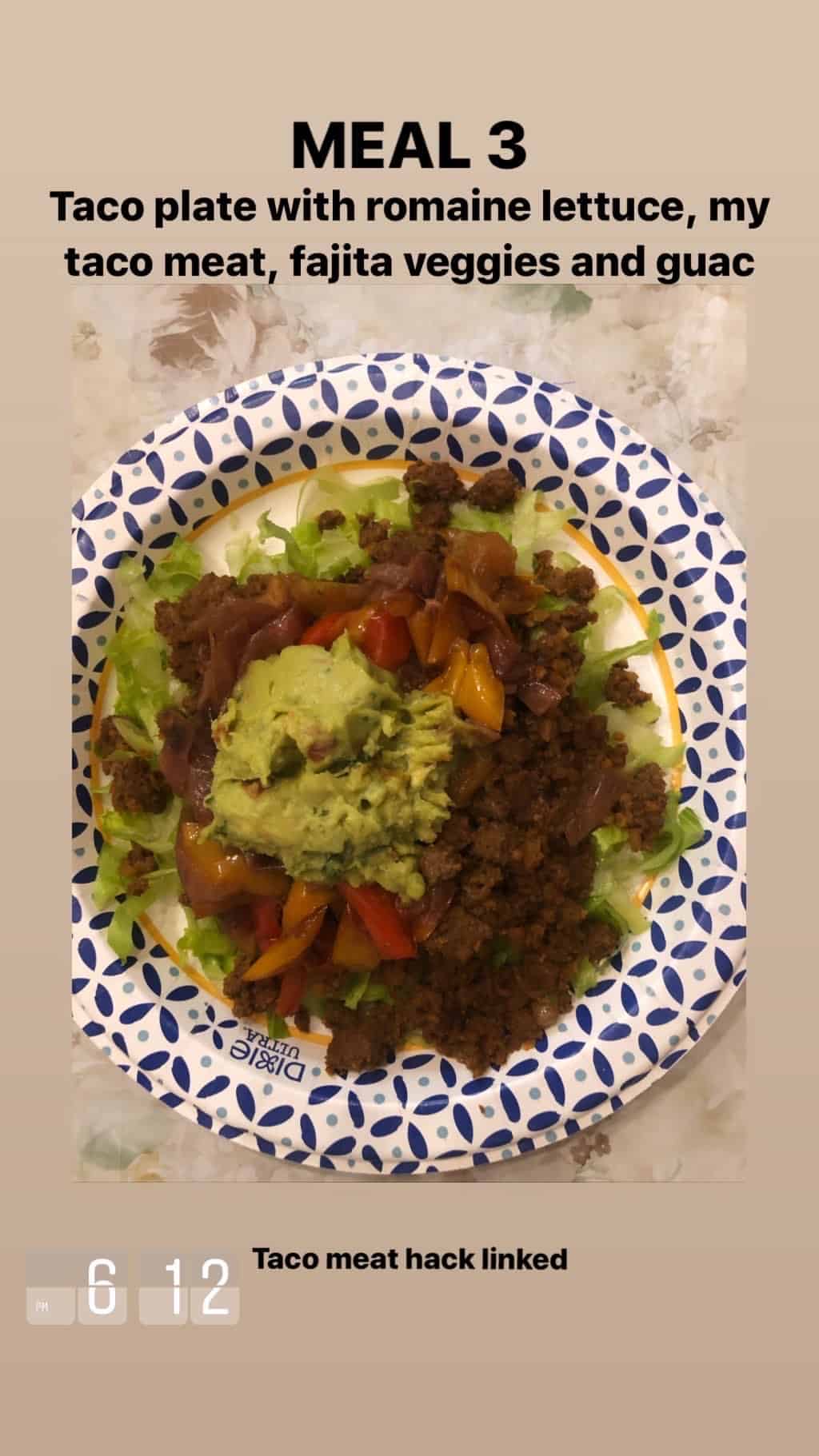 Taco meat, romaine lettuce, fajita veggies, guac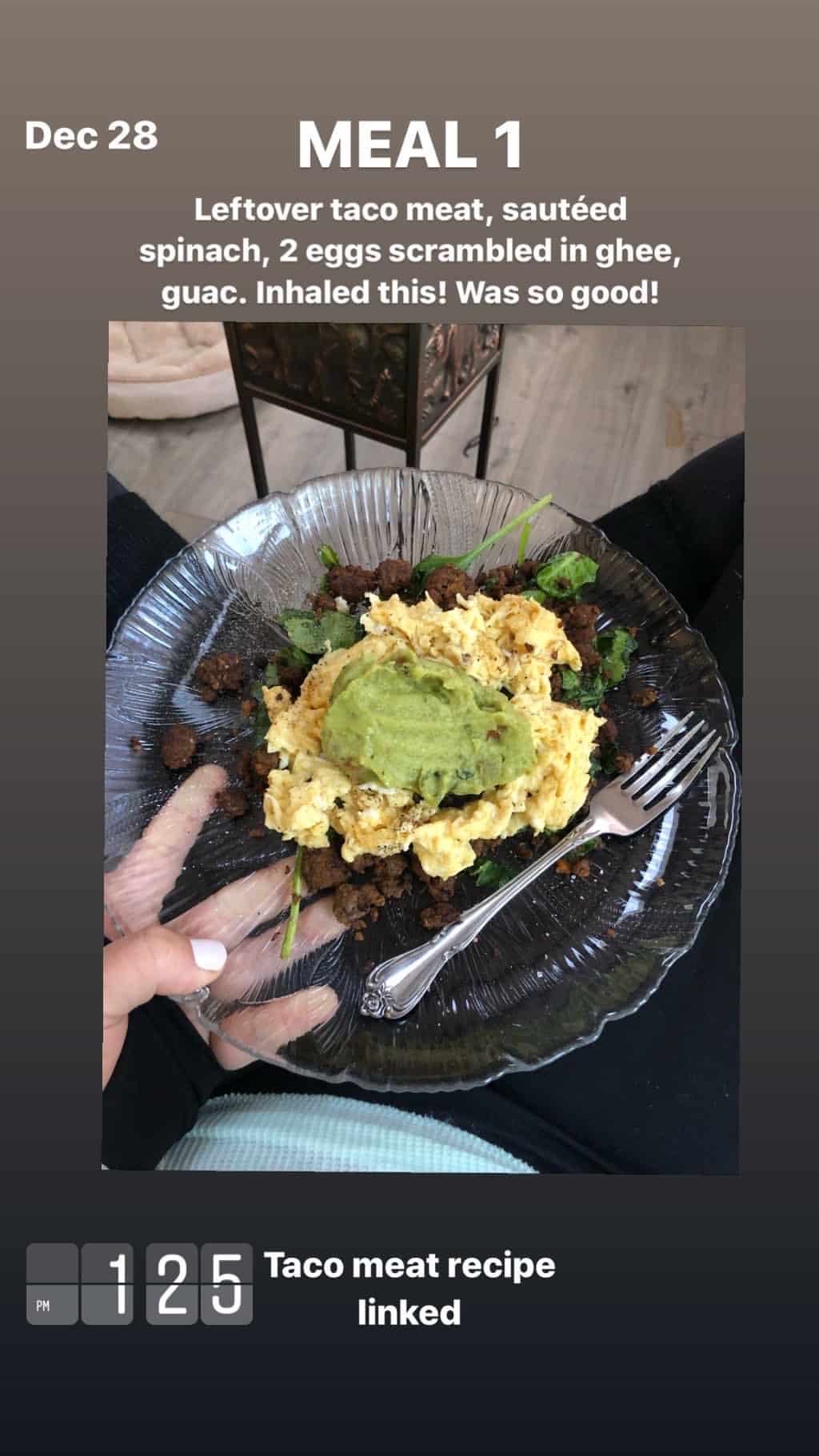 Taco meat, spinach, eggs scrambled in ghee, guac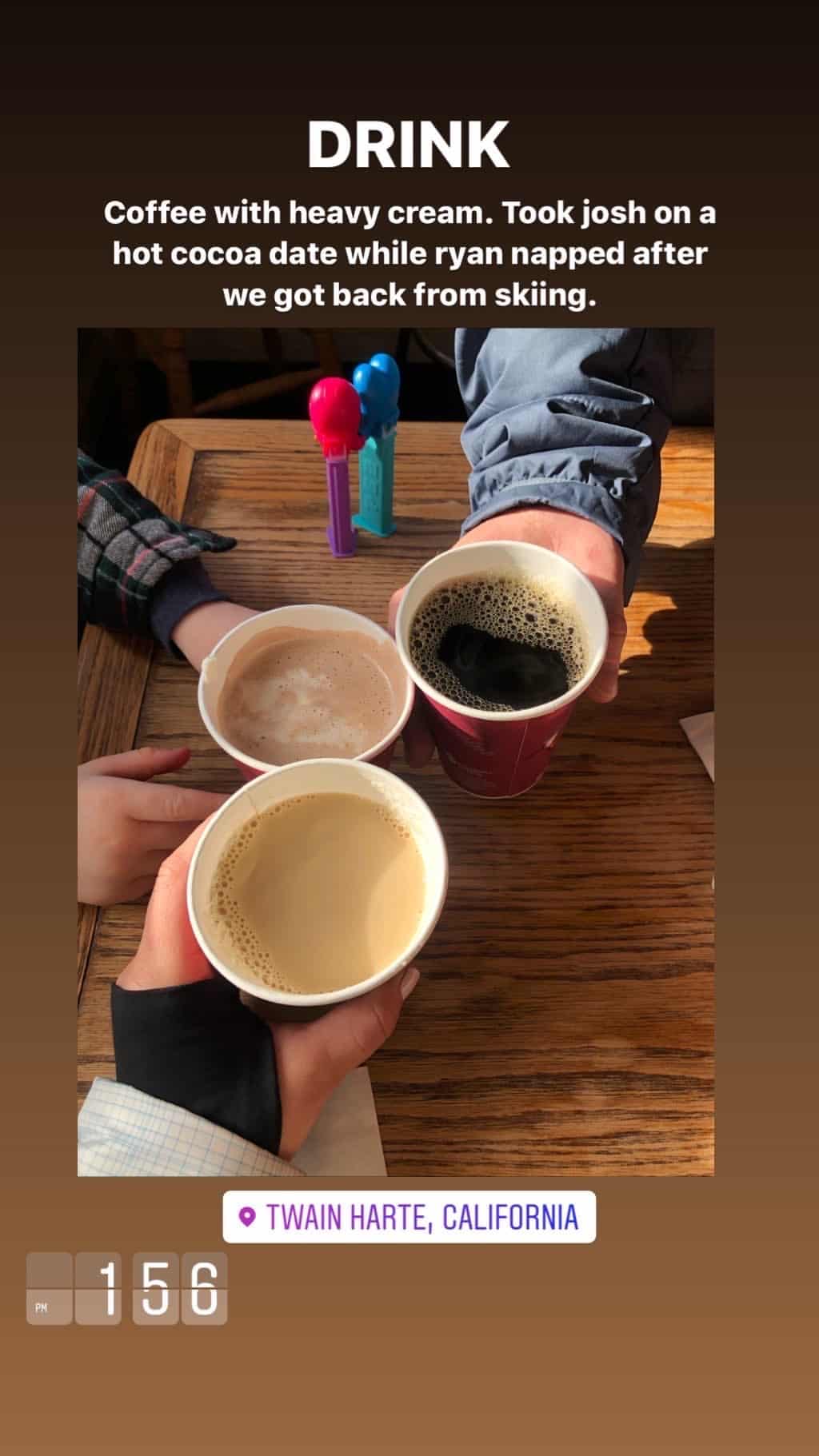 Coffee, heavy cream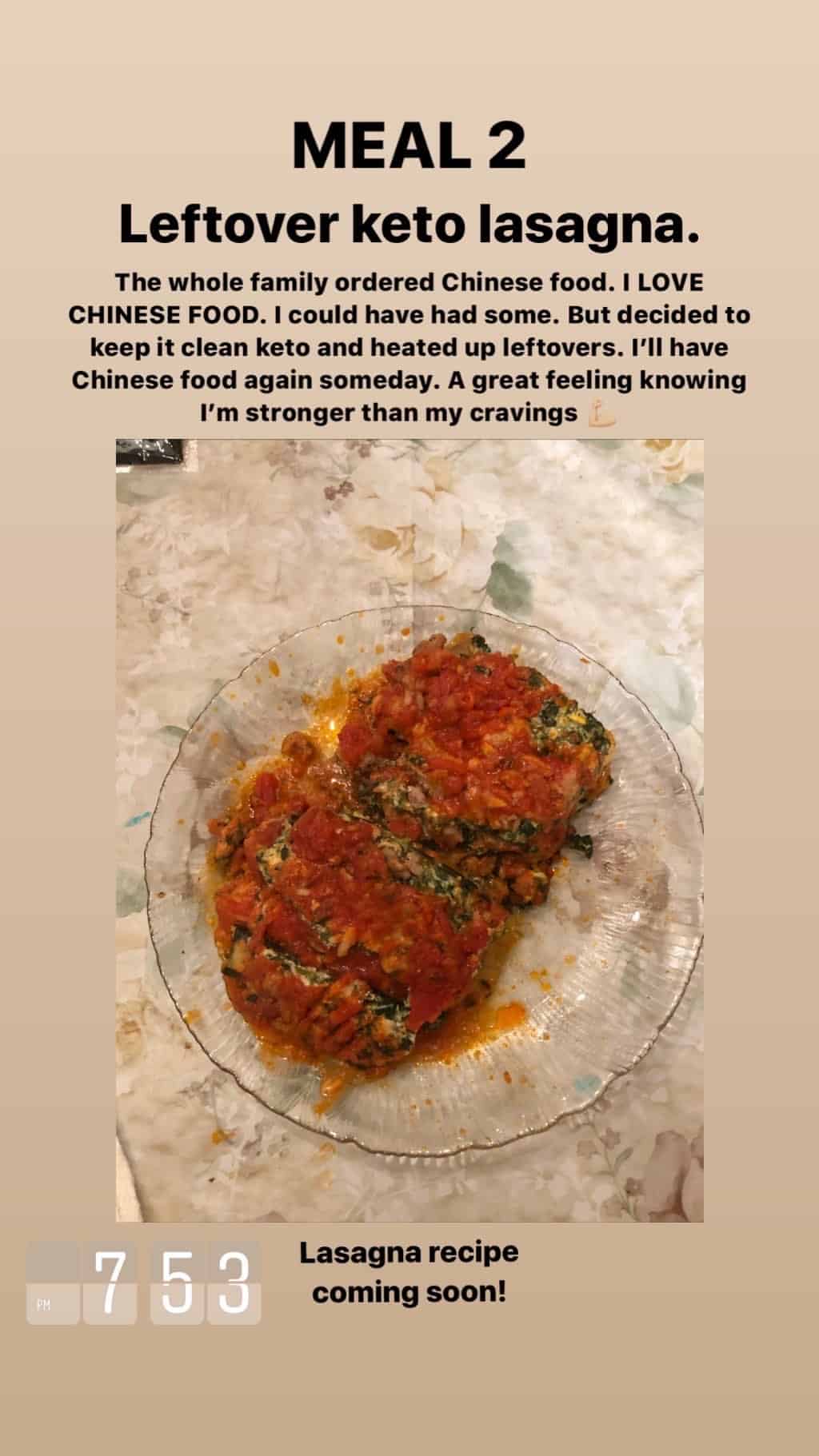 Keto lasagna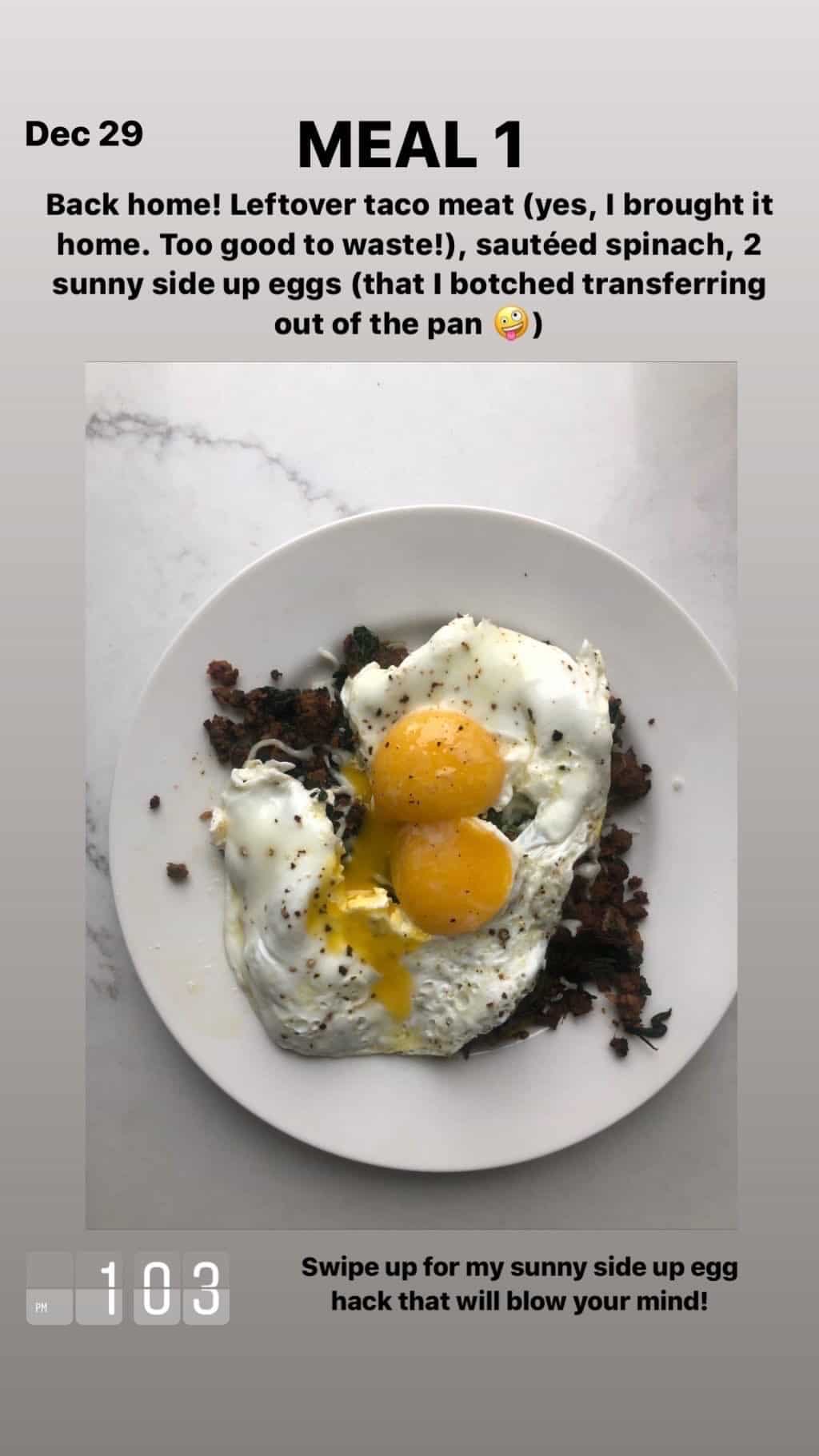 Taco meat, sauteed spinach, sunny side up eggs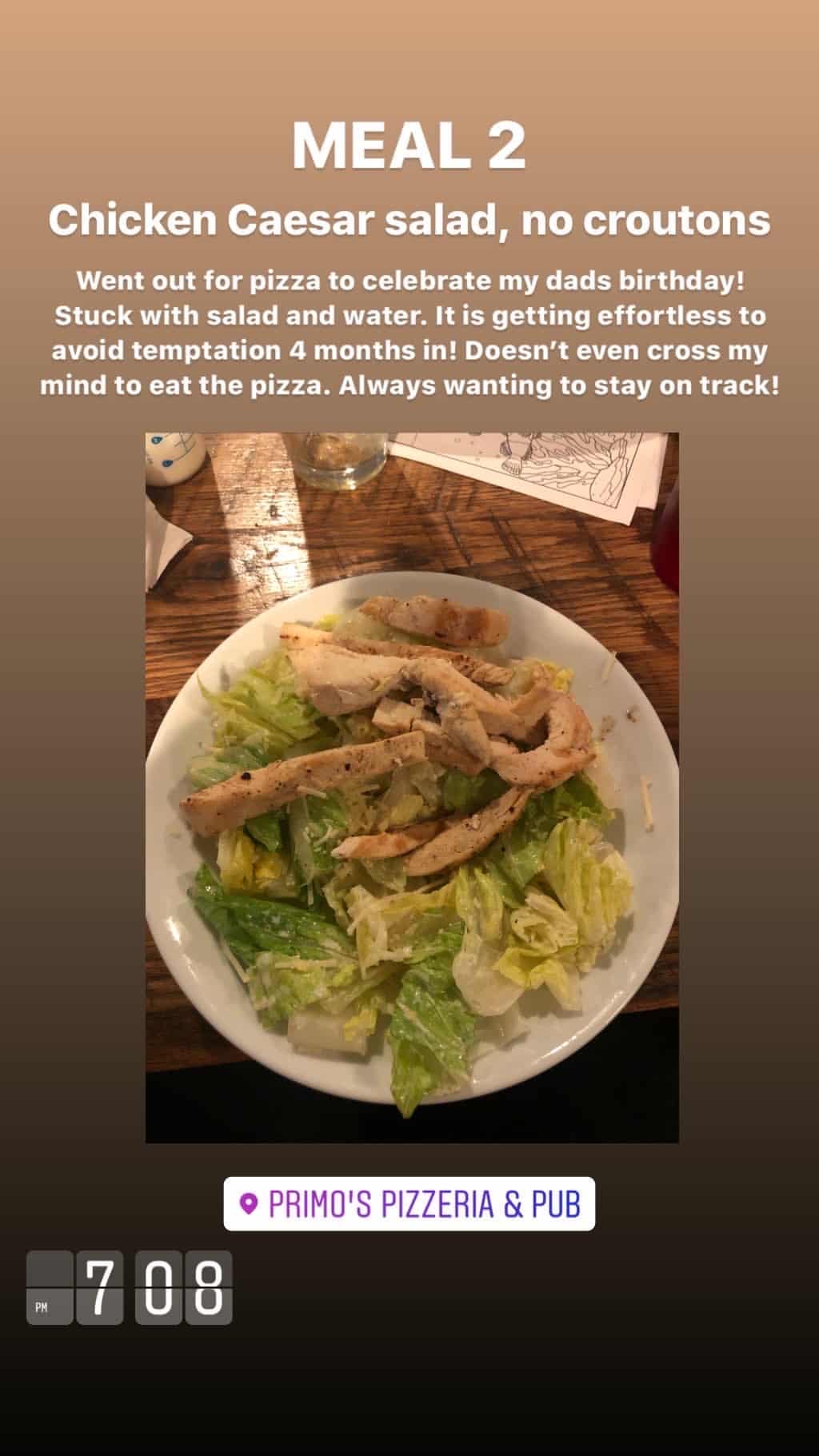 Chicken Caesar salad, no croutons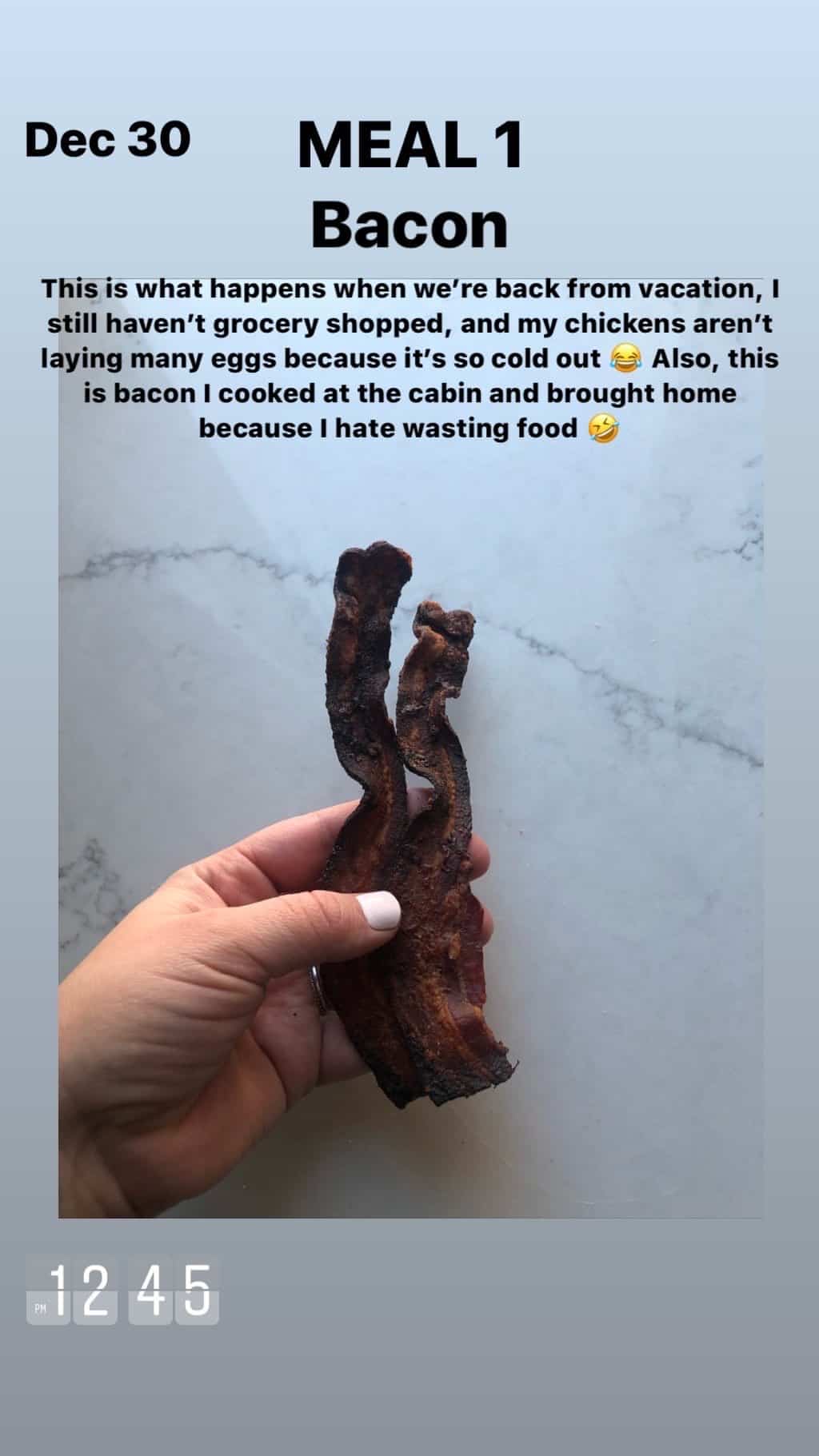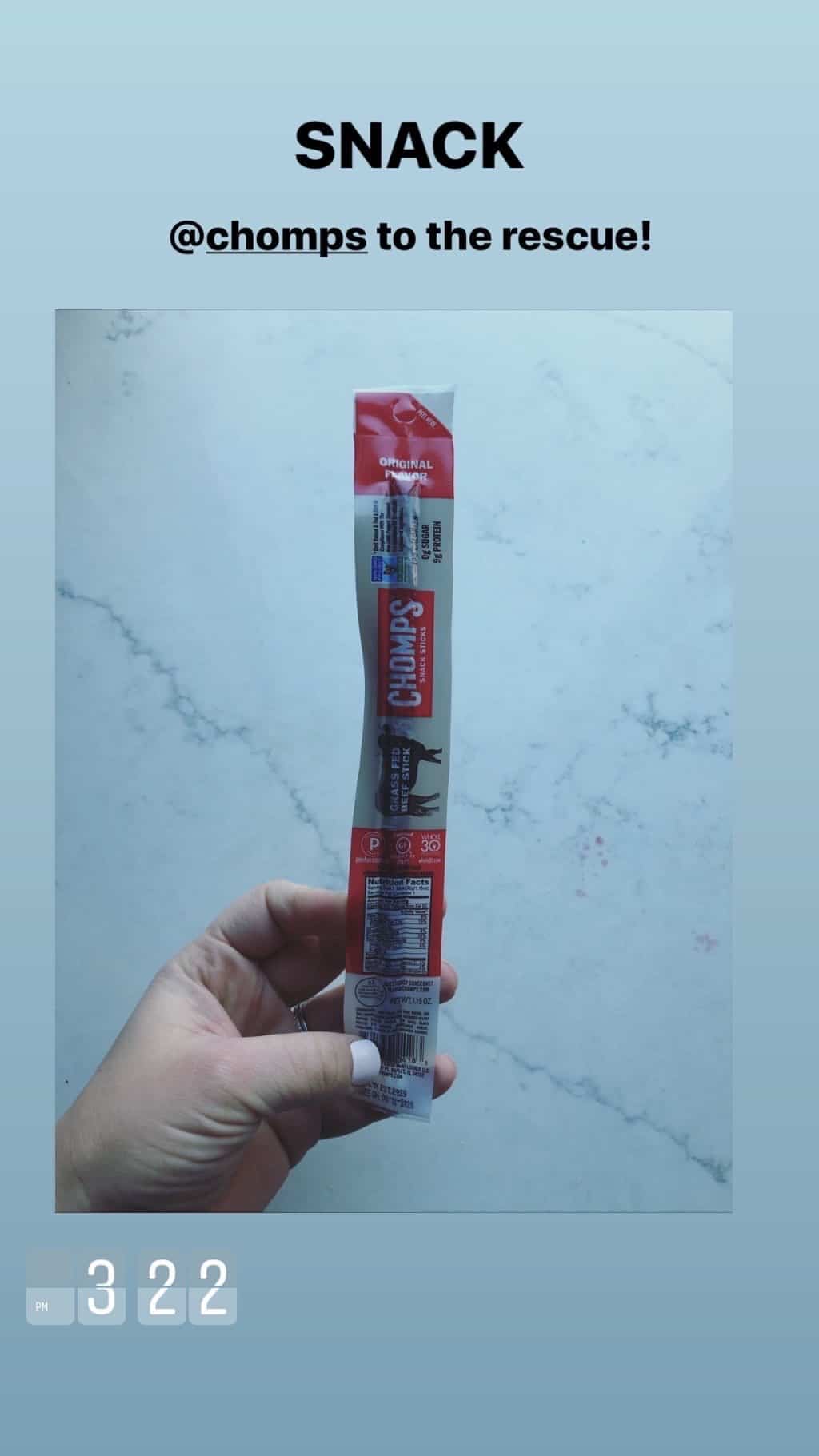 Chomps beef stick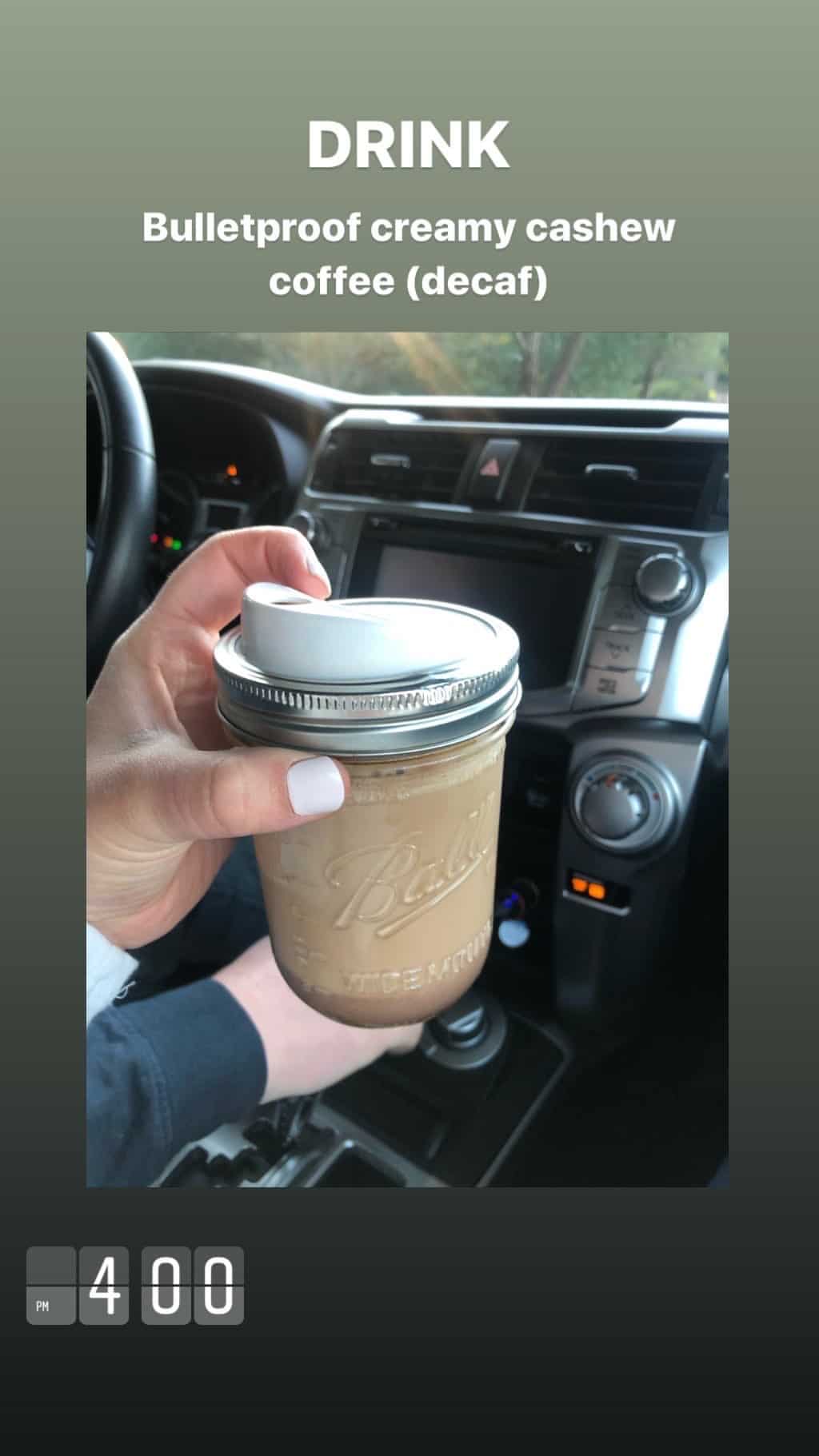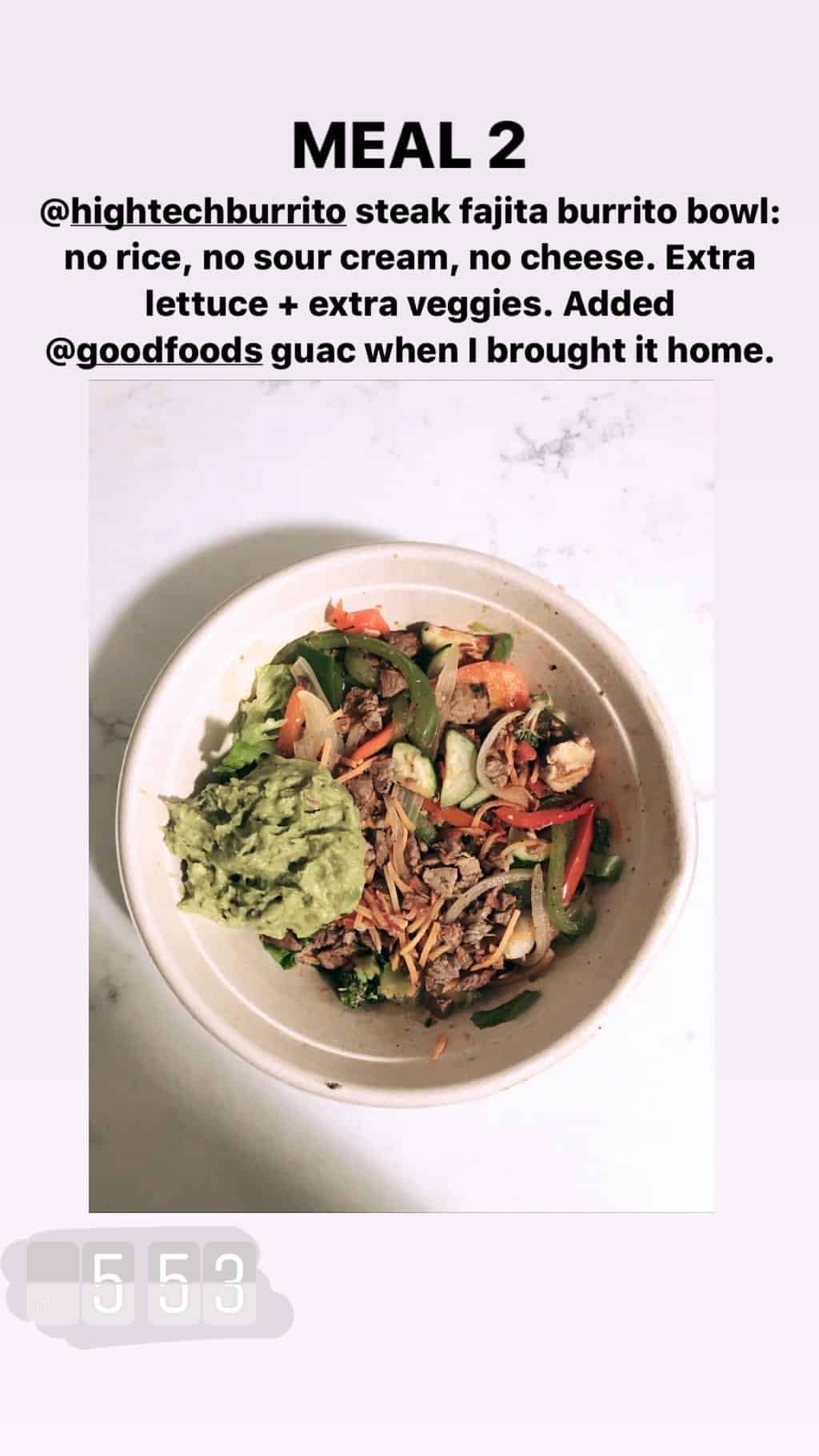 High Tech Burrito steak fajita bowl, extra lettuce and veggies, Good Foods guac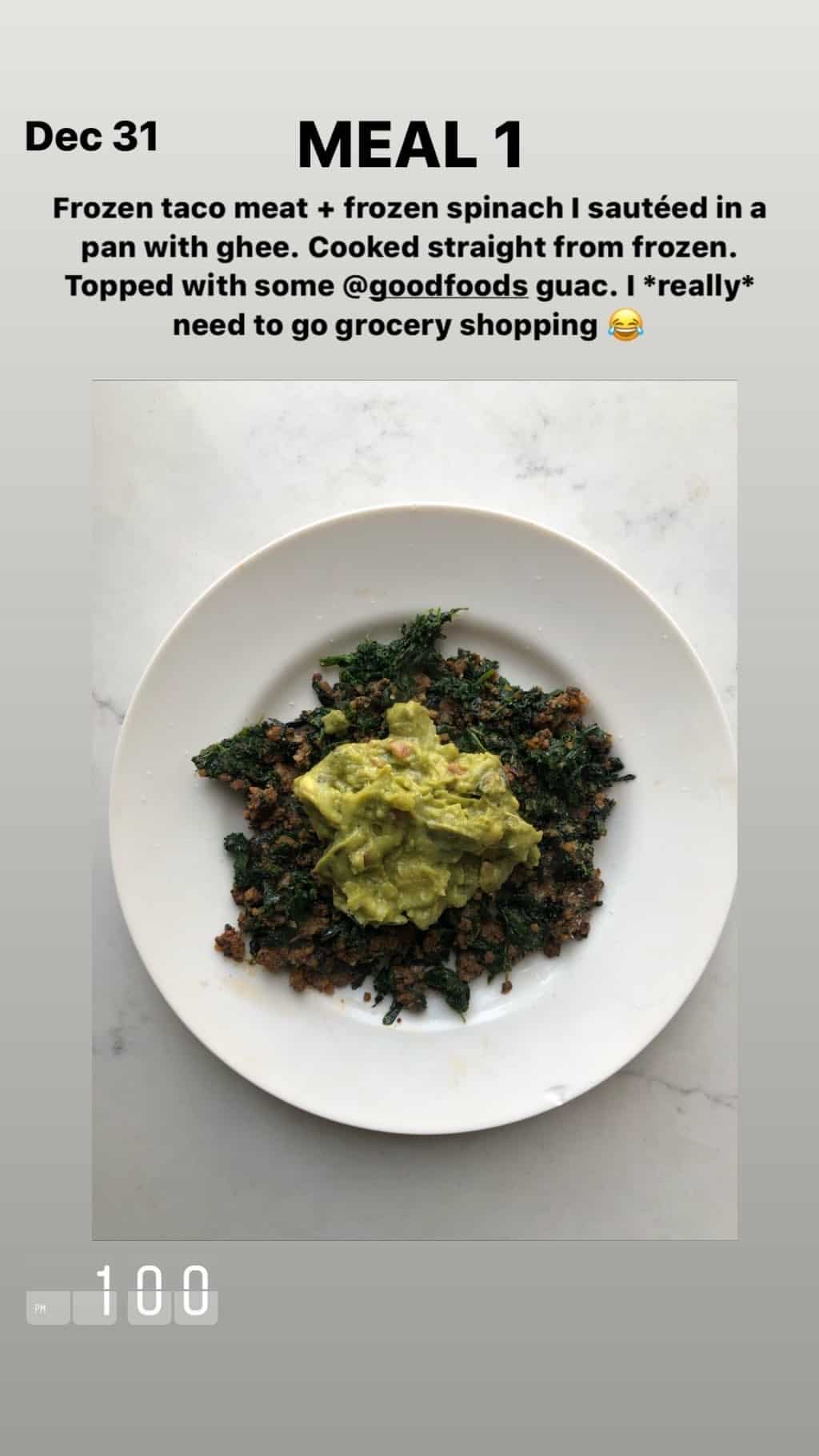 Taco meat, sauteed spinach in ghee, Good Foods guac
92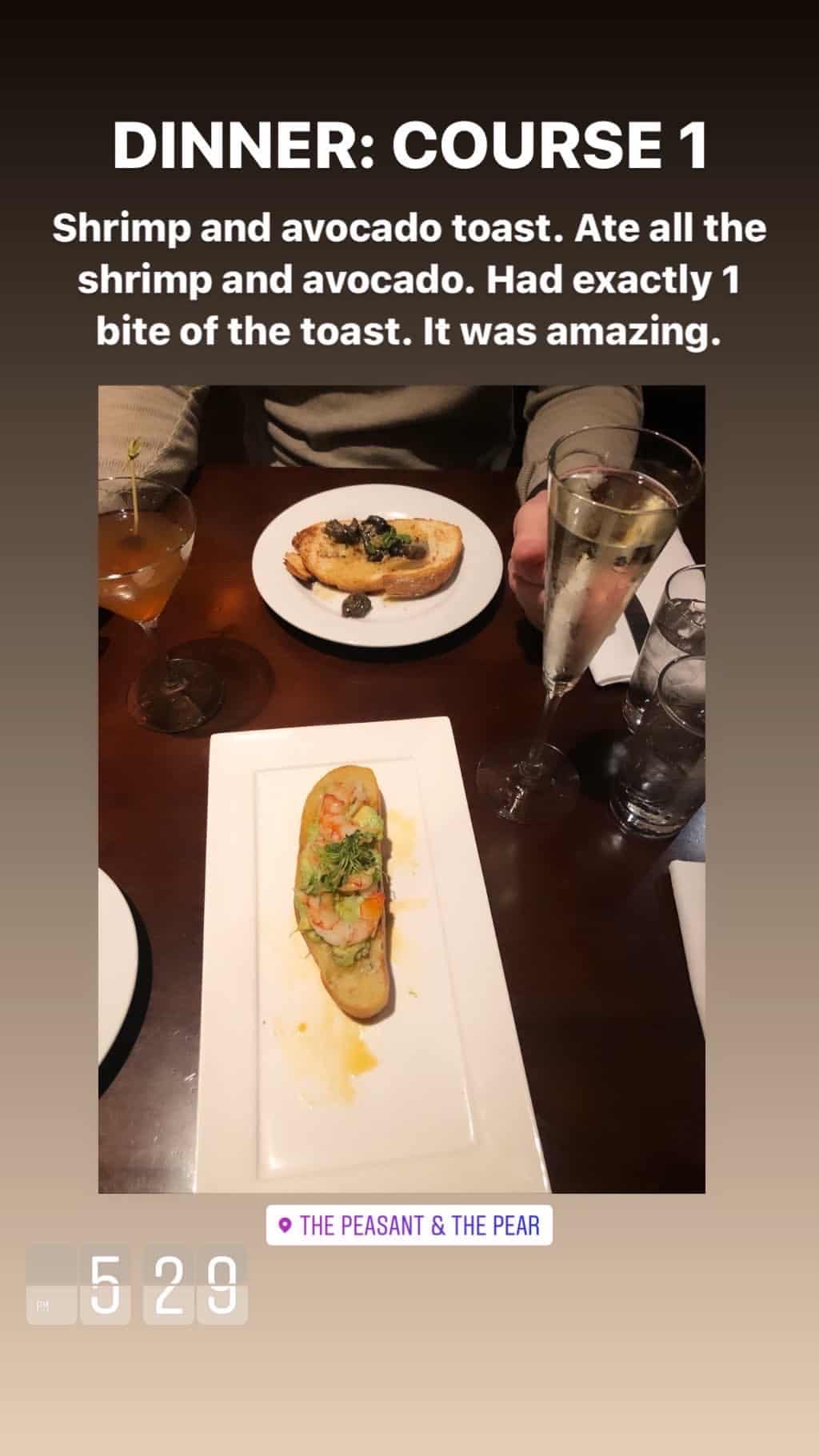 Shrimp, avocado, 1 bite of toast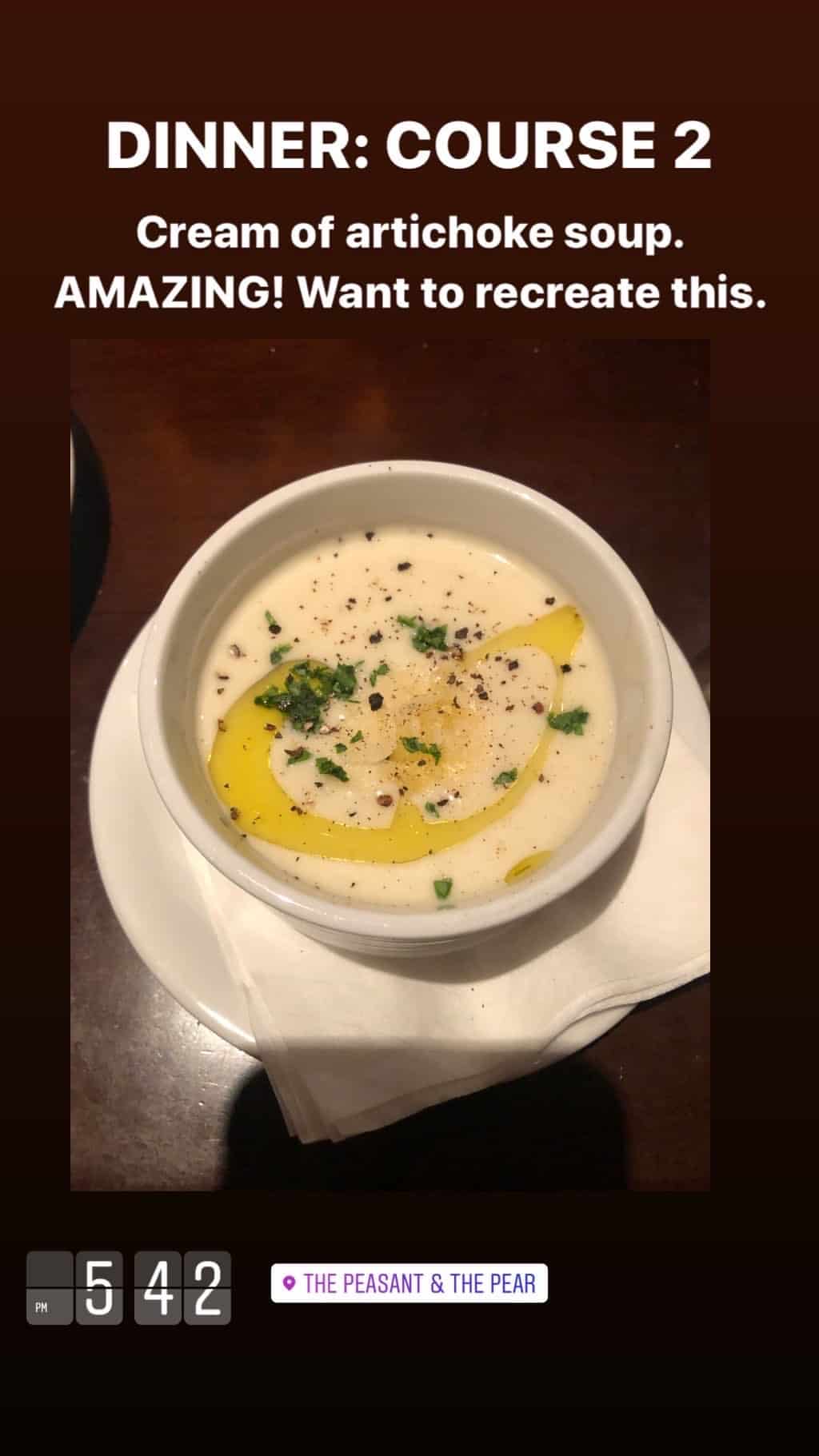 Cream of artichoke soup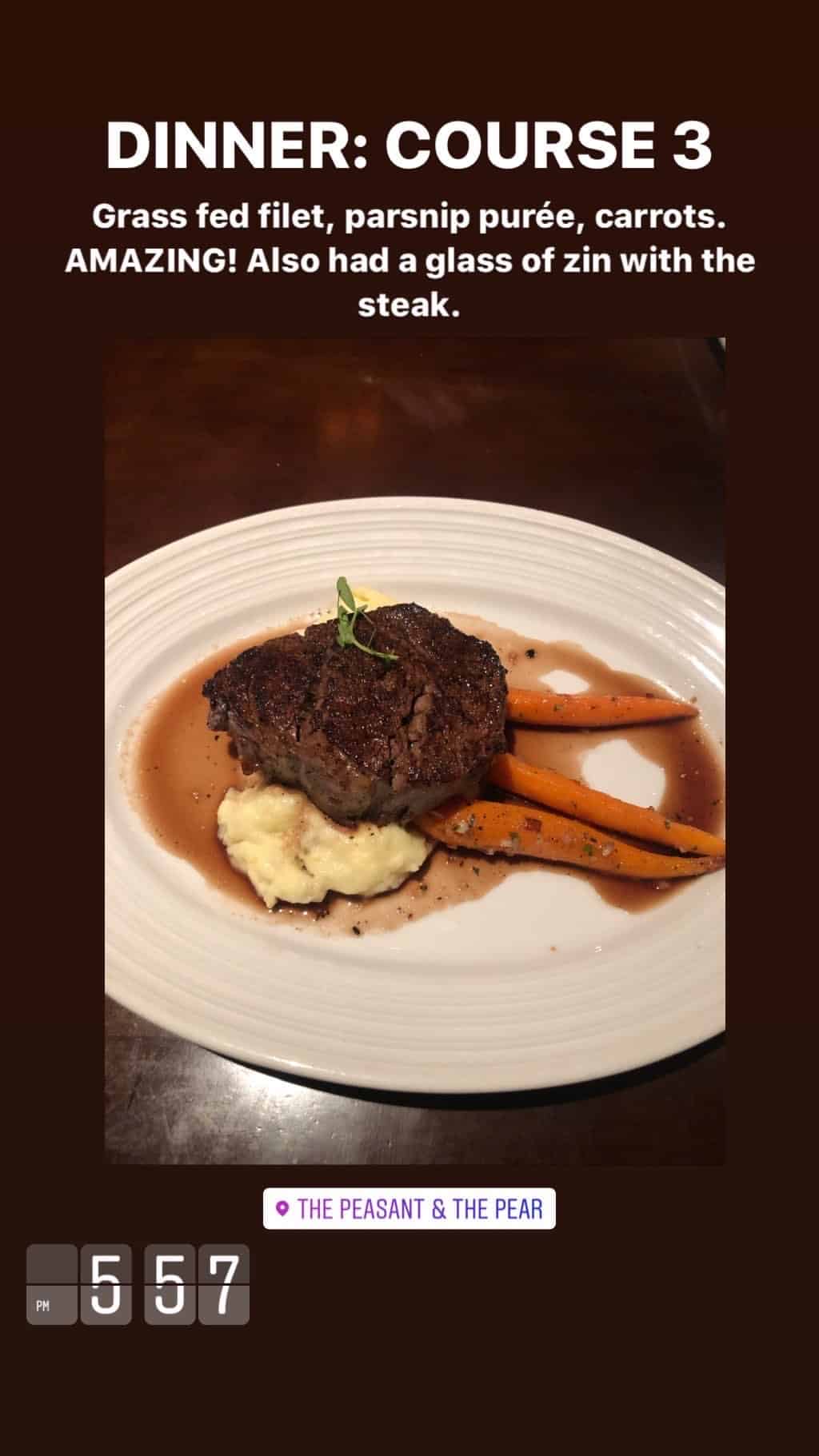 Grass fed filet, parsnip puree, carrots, glass of Zinfandel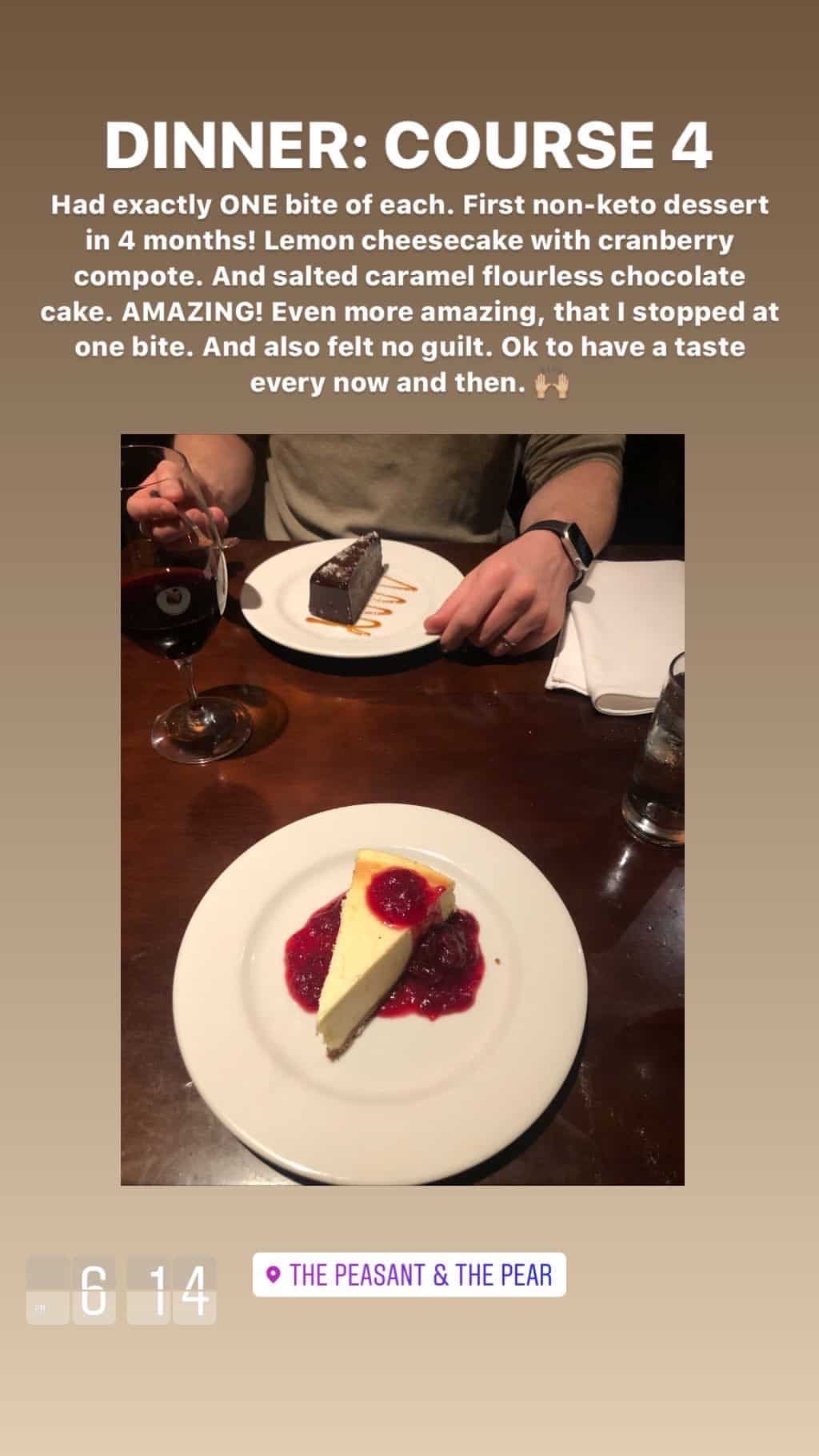 1 bite of lemon cheesecake with cranberry compote, 1 bite of salted caramel flourless chocolate cake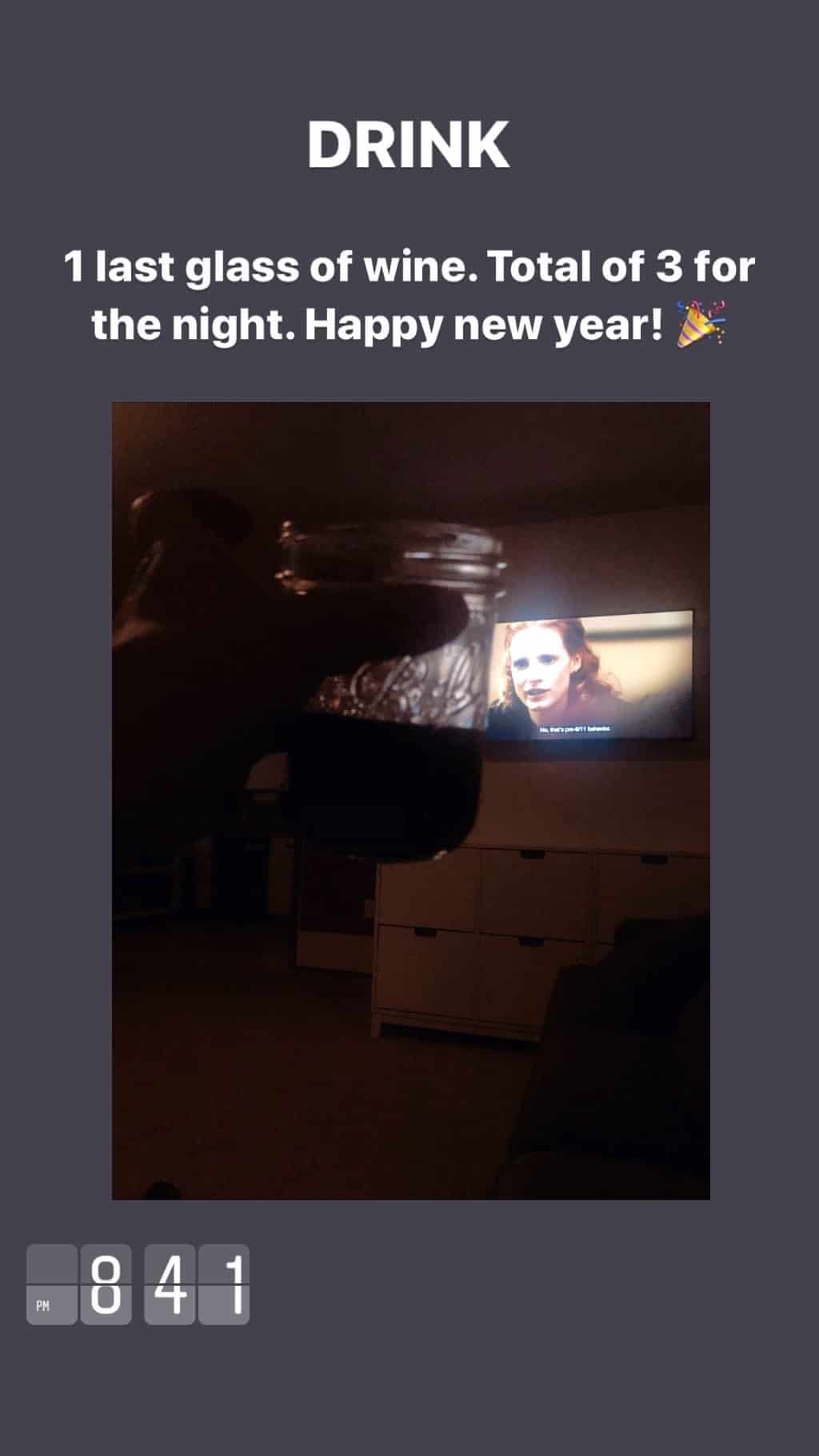 Glass of red wine