Paleo + Whole30 Almond Crusted Pesto Chicken – a quick and healthy 30 minute dinner recipe! Keto, gluten free, grain free, dairy free, sugar free, soy free, clean eating, real food.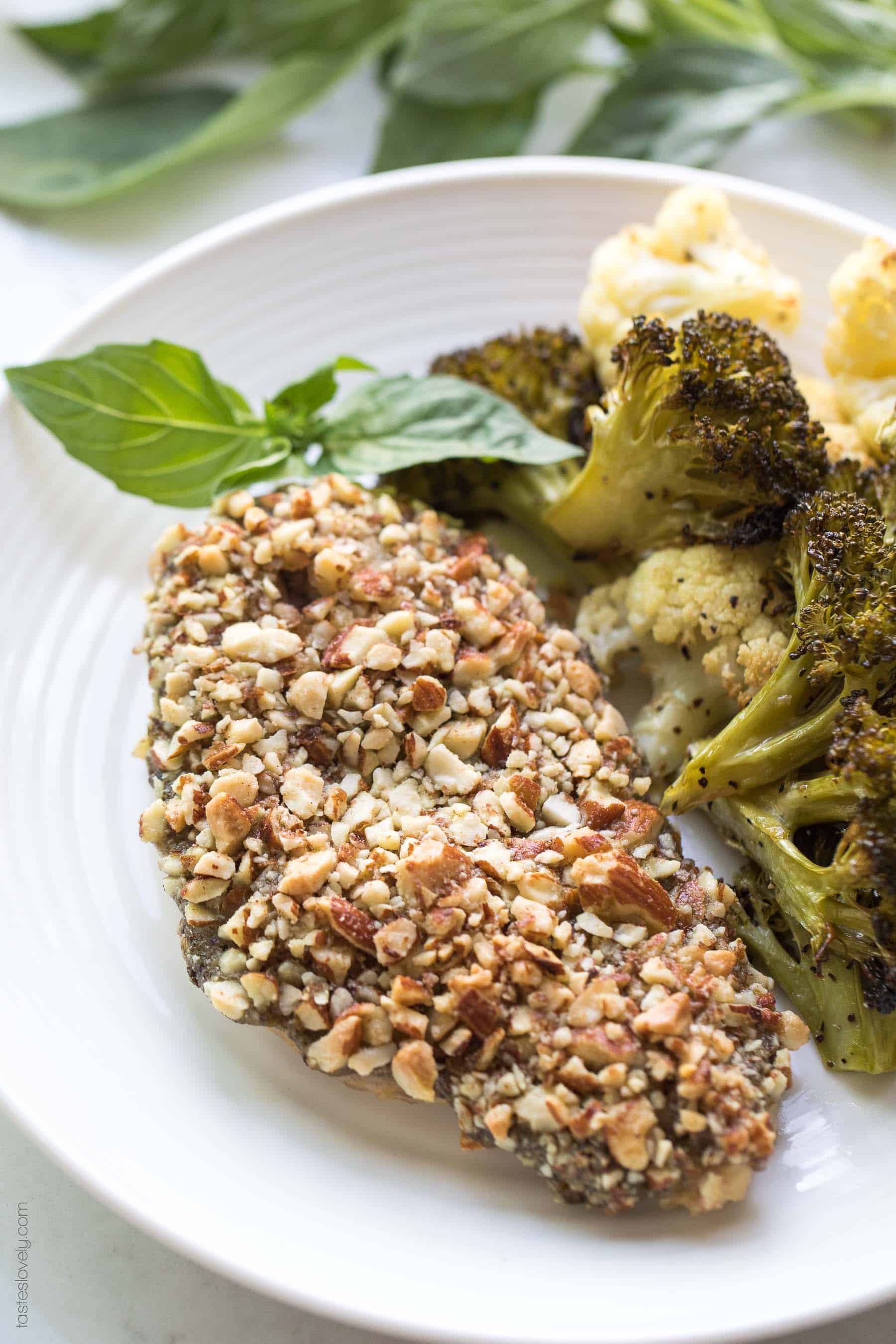 One of my favorite challenges is making a healthier version of my past favorite recipes. This paleo + whole30 almond crusted pesto chicken is my latest recipe revamp victory!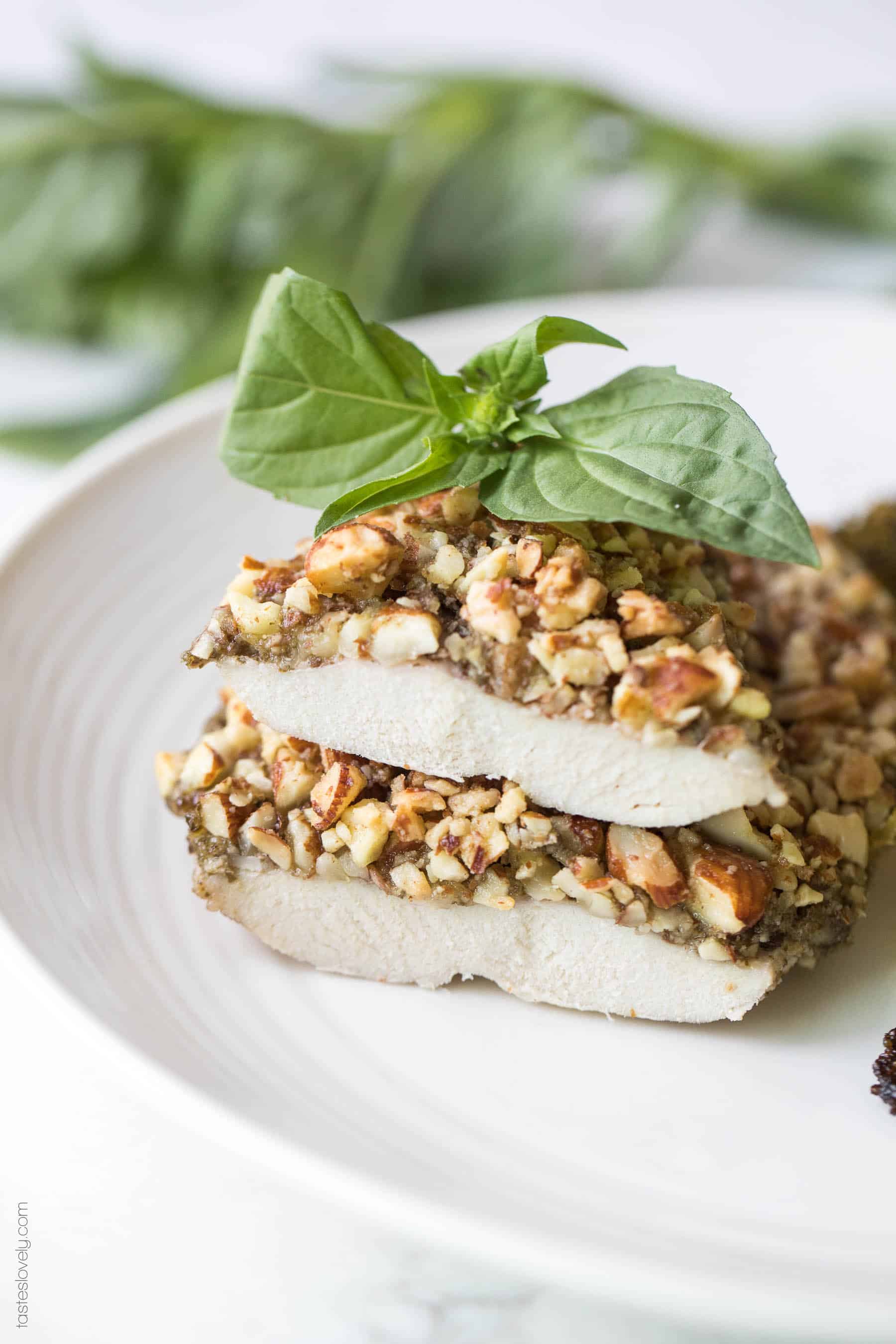 It's based off of my previous crispy baked pesto chicken, which we loved loved loved. But that was before we gave up dairy and gluten. That chicken recipe had a dairy based pesto and was crusted in panko bread crumbs and parmesan.
I was determined to create a similar baked chicken that had a yummy pesto layer topped with crunchy topping. After a few tries, I nailed it!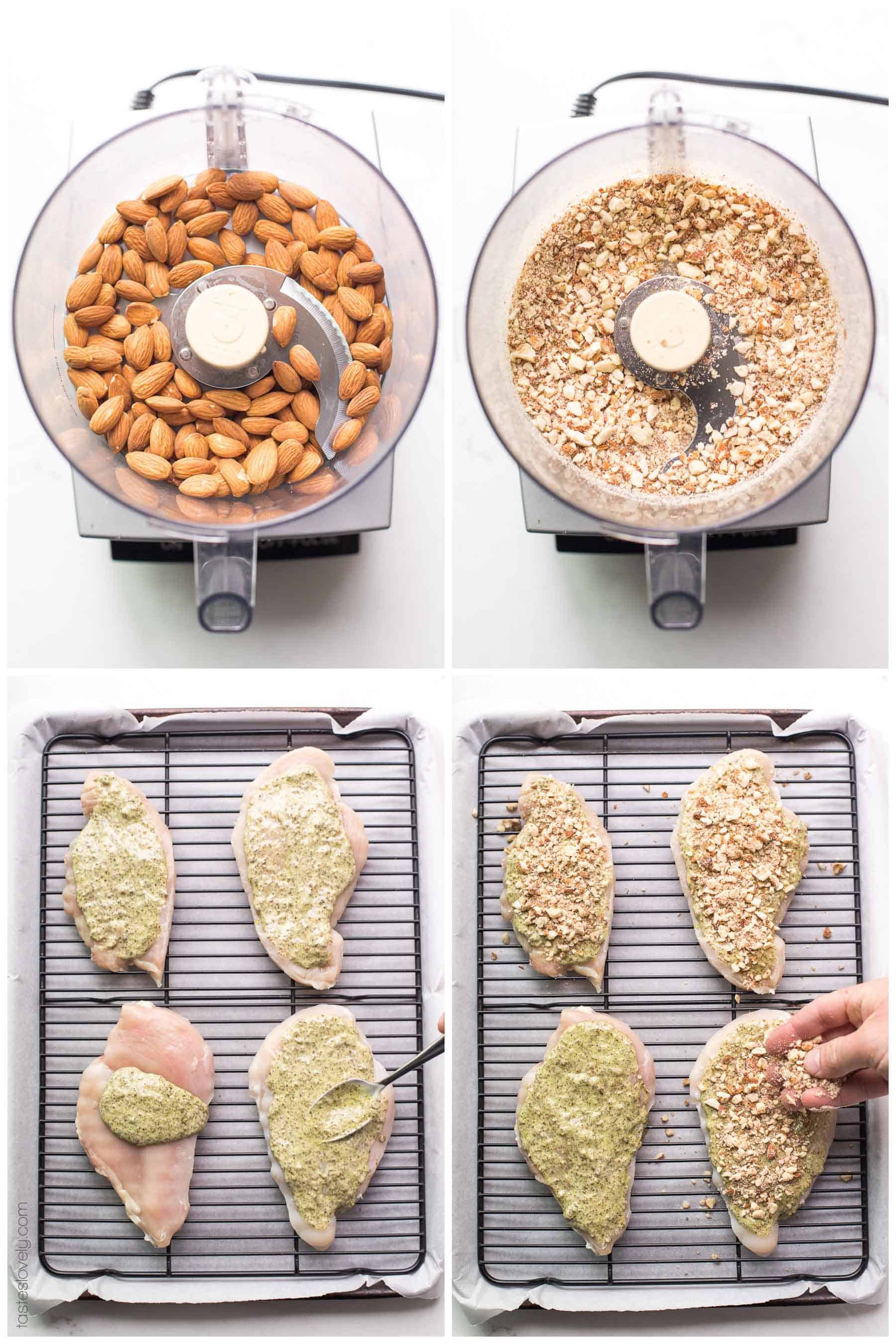 My first swap was to use my homemade paleo + whole30 pesto, which doesn't have any parmesan in it. It is so delicious, you don't even miss the cheese! Promise.
For the crispy topping, I used chopped almonds. It worked great! You still get a great crunch, but it is much healthier and adds a lot more protein to this paleo + whole30 almond crusted pesto chicken.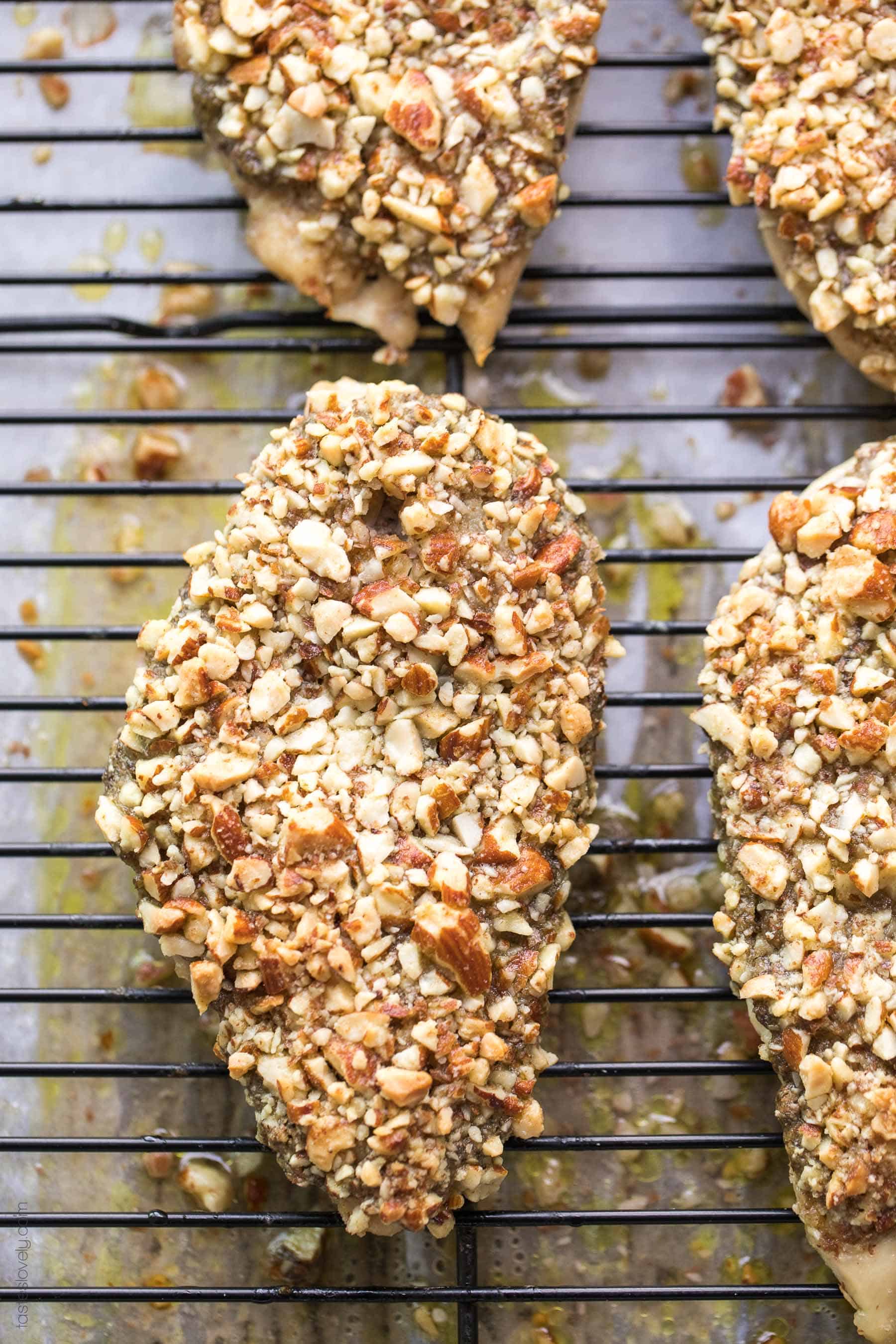 It is important to use raw almonds when making the crust for this paleo + whole30 almond crusted pesto chicken. I first used almonds that were already roasted, but they got roasted even more when baking in the oven and the almonds got too bitter. When I used raw almonds instead, they got perfectly roasted while the chicken baked.
You also want to bake the chicken on a wire rimmed baking sheet. The chicken releases juices as it bakes, and by having it on a rimmed baking sheet the chicken does sit in those juices and get soggy. Instead it can get crisp and perfect.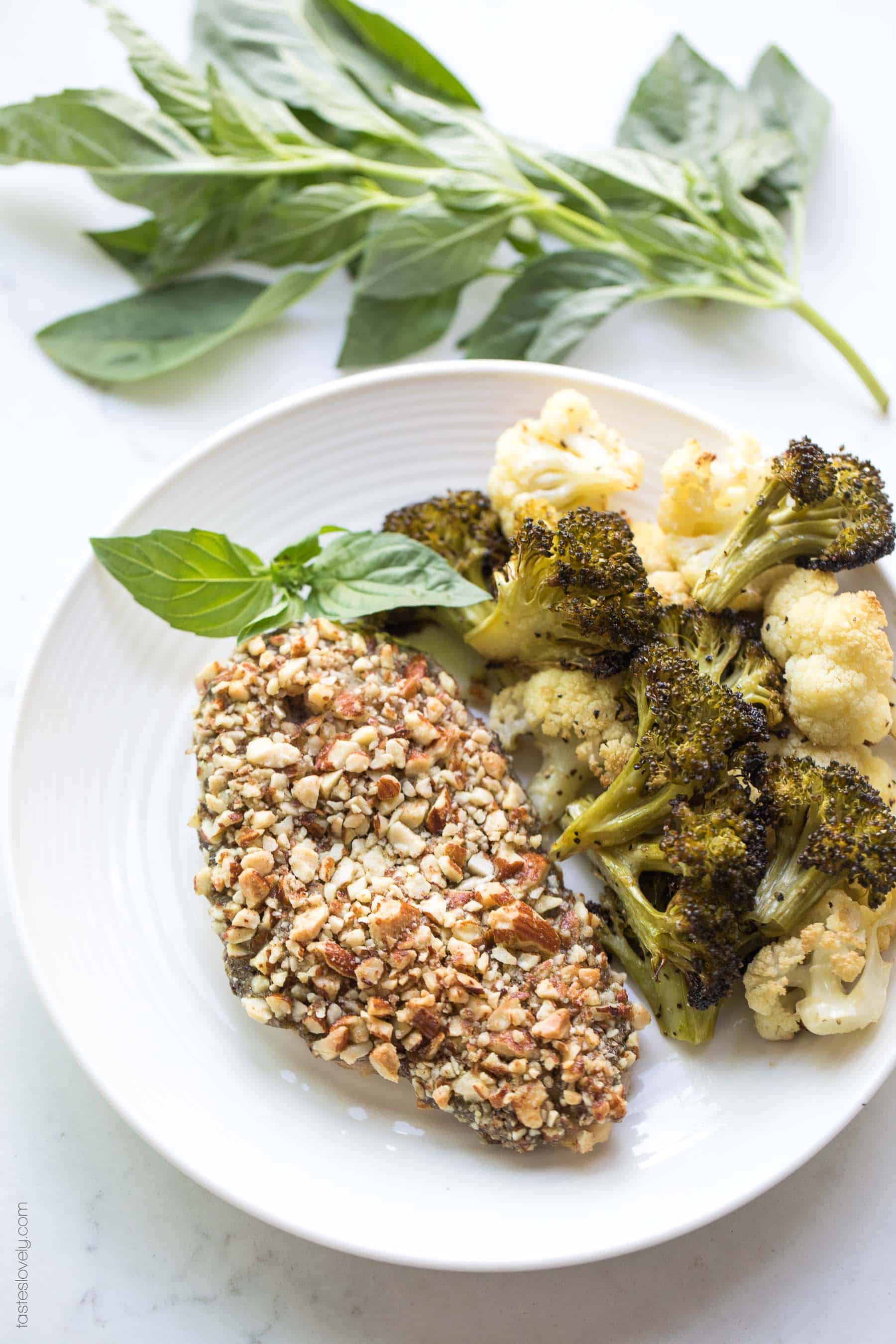 This is optional, but I love doubling the pesto sauce that I put on the chicken. I use half on top of the chicken, and serve the other half as a dipping sauce for the chicken after it bakes. My 2.5 year old loves having a dip, and will eat way more dinner if he has something to dip his chicken in. It's so cute.
Not only is this chicken delicious and ready in 30 minutes, it is so healthy! Paleo, whole30, keto, gluten free, grain free, dairy free, sugar free, soy free, clean eating, real food.
Print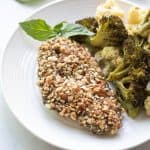 Paleo + Whole30 Almond Crusted Pesto Chicken
---
Author:

Prep Time:

10 minutes

Cook Time:

20 minutes

Total Time:

30 minutes

Yield:

4

1

x
---
Instructions
Preheat oven to 350ºF with the oven rack in the middle. Line the rimmed baking sheet with parchment paper or aluminum foil (for easy cleanup), and set in the wire rack.
In your food processor with the s-blade attachment, chop the almonds until they are course crumbs.
In a small bowl, stir to combine the mayonnaise and pesto.
Place the chicken breasts on the rimmed baking sheet. Evenly divide the pesto mixture on top of the 4 chicken breasts and spread in an even layer. Sprinkle the salt on top of the pesto topped chicken. Evenly divide the chopped almonds on top of the pesto mixture, and gently press the almonds into the pesto mixture with your hands to help it stick. Drizzle the top of the almond crusted chicken with olive oil.
Bake until the chicken has an internal temperature of 165ºF, about 20 minutes. Remove from the oven and allow the chicken to rest for 5 minutes on the wire rack. Serve warm.
Notes
I like to double the pesto/mayo mixture, and serve the extra with the cooked chicken as a dipping sauce, yum!
You want to be sure to use raw almonds. They roast in the oven. If you use almonds that are already roasted, they get too bitter while the chicken bakes.

More Paleo + Whole30 Chicken Dinner Recipes:
Paleo + Whole30 Chicken Piccata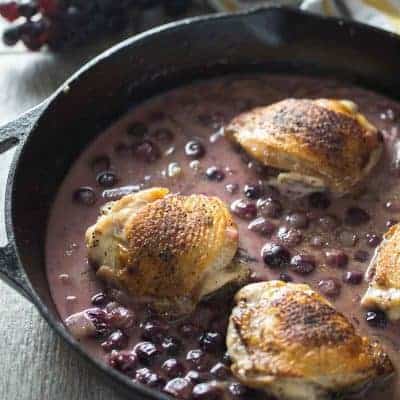 Paleo + Whole30 Chicken Thighs Braised in Mustard Grape Sauce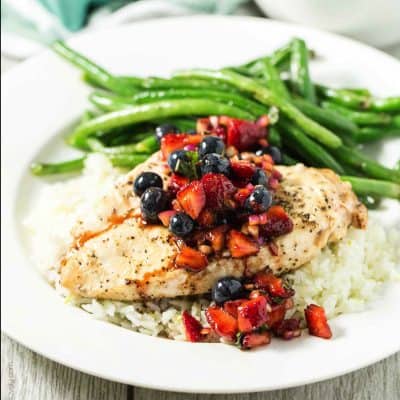 Paleo + Whole30 Chicken with Berry Balsamic Salsa
This post contains affiliate links, thanks for the love!
Never Miss a Recipe!
Get new posts delivered straight to your inbox! For free!