What I Ate Wednesday
What I Ate Wednesday – The keto meals I'm eating in my real life for breakfast, lunch, dinner and snacks! Includes keto macro counts. Great reference for a FREE sample keto menu that's less than 25g net carbs!
Here are all the keto meals and snacks I had on September 9, 2020. The image above includes the total macro counts for the day. After each meal I'll include the individual meal macro counts. At the end of the post I include a screenshot of all the nutritional information for the day.
My macro goals are 25g net carbs (5%), 124g protein (25%), 155g fat (70%). I do my best to stay close to those percentages, give or take a bit. Here is how I calculate the macros for these posts, and tons of information on keto macros.
I am currently 21 weeks pregnant, so not focusing on intermittent fasting.
If you're new to my site or to the keto diet, here is where I answer all the FAQ's on how I lost 50 pounds in 6 months eating clean keto. Here are all my What I Ate Posts for my daily keto menu food journal log inspiration!
Keto Meals I Eat In A Day
Morning Drink (6:30am): Hot tea (this is Bigelow STEEP Organic Chai Tea) with Clover Sonoma organic heavy cream and 2 scoops of collagen protein……1g net carbs, 16g fat, 19g protein
Breakfast (7:30am): 2 sunny side up eggs cooked in ghee, spinach sauteed in ghee, 3 Pederson's Farms sugar free breakfast sausage links cooked in ghee, half an avocado, raspberries……4g net carbs, 64g fat, 24g protein
Snack #1 (10:00am): Spoonful of mixed nut butter topped with organic blueberries……2g net carbs, 13g fat, 5g protein
Lunch (12:00pm): Made a "what I had in the fridge" salad using spinach, half a packet of True Story Foods Organic Chicken Breasts, tomato, onion, feta and cucumber tossed in olive oil and balsamic…….7g net carbs, 33g fat, 30g protein
Snack #2 (3:00pm): Turkey Chomps……0g net carbs, 2g fat, 10g protein
Dinner (6:30pm): Salmon cakes with my herby lemon coleslaw……11g net carbs, 26g fat, 36g protein
Full Nutritional Information
Here is the full nutritional breakdown of my day of meals. (Click to view the full PDF report). Below are a few screenshots of the breakdown.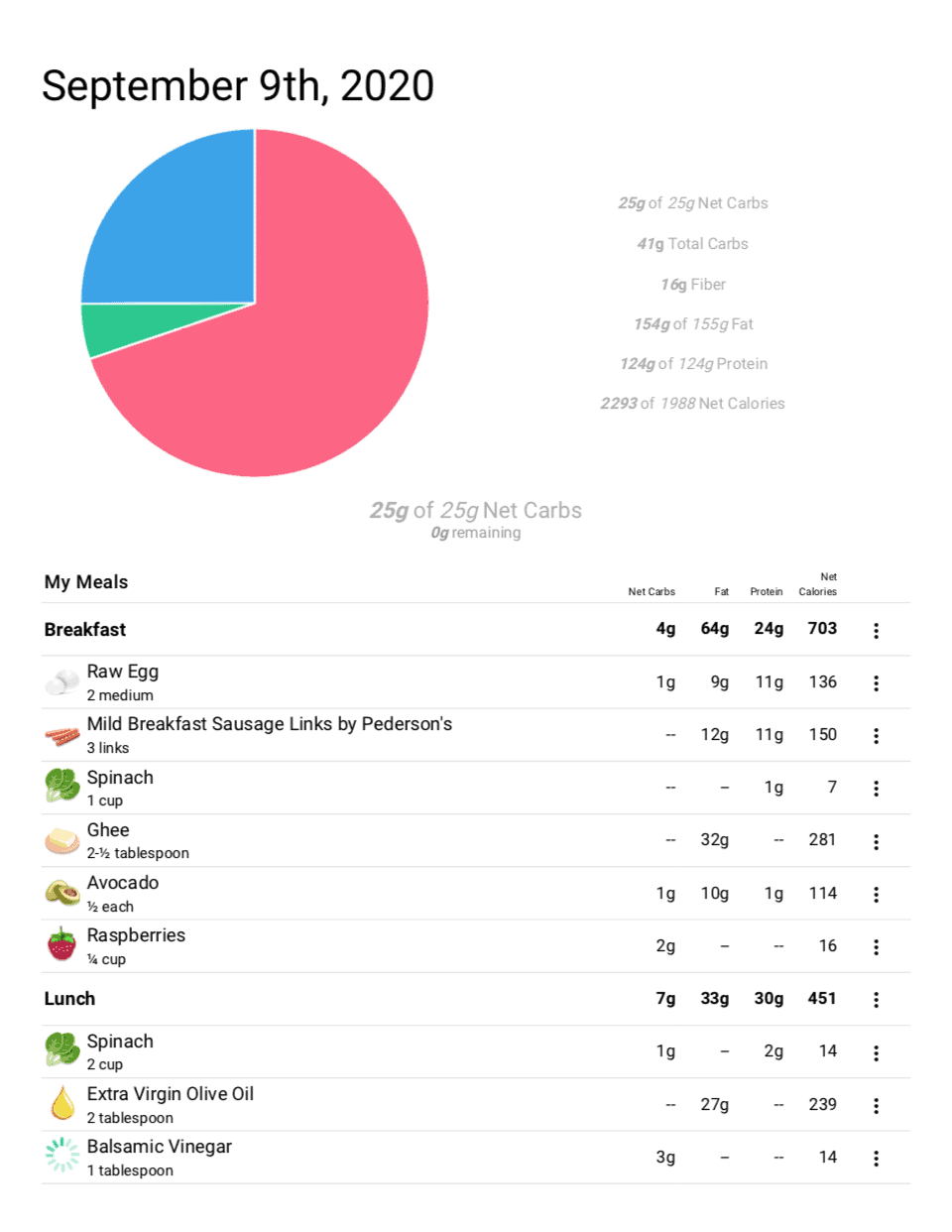 Nutritional information is provided as a courtesy only and should be construed as an estimate rather than a guarantee. Ingredients can vary and Tastes Lovely makes no guarantees to the accuracy of this information. Always best to go off your own calculations based on ingredients and quantities actually used.