The easiest 3 minute homemade mayonnaise recipe, made in a mason jar with a hand immersion blender. This paleo mayo is guaranteed to turn out perfect every time, it will not break. And tastes amazing!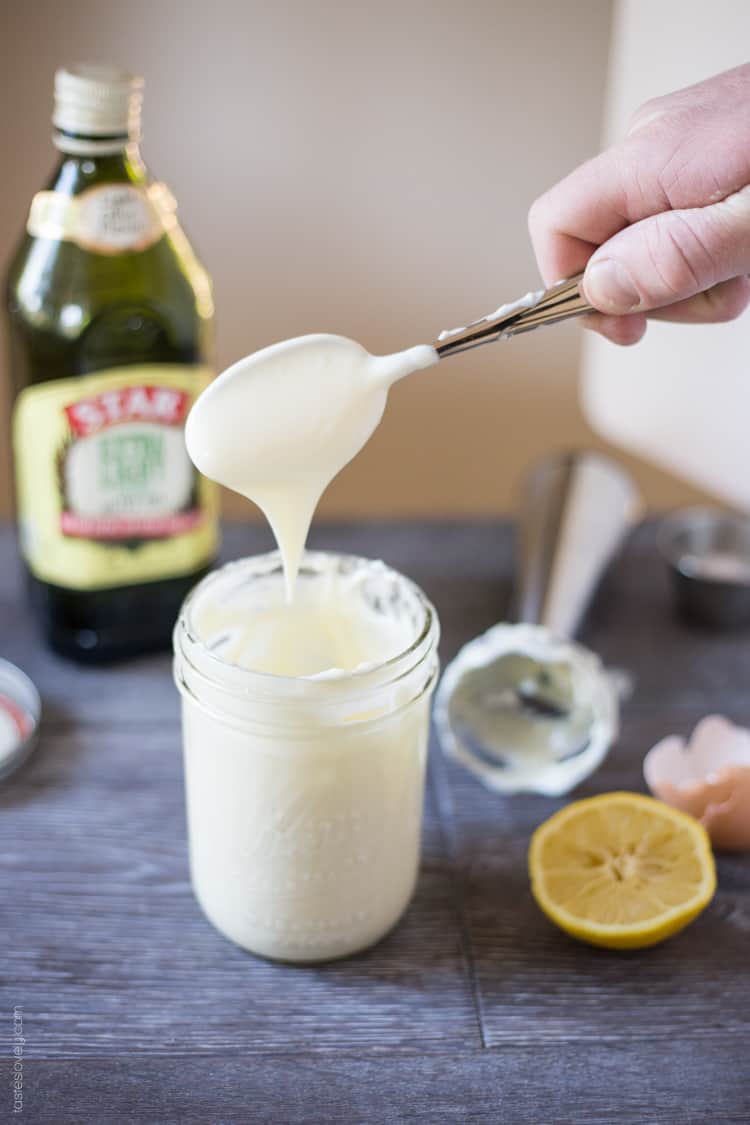 I was accidentally that annoying person taking for-ev-er at the Redbox renting movies on Saturday. In my defense, when I walked up to the box there was no one behind me, or even in sight. I was listening to a podcast completely zoned out, scrolling through page after page of movies. I ended up picking out 3.
When I got to the checkout screen I went on my phone to try and find a promo code to try and save some money on this $4 purchase. As I was trying out different ones, all of which did not work, I saw in the reflection of my phone people standing behind me. I slightly turned my head and saw 5 people standing in line behind me! Oh dear. I quickly finished up the purchase, hoping to get out of there as fast as I could.
Only problem is, each movie took about 30 seconds to come out. That may not sound like a long time, but when you're standing there very aware of all the people waiting for you it felt like an eternity. And, there were 3 movies! After the last one finally popped out, I grabbed it and walked away as fast as I could with my head down, just hoping that I didn't know anyone in line.
While those few minutes waiting for my movies felt like they took forever, the short amount of time it takes to make this homemade mayonnaise goes by in a flash!
Ok you guys, this mayo recipe is life changing. I first learned about it from my friend who is on the paleo diet, and doesn't eat the sugar and soy that is found in most mayonnaise's. It is made with healthy, whole ingredients and comes together in minutes! Well, technically 3 minutes. I've timed myself.
All you need is a hand immersion blender, a wide mouth pint sized mason jar (it has to be wide mouth, a regular size mason jar isn't big enough for the immersion blender to fit in), and 4 ingredients that you probably already have in your house: extra light tasting olive oil, 1 egg, lemon juice and salt.
It's important to get olive oil that is labeled "extra light tasting". If you use regular or extra virgin olive oil, the olive oil flavor is very strong and almost a little bitter.
The great thing about this homemade mayonnaise is you don't have to worry about bringing the egg to room temperature. You can make it with a cold egg straight from the fridge. And, since you made it in a mason jar, you can store it in the same container you made it in. So easy!
But most importantly, the flavor is amazing! I swear to you it tastes better than my go to store bought mayonnaise. It has no chemicals, is paleo, Whole30 compliant, low carb, sugar free and soy free.
After making it, you will see that this is the best mayo you have ever had.

Easiest 3 Minute Homemade Mayonnaise
Ingredients
1 cup extra light tasting olive oil
1 extra large egg (preferably organic)
1 tablespoon lemon juice (about half a lemon)
½ teaspoon salt
Instructions
In a pint sized wide mouth mason jar, add all the ingredients. No need to bring the egg to room temperature, this will work with a cold egg. Once you add all the ingredients, allow them to sit for a few seconds until the egg sinks to the very bottom.
Insert the immersion blender all the way to the bottom, then turn it on high. Leave the immersion blender on the bottom for about 20-30 seconds, until the whole bottom is white. Then slowly lift it up to continue emulsifying. Continue blending until the mixture has thickened to your desired amount. The whole blending process should take about 1-1.5 minutes. Watch the recipe video to see the entire process in real time.
Taste for flavor. Feel free to add more salt or lemon juice if preferred.
Keep covered in the fridge. Will last for 4 weeks.
Notes
-best to use "extra light tasting" olive oil, regular and extra virgin are a little too strong tasting
-adapted from
Whole30
Try this homemade mayo in these recipes:
The Perfect Homemade Ranch Dressing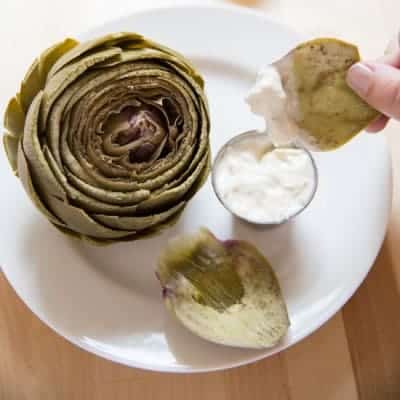 Steamed Artichokes with Garlic Aioli
Grilled Zucchini Caprese Sandwich with a Pesto Mayonnaise
Also use this homemade mayonnaise in these recipes by some of my favorite food bloggers:
Spicy Shrimp Sliders with Celery Mayonnaise by Inspiration Kitchen
Baked Sweet Potato Fries with Curry Cilantro Mayo by She Likes Food
Zucchini Chips with Ranch Mayo Dip by Pumpkin 'n Spice