Whole30 Meal Planning Template Guide – plan out all of your Whole30 meals with this FREE printable template guide. Tips for successful and efficient menu planning. Plus, 1 week of Whole30 dinners, lunches and breakfasts with a grocery list.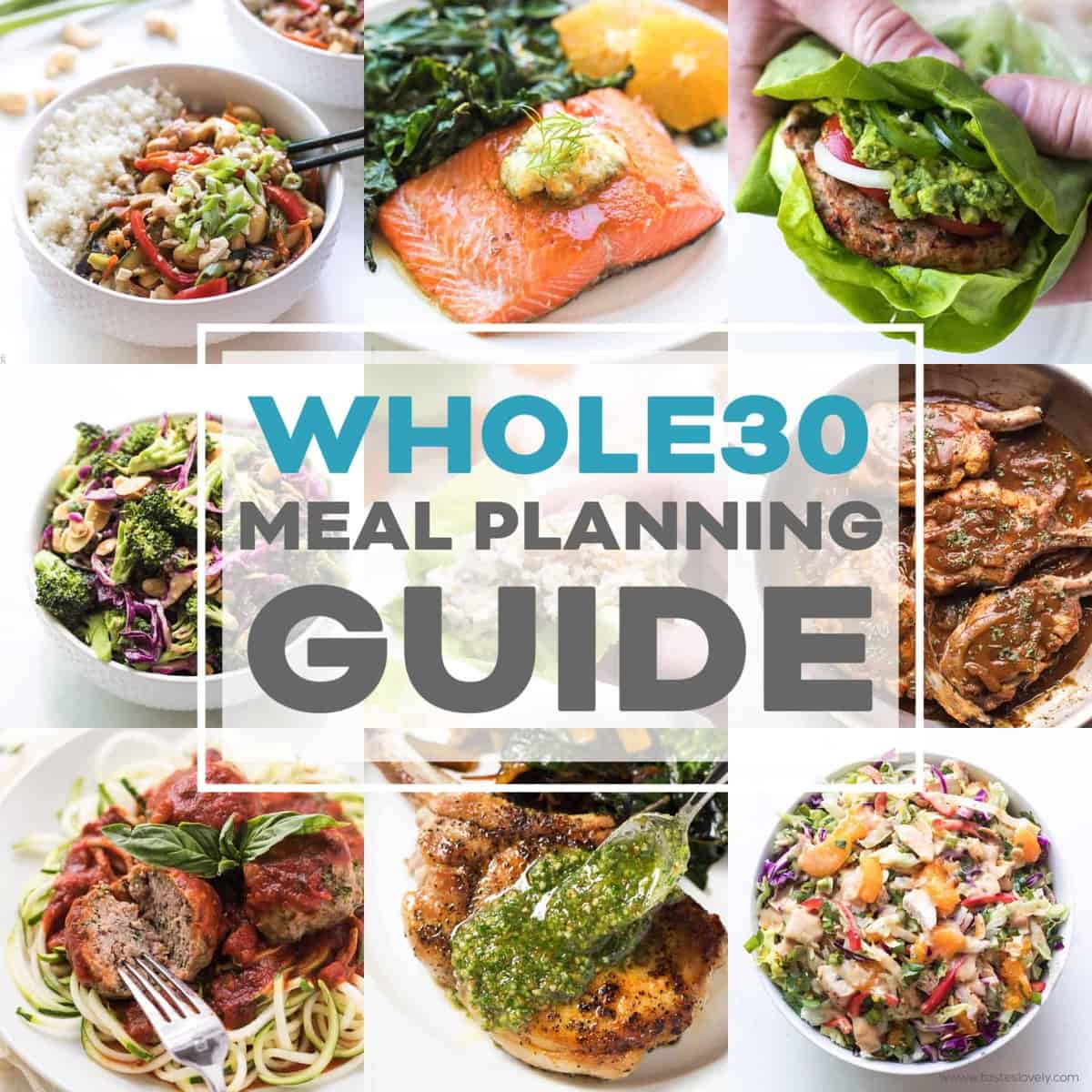 Free Whole30 Meal Planning Template
I created this form for myself, and it has helped me immensely! I'm sharing the pdf and Apple Pages version with you to download, for free!
Click the green button below, and my free meal planning template will open in a new window.
Free Whole30 Meal Planning Template (blank editable PDF version)
Free Whole30 Meal Planning Template (blank Apple Pages version)
Free Whole30 Meal Plan Grocery List (blank Apple Pages version)
The PDF version is an editable form. This means you can fill it on your computer. So easy! Or, if you prefer hand filling it out, you can print it out and fill it in manually.
The blank Apple Pages is how I personally use it. I save it as a Template in my Apple Pages, and fill it out there.
Before You Meal Plan
There are 2 steps I recommend taking before you begin filling out the meal planning template.
Look At Your Calendar: Check your calendar to get a feel for your week. Have a weeknight activity? Plan on a slow cooker meal or leftovers. Have an open day? Try something fancy and fun!
Look At The Weather: Check out the weather for the coming week. Make meals that coincide with the weather. Is it going to be cold and rainy on a specific day? Make a soup. Is it going to be really hot on a specific day? Make a salad or grill outside.
How To Meal Plan
Now that you've got a good idea of what your schedule and the weather is going to be like for the coming week, it's time to fill in your meals!
Access Your Favorite Recipes: Head to your cookbooks, favorite blogs and/or Pinterest for recipe inspiration.
First Choose Your Dinners: Start filling in dinners first. Fill in the main dish and sides you want to prepare for each day, then as you're looking at the recipe fill in the ingredients you will need that you don't already have.
Choose Your Lunches: My lunches are always something I meal prepped on Sunday, or leftovers from the night before. I like filling in lunches after dinners so I can jot in "leftovers" if it applies.
Choose Your Breakfasts: I am all about simple for breakfasts. I'm 100% fine with eggs and either bacon or sausage for breakfast every day. But if you want to get fancier, go for it!
Fill In Your Extras: This is where you'll add in additional food to have on hand that wasn't covered in recipe ingredients. Add in some fruits, vegetables, snacks, etc as well as household items you may need, like toilet paper or soap.
Make Your Grocery List: After everything is filled out, go through and make your grocery list. I divide mine by stores since I do my shopping at Costco and Trader Joe's. I cross off the item on the meal planning guide once I put it on the grocery list to ensure I don't forget anything.
Week 1 Whole30 Meal Plan & Grocery List
To get you started, I've put together your first week of meals (including breakfast, lunch and dinner), plus your grocery list. For free! This will also show you how everything looks filled out. Just click the green buttons below to print or download.
This is a meal plan and grocery list designed to feed 2 people. Adjust accordingly.
Free Whole30 Week 1 Meal Plan Shopping List
Recipe links in the Week 1 Meal Plan:
Additional Whole30 Recipes
I have got a TON of additional Whole30 recipes for you! For dinner, lunch, breakfasts and snacks.
After you finish your Whole30, I recommend adapting a Paleo diet. I have a TON of Paleo recipes too!
Never Miss a Recipe!
Get new posts delivered straight to your inbox! For free!